Hillary Dodges Questions on Climate, Keystone and Fracking in Facebook Q&A
Jul. 21, 2015 01:20PM EST
Climate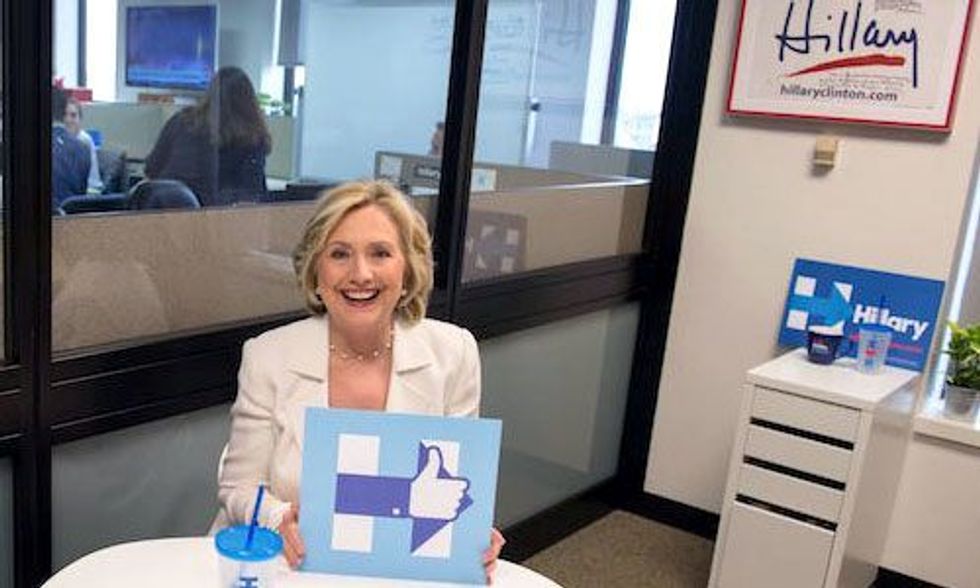 Hillary Clinton fielded questions from voters on Facebook Monday afternoon and many of the queries posed to the Democratic presidential frontrunner centered on environmental issues, including climate change, Keystone XL and fracking. Clinton chose to direct her responses mainly toward economic questions. Nonetheless, the Facebook chat highlights the environmental concerns voters are raising ahead of the 2016 election.
"My biggest concern is the health of our Planet," wrote Jess Barnett, who according to his profile lives in Fort Lauderdale, Florida. "What will your administration do differently [than] those prior? We are already past the tipping point and most of us here would agree we now need to make plans and discontinue the bicker and inaction in Congress over climate change."
"Are you for or against fracking?" inquired Dennis Forsyth, who told the candidate he hails from North Carolina, where the state began accepting fracking permit applications last month.
"What about the Keystone [XL] pipeline?" chimed another Facebook user, Jean-Baptiste Blinet, expressing anxiety over the project, proposed by TransCanada Corp., which would deliver tar sands oil from Alberta, Canada to the U.S. Gulf Coast.
Thousands of potential voters took part in the chat, during which Clinton pledged to reduce the debt load for students, prosecute bad actors on Wall Street, expressed solidarity with Black Lives Matter and joked that she "never met a pantsuit [she] didn't love."
Clinton, however, did not respond to the environmental questions Facebook users raised and her campaign website offers little information on her environmental positions, with the exception of proclaiming that "America must lead the world in developing and deploying new clean energy sources that will power our economy, protect the health of our families and address the global threat of climate change."
Yet, environmentalists are raising concerns over Clinton's opaque environmental stance. While serving as Secretary of State in 2010, Clinton stated she was "inclined" to support the Keystone XL pipeline and in June her campaign hired former TransCanada lobbyist, Jeff Berman as a consultant.
Karthik Ganapathy, a spokesperson for 350.org, told Business Insider last week that Clinton's lack of a clear stance on the Keystone XL was indefensible.
"It's even more indefensible when [Republican presidential candidates] Ted Cruz and Rand Paul have taken a position on it when you, as the Democratic front-runner, have not," he said.
The environmental group staged pickets this month in front of Clinton's campaign headquarters in Downtown Brooklyn, in hopes that they can nudge the favored Democratic presidential nominee into taking a clear stance against the pipeline project and commit to significant greenhouse reduction policies.
YOU MIGHT ALSO LIKE
Sanders Calls Out Clinton's Silence on Keystone XL
Bernie Sanders Draws Biggest Turnout for Maine Democratic Rally in 25 Years
3 Presidential Candidates Say 'No' to Fossil Fuel Funding, Will Hillary Join Them?
EcoWatch Daily Newsletter
Recent Stories from EcoWatch