Hillary Clinton's Complicated Ties to Big Oil
She's taken a strong stance on campaign donations from private prisons, but Hillary Clinton is yet to walk a clear line on accepting money from fossil fuel corporations and lobbyists.
We know that our democracy is crowded with too much money and too little people power. The good news is there's something we can do about it.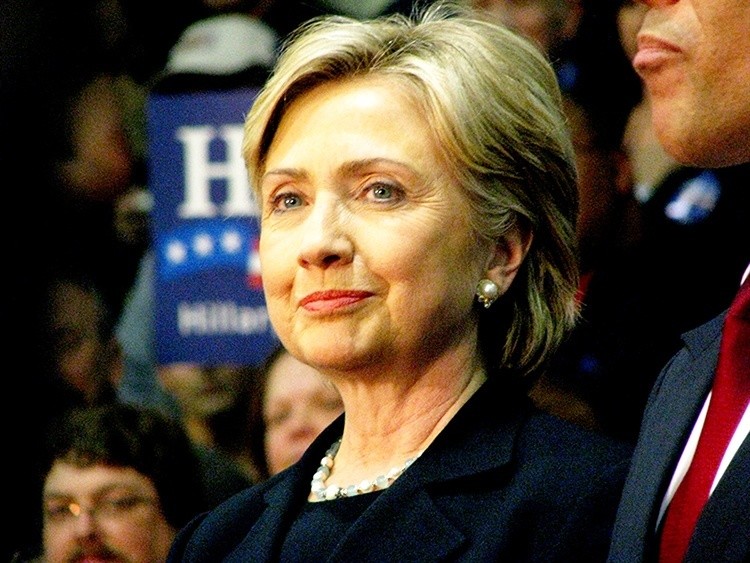 This week, Greenpeace and more than 20 partners called on all 2016 presidential candidates to commit to a people-powered democracy. That means their potential administrations would prioritize reforms to get money out of politics and protect voting rights. To prove they mean business, we're asking all candidates to start off their pledge with a commitment to refuse all campaign donations from fossil fuel companies.
Already, presidential candidate Bernie Sanders has signed the pledge and vowed to reject dirty energy money. Now our sights are set on candidates Hillary Clinton and Martin O'Malley.
Why Hillary?
To be sure, candidates from both parties have a role in protecting our democracy. The campaign committee for Republican candidate Ted Cruz, for example, has also taken money from the fossil fuel industry, specifically the Murray Energy PAC, part of the nation's largest underground coal mining company.
Secretary Clinton has already said that she believes Exxon should be prosecuted for misleading the public on what it knew about climate change going back to the 1970s. New evidence has surfaced showing that other fossil fuel companies, including Shell and Chevron, also knew.
But when asked last month whether her campaign would stop taking money from the fossil fuel industry, Clinton wavered, saying that she wasn't aware if her campaign had taken money, but would look into it.
Well, we looked into it.
While it's true that Clinton's campaign committee has not taken any money from Exxon or Exxon's political action committee, it has taken money from fossil fuel lobbyists. Analyzing just Exxon, seven of the company's lobbyists gave the maximum allowable amount to Clinton's presidential campaign.
Clinton's campaign bundlers also have strong ties to the fossil fuel industry. Bundlers act as lobbyists for campaigns, recruiting other people they know to make individual donations. Outside analysis showed that nearly all of the Clinton campaign's registered bundlers have worked for the fossil fuel industry.
Does money from fossil fuel lobbyists count as donations from the industry? According to Secretary Clinton they do. As part of her stance on criminal justice reform, Clinton announced that her campaign "does not accept contributions from federally registered lobbyists or PACs for private prison companies and will donate any such direct contributions to charity."
Secretary Clinton clearly understands what it means to truly separate oneself from industry. It only makes sense that she go all the way on dirty energy. That means no money from fossil fuel companies, fossil fuel PACs, fossil fuel executives or board members or lobbyists.
Why It Matters
Secretary Clinton joked that she's "not one of [the fossil fuel industry's] favorites" and that "they certainly haven't made much of an impression on [her]." But whether or not the Clinton campaign wants to admit it, money buys access. And when lobbyists from companies like Exxon buy access, they inevitably buy influence too.
As a presidential candidate, Secretary Clinton was notoriously slow in announcing her stance against the Keystone pipeline. And a pro-Clinton super PAC is already promoting Clinton's support for natural gas. Which company is the nation's largest natural gas producer? You guessed it: Exxon.
It's a broken system, but we can start fixing it right now.
Secretary Clinton can show us she takes the future of our democracy seriously by refusing fossil fuel money, but that's only the beginning.
As our potential president, Secretary Clinton should support common-sense measures like public funding for campaigns and overturning the Citizens United Supreme Court decision, which allows corporations to make unlimited political donations through Super PACs. Secretary Clinton should also affirm her support for protecting voting rights, which have faced numerous attacks in recent years.
By shifting our politics from money to people, we can create a political system that actually allows progress on the issues we care about—from racial inequality, to fighting climate change, to gun control. It's means new policies that protect—not impede—everyone's right to vote. And it means creating the space for the solutions we need today and for future generations.
YOU MIGHT ALSO LIKE 
Bill McKibben: How to Stop the Fossil Fuel Industry From Wrecking Our World
Sparks Fly Between Clinton and Sanders During Dem Debate
Michael Moore: 10 People in Flint Have Now Been Killed by These Premeditated Actions of the Governor of Michigan
3 'Knitting Nannas' Arrested Protesting 850 Proposed Gas Wells
A coalition of conservation groups and others announced Thursday that a historic number of comments and petitions of support have been submitted to the U.S. Department of the Interior in support of Bears Ears National Monument. Despite the entirely inadequate 15-day comment period ending on May 26, more than 685,000 comments in support of Bears Ears National Monument have been collected.
Keep reading...
Show less
Rink Glacier in western Greenland, with a meltwater lake visible center. NASA/OIB
Scientists have had their eyes on Greenland as its iconic glaciers have begun disappearing due to a warming climate. But, what they didn't expect to see was a whole new type of melting.
Keep reading...
Show less
Mountain View Fire
By Lena Moffitt
An oil tanker in Mead, Colorado exploded, killing one and injuring three on Thursday. Authorities are continuing to investigate the cause of the explosion.
Keep reading...
Show less
Banner created by Alliance for Climate Education
Keep reading...
Show less
Twenty-two GOP senators sent a letter Thursday urging Donald Trump to pull out of the Paris agreement. They argued remaining in the deal could "upend" the administration's ability "to fulfill its goal of rescinding the Clean Power Plan."
Keep reading...
Show less
By Cheryl Johncox
The Federal Energy Regulatory Commission (FERC) rejected on Thursday Energy Transfer Partners' request to resume horizontal directional drilling at two sites for its Rover fracked gas pipeline. This rejection comes after numerous leaks into Ohio's wetlands, and Clean Air and Clean Water act violations. FERC has halted the process at only eight locations of the 32 where drilling is taking place under Ohio's wetlands and streams.
Keep reading...
Show less
By Nadia Prupis
A majority of people in eight countries say they are ready to change their lifestyles if it would prevent climate catastrophe, a survey on global threats released Wednesday found.
Keep reading...
Show less
May. 25, 2017 01:55PM EST
Bill Maher is sick of billionaires' obsession with Mars, more like "Mars-a-Lago," he said.
In a new animation produced by ATTN:, the popular talk show host of Real Time, discusses the perils of our planet, including how "climate change is killing us."
Keep reading...
Show less