This website uses cookies to ensure you get the best experience while browsing it. By clicking 'Got It' you're accepting these terms.
Hillary Clinton's Complicated Ties to Big Oil
Jan. 20, 2016 08:14AM EST
Energy
She's taken a strong stance on campaign donations from private prisons, but Hillary Clinton is yet to walk a clear line on accepting money from fossil fuel corporations and lobbyists.
We know that our democracy is crowded with too much money and too little people power. The good news is there's something we can do about it.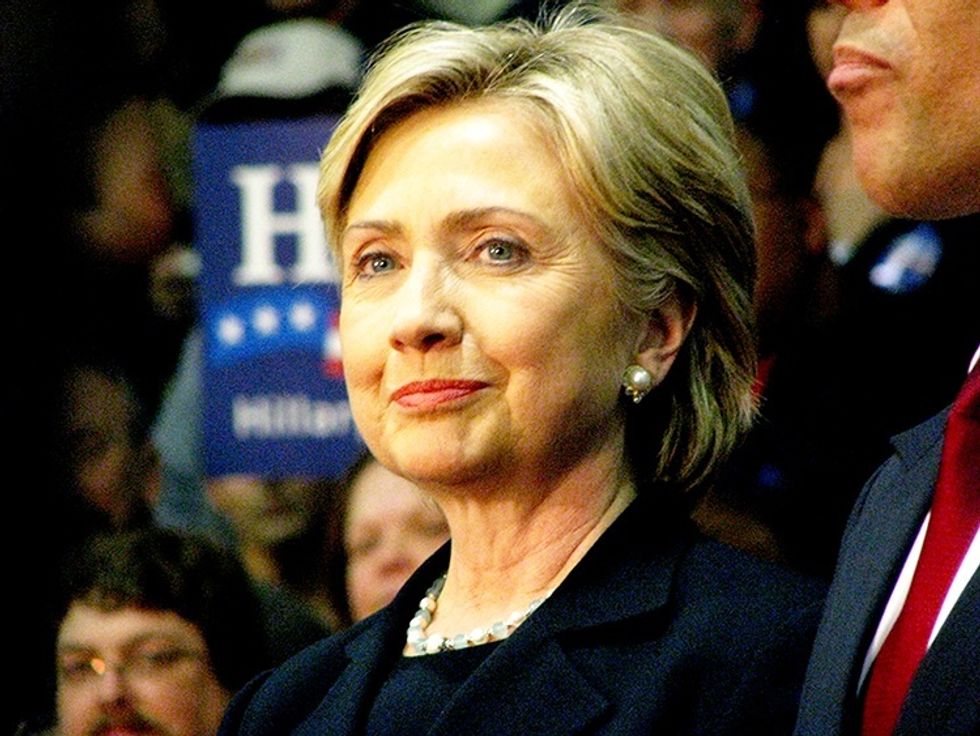 This week, Greenpeace and more than 20 partners called on all 2016 presidential candidates to commit to a people-powered democracy. That means their potential administrations would prioritize reforms to get money out of politics and protect voting rights. To prove they mean business, we're asking all candidates to start off their pledge with a commitment to refuse all campaign donations from fossil fuel companies.
Already, presidential candidate Bernie Sanders has signed the pledge and vowed to reject dirty energy money. Now our sights are set on candidates Hillary Clinton and Martin O'Malley.
Why Hillary?
To be sure, candidates from both parties have a role in protecting our democracy. The campaign committee for Republican candidate Ted Cruz, for example, has also taken money from the fossil fuel industry, specifically the Murray Energy PAC, part of the nation's largest underground coal mining company.
Secretary Clinton has already said that she believes Exxon should be prosecuted for misleading the public on what it knew about climate change going back to the 1970s. New evidence has surfaced showing that other fossil fuel companies, including Shell and Chevron, also knew.
But when asked last month whether her campaign would stop taking money from the fossil fuel industry, Clinton wavered, saying that she wasn't aware if her campaign had taken money, but would look into it.
Well, we looked into it.
While it's true that Clinton's campaign committee has not taken any money from Exxon or Exxon's political action committee, it has taken money from fossil fuel lobbyists. Analyzing just Exxon, seven of the company's lobbyists gave the maximum allowable amount to Clinton's presidential campaign.
Clinton's campaign bundlers also have strong ties to the fossil fuel industry. Bundlers act as lobbyists for campaigns, recruiting other people they know to make individual donations. Outside analysis showed that nearly all of the Clinton campaign's registered bundlers have worked for the fossil fuel industry.
Does money from fossil fuel lobbyists count as donations from the industry? According to Secretary Clinton they do. As part of her stance on criminal justice reform, Clinton announced that her campaign "does not accept contributions from federally registered lobbyists or PACs for private prison companies and will donate any such direct contributions to charity."
Secretary Clinton clearly understands what it means to truly separate oneself from industry. It only makes sense that she go all the way on dirty energy. That means no money from fossil fuel companies, fossil fuel PACs, fossil fuel executives or board members or lobbyists.
Why It Matters
Secretary Clinton joked that she's "not one of [the fossil fuel industry's] favorites" and that "they certainly haven't made much of an impression on [her]." But whether or not the Clinton campaign wants to admit it, money buys access. And when lobbyists from companies like Exxon buy access, they inevitably buy influence too.
As a presidential candidate, Secretary Clinton was notoriously slow in announcing her stance against the Keystone pipeline. And a pro-Clinton super PAC is already promoting Clinton's support for natural gas. Which company is the nation's largest natural gas producer? You guessed it: Exxon.
It's a broken system, but we can start fixing it right now.
Secretary Clinton can show us she takes the future of our democracy seriously by refusing fossil fuel money, but that's only the beginning.
As our potential president, Secretary Clinton should support common-sense measures like public funding for campaigns and overturning the Citizens United Supreme Court decision, which allows corporations to make unlimited political donations through Super PACs. Secretary Clinton should also affirm her support for protecting voting rights, which have faced numerous attacks in recent years.
By shifting our politics from money to people, we can create a political system that actually allows progress on the issues we care about—from racial inequality, to fighting climate change, to gun control. It's means new policies that protect—not impede—everyone's right to vote. And it means creating the space for the solutions we need today and for future generations.
YOU MIGHT ALSO LIKE 
Bill McKibben: How to Stop the Fossil Fuel Industry From Wrecking Our World
Sparks Fly Between Clinton and Sanders During Dem Debate
Michael Moore: 10 People in Flint Have Now Been Killed by These Premeditated Actions of the Governor of Michigan
3 'Knitting Nannas' Arrested Protesting 850 Proposed Gas Wells
EcoWatch Daily Newsletter
Protesters holding signs in solidarity with the Wet'suwet'en Nation outside the Canadian Consulate in NYC. The Indigenous Peoples Day NYC Committee (IPDNYC), a coalition of 13 Indigenous Peoples and indigenous-led organizations gathered outside the Canadian Consulate and Permanent Mission to the UN to support the Wet'suwet'en Nation in their opposition to a Coastal GasLink pipeline scheduled to enter their traditional territory in British Columbia, Canada. Erik McGregor / LightRocket / Getty Images
Tensions are continuing to rise in Canada over a controversial pipeline project as protesters enter their 12th day blockading railways, demonstrating on streets and highways, and paralyzing the nation's rail system
Horseshoe Bend (seen above) is a horseshoe-shaped meander of the Colorado River in Page, Arizona.
didier.camus
/ Flickr /
public domain
Millions of people rely on the Colorado River, but the climate crisis is causing the river to dry up, putting many at risk of "severe water shortages," according to new research, as The Guardian reported.
An alarming sign of an impending drought is the decreased snowpack in the Sierra Nevada Mountain range, as seen here in Christmas Valley, South Lake Tahoe, California on Feb. 15, 2020.
jcookfisher
/
CC BY 2.0
California is headed toward drought conditions as February, typically the state's wettest month, passes without a drop of rain. The lack of rainfall could lead to early fire conditions. With no rain predicted for the next week, it looks as if this month will be only the second time in 170 years that San Francisco has not had a drop of rain in February, according to The Weather Channel.
New and recent books explore how we can effectively respond to climate change while enhancing our health and happiness. Kei Uesugi / DigitalVision / Getty Images
A warm day in winter used to be a rare and uplifting relief.

Now such days are routine reminders of climate change – all the more foreboding when they coincide with news stories about unprecedented wildfires, record-breaking "rain bombs," or the accelerated melting of polar ice sheets.
Where, then, can one turn for hope in these dark months of the year?