This website uses cookies to ensure you get the best experience while browsing it. By clicking 'Got It' you're accepting these terms.
Hillary Clinton Announces 2016 Presidential Bid: Find Out Where She Stands on Climate
Apr. 13, 2015 08:18AM EST
Climate
There's a cliche among those who are discouraged by the political climate that "there's no difference between the candidates." Now that Hillary Clinton has made her official, anticipated-for-years announcement that she will be running for president in 2016, making her the prohibitive favorite to win the Democratic nomination, it's time to look at where she stands on environmental issues versus where the Republican field of millions—OK, dozens—stands.
The GOP field has two official candidates so far—senators Rand Paul of Kentucky and Ted Cruz of Texas. Florida Sen. Mario Rubio is expected to announce today. Numerous other hopefuls, including New Jersey Gov. Chris Christie, Wisconsin Gov. Scott Walker, Ohio Gov. John Kasich, Louisiana Gov. Bobby Jindal, former Florida Gov. Jeb Bush and former Pennsylvania Sen. Rick Santorum, are making moves, such as visits to key primary states like New Hampshire, that show they'd like to be in the race as well.
The only other clear likely candidate in the Democratic field is immediate past Gov. of Maryland Martin O'Malley, who is campaigning vigorously but has not announced his candidacy.
You're going to hear grumbling from some environmentalists about Hillary's lack of perfection. One particular sticking point is her failure to say where she stands on approving the Keystone XL pipeline. She told an audience in Winnipeg in January, "You won't get me to talk about Keystone because I have steadily made clear that I'm not going to express an opinion. It is in our process and that's where it belongs."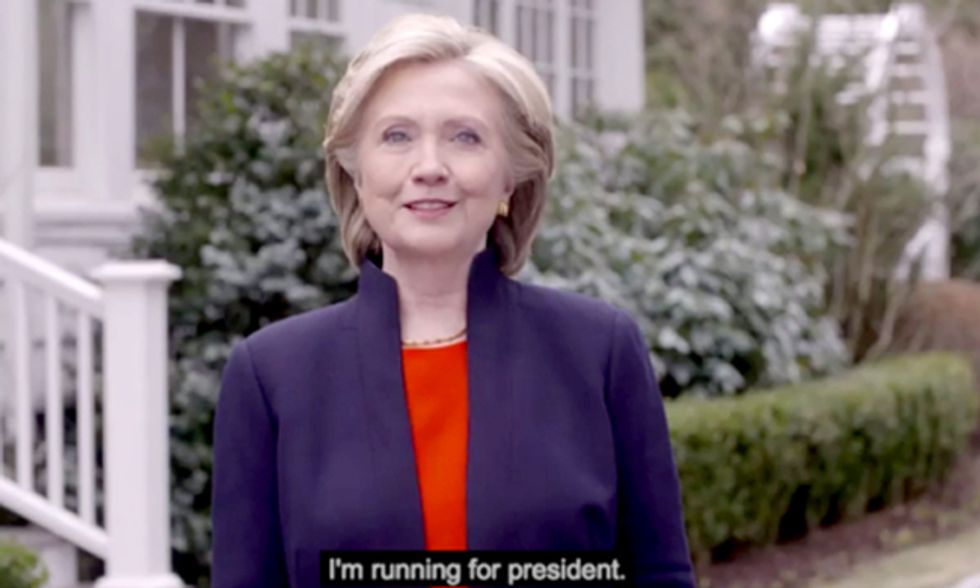 When she spoke to at the League of Conservation Voters' (LCV) annual dinner in December, much of the media coverage again centered on her failure to say anything about the Keystone XL pipeline. The Washington Post ran a piece saying "Her refusal to take a stand on Keystone has disappointed some of the loudest—and richest—environmental activists who view the project as a test of a candidate's environmental bona fides."
But what about everything else? Taking a look at the full range of Hillary's positions on the environmental issues and comparing them with the positions and votes of the Republican field, it's clear that a climate voter—and the planet—can't afford the luxury of claiming they're all the same. Virtually every entrant into the GOP field is a climate denier to a great or lesser degree.
"The science of climate change is unforgiving no matter what the deniers may say," said Hillary at the LCV dinner. "Sea levels are raising, ice caps are melting, storms, droughts and wildfires are wreaking havoc, 13 of the top 14 warmest years in recorded history have happened since 2000, and this past summer scientists found levels of carbon diode in our atmosphere not seen in hundreds of thousands of years."
That's not a statement you're likely to hear from any of the GOP candidates. Take only the two announced candidates as examples. Cruz is a full-throated supporter of unlimited, unregulated fossil fuel exploration and extraction or, as he put it "remove the barriers to every form of energy." He has said there is no global warming and trotted out the debunked theory that there was "global cooling" in the '70s. "The problem with climate change is there's never been a day in the history of the world in which the climate is not changing," he said. Rand Paul has said that the science behind climate change is "not conclusive" and that anyone who ties extreme weather events to climate change is an "ignoramus."
Speaking at the LCV dinner, Hillary praised the group's advocacy for the Clean Water Act and Clean Air Act, adding, "Years later, you pushed for and rallied behind President Obama's use of the Clean Air Act to set the first-ever federal limits on carbon pollution from existing power plants which are driving the most dangerous effects of climate change. The unprecedented action President Obama has taken must be protected at all costs."
Most of the GOP field has vowed to eliminate the U.S. Environmental Protection Agency (EPA) or severely cripple it, and to roll back or repeal virtual every environmental protection regulation of the last four and a half decades from the Clean Water Act of 1972 to President Obama's Clean Power Plant rule of last year to cut carbon emissions and phase out dirty coal-fired plants.
In her presentation to LCV, Hillary acknowledged both the difficulty and importance of acting on climate change.
"The political challenges are also unforgiving," she said. "There is no getting around the fact that the kind of ambitious response required to effectively combat climate change is going to be a tough sell at home and around the world at a time when so many countries including our own are grappling with slow growth and stretched budgets. Our economy still runs primarily on fossil fuels and trying to change that will require strong leadership and intense cooperation. In many places we are beginning to move past the old false choice between protecting our environment and growing our economy and instead finally committing to do both. American's ability to lead the world on climate change hinges on what we do here at home. No other country will fall in line just because we tell them to. They have to see us doing it."
She was interrupted by applause once during her approximately 20-minute speech. That was when she addressed the issue of natural gas development and, by inference, fracking.
She said, "I know many of us have serious concerns about the risks associated with the rapidly expanding production of natural gas which is transforming our domestic energy landscape. Methane leaks and the production and transportation of natural gas pose a particularly troubling threat. So it is crucial that we put in place smart regulations and enforce them including deciding not to drill when the risk to local communities, landscape and ecosystems are just too high."
But she added, "If we're smart about this and put in place the right safeguards, yes, natural gas can play an important bridge role in the transition to a cleaner energy economy," a statement likely not received too warmly by many of those who had just applauded her, but one that recognizes that natural gas is no long-term answer.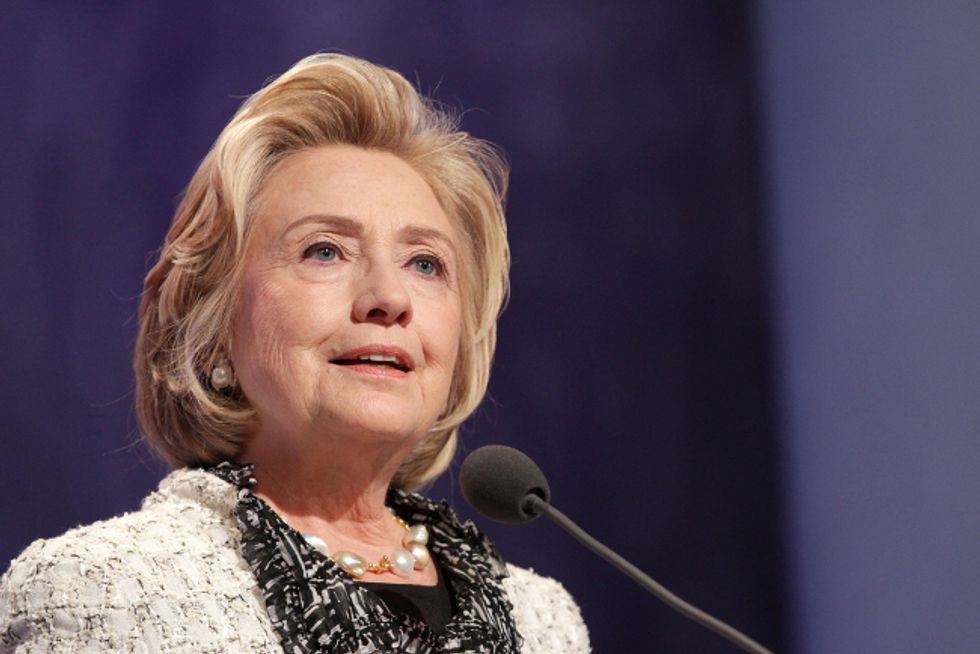 Photo credit: Shutterstock
But whether environmentalists agree with her on that issue or not, the overall difference between Hillary and her potential competitors is stark. She has an 82 percent lifetime score from LCV for her votes when she was in the U.S. Senate. (Many of the votes that kept her score from being higher were favoring offshore oil drilling). Paul and Rubio have a lifetime scores of 9 percent; Cruz checks in at 11 percent. All three have scores of zero for last year's session.
The only Republican who's expressed interest in running who isn't an all-star on the climate denial team is South Carolina Sen. Lindsey Graham, the longest of long shots. He acknowledged late last year that climate denial could be a problem for his party in the presidential race.
"I think there will be a political problem for the Republican Party going into 2016 if we don't define what we are for on the environment," said Graham. "I don't know what the environmental policy of the Republican Party is."
The real problem is that the rest of the candidate field, as well as Graham's GOP colleagues in Congress, are making it only too clear.
"The Sierra Club is pleased to welcome Hillary Clinton into the 2016 Presidential field," said Sierra Club executive director Michael Brune. "With the implementation of the Clean Power Plan and critical climate negotiations in Paris on the horizon, climate action will be a major theme in the 2016 election. This election, Secretary Clinton has the opportunity to build on her strong environmental record, bring real leadership to the climate fight and lay out her plan to grow the American clean energy economy."
YOU MIGHT ALSO LIKE
Tom Steyer to Put GOP Presidential Climate Denier Candidates on 'The Hot Seat'
Climate Denier Ted Cruz Announces Presidential Run, Gov. Brown Calls Him "Unfit to Be Running for Office"
Presidential Hopeful Senator Graham: Climate Deniers Will Be 'Political Problem' for Republicans in 2016
EcoWatch Daily Newsletter
The Ernest N. Morial Convention Center in New Orleans, Louisiana has been converted to a 1,000-bed field hospital for coronavirus patients to alleviate stress on local hospitals. Chris Graythen / Getty Images
An area in Louisiana whose predominantly black and brown residents are hard-hit by health problems from industry overdevelopment is experiencing one of the highest death rates from coronavirus of any county in the United States.
A woman lies in bed with the flu. marka/Universal Images Group via Getty Images
A central player in the fight against the novel coronavirus is our immune system. It protects us against the invader and can even be helpful for its therapy. But sometimes it can turn against us.
Several flower species, including the orchid, can recover quickly from severe injury, scientists have found. cunfek / iStock / Getty Images Plus
Calling someone a delicate flower may not sting like it used to, according to new research. Scientists have found that many delicate flowers are actually remarkably hearty and able to bounce back from severe injury.
A Boeing 727 flies over approach lights with a trail of black-smoke from the engines on April 9, 2018. aviation-images.com / Universal Images Group via Getty Images
With global air travel at a near standstill, the airline industry is looking to rewrite the rules it agreed to tackle global emissions. The Guardian reports that the airline is billing it as a matter of survival, while environmental activists are accusing the industry of trying to dodge their obligations.
A National Guard member works on election day at a polling location on April 7, 2020 in Madison, Wisconsin. Andy Manis / Getty Images.
ByJulia Baumel
The outbreak of COVID-19 across the U.S. has touched every facet of our society, and our democracy has been no exception.