This website uses cookies to ensure you get the best experience while browsing it. By clicking 'Got It' you're accepting these terms.
If you overheard a conversation in which a highly addictive, white, powdery substance was being implicated in numerous deaths, you might think the discussion was about street drugs. You might be surprised to discover that lethal substance is actually sugar.
Volumes of research have been published on the widespread damage sugar causes in the body. Now, a National Institutes of Health–funded study conducted by the University of Texas found that high sugar consumption (the amount in a typical Western diet) is linked to an increase in breast cancer tumor growth and spread of cancer.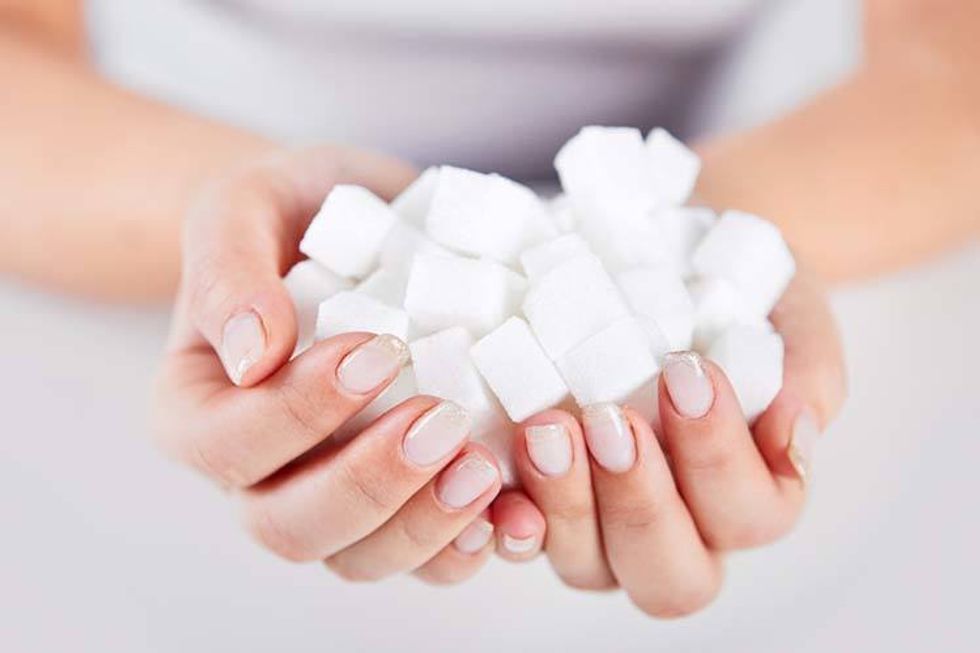 Photo credit: Shutterstock
The study, reported in the January 2016 edition of the medical journal Cancer Research found that sucrose intake comparable with levels of Western diets led to increased tumor growth and metastasis, when compared with a non-sugar starch diet. The researchers determined that fructose derived from the sucrose was responsible for facilitating lung metastasis and the production in breast tumors.
According to the American Cancer Society (ACS), breast cancer is the second most common cancer among American women behind skin cancers. It's also the second leading cause of cancer death in women, exceeded only by lung cancer. The ACS estimated that more than 40,000 women died from breast cancer in 2015. During the same year, an estimated 231,840 new cases of invasive breast cancer were diagnosed in women. Additionally, more than 60,000 new cases of carcinoma in situ—the non-invasive early form of breast cancer—were diagnosed in 2015.
Sugar is found in virtually all processed, packaged and prepared foods consumed in the U.S. and around the world. Industrial sugar processing has increased individual consumption of this lethal sweetener by 25 times over the last century. According to the U.S. Department of Agriculture, per capita consumption of caloric sweeteners such as sucrose (table sugar) and high-fructose corn syrup increased 43 pounds or 39 percent, between 1950-59 and 2000. Each American consumed an average 152 pounds of sugar annually—the equivalent of 52 teaspoons of added sugars daily. This is over and above the naturally-occurring sugars present in fruit, vegetables, grains and legumes, which provide more than enough sugar in our daily diets.
Excess sugar has been linked to a host of diseases and disorders that have reached epidemic proportions and it appears that breast cancer can be added to that list. The ACS forecasts that approximately one in eight women in the U.S. will develop invasive breast cancer during their lifetime. Tragically, one in 36 women will die from the disease.
While it is impossible to determine the number of breast cancer diagnoses linked to sugar consumption, it's easy to reduce sugar consumption and reduce your exposure to a number of sugar-related health problems. By taking charge of your food choices, reading labels on packages, avoiding fast foods and most restaurant menu items and reducing your consumption of alcohol and canned or bottled beverages, you will cut out many pounds of sugar annually. Treat your sweet tooth occasionally with delicious fresh fruit and see how much better you feel once the sugar monkey is off your back.
Dr. Michelle Schoffro Cook, PhD, DNM, is a doctor of natural medicine, international best-selling & 18-time published author, whose works include: 60 Seconds to Slim: Balance Your Body Chemistry to Burn Fat Fast!
YOU MIGHT ALSO LIKE 
10 Million Bacteria Live in Your Drinking Water: Are They Dangerous?
This Horrifying Video Will Make You Never Want to Drink Soda Again
Meat Industry Wins in Dietary Guidelines for Americans
EcoWatch Daily Newsletter
A harbour seal on an ice floe in Glacier Bay, Alaska. A new study shows that the climate crisis has warmed waters, changing ecosystems and crippling sea ice growth. Janette Hill / robertharding / Getty Images Plus
Doctors report that only 1 in 4 children are getting the recommended 60 minutes of physical activity per day. Ronnie Kaufman / DigitalVision / Getty Images
By Dan Gray
Pediatricians are being urged to start writing "exercise prescriptions" for the children they see in their office.
A First Nations protester walks in front of a train blockade in Tyendinaga, near Belleville, Ontario, Canada on Feb. 21, 2020. LARS HAGBERG / AFP via Getty Images
An indigenous rail blockade that snarled train travel in Canada for more than two weeks came to an end Monday when police moved in to clear protesters acting in solidarity with another indigenous community in British Columbia (B.C.), which is fighting to keep a natural gas pipeline off its land.
A rainbow snake, a rare reptile spotted in a Florida county for the first time in more than 50 years, seen here on July 5, 2013.
Kevin Enge / FWC Fish and Wildlife Research Institute / Flickr
A Florida hiker recently stumbled across a slithering surprise — a rare snake that hadn't been spotted in the area for more than 50 years.
We need our government to do everything it can to stop PFAS contamination and exposure from wreaking havoc in communities across the country. LuAnn Hun /
Unsplash
By Genna Reed
The EPA announced last week that it is issuing a preliminary regulatory determination for public comment to set an enforceable drinking water standard to two of the most common and well-studied PFAS, PFOA and PFOS.
This decision is based on three criteria:
PFOA and PFOS have an adverse effect on public health
PFOA and PFOS occur in drinking water often enough and at levels of public health concern;
regulation of PFOA and PFOS is a meaningful opportunity for reducing the health risk to those served by public water systems.