This website uses cookies to ensure you get the best experience while browsing it. By clicking 'Got It' you're accepting these terms.
If you overheard a conversation in which a highly addictive, white, powdery substance was being implicated in numerous deaths, you might think the discussion was about street drugs. You might be surprised to discover that lethal substance is actually sugar.
Volumes of research have been published on the widespread damage sugar causes in the body. Now, a National Institutes of Health–funded study conducted by the University of Texas found that high sugar consumption (the amount in a typical Western diet) is linked to an increase in breast cancer tumor growth and spread of cancer.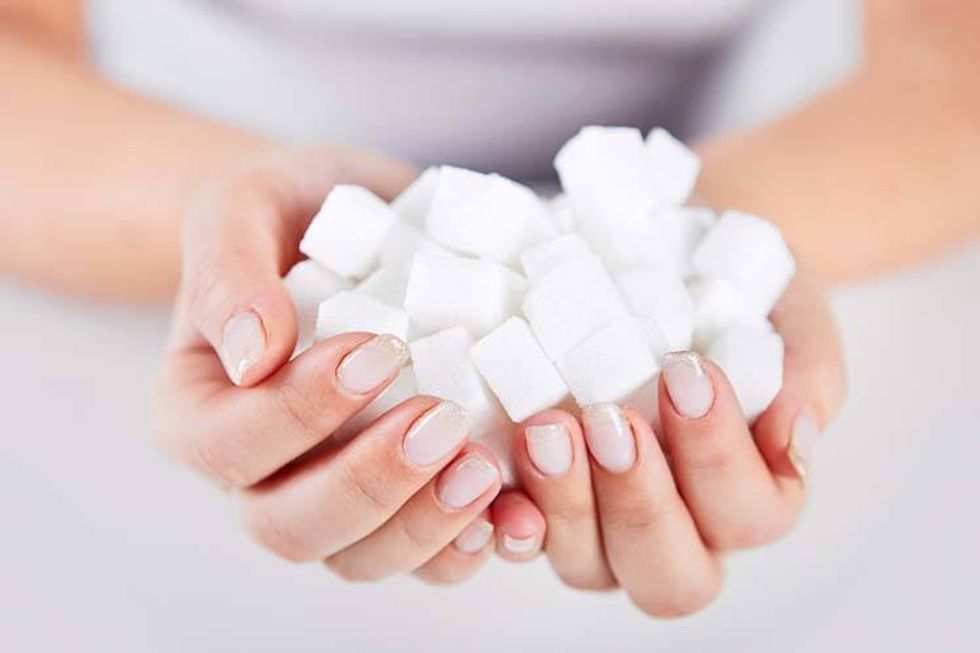 Photo credit: Shutterstock
The study, reported in the January 2016 edition of the medical journal Cancer Research found that sucrose intake comparable with levels of Western diets led to increased tumor growth and metastasis, when compared with a non-sugar starch diet. The researchers determined that fructose derived from the sucrose was responsible for facilitating lung metastasis and the production in breast tumors.
According to the American Cancer Society (ACS), breast cancer is the second most common cancer among American women behind skin cancers. It's also the second leading cause of cancer death in women, exceeded only by lung cancer. The ACS estimated that more than 40,000 women died from breast cancer in 2015. During the same year, an estimated 231,840 new cases of invasive breast cancer were diagnosed in women. Additionally, more than 60,000 new cases of carcinoma in situ—the non-invasive early form of breast cancer—were diagnosed in 2015.
Sugar is found in virtually all processed, packaged and prepared foods consumed in the U.S. and around the world. Industrial sugar processing has increased individual consumption of this lethal sweetener by 25 times over the last century. According to the U.S. Department of Agriculture, per capita consumption of caloric sweeteners such as sucrose (table sugar) and high-fructose corn syrup increased 43 pounds or 39 percent, between 1950-59 and 2000. Each American consumed an average 152 pounds of sugar annually—the equivalent of 52 teaspoons of added sugars daily. This is over and above the naturally-occurring sugars present in fruit, vegetables, grains and legumes, which provide more than enough sugar in our daily diets.
Excess sugar has been linked to a host of diseases and disorders that have reached epidemic proportions and it appears that breast cancer can be added to that list. The ACS forecasts that approximately one in eight women in the U.S. will develop invasive breast cancer during their lifetime. Tragically, one in 36 women will die from the disease.
While it is impossible to determine the number of breast cancer diagnoses linked to sugar consumption, it's easy to reduce sugar consumption and reduce your exposure to a number of sugar-related health problems. By taking charge of your food choices, reading labels on packages, avoiding fast foods and most restaurant menu items and reducing your consumption of alcohol and canned or bottled beverages, you will cut out many pounds of sugar annually. Treat your sweet tooth occasionally with delicious fresh fruit and see how much better you feel once the sugar monkey is off your back.
Dr. Michelle Schoffro Cook, PhD, DNM, is a doctor of natural medicine, international best-selling & 18-time published author, whose works include: 60 Seconds to Slim: Balance Your Body Chemistry to Burn Fat Fast!
YOU MIGHT ALSO LIKE 
10 Million Bacteria Live in Your Drinking Water: Are They Dangerous?
This Horrifying Video Will Make You Never Want to Drink Soda Again
Meat Industry Wins in Dietary Guidelines for Americans
EcoWatch Daily Newsletter
In this view from an airplane rivers of meltwater carve into the Greenland ice sheet near Sermeq Avangnardleq glacier on Aug. 4 near Ilulissat, Greenland. Climate change is having a profound effect in Greenland, where over the last several decades summers have become longer and the rate that glaciers and the Greenland ice cap are retreating has accelerated. Sean Gallup / Getty Images
The rate that Greenland's ice sheet is melting surpassed scientists' expectations and has raised concerns that their worst-case scenario predictions are coming true, Business Insider reported.
An Alagoas curassow in captivity. Luís Fábio Silveira / Agência Alagoas / Mongabay
By Pedro Biondi
Extinct in its habitat for at least three decades, the Alagoas curassow (Pauxi mitu) is now back in the jungle and facing a test of survival, thanks to the joint efforts of more than a dozen institutions to pull this pheasant-like bird back from the brink.

Elizabeth Warren's Blue New Deal aims to expand offshore renewable energy projects, like the Block Island Wind Farm in Rhode Island.
Luke H. Gordon / Flickr
By Julia Conley
Sen. Elizabeth Warren expanded her vision for combating the climate crisis on Tuesday with the release of her Blue New Deal — a new component of the Green New Deal focusing on protecting and restoring the world's oceans after decades of pollution and industry-caused warming.
Former U.S. Secretary of State Rex Tillerson leaves the courthouse after testifying in the Exxon Mobil trial on Oct. 30, 2019 in New York. DON EMMERT / AFP via Getty Images
A judge in New York's Supreme Court sided with Exxon in a case that accused the fossil fuel giant of lying to investors about the true cost of the climate crisis. The judge did not absolve Exxon from its contribution to the climate crisis, but insisted that New York State failed to prove that the company intentionally defrauded investors, as NPR reported.
By Sharon Elber
You may have heard that giving a pet for Christmas is just a bad idea. Although many people believe this myth, according to the ASPCA, 86 percent of adopted pets given as gifts stay in their new homes. These success rates are actually slightly higher than average adoption/rehoming rates. So, if done well, giving an adopted pet as a Christmas gift can work out.