High-Profile Trial of the 'Heathrow 13' Enlists Climate Scientist as Expert Witness
Thirteen people found guilty of aggravated trespass while protesting against the proposed expansion of Heathrow airport are due to be sentenced next week. It could see the first custodial sentences handed down to environmental protesters in the UK in two decades.
The high-profile trial of the "Heathrow 13" has gone down the rare—but not unprecedented—route of enlisting a climate scientist as an expert witness for the defense.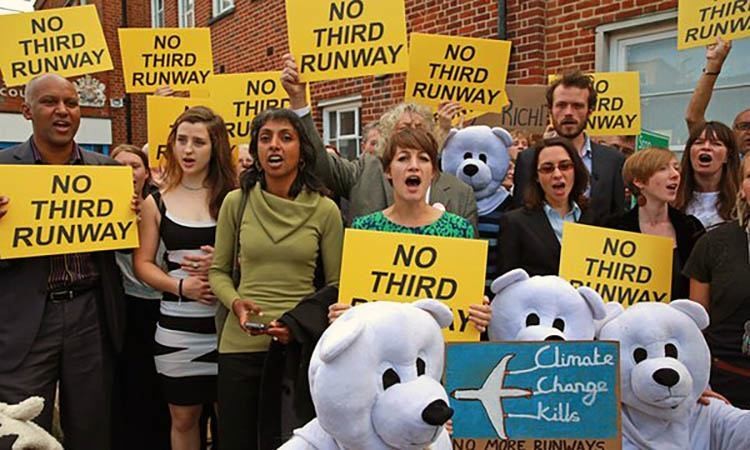 Prof. Alice Bows-Larkin, professor of climate science and policy at the University of Manchester, gave evidence to the court on the impact of aviation on climate change. Exclusively, Carbon Brief has her full statement, exactly as it was submitted to the judge in the trial.
Awaiting Sentence
The "Heathrow 13," part of the Plane Stupid campaign group, were arrested on July 13 last year after chaining themselves to a railing on Heathrow's northern runway for six hours to protest against the impact of aviation emissions on climate change.
The protesters were arrested and later found guilty of aggravated trespass. District Judge Deborah Wright said that while it was clear the defendants were "principled people" and committed to their cause, she didn't accept their actions were necessary to protect people from climate change. They should be prepared for jail time, she said, because of the "astronomical" cost of disrupting more than 20 flights.
With their final sentences due to be passed at Willesden magistrates court on Feb. 24, the case of the "Heathrow 13" has garnered a fair amount of media coverage and high-profile political support in recent weeks. One law expert told the Independent that custodial sentences for a peaceful, non-violent protest would be "unprecedented in modern times."
The criminal charge of aggravated trespass came into force in 1994, following a series of road-building protests. While it can technically carry a custodial sentence "not exceeding three months," no one has since faced jail time as a result of a non-violent environmental protest in the UK.
A statement on the Plane Stupid website says:
"The defendants argue that their action was necessary due to the airport's contribution to life-threatening climatic changes. Furthermore, Heathrow expansion is inhumane to the local residents and those at the sharp end of climate change and hugely environmentally destructive."
"Necessity Defense"
The "Heathrow 13" case isn't the first time climate change has been used as a defense in a court of law. In 2008, the "Kingsnorth Six," arrested for trying to shut down a coal-fired power plant in Kent, England, were acquitted after arguing what's known in law as a "necessity defense."
The defendants successfully argued that their actions were legally justified since they were intending to prevent the far greater harms to society posed by climate change. The nine-person jury cleared the defendants of any wrongdoing by a majority verdict.
Unlike the "Heathrow 13," whose lesser charges of aggravated trespass warranted a trial by magistrate, the reported £30,000 damages caused by "Kingsnorth Six" meant they appeared before a jury instead.
In January 2016, a judge allowed lawyers to present climate change as a necessity defense for the first time in the U.S., in the case of the "Delta Five," a group of activists accused of obstructed a train carrying coal and crude oil.
The defense was less successful that time, however, with the same judge later ruling that the evidence was insufficiently strong for the jury to take into account in its verdict. The protesters were found guilty of trespass, though not guilty of obstructing the train and spared jail time.
On the rare occasions when climate change has been used as a criminal defense, it's not unknown for a climate scientist to be called on to give supporting evidence.
Dr. James Hansen, veteran climate scientist and former director of the National Aeronautics and Space Administration (NASA) Goddard Institute for Space Studies, appeared as an expert witness in both the "Kingsnorth Six" and "Delta Five" cases and again in 2010 in the trial of 20 activists accused of planning to trespass on a coal plant near Nottingham.
In the trial of the "Heathrow 13," Prof. Alice Bows Larkin, a professor of climate science and energy policy at the University of Manchester, specializing in shipping and aviation emissions, gave evidence on behalf of the defense. She did not appear in court, instead submitting a written statement to the judge, parts of which were read out as a summary in court.
Bearing Witness
Bows-Larkin's statement begins with a general outline of the impact on climate change of carbon dioxide (CO2) and other substances present in aircraft emissions, such as nitrous oxides, soot, water vapor and sulphur dioxides. She explains:
"Estimates of the historical warming … suggest that the total warming impact of aviation has been around twice that than would be caused by the CO2 alone."
Bows-Larkin then explains how, to be consistent with the legally-binding obligation in the Paris agreement of limiting warming to "well-below 2C above pre-industrial levels," emissions from the aviation sector, like all other sectors, will need to be reduced to near-zero. She says:
"The vast majority of academics working on climate change mitigation would agree that a rapid and significant reduction in the combustion of fossil fuels is needed in the coming decades … I am unaware of any analysis that can demonstrate how aviation could be an exception to this."
The combination of growing demand and few technical options on the horizon that could dramatically reduce aircraft emissions means that the inability of the aviation industry to curb its environmental impact constitutes a public health risk, says Bows-Larkin. She says:
"All CO2 emitting sectors are damaging to human health through contributing to further warming, but particularly concerning are sectors that do not foresee a significant cut in CO2 going into the future."
Bows-Larkin acknowledges the potential for technology, such as bioenergy with carbon capture and storage, to offset greenhouse gas emissions. But there is a big question mark over whether we can assume such technologies will materialize in time to meet climate targets, she explains.
Full Text
Below is Bows-Larkin's expert witness statement to the trial of the "Heathrow 13" in full, exactly as it was submitted to the judge.
It's a detailed account of where the aviation industry sits alongside UK domestic and international law and is worth reading in full. Or, for a flavor of exactly what the court heard, Raj Chada, partner at Hodge Jones & Allen and defense lawyer for four of the accused, has confirmed to Carbon Brief that sections 2.2, 2.6, 3, 8 and parts of 9 were read out in court as a summary of her testimony.
Heathrow13 evidence from Prof Alice Bows Larkin
YOU MIGHT ALSO LIKE 
Fiji Becomes World's First Country to Ratify Paris Agreement
Despite Supreme Court Decision, Clean Energy Revolution Continues to Grow
Leonardo DiCaprio Joins Carbon Capture Technology Company to 'Bring About a More Sustainable Future for Our Planet'
From Hottest Place on Earth in Australia to LA and Ontario's Winter Heat Waves, 2016 Already on Track to Be Hottest Year Ever Recorded
Bill Maher is sick of billionaires' obsession with Mars, more like "Mars-a-Lago," he said.
In a new animation produced by ATTN:, the popular talk show host of Real Time, discusses the perils of our planet, including how "climate change is killing us."
Keep reading...
Show less
Dr. Benjamin D. Santer, research scientist
A group of prominent climate scientists have written a study explicitly refuting statements made by the U.S. Environmental Protection Agency Administrator Scott Pruitt on climate data. During his Senate confirmation hearing, Pruitt claimed in a written response that satellite data shows a "leveling off" of warming over the past two decades.
Keep reading...
Show less
By David Pomerantz
The Nevada Assembly passed a bill Wednesday that would dramatically increase the growth of renewable energy in the state, but Sheldon Adelson, the casino magnate and major donor to Donald Trump, is attempting to prevent the bill from becoming law.
Keep reading...
Show less
Matt Crossick
By Yosola Olorunshola
Whether it's through fashion or protest, Vivienne Westwood is not a woman afraid of making a statement.
On May 23, she rocked up to the residence of the Archbishop of Canterbury in London with a special guest—the Grim Reaper—to issue a strong statement on the Church of England's position on fracking.
Keep reading...
Show less
Military veterans from across Virginia released a letter Thursday opposing two proposed fracked-gas pipelines: Dominion Energy's Atlantic Coast Pipeline and EQT's Mountain Valley Pipeline. These pipelines would cross through pristine areas of Virginia, taking private property by use of eminent domain, removing mountain ridgetops and threatening valuable drinking water resources. The veterans view this as contrary to their service to protect and defend the freedom and security of American citizens.

Keep reading...
Show less
By Paul Brown
The food industry and big agricultural concerns are driving climate change and at the same time threatening to undermine efforts to feed the world's growing population, according to GRAIN, an organization that supports small farmers.
Particularly singled out for criticism are the large chemical fertilizer producers that have gained access to the United Nations talks on climate change. GRAIN accuses them of behaving like the fossil fuel companies did in the 1990s, pushing false information in the hope of delaying real action on climate change.
Keep reading...
Show less
May. 24, 2017 06:55PM EST
By Sydney Robinson
President Trump has no doubt been given a long list of extravagant, elaborate gifts in his lifetime, but the gift given to him today by Pope Francis may not make it on his most favorite list.
Keep reading...
Show less
May. 24, 2017 07:17PM EST
By John Rogers
Maybe it's because I first started working on clean energy while serving in the Peace Corps he founded, or maybe it's my years of working on these issues from his home state. But I can't help thinking about the 100th anniversary of John F. Kennedy's birth, and connecting his stirring rhetoric to the energy challenges of our times.
Here's what our 35th president might have said about the challenges of energy transition and the opportunities in clean energy:
"Change is the law of life. And those who look only to the past or present are certain to miss the future."
Keep reading...
Show less


Get EcoWatch in your inbox