This website uses cookies to ensure you get the best experience while browsing it. By clicking 'Got It' you're accepting these terms.
High Levels of Endocrine Disrupting Chemicals Found Near Fracking Wastewater Site
Apr. 06, 2016 09:23AM EST
Energy
A new study from the University of Missouri (MU) has reported high levels of endocrine disrupting chemicals (EDCs) in the surface water near a fracking wastewater disposal facility in West Virginia, raising concerns if similar cases are occurring nationwide given the country's 36,000 fracking disposal sites.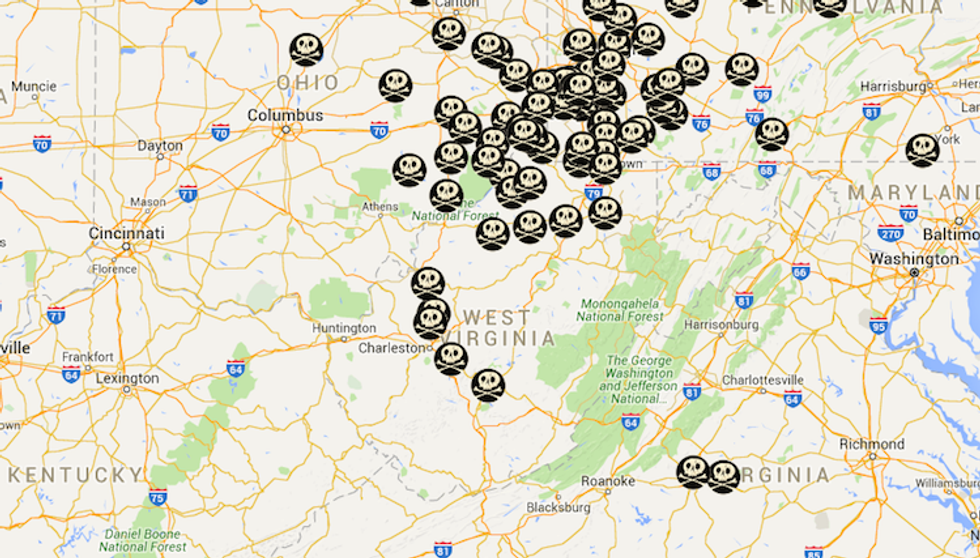 A number of high profile "fraccidents" have occurred in and around West Virginia. Photo Credit: EarthJustice
The report, Endocrine Disrupting Activity in Surface Water Associated with a West Virginia Oil and Gas Industry Wastewater Injection Disposal Site, was published today in the peer-reviewed journal Science of the Total Environment.
BuzzFeed News reported from the study:
The contamination near Fayetteville, West Virginia, flows from a brook called Wolf Creek a few miles upstream of a drinking water treatment facility for 11,300 people. The disposal site, which includes a deep waste well, several holding ponds, and storage tanks, sits on a hillside above the creek, and has been the site of a fight over its permit, revoked in 2014 and then renewed by the West Virginia Department of Environmental Protection in August.
"I wouldn't drink out of Wolf Creek," University of Missouri toxicologist Susan Nagel, a study author, told BuzzFeed News. It's unclear whether the contamination has reached residents' drinking water, but that should be tested, Nagel said.
EDCs are associated with many health risks such as altered reproductive function in males and females, breast cancer, abnormal growth patterns and neurodevelopmental delays in children, as well as changes in immune function.
The study reported that surface water samples collected on the disposal facility site and immediately downstream exhibited considerably greater EDC activity than surface water samples collected immediately upstream and in a nearby reference stream.
"We do not know the exact pathway/source of the contamination," Nagel explained to EcoWatch. "It is likely that aquatic life downstream of this facility are swimming in oil and gas chemicals and at levels high enough to disrupt the endocrine system."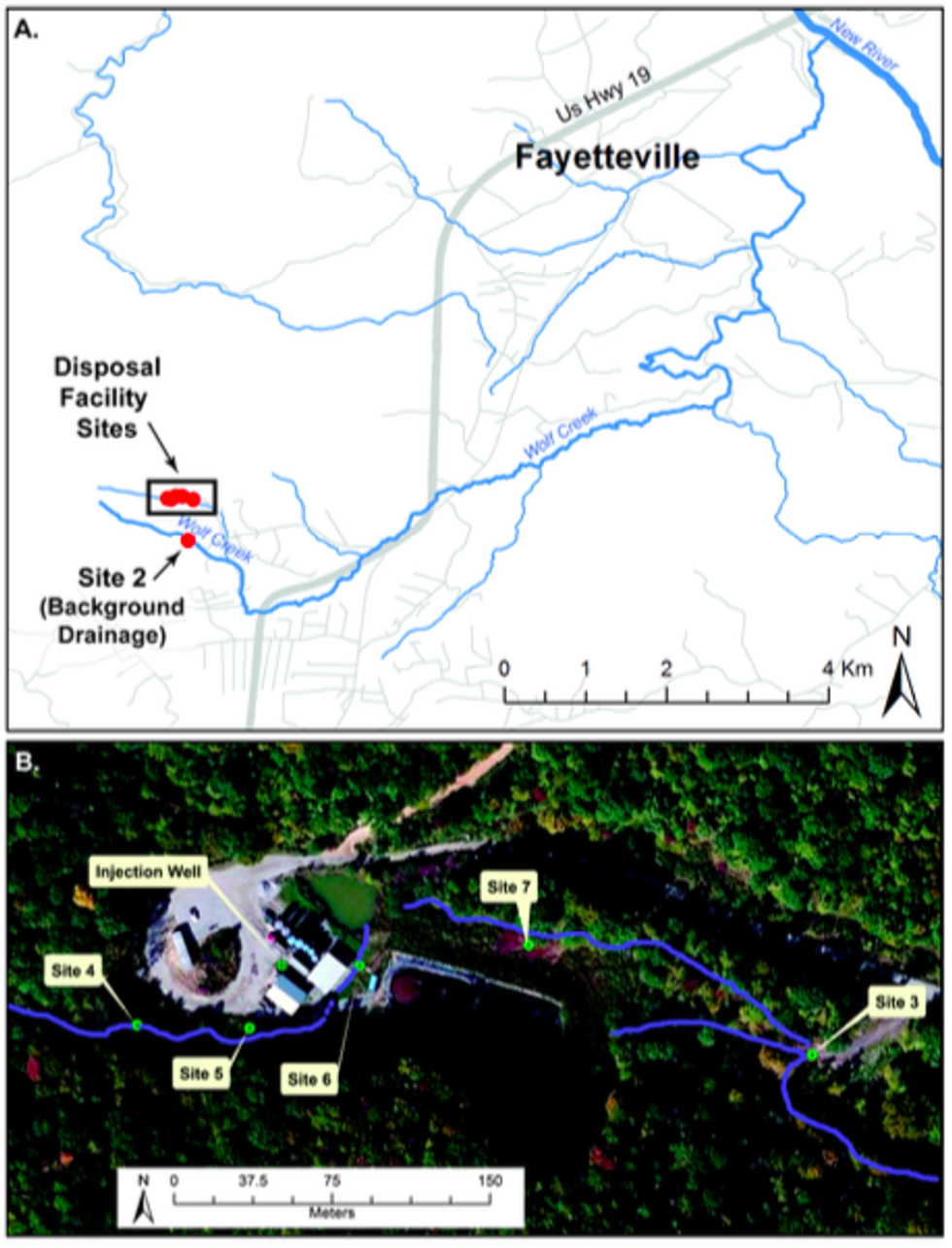 Fracking fluids are already known to contain a toxic slew of hazardous chemicals, but oil and gas companies are not required to disclose exactly what they are.
Nagel told EcoWatch that it is important to note that under ideal fracking and wastewater disposal operations, many potential impacts on surface water would not occur.
"Whether chemicals reach surface water through surface spills, the former impoundment ponds, or surface/ground water mixing at this site, is unknown," she said. "Now that we have identified impacts to the local environment due to activities at the site, further work is needed to assess the specific routes of contaminant movement from these operations into the stream."
According to a press release of the study, dozens of chemicals may be used to frack a single site and approximately 1,000 more are reportedly used nationwide. Not only that, more than 100 of these chemicals are known as or suspected to be EDCs.
The large volumes of wastewater produced during the fracking is laden with chemicals and may also contain radioactive compounds and heavy metals released from deep underground, the press release noted.
"Our study only assessed the surface water impacts from a single injection disposal well facility," Christopher Kassotis, a former graduate student in Nagel's laboratory and a current postdoctoral fellow at Duke University, said in a statement to EcoWatch. "While there are more than 30,000 of these wells operating across the U.S., we have not yet assessed any other facilities. The work presented herein suggest that this could be an issue at other similar operations, but further study is needed to determine whether that is the case."
The scientists warn that in addition to humans, this level of EDCs may also be associated with negative health effects in aquatic organisms and other animals.
In a prior study published in Endocrinology last year, prenatal exposure to fracking fluids at levels found in the environment lowered sperm counts in male mice when they reached adulthood.
"This study is the first to demonstrate that EDCs commonly used in fracking, at levels realistic for human and animal exposure in these regions, can have an adverse effect on the reproductive health of mice," Nagel, who was also the senior author of this study said, according to Endocrine News. "In addition to reduced sperm counts, the male mice exposed to the mixture of chemicals had elevated levels of testosterone in their blood and larger testicles. These findings may have implications for the fertility of men living in regions with dense oil and/or natural gas production."
As for the big picture, the country's fracking boom only means a growing number of disposal wells. The Energy Information Administration found that fracking currently accounts for more than half of all U.S. oil output, up from less than 2 percent of American oil production in 2000. Disposal of oil and gas wastewater into underground disposal wells have also been linked to an increase seismic activity, especially in frack-happy Oklahoma.
"The major take-homes are that oil and gas injection well operations may be another source for contamination of surface water with EDCs used in oil and gas production," Nagel explained to EcoWatch. "We hope that this drives additional research in this area to clearly define how oil and gas wastewater disposal impacts surface and ground water."
Listen to an interview with Dr. Nagel about the study below.
YOU MIGHT ALSO LIKE
6 Colorado Teenagers File Appeal in Fracking and Climate Lawsuit
Stanford Scientists Find Fracking Linked to Groundwater Contamination in Pavillion, Wyoming
Induced Earthquakes Increase Chances of Damaging Shaking, Wastewater Disposal From Fracking Primary Cause
Rise of Fracking Wastewater Injections in Ohio Sparks Fears of Earthquakes, Water Contamination
EcoWatch Daily Newsletter
polaristest / Flickr / CC BY-NC-ND 2.0
By Melissa Kravitz Hoeffner
Over six gallons of water are required to produce one gallon of wine. "Irrigation, sprays, and frost protection all [used in winemaking] require a lot of water," explained winemaker and sommelier Keith Wallace, who's also a professor and the founder of the Wine School of Philadelphia, the largest independent wine school in the U.S. And water waste is just the start of the climate-ruining inefficiencies commonplace in the wine industry. Sustainably speaking, climate change could be problematic for your favorite glass of wine.
Pixabay
Spinach is a true nutritional powerhouse, as it's rich in vitamins, minerals, and antioxidants.
Pexels
By Jeff Turrentine
From day to day, our public health infrastructure — the people and systems we've put in place to keep populations, as opposed to individuals, healthy — largely goes unnoticed. That's because when it's working well, its success takes the form of utter normalcy.
By Eoin Higgins
A viral video showing cell phone data collected by location accuracy company X-Mode from spring break partiers potentially spreading the coronavirus around the U.S. has brought up questions of digital privacy even as it shows convincingly the importance of staying home to defeat the disease.
Aerial shot top view Garbage trucks unload garbage to a recycle in the vicinity of the city of Bangkok, Thailand. bugto / Moment / Getty Images
German researchers have identified a strain of bacterium that not only breaks down toxic plastic, but also uses it as food to fuel the process, according to The Guardian.