This website uses cookies to ensure you get the best experience while browsing it. By clicking 'Got It' you're accepting these terms.


The best of EcoWatch, right in your inbox. Sign up for our email newsletter!
Hey Vegetarians and Vegans: It's Time to Debunk the Protein Combining Myth
May. 11, 2016 02:12PM EST
Food
Protein combining is the idea that in order to get "complete" proteins from plant-based foods, you need to eat two different protein sources together, like beans and rice or corn and quinoa. And it's just not true. Here's how this myth got started and the truth about plant-based protein.
Back when I first went vegetarian and then vegan, Diet for a Small Planet was the book to read. At that time, author Francis Lappe included information in her book about how plants provide incomplete proteins and how vegetarians and vegans need to combine proteins at each meal to ensure we're getting a "complete" protein.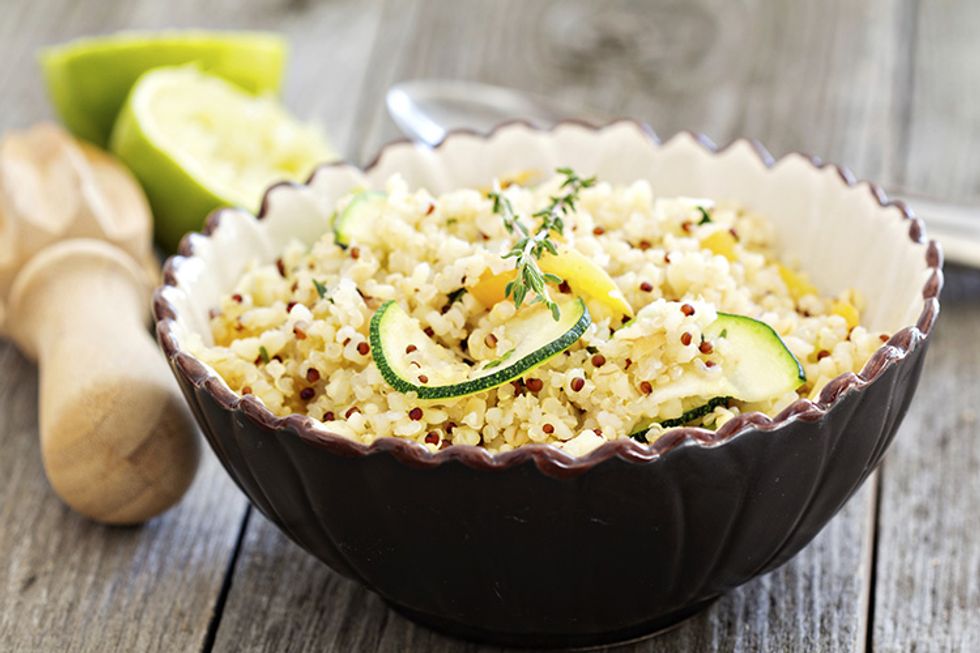 This was commonly considered true at the time. It was being taught in health and nutrition classes and in medical schools, so it makes sense that Lappe would mention it in her book. I also learned about protein combining in a freshman year nutrition class in college. In more recent editions of Diet for a Small Planet, Lappe says correctly that there's no need to worry about eating complementary proteins, as long as you're eating enough calories.
Protein combining is all about amino acids. The idea is that plant-based proteins don't provide all of the essential amino acids, so you need to eat combinations of plant-based protein sources to make up the complete set. It's like Pokemon, but with amino acids: "Gotta catch 'em all." But, that's not really how it works.
It's true that some plant-based foods are missing an amino acid here and there. What isn't true is that you need to combine plant-based proteins carefully to avoid deficiency. Your body stores amino acids, so if you eat whole grains at breakfast and beans at lunch, you're good. In fact, as long as you're eating a variety of plant-based protein sources, you're good. And pretty much all plants provide protein.
Unfortunately, this myth is still common, even in the medical community. Jeff Novick, MS, RD, describes teaching a recent nutrition course where a medical resident told him that protein combining was covered in one of her current textbooks.
It turns out that the myth of protein combining has even deeper roots than the book that popularized the idea. It goes all the way back to a 100-year-old study of rats. Here's Dr. Michael Greger talking about how this idea got started and what we know now about plant-based protein.
You don't have to eat beans and rice together to stay healthy. As long as you're eating a variety of foods, you don't need to worry about complementary proteins on a vegan diet at all. Your body is smarter than that.
The other concern when it comes to plant-based protein is that vegans and vegetarians don't get enough. Luckily, I've noticed that this myth seems to be on the decline. It's so easy to hit your protein requirements while eating a plant-based diet. If you're worried, check out these 25 delicious vegan protein sources and lay your fears to rest.
YOU MIGHT ALSO LIKE
6 Ways Lemons Contribute to a Healthy Diet
5 Ways Eating Processed Foods Messes with Your Body
EcoWatch Daily Newsletter
BLM drill seeders work to restore native grasses after wildfire on the Bowden Hills Wilderness Study Area in southeast Oregon, Dec. 14, 2018. Marcus Johnson / BLM / CC BY 2.0
By Tara Lohan
In 2017 the Thomas fire raged through 281,893 acres in Ventura and Santa Barbara counties, California, leaving in its wake a blackened expanse of land, burned vegetation, and more than 1,000 destroyed buildings.
Brogues Cozens-Mcneelance / EyeEm / Getty Images
Fruit juice is generally perceived as healthy and far superior to sugary soda.
Pexels
By Danielle Nierenberg and Katherine Walla
As the holiday season ramps up for many across the world, Food Tank is highlighting 15 children's books that will introduce young eaters, growers and innovators to the world of food and agriculture. Authors and organizations are working to show children the importance — and fun — of eating healthy, nutritious and delicious food, growing their own produce, and giving food to others in need.
Pixabay
Purple cabbage, also referred to as red cabbage, belongs to the Brassica genus of plants. This group includes nutrient-dense vegetables, such as broccoli, Brussels sprouts, and kale.
Pexels
By Lauren Wolahan
For the first time ever, the UN is building out a roadmap for curbing carbon pollution from agriculture. To take part in that process, a coalition of U.S. farmers traveled to the UN climate conference in Madrid, Spain this month to make the case for the role that large-scale farming operations, long criticized for their outsized emissions, can play in addressing climate change.