This website uses cookies to ensure you get the best experience while browsing it. By clicking 'Got It' you're accepting these terms.
Hey Vegetarians and Vegans: It's Time to Debunk the Protein Combining Myth
May. 11, 2016 02:12PM EST
Food
Protein combining is the idea that in order to get "complete" proteins from plant-based foods, you need to eat two different protein sources together, like beans and rice or corn and quinoa. And it's just not true. Here's how this myth got started and the truth about plant-based protein.
Back when I first went vegetarian and then vegan, Diet for a Small Planet was the book to read. At that time, author Francis Lappe included information in her book about how plants provide incomplete proteins and how vegetarians and vegans need to combine proteins at each meal to ensure we're getting a "complete" protein.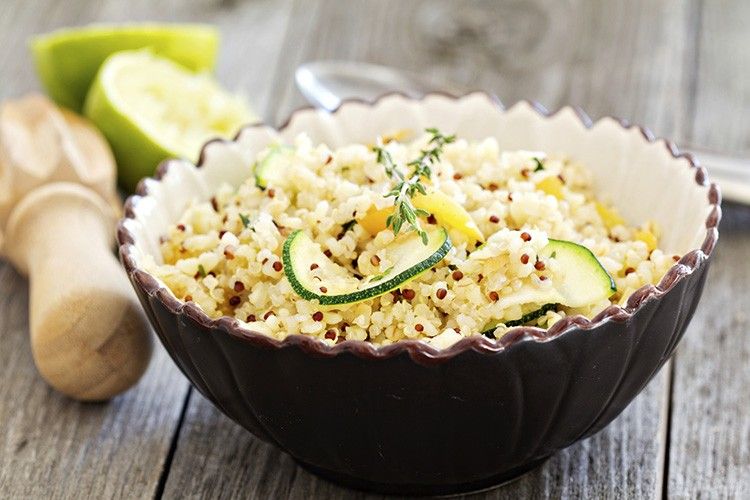 This was commonly considered true at the time. It was being taught in health and nutrition classes and in medical schools, so it makes sense that Lappe would mention it in her book. I also learned about protein combining in a freshman year nutrition class in college. In more recent editions of Diet for a Small Planet, Lappe says correctly that there's no need to worry about eating complementary proteins, as long as you're eating enough calories.
Protein combining is all about amino acids. The idea is that plant-based proteins don't provide all of the essential amino acids, so you need to eat combinations of plant-based protein sources to make up the complete set. It's like Pokemon, but with amino acids: "Gotta catch 'em all." But, that's not really how it works.
It's true that some plant-based foods are missing an amino acid here and there. What isn't true is that you need to combine plant-based proteins carefully to avoid deficiency. Your body stores amino acids, so if you eat whole grains at breakfast and beans at lunch, you're good. In fact, as long as you're eating a variety of plant-based protein sources, you're good. And pretty much all plants provide protein.
Unfortunately, this myth is still common, even in the medical community. Jeff Novick, MS, RD, describes teaching a recent nutrition course where a medical resident told him that protein combining was covered in one of her current textbooks.
It turns out that the myth of protein combining has even deeper roots than the book that popularized the idea. It goes all the way back to a 100-year-old study of rats. Here's Dr. Michael Greger talking about how this idea got started and what we know now about plant-based protein.
You don't have to eat beans and rice together to stay healthy. As long as you're eating a variety of foods, you don't need to worry about complementary proteins on a vegan diet at all. Your body is smarter than that.
The other concern when it comes to plant-based protein is that vegans and vegetarians don't get enough. Luckily, I've noticed that this myth seems to be on the decline. It's so easy to hit your protein requirements while eating a plant-based diet. If you're worried, check out these 25 delicious vegan protein sources and lay your fears to rest.
YOU MIGHT ALSO LIKE
6 Ways Lemons Contribute to a Healthy Diet
5 Ways Eating Processed Foods Messes with Your Body
EcoWatch Daily Newsletter
By Anne-Sophie Brändlin
October 16 marks World Food Day this year, a day celebrated every year by the United Nations' Food and Agriculture Organization (FAO).
World Food Day is a call to make healthy and sustainable diets affordable and accessible for everyone, while nurturing the planet at the same time.
Graphical representation of vertical pectoral herding by whale in Southeast Alaska. Prey are denoted in yellow. Whale deploys an upward-spiral bubble-net to corral prey and establish the first barrier; pectorals then protract to form a 'V' shape around the open mouth (depicted by blue arrows), creating a second physical barrier.
Kyle Kosma / Royal Society Open Science /
CC BY 4.0
When you have a whale-sized appetite, you need to figure out some pretty sophisticated feeding strategies. They mysteries of how a humpback whale traps so much prey have eluded scientists, until now.
California Yosemite River Scene.
Mobilus In Mobili / Flickr /
CC BY-SA 2.0
An advisory panel appointed by Trump's first Secretary of the Interior, Ryan Zinke, has recommended privatizing National Parks campgrounds, allowing food trucks in and setting up WiFi at campgrounds while also reducing benefits to seniors, according to the panel's memo.
Strips of native prairie grasses planted on Larry and Margaret Stone's Iowa farm protect soil, water and wildlife.
Iowa State University / Omar de Kok-Mercado, CC BY-ND
In Haiti, Action Against Hunger screens children for malnutrition. Christophe Da Silva / Action Against Hunger, Haiti
By Dr. Charles Owubah
As a child growing up on a farm in Ghana, I have personally known hunger. The most challenging time was between planting and harvesting – "the hunger season." There were many occasions when we did not know where the next meal would come from.
Today, on World Food Day, I think of the 820 million people around the world who are undernourished.
A Lyme disease warning on Montauk, Long Island, New York.
Neil R / Flickr
Biomedical engineers have developed a new, rapid test capable of detecting Lyme disease in just 15 minutes.
Brown bear fishing for salmon in creek at Pavlof Harbor in Tongass National Forest, Alaska. Wolfgang Kaehler / LightRocket / Getty Images
The Trump administration has moved one step closer to opening Earth's largest intact temperate rainforest to logging.
The Democratic primary candidates take the stage during Tuesday's debate. SAUL LOEB / AFP via Getty Images
On Tuesday night, the Democratic presidential candidates gathered for what The Guardian said was the largest primary debate in U.S. history, and they weren't asked a single question about the climate crisis.