This website uses cookies to ensure you get the best experience while browsing it. By clicking 'Got It' you're accepting these terms.
Hey Vegetarians and Vegans: It's Time to Debunk the Protein Combining Myth
May. 11, 2016 03:12PM EST
Food
Protein combining is the idea that in order to get "complete" proteins from plant-based foods, you need to eat two different protein sources together, like beans and rice or corn and quinoa. And it's just not true. Here's how this myth got started and the truth about plant-based protein.
Back when I first went vegetarian and then vegan, Diet for a Small Planet was the book to read. At that time, author Francis Lappe included information in her book about how plants provide incomplete proteins and how vegetarians and vegans need to combine proteins at each meal to ensure we're getting a "complete" protein.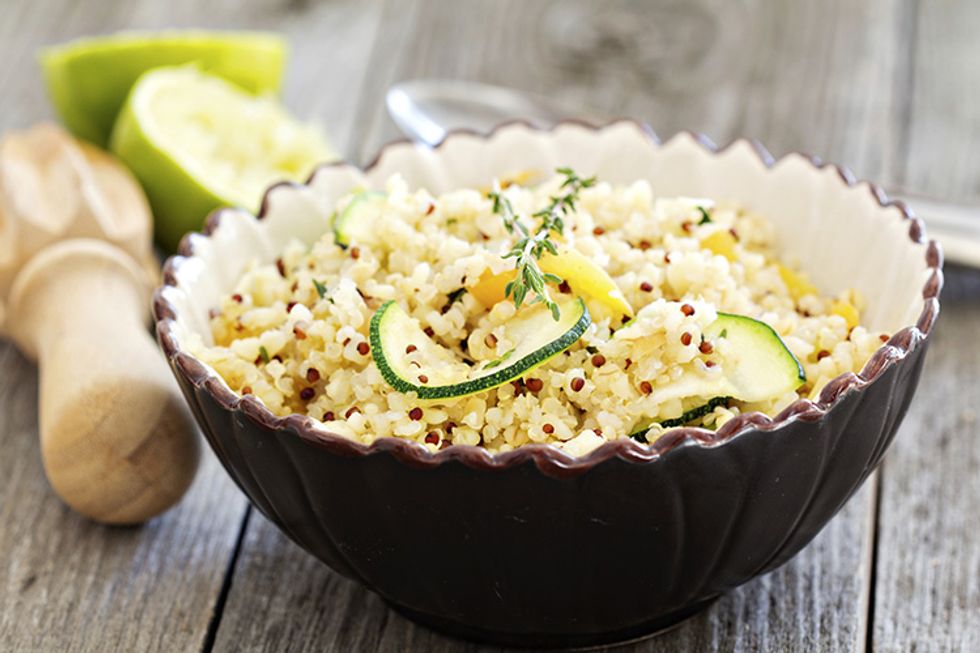 This was commonly considered true at the time. It was being taught in health and nutrition classes and in medical schools, so it makes sense that Lappe would mention it in her book. I also learned about protein combining in a freshman year nutrition class in college. In more recent editions of Diet for a Small Planet, Lappe says correctly that there's no need to worry about eating complementary proteins, as long as you're eating enough calories.
Protein combining is all about amino acids. The idea is that plant-based proteins don't provide all of the essential amino acids, so you need to eat combinations of plant-based protein sources to make up the complete set. It's like Pokemon, but with amino acids: "Gotta catch 'em all." But, that's not really how it works.
It's true that some plant-based foods are missing an amino acid here and there. What isn't true is that you need to combine plant-based proteins carefully to avoid deficiency. Your body stores amino acids, so if you eat whole grains at breakfast and beans at lunch, you're good. In fact, as long as you're eating a variety of plant-based protein sources, you're good. And pretty much all plants provide protein.
Unfortunately, this myth is still common, even in the medical community. Jeff Novick, MS, RD, describes teaching a recent nutrition course where a medical resident told him that protein combining was covered in one of her current textbooks.
It turns out that the myth of protein combining has even deeper roots than the book that popularized the idea. It goes all the way back to a 100-year-old study of rats. Here's Dr. Michael Greger talking about how this idea got started and what we know now about plant-based protein.
You don't have to eat beans and rice together to stay healthy. As long as you're eating a variety of foods, you don't need to worry about complementary proteins on a vegan diet at all. Your body is smarter than that.
The other concern when it comes to plant-based protein is that vegans and vegetarians don't get enough. Luckily, I've noticed that this myth seems to be on the decline. It's so easy to hit your protein requirements while eating a plant-based diet. If you're worried, check out these 25 delicious vegan protein sources and lay your fears to rest.
YOU MIGHT ALSO LIKE
6 Ways Lemons Contribute to a Healthy Diet
5 Ways Eating Processed Foods Messes with Your Body
EcoWatch Daily Newsletter
The Ernest N. Morial Convention Center in New Orleans, Louisiana has been converted to a 1,000-bed field hospital for coronavirus patients to alleviate stress on local hospitals. Chris Graythen / Getty Images
An area in Louisiana whose predominantly black and brown residents are hard-hit by health problems from industry overdevelopment is experiencing one of the highest death rates from coronavirus of any county in the United States.
A woman lies in bed with the flu. marka/Universal Images Group via Getty Images
A central player in the fight against the novel coronavirus is our immune system. It protects us against the invader and can even be helpful for its therapy. But sometimes it can turn against us.
Several flower species, including the orchid, can recover quickly from severe injury, scientists have found. cunfek / iStock / Getty Images Plus
Calling someone a delicate flower may not sting like it used to, according to new research. Scientists have found that many delicate flowers are actually remarkably hearty and able to bounce back from severe injury.
A Boeing 727 flies over approach lights with a trail of black-smoke from the engines on April 9, 2018. aviation-images.com / Universal Images Group via Getty Images
With global air travel at a near standstill, the airline industry is looking to rewrite the rules it agreed to tackle global emissions. The Guardian reports that the airline is billing it as a matter of survival, while environmental activists are accusing the industry of trying to dodge their obligations.
A National Guard member works on election day at a polling location on April 7, 2020 in Madison, Wisconsin. Andy Manis / Getty Images.
ByJulia Baumel
The outbreak of COVID-19 across the U.S. has touched every facet of our society, and our democracy has been no exception.