Hershey's Most Popular Chocolates Will Go GMO-Free by End of the Year
Mar. 04, 2015 09:47AM EST
Food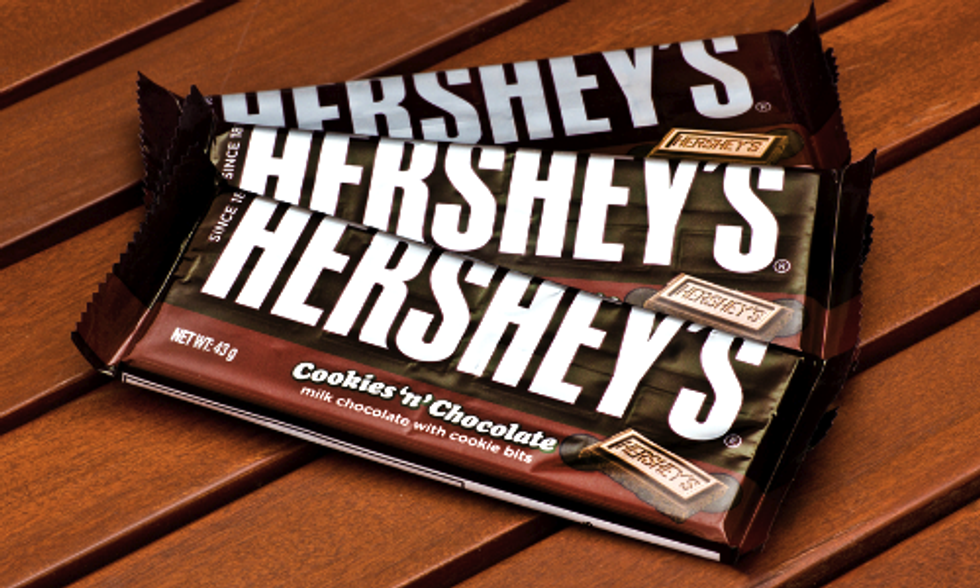 Now that Valentine's Day has come and gone, the Hershey Company's love affair with Genetically Modified Organisms is (mostly) over.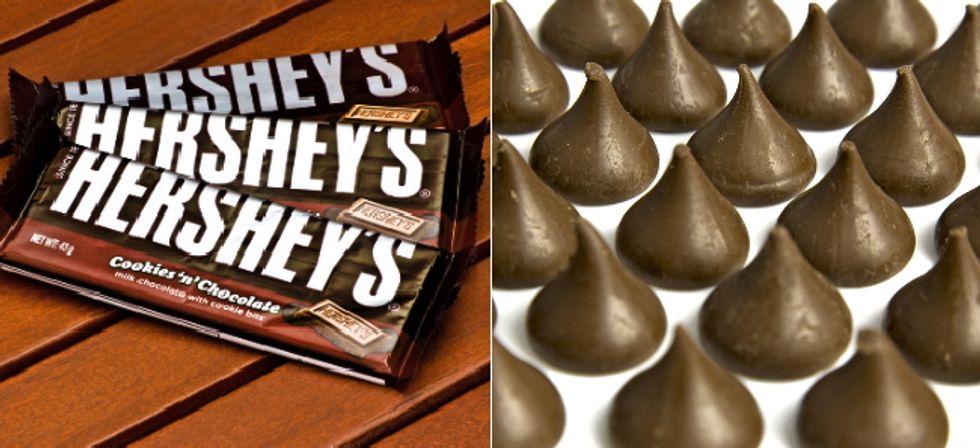 Photo credit: Shutterstock
/
Shutterstock
After years of mounting pressure and thousands of Facebook posts, e-mails and telephone calls from consumers and advocacy organizations, the candy giant announced it "will feature a lineup of simple ingredients, and transition some of its most popular chocolate brands, including Hershey's Kisses Milk Chocolates and Hershey's Milk Chocolate Bars to simpler ingredients."
This means, as Confectionery News reported, Hershey will swap genetically modified sugar beet for cane sugar, as well as switch to non-genetically modified soy lecithin for these iconic products by the end of the year. Artificial vanillin and emulsified polyglycerol polyricinoleate (which reduces the viscosity of chocolate and is used as a replacement for expensive cocoa butter) will also be dropped.
Besides switching to ingredients people can actually recognize, the confectionery company said it's aiming for more transparency in sourcing, manufacturing and labeling process. Hershey says it's also working with suppliers to source 100 percent certified and sustainable cocoa, as well as certified sustainable and traceable palm oil.
"We will strive for simplicity with all of our ingredients, but we may not achieve it with every product," Hershey president and CEO John P. Bilbrey said. "This is a journey and it will take time. We are equally committed to sharing what we achieve and what we don't. For ingredients that may not be as simple, we will explain what they are and why we need them to provide the great flavors, aromas, textures and appearances that our consumers know and love."
Advocacy group GMO Inside spearheaded the pressure on Hershey (as well Mars) to make its products without GMOs over environmental and health concerns. The organization also noted that after their successful campaign, Hershey's will no longer source milk from cows that are treated with the artificial growth hormone rBST.
John Roulac, co-chair of GMO Inside and CEO of Nutiva, called Hershey's decision just the first step. "Hershey's needs to take the next step and go non-GMO with all of its chocolates, and get third-party verification for non-GMO ingredients. This includes sourcing milk from cows not fed GMOs and agreeing to prohibit any synthetic biology ingredients, starting with vanilla," said Roulac. "Consumers are increasingly looking for non-GMO products and verification, and Hershey's and its competitors would be wise to offer third-party verified non-GMO products to consumers."
Hershey's announcement comes just weeks after Nestlé pledged to remove artificial coloring and flavoring from all its candy products sold in the U.S. and one month after Breyers announced it will stop using milk from cows treated with the artificial hormone rBST.
"As one of the leading chocolate companies in the U.S., this commitment will help move the rest of the companies in this sector," said Nicole McCann, Green America food campaigns director. "Hershey's joins General Mills, Unilever, Post Foods and other leading companies in responding to consumer demand to make at least some of its products non-GMO."
YOU MIGHT ALSO LIKE
Chef Tom Colicchio Stands With Federal Lawmakers as GE Food Labeling Bill Is Reintroduced
12 Ways to Rid the Planet of GMOs and Monsanto's Roundup
EcoWatch Daily Newsletter