This website uses cookies to ensure you get the best experience while browsing it. By clicking 'Got It' you're accepting these terms.
Help the Gulf Coast Recover—Support the RESTORE Act
Jan. 23, 2012 08:45AM EST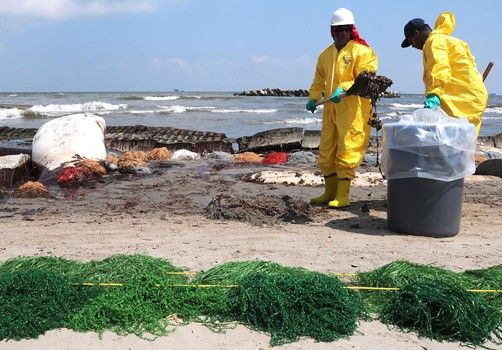 By Tammy Herrington
During the summer of 2010, the nation watched in horror as gallons of oil spewed into the Gulf of Mexico. While many outside the Gulf region are hearing that we are back to normal, we continue to find tarballs on our beaches, mats of tar beneath the surface of local waters and fish with lesions, leading to questions about long-term impacts.
The RESTORE Act, or Senate Bill 1400, was introduced by Gulf Coast Senators as an effort to send 80 percent of the fines BP will pay from this disaster back to the Gulf Coast for environmental and economic recovery. It has passed through committee, but we now need it to pass a vote of the full Senate. Sending this money to the region that suffered can make a huge impact on Gulf economies and make the area more resilient to future disasters. The Gulf produces nearly half of the U.S. domestic energy supply, holds seven of the nation's ten largest ports, and produces two-thirds of the nation's shrimp and oysters. The health of these resources truly impacts the entire nation.
What we need from you:
Mobile Baykeeper, in conjunction with the Women of the Storm, needs friends in non-Gulf Coast states to fax and/or phone their two U.S. senators. Ask for the staffer on environmental or governmental affairs, and urge the senator to support the RESTORE Act. You can find the names and contact information from Senators in all 50 states here. Our goal is to make contact with Senators by Feb. 3, 2012.
Message:
The Gulf Coast provides energy independence, commerce, ecotourism, and national security to the entire nation. Restoration of Gulf resources is critical for the region as well as the nation.
If most of the fine dollars are not designated to environmental and economic recovery of the Gulf Coast, they will disappear into the federal budget. Applying BP fine dollars to Gulf restoration will create thousands of jobs and make the area more resilient to future disasters.
When a disaster of this magnitude strikes, the entire nation must support the affected area. The Gulf Coast's environment, economy, and communities bore the brunt of this disaster, and these fines should go back to the Gulf Coast to fix what has been broken. The next disaster could be in that Senator's state. We would want citizens of that state to get fair and reasonable support.
Sample content for fax or phone call:
"Senator (NAME), I support the RESTORE Act because I know the importance of the Gulf Coast to (Senator's state), the U.S. and around the world. I hope you will support it too." Then add a version of the message points above.
Feedback:
Email me at therrington@mobilebaykeeper.org the states in which you have made contact with friends to call their senators and the information you and your friends have received about senatorial positions on the RESTORE Act so we can keep track of our activity. Thank you for your help. We are grateful to have your support and hopeful that we can work together to pass the RESTORE Act in 2012.
For more information, click here.
EcoWatch Daily Newsletter
The climate crisis often intensifies systems of oppression. Rieko Honma / Stone / Getty Images Plus
By Mara Dolan
We see the effects of the climate crisis all around us in hurricanes, droughts, wildfires, and rising sea levels, but our proximity to these things, and how deeply our lives are changed by them, are not the same for everyone. Frontline groups have been leading the fight for environmental and climate justice for centuries and understand the critical connections between the climate crisis and racial justice, economic justice, migrant justice, and gender justice. Our personal experiences with climate change are shaped by our experiences with race, gender, and class, as the climate crisis often intensifies these systems of oppression.

Lana Del Rey: "call her Doris Doomsday." Darren Gerrish / BFC / Getty Images Entertainment
By Emer McHugh
Popular music has, and always will be, informed by the political and social contexts from which it emerges.
It was early in the morning last Thursday, and Jonathan Butler was standing on the Fred Hartman Bridge, helping 11 fellow Greenpeace activists rappel down and suspend themselves over the Houston Ship Channel. The protesters dangled in the air most of the day, shutting down a part of one of the country's largest ports for oil.
By C.J. Polychroniou
Climate change is by far the most serious crisis facing the world today. At stake is the future of civilization as we know it. Yet, both public awareness and government action lag way behind what's needed to avert a climate change catastrophe. In the interview below, Noam Chomsky and Robert Pollin discuss the challenges ahead and what needs to be done.
Food manufacturer General Mills issued a voluntary recall of more than 600,000 pounds, or about 120,000 bags, of Gold Medal Unbleached All Purpose Flour this week after a sample tested positive for a bacteria strain known to cause illness.
Imelda flooded highway 69 North in Houston Thursday. Thomas B. Shea / Getty Images
Extreme weather events supercharged by climate change in 2012 led to nearly 1,000 more deaths, more than 20,000 additional hospitalizations, and cost the U.S. healthcare system $10 billion, a new report finds.
Giant sequoia trees at Sequoia National Park, California. lucky-photographer / iStock / Getty Images Plus
A Bay Area conservation group struck a deal to buy and to protect the world's largest remaining privately owned sequoia forest for $15.6 million. Now it needs to raise the money, according to CNN.