This website uses cookies to ensure you get the best experience while browsing it. By clicking 'Got It' you're accepting these terms.
Help the Gulf Coast Recover—Support the RESTORE Act
Jan. 23, 2012 08:45AM EST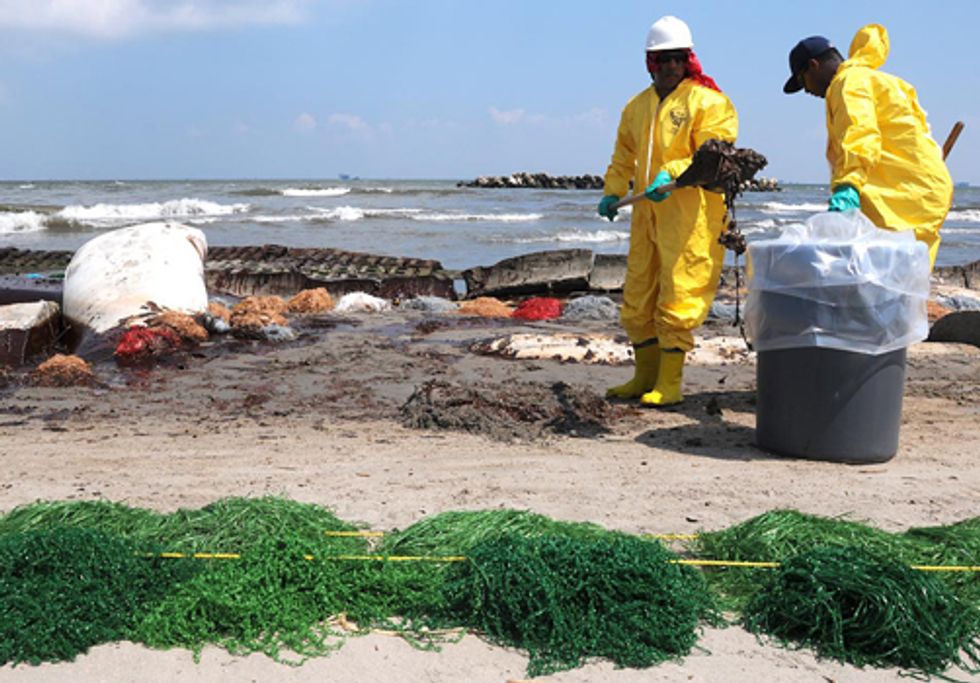 By Tammy Herrington
During the summer of 2010, the nation watched in horror as gallons of oil spewed into the Gulf of Mexico. While many outside the Gulf region are hearing that we are back to normal, we continue to find tarballs on our beaches, mats of tar beneath the surface of local waters and fish with lesions, leading to questions about long-term impacts.
The RESTORE Act, or Senate Bill 1400, was introduced by Gulf Coast Senators as an effort to send 80 percent of the fines BP will pay from this disaster back to the Gulf Coast for environmental and economic recovery. It has passed through committee, but we now need it to pass a vote of the full Senate. Sending this money to the region that suffered can make a huge impact on Gulf economies and make the area more resilient to future disasters. The Gulf produces nearly half of the U.S. domestic energy supply, holds seven of the nation's ten largest ports, and produces two-thirds of the nation's shrimp and oysters. The health of these resources truly impacts the entire nation.
What we need from you:
Mobile Baykeeper, in conjunction with the Women of the Storm, needs friends in non-Gulf Coast states to fax and/or phone their two U.S. senators. Ask for the staffer on environmental or governmental affairs, and urge the senator to support the RESTORE Act. You can find the names and contact information from Senators in all 50 states here. Our goal is to make contact with Senators by Feb. 3, 2012.
Message:
The Gulf Coast provides energy independence, commerce, ecotourism, and national security to the entire nation. Restoration of Gulf resources is critical for the region as well as the nation.
If most of the fine dollars are not designated to environmental and economic recovery of the Gulf Coast, they will disappear into the federal budget. Applying BP fine dollars to Gulf restoration will create thousands of jobs and make the area more resilient to future disasters.
When a disaster of this magnitude strikes, the entire nation must support the affected area. The Gulf Coast's environment, economy, and communities bore the brunt of this disaster, and these fines should go back to the Gulf Coast to fix what has been broken. The next disaster could be in that Senator's state. We would want citizens of that state to get fair and reasonable support.
Sample content for fax or phone call:
"Senator (NAME), I support the RESTORE Act because I know the importance of the Gulf Coast to (Senator's state), the U.S. and around the world. I hope you will support it too." Then add a version of the message points above.
Feedback:
Email me at therrington@mobilebaykeeper.org the states in which you have made contact with friends to call their senators and the information you and your friends have received about senatorial positions on the RESTORE Act so we can keep track of our activity. Thank you for your help. We are grateful to have your support and hopeful that we can work together to pass the RESTORE Act in 2012.
For more information, click here.
EcoWatch Daily Newsletter
A new report spotlights a U.N. estimate that at least 275 million people rely on healthy coral reefs. A sea turtle near the Heron Island in the Great Barrier Reef is seen above. THE OCEAN AGENCY / XL CATLIN SEAVIEW SURVEY
In a new report about how the world's coral reefs face "the combined threats of climate change, pollution, and overfishing" — endangering the future of marine biodiversity — a London-based nonprofit calls for greater global efforts to end the climate crisis and ensure the survival of these vital underwater ecosystems.
Half of the extracted resources used were sand, clay, gravel and cement, seen above, for building, along with the other minerals that produce fertilizer. Cavan Images / Cavan / Getty Images
The world is using up more and more resources and global recycling is falling. That's the grim takeaway from a new report by the Circle Economy think tank, which found that the world used up more than 110 billion tons, or 100.6 billion metric tons, of natural resources, as Agence France-Presse (AFP) reported.
By Gero Rueter
Heating with coal, oil and natural gas accounts for around a quarter of global greenhouse gas emissions. But that's something we can change, says Wolfgang Feist, founder of the Passive House Institute in the western German city of Darmstadt.

By George Citroner
Recent research finds that official government figures may be underestimating drug deaths by half.
Researchers estimate that 142,000 people died due to drug use in 2016.
Drug use decreases life expectancy after age 15 by 1.4 years for men and by just under 1 year for women, on average.
Government records may be severely underreporting how many Americans die from drug use, according to a new study by researchers from the University of Pennsylvania and Georgetown University.
Water coolers in front of shut-off water fountains at Center School in Stow, MA on Sept. 4, 2019 after elevated levels of PFAS were found in the water. David L. Ryan / The Boston Globe via Getty Images
In a new nationwide assessment of drinking water systems, the Environmental Working Group found that toxic fluorinated chemicals known as PFAS are far more prevalent than previously thought.