This website uses cookies to ensure you get the best experience while browsing it. By clicking 'Got It' you're accepting these terms.
Help Save One of America's Most Pristine and Endangered Rivers from Proposed Coal Mine
Apr. 29, 2015 11:51AM EST
Energy
Approximately 45 miles west of Anchorage, Alaska, near Beluga and Tyonek, lies the Chuitna River watershed. Like most of Alaska's untouched beauty, this area houses pristine aquatic and terrestrial ecosystems. These areas are home to animals such as fox, lynx, wolves, coyotes, wolverines, waterfowl, bears, moose and beluga whales. However, the most important renewable resource to Alaska's economy, culture and well-being includes five species of wild Pacific salmon, including sockeye, coho, chinook, pink and chum salmon. These five species use the Chuitna River and its tributaries for spawning purposes. Salmon are keystone species in these environments because animals and other organisms rely on them as part of their diet.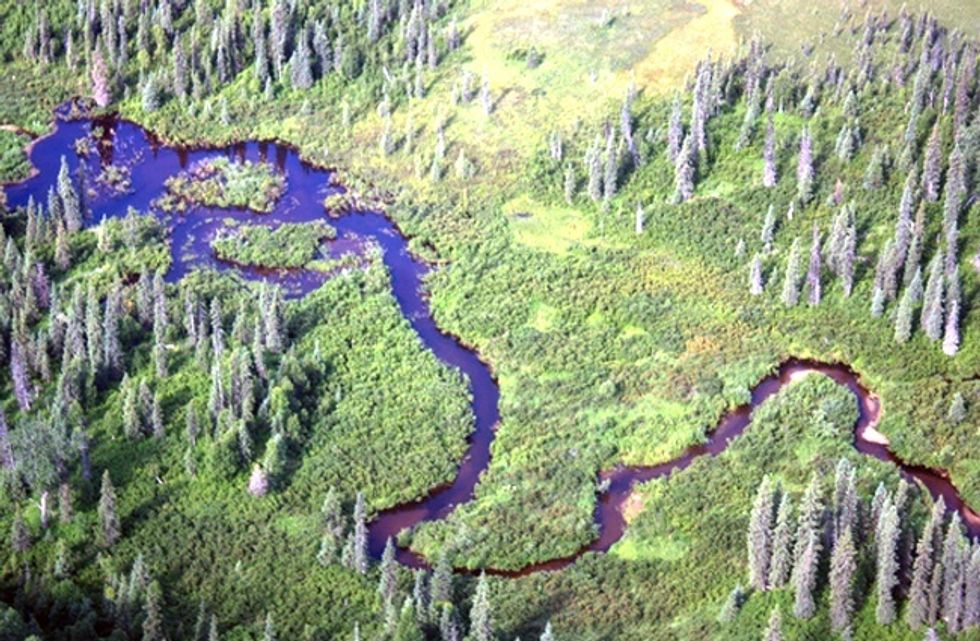 Among this beautiful, pristine, nearly untouched ecosystem, an out of state company, PacRim Coal has proposed a coal strip mine. Not only is the coal market dwindling in today's economy, but this proposal would be the first in Alaska's history to even think about mining directly through a salmon stream. A conservative estimate of the total length of salmon streams to be removed would be roughly 13.7 miles through Middle Creek, a main tributary in the Chuitna River watershed. Besides the destruction of the streams, PacRim Coal would have to dig 300 feet down to have access to the coal bed. This estimate only accounts for the first phase of coal mining on West Cook Inlet. The project would have a total of three phases, all destroying salmon habitat. PacRim owns the leases to these three phases, while another company, Barrick Gold holds the surrounding coal leases. Both PacRim's and Barrick Gold's leases would displace 57 miles of salmon streams and a total area of 60 square miles, all to produce 12 million tons of coal per year for a minimum of 25 years.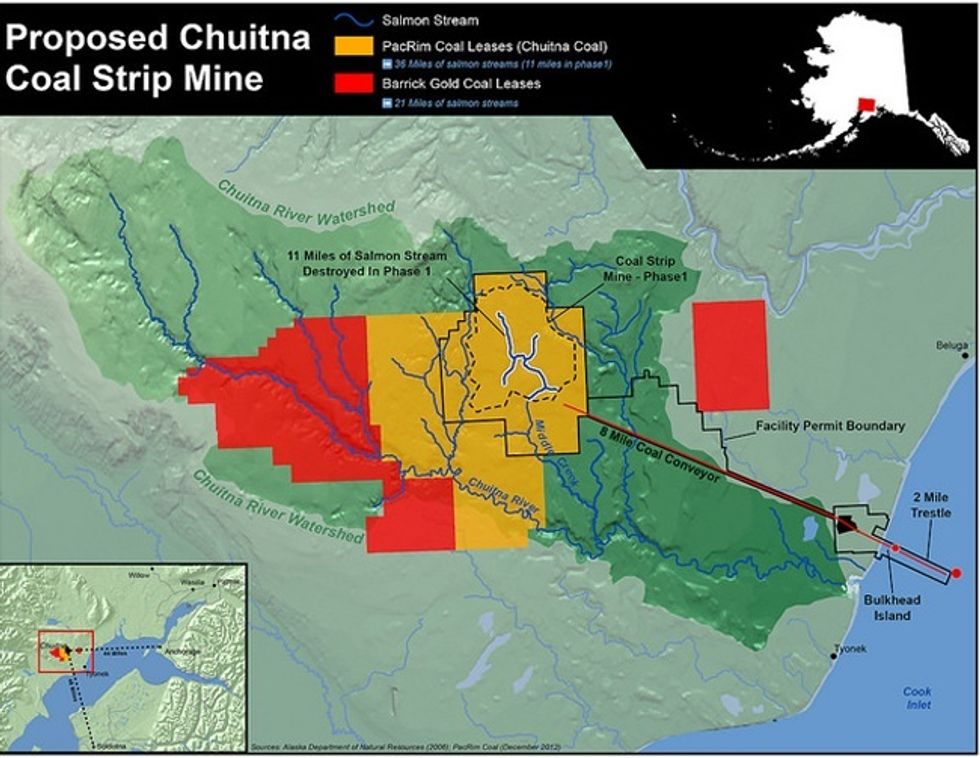 If PacRim receives the green light, they would set up infrastructure that would make it viable to mine both companies' coal leases in an area full of streams and wetlands. The established infrastructure would include an eight-mile conveyor belt to transport coal from the mine site to a man-made island, and then a two-mile trestle to reach the barges leaving Cook Inlet. If that doesn't sound bad enough the coal product would not be staying in or benefiting the U.S., the low-grade coal will be exported to Asian markets.
The wetlands that would be damaged from the development of the mine would alter the ecosystem in different ways. Wetlands are natural filtration systems, breeding areas and provide habitat for multiple organisms. The protection of all interconnecting waterways including wetlands, rivers, lakes, ponds and oceans are crucial to healthy aquatic and terrestrial ecosystems. If a disturbance like a coal mine interferes with a wetland, it may take the wetland over 10 years to regain its natural state including abundant flora and fauna.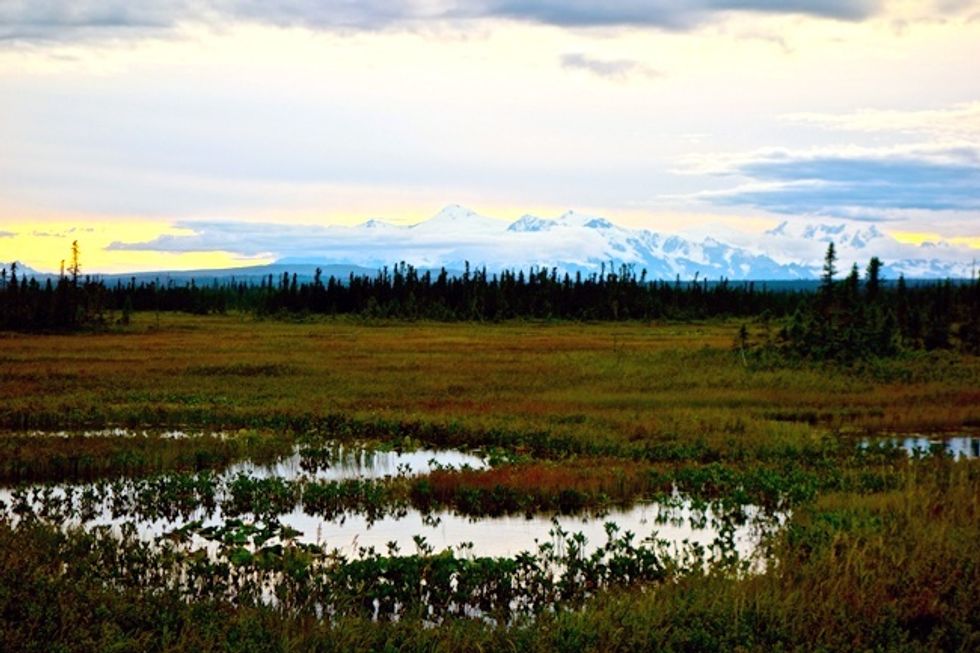 According to an economic report conducted by Center for Sustainable Economy in 2011, "For every $1 generated by things like taxes, royalties and job creation, there is $3-6 in economic losses in the form of environmental damage, reclamation costs and lost economic opportunity." That figure amounts to $2 billion that Alaska would lose economically over the course of the coal mine. The Chuitna Watershed supports sport, commercial and subsistence fishing adding to the fisheries economy and a way of life for Alaska Natives.
A public comment period with the Alaska Department of Natural Resources on an application for an in-stream flow reservation applied for by Chuitna Citizens Coalition ended a few weeks ago. There was an overwhelming 7,000 Alaskans that commented in support of the in-stream flow reservation. An in-stream flow reservation is a water right that can be obtained by an individual, organizations or government organizations. A reservation of water is to ensure that the stream level is at an adequate level for the individual or organization applying and the public's use, while not used for other purposes. An in-stream reservation can be applied to protect fish and wildlife, recreation, transportation and sanitation. If the in-stream flow reservation is accepted, the Chuitna Citizens Coalition will have precedent over others who file later. In this case, PacRim has done that very thing; it has applied for an out-of-stream reservation. An out-of-stream reservation is a water right to remove water from a system for power generation, industrial use, irrigation, mining and recreational (e.g. snowmaking).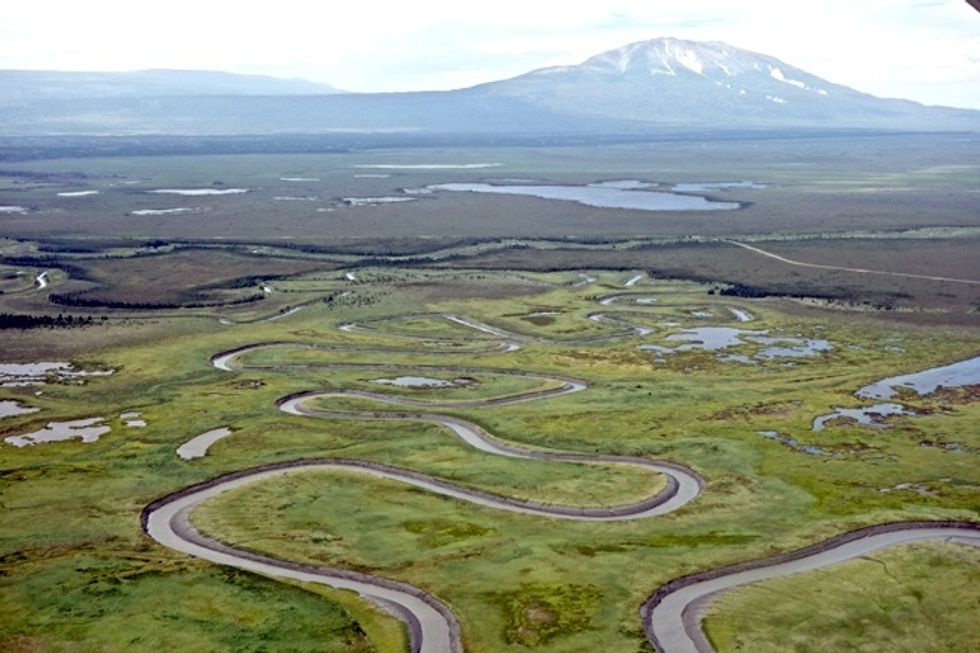 Earlier this month, the nonprofit American Rivers released its list for America's Most Endangered Rivers of 2015, and the Chuitna River came in at number six. The list highlights the major threat of PacRim's coal mine in the Chuitna River watershed. The report states that the mine would produce 7 million gallons of mine waste per day. The estimated flow of Middle Creek at the southern boundary of the mine is on average 6.5 million gallons per day. This essentially means the proposed mine would take a clean, healthy, productive river and replace it with a river's worth of polluted waters. Mine waste in the Cook Inlet region would pose threats to the Inlet's endangered beluga whales and other marine life. The U.S. Army Corp of Engineers is expected to release a draft environmental impact statement soon, initiating a public comment period.
To bring awareness to this pristine watershed and the threats of the coal strip mine, Save the Chuitna and Patagonia produced a documentary, Chuitna: More Than Salmon on the Line, which has been screened across the country including at the 2015 Wild and Scenic Film Festival.
Watch the gripping trailer here:
YOU MIGHT ALSO LIKE
America's First Offshore Wind Farm Breaks Ground
How Craigslist Contributes to the Killing of Elephants
EcoWatch Daily Newsletter
Aerial view of Ruropolis, Para state, northen Brazil, on Sept. 6, 2019. Tthe world's biggest rainforest is under threat from wildfires and rampant deforestation. JOHANNES MYBURGH / AFP via Getty Images
By Kate Martyr
Deforestation in Brazil's Amazon rainforest last month jumped to the highest level since records began in 2015, according to government data.
A total of 563 square kilometers (217.38 square miles) of the world's largest rainforest was destroyed in November, 103% more than in the same month last year, according to Brazil's space research agency.
From January to November this year an area almost the size of the Caribbean island of Puerto Rico was destroyed — an 83% overall increase in destruction when compared with the same period last year.
The figures were released on Friday by the National Institute for Space Research (INPE), and collected through the DETER database, which uses satellite images to monitor forest fires, forest destruction and other developments affecting the rainforest.
What's Behind the Rise?
Overall, deforestation in 2019 has jumped 30% compared to last year — 9,762 square kilometers (approximately 3769 square miles) have been destroyed, despite deforestation usually slowing during November and December.
Environmental groups, researchers and activists blamed the policies of Brazil's president Jair Bolsonaro for the increase.
They say that Bolosonaro's calls for the Amazon to be developed and his weakening support for Ibama, the government's environmental agency, have led to loggers and ranchers feeling safer and braver in destroying the expansive rainforest.
His government hit back at these claims, pointing out that previous governments also cut budgets to environment agencies such as Ibama.
The report comes as Brazil came to loggerheads with the Association of Small Island States (AOSIS) over climate goals during the UN climate conference in Madrid.
AOSIS blasted Brazil, among other nations, for "a lack of ambition that also undermines ours."
Last month, a group of Brazilian lawyers called for Bolsonaro to be investigated by the International Criminal Court over his environmental policies.
Reposted with permission from DW.
The Carolina parakeet went extinct in 1918. James St. John /
CC BY 2.0
The Carolina parakeet, the only parrot species native to the U.S., went extinct in 1918 when the last bird died at the Cincinnati Zoo. Now, a little more than 100 years later, researchers have determined that humans were entirely to blame.
Pexels
Vitamin C is a very important nutrient that's abundant in many fruits and vegetables.
BLM drill seeders work to restore native grasses after wildfire on the Bowden Hills Wilderness Study Area in southeast Oregon, Dec. 14, 2018. Marcus Johnson / BLM / CC BY 2.0
By Tara Lohan
In 2017 the Thomas fire raged through 281,893 acres in Ventura and Santa Barbara counties, California, leaving in its wake a blackened expanse of land, burned vegetation, and more than 1,000 destroyed buildings.