Help Make History at Ohio's Largest Anti-Fracking Rally This Weekend
Jun. 12, 2012 04:04PM EST
Energy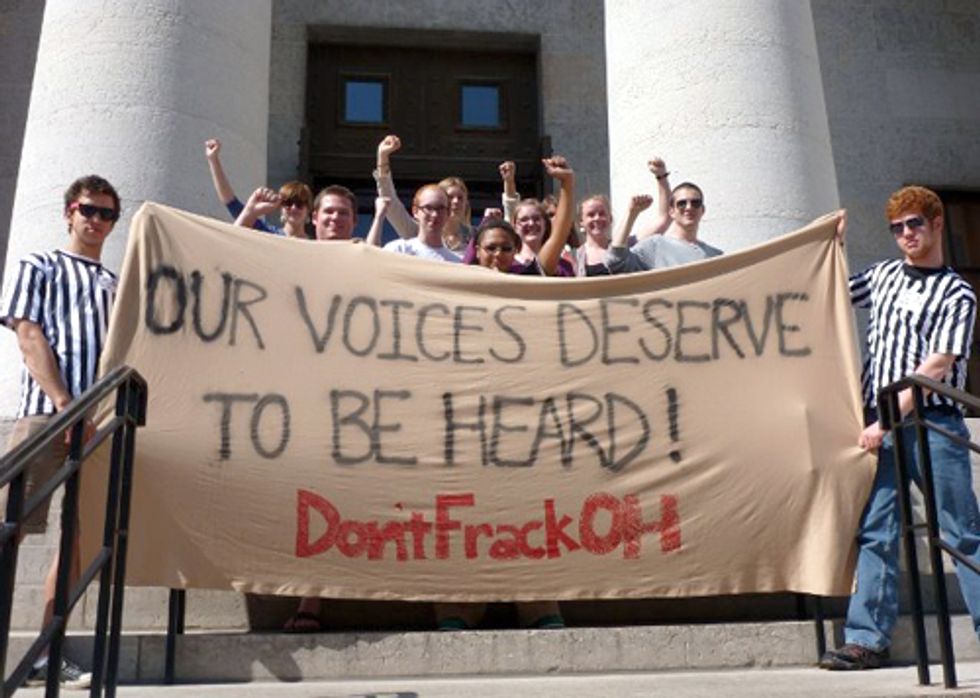 On June 11, Gov. John Kasich signed SB 315 into law, turning one of the worst fracking bills in America into the worst fracking laws.
On Sunday, June 17, Ohioans mobilize to show Gov. Kasich and his friends in the Statehouse that there will be consequences for choosing to frack Ohio. The largest mobilization against fracking in Ohio's history will descend on Columbus and take over the Statehouse to pass peoples' legislation that will defend us from the gas industry.
We will show the depth and diversity of our movement this weekend. All of Ohio's major cities will be represented with big numbers, but so will parts of the state where the gas industry is strongest—places like Steubenville, Carrollton and Youngstown, where the impact of drilling is already deeply felt.
People from surrounding states are en route, too. Michigan, where the frackers are both drilling and dredging sand, is expected to show strong support. So is Pennsylvania, a state that is unfortunately vividly aware of how destructive fracking can be for communities.
Everyone who's coming has a story to share and something to contribute to the movement. We're hoping you will be there to listen and learn, but also to participate in an important turning point for the fracking movement in Ohio. If you or your friends haven't yet signed up, click here.
Here are some of the people who are coming:
Hundreds of people like you from all corners of Ohio, plus dozens of other states affected by fracking
The gas industry (yes, they'll be there to counter-protest us)
We're planning for three days of strategy sessions and trainings from June 14-16 to learn from each other and work together to build a stronger movement. Trainings will be held at the Ohio Urban Arts Center, and a full agenda is available by clicking here.
Here's a bit of what's planned:
A non-violent direct action training led by 350.org's trainers who helped make last year's Tar Sands Action a success
Workshops in organizing for local control led by Ohio's strongest local organizers
Updates and discussions about political strategy to outflank Gov. Kasich and the oil industry in Ohio
Deeper trainings in media outreach, researching campaign contributions and the economics of fracking
Art builds to make our march shine
These workshops are just a piece of the action—there are also bands and a dance party on Friday night, a panel with Bill McKibben and Josh Fox on Saturday night, and a Don't Frack Ohio contingent in Columbus' Pride Parade Saturday at 12 p.m.
If you need it, there's affordable camping space available near Columbus (sign up here), and a ride and housing board to help you make it to the action available here.
That brings us to what's happening Sunday, June 17—the main event. If you can make it for only one day, try to make it Sunday.
At 11 a.m. we'll gather at Arch Park (McFerson Commons) in downtown Columbus. There, we'll rally and get fired up for our march to the Statehouse, where we will occupy the statehouse and send an unmistakable message to Gov. Kasich: Don't Frack Ohio
We'll hear from Josh Fox and Bill McKibben, as well as green business owners, landowners affected by the gas and coal industries, and grassroots activists leading this fight at the front lines. If you're a part of this movement, you'll either see friends there or make new ones. We'll be wrapped up by 2:30 p.m. or so.
It's hard to overstate what's at stake here. We used to think that natural gas might be a help in the fight against climate change–but new studies have demonstrated that so much heat-trapping methane leaks from fracking fields that it may be just as dirty as coal.
Ohio used to be one of the country's leaders in renewable power–the solar and wind industries were sparking a manufacturing renaissance. But the 18-story gas-drilling rigs along the Ohio River are starting to make life hard for renewable energy: because they don't have to pay for the environmental damage their drilling does, they can undercut everyone else's price. "It's kind of taken the wind out of wind," one businessman explained.
We can't let that happen—we can't let Ohio turn into a pincushion, pricked with drill rigs and shaken by earthquakes. If we stay silent, special interests will win. If we speak out together, we have a chance.
Visit EcoWatch's FRACKING page for more related news on this topic.
EcoWatch Daily Newsletter
Recent Stories from EcoWatch