This website uses cookies to ensure you get the best experience while browsing it. By clicking 'Got It' you're accepting these terms.
Help Extend the Renewable Energy Production Tax Credit
Dec. 06, 2011 08:46PM EST
Renewable Energy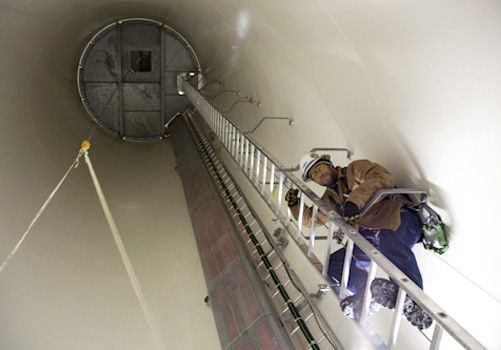 by Carl Levesque
Wind power is creating one of America's fastest-growing manufacturing sectors, providing 75,000 jobs in the U.S. currently and the promise of 500,000 jobs less than 20 years from now. But these jobs are in jeopardy without stable tax policy for the wind energy industry. Now a new website—complete with a compelling and informative new video—has launched to help enable Americans to do something about it.
The brand-new website, SaveUSAWindJobs.com, empowers Americans by giving them the facts about the urgent need to extend wind power's key federal tax incentive, the Production Tax Credit (PTC), and gives them the tools to get involved in the growing movement to pass a four-year extension. By passing an extension, Congress will save American jobs currently in danger of being shipped overseas and help the wind industry support 500,000 American jobs by 2030 as projected by the U.S. Department of Energy in the George W. Bush administration.
In the past, when the PTC was allowed to expire, wind installations dropped between 73 and 93 percent, with corresponding job losses. The SaveUSAWindJobs.com website provides vital information on the issue, including a visual depiction of this harmful yet preventable boom-bust cycle. The site also features a succinct 90-second video explaining how wind power means jobs, and how the PTC is a key driver of job creation. All 50 states have seen a positive economic impact from wind farms and factories, the video points out.
"Eliminating a tax credit to rake in more tax revenue," the video notes, "is a tax hike." Other compelling features available on the website that shine light on this crucial issue for America include a PTC fact sheet as well as a primer showing America's ability to meet 20 percent of its electricity needs with wind power—that is, with sound policies like the PTC in place.
Most importantly, SaveUSAWindJobs.com provides the tools with which Americans can take action. On the site, visitors can easily identify and contact their Members of Congress, and get the information they need to communicate to them the importance of a PTC extension.
"The SaveUSAWindJobs website is a powerful tool for the overwhelming majority of Americans who say they want more wind power," said Denise Bode, CEO of the American Wind Energy Association. "The need for a PTC extension is urgent. I ask everyone who supports more clean, homegrown wind power and more American manufacturing jobs to engage their Members of Congress by tapping into this valuable resource."
SaveUSAWindJobs.com includes information on the "Save USA Wind Jobs Coalition" a broad, nonpartisan coalition of 369 members, including manufacturing, farm and business interests. The large and diverse group recently issued a letter endorsing the four-year extension of the PTC sponsored by Representatives Dave Reichert (R, WA-08) and Earl Blumenauer (D, OR-03) (H.R. 3307, the "American Renewable Energy Production Tax Credit Extension Act"). Signatories to the letter include the National Association of Manufacturers, the American Farm Bureau Federation, the Edison Electric Institute, the Western Governors' Association, the United Steelworkers and many members of the environmental community. The letter is available here.
Support for this important piece of legislation was also recently received from the bipartisan Governors' Wind Energy Coalition, 23 Republican and Democrat governors from states all across the country. A copy of the Governor's Wind Energy Coalition letter can be found here.
John Feehery, a former spokesman for several Republican congressional leaders, including former Speaker of the House Dennis Hastert and currently President of Communications and Director of Government Affairs for Quinn Gillespie and Associates, also recently endorsed extending the PTC.
The House bill to extend the PTC, H.R. 3307, already has 29 bipartisan co-sponsors, and this list is growing every day. On the Senate side, legislators are discussing which provisions will be included in the tax bill that they intend to pass this month.
We are asking you to speak up at this crucial time—make a call to your Senator right now to urge him or her to include an extension of the PTC in any tax bill that moves forward this year.
AWEA has set up a hotline to connect you to your Senator's office. Call 1-877-234-9199 and rely this message:
• I urge the Senator to support, and advocate for, the inclusion of a renewable energy production tax credit extension in any tax bill that moves forward this month.
• For the purposes of the American wind industry manufacturing sector, the PTC effectively expires at the end of this year.  
• Layoffs have already begun, and the wind industry will continue to lose jobs in our state if the PTC is not extended this year.
The PTC is a tax incentive that helps keep electricity rates low and encourages development of proven renewable energy projects.  The status of the PTC is uncertain beyond 2012.  This uncertainty is keeping developers from planning projects beyond next year. That pause is keeping manufacturers from receiving orders now.  If Congress waits too long, these jobs will never come back.  
The only way that the PTC can be extended this year is for it to be included in the tax legislation Congress is working on right now.
For more information, click here.
--------
Editors note:  The production tax credit is available for other renewable energy projects, including solar, fuel cells, geothermal systems, and combined heat and power.  For a complete list and additional information on incentives for renewable energy, click here.
EcoWatch Daily Newsletter
Smog over Los Angeles. Westend61 / Getty Images
After four decades of improving air quality, the U.S. has started to take a step backwards, as the number of polluted days has ticked upwards over the last two years, the Associated Press reported.
Photobos / iStock / Getty Images
Governors in Vermont and Maine signed bills on Monday that will ban plastic bags in their states next year, The Hill reported.
The Maine ban will go into effect next Earth Day, April 22, 2020. The Vermont ban, which extends beyond plastic bags and is the most comprehensive plastics ban so far, will go into effect in July 2020. The wait time is designed to give businesses time to adjust to the ban.
picture-alliance / AP Images / D. Goldman
By Daniel Moattar
Eastern Kentucky's hills are interrupted by jarring flats of bare rock: the aftermath of mountaintop removal mining, which uses explosives to destroy and harvest coal-rich peaks.
By Molly Taft
Lisa Marshall isn't your typical activist. For one thing, she's not into crowds. "I don't really like rallies," Marshall, a mom of three from upstate New York, said. "They're a little stressful — not my favorite thing."

An oil drilling site in a residential area of Los Angeles, California on July 16, 2014.
Faces of Fracking / Flickr
By Jake Johnson
A comprehensive analysis of nearly 1,500 scientific studies, government reports, and media stories on the consequences of fracking released Wednesday found that the evidence overwhelmingly shows the drilling method poses a profound threat to public health and the climate.

sonsam / iStock / Getty Images
By Grace Francese
A new Environmental Working Group (EWG) study published in Environmental Research found that nitrate, one of the most common contaminants of drinking water, may cause up to 12,594 cases of cancer per year, but that's not its only danger: It can pose unique health risks to children.
Melt water from Everest's Khumbu glacier. Ed Giles / Getty Images
EPA Administrator Andrew Wheeler signs his replacement for the Clean Power Plan. Win McNamee / Getty Images