This website uses cookies to ensure you get the best experience while browsing it. By clicking 'Got It' you're accepting these terms.
Heat Wave Bakes West
Apr. 26, 2012 06:00AM EST
Climate
While the East has been dealing with a powerful Nor'easter that dumped several inches of windswept rain along the coast, and up to 2 feet of snow in the interior, the West has been baking in record heat. The heat is spreading eastward into the Plains states, but it will be short-lived there, eventually settling in the southern tier of the U.S. later this week.
West Texas, which was ground zero for scorching weather last summer, is likely to see temperatures approach or eclipse the century mark this week.
During the past seven days, 746 daily record-high temperatures were set or tied, along with 400 daily record-high minimum temperatures, according to the National Climatic Data Center. According to Jeff Masters of Weather Underground, the 113°F measured at Furnace Creek in Death Valley, Calif., on April 22 was tied for the hottest April temperature ever recorded in the U.S.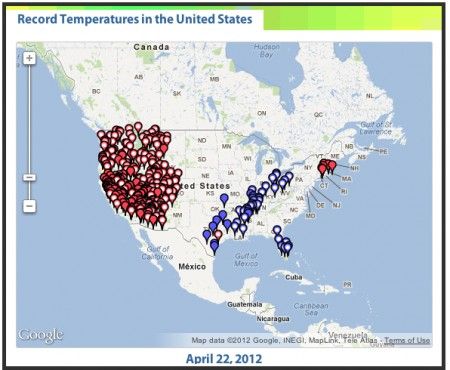 View of the records set on April 22, using Climate Central's Record Temperature Tracker. The red dots indicate warm temperature records, while the blue dots show cold temperature records.
Masters wrote: "Nearly every weather station in the Inter-mountain West has broken, tied, or come within 1- 2°F of their all-time record April heat record since Sunday. Most notably, the 113°F measured at Furnace Creek in Death Valley, Calif., on April 22 was tied for the hottest April temperature ever recorded in the U.S. According to wunderground weather historian Christopher C. Burt, the hottest reliable April temperature ever measured in the U.S. was 113°F in Parker, Ariz., in 1898. A 113°F reading was also taken at Catarina, Texas in April 1984."
Also impressive is the fact that 99 monthly record-high temperatures were set or tied during the past week, along with 22 monthly record-high minimum temperatures. (These records and more can be looked up using Climate Central's Record Temperature Tracker.)
This warm wave follows the warmest March on record in the Lower 48 states—when more than 15,000 warm-temperature records were broken during a lengthy heat wave that affected nearly every state east of the Rockies.
The heat has been especially noteworthy in two places known for their sizzling weather during the summer months: Phoenix and Las Vegas. On April 22, Phoenix tied its all-time record-high temperature for the month when the temperature reached 105°F. Yuma, Ariz., hit 106°F on the same day, a record daily high for that location. Phoenix also set warm minimum temperature records. The low temperature at Phoenix Sky Harbor International Airport only fell to 74 degrees on April 23, beating the old record for the date of 71, set in 1997.
As for Las Vegas, the high temperature of 99°F on April 22 tied that city's all-time high-temperature record for April. This was also the earliest 99 degree reading on record, occurring two days earlier than the previous record of April 24, 1946.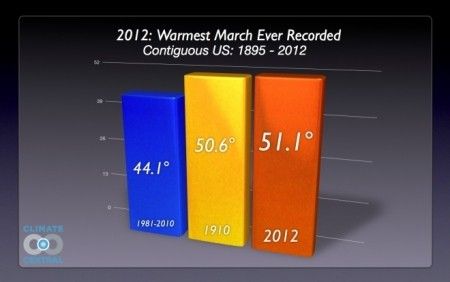 March was the warmest such month on record in the Lower 48 states. 
More record warmth was expected Tuesday from northeast Montana southward to the Plains states, with conditions heating up in Texas during the next few days. A storm system is expected to move into the West during the next few days, bringing cooler temperatures, along with rain and mountain snows.
So far this year, there have been more than 26,000 warm-temperature records set or tied in the U.S., compared to about 2,600 cold-temperature records set or tied. In recent years, record daily highs have been outpacing record daily lows in a pattern that has been shown to be inconsistent with natural climate variability alone.
So far, this year is consistent with that trend, since daily record highs have been far outpacing daily record lows, with an even more lopsided picture for monthly record highs compared to monthly record lows. If the climate were not warming, one would expect the longer-term ratios to be, on average, closer to 1-to-1.
For more information, click here.
EcoWatch Daily Newsletter
Assorted plastic bottles. mali maeder / Pexels
People carry children on a flooded street in Almoradi, Spain on Sept. 13. JOSE JORDAN / AFP / Getty Images
Large food companies are following in the footsteps of fast-food restaurants such as Burger King and KFC by offering meat alternatives. Getty Images
By Elizabeth Pratt
Hormel, Kellogg's, and Kroger are among the large companies now planning to offer "fake meat" products at grocery stores.
Experts say the trend toward plant-based meats coincides with consumers' desires to eat less meat.
However, experts urge consumers to closely check package labels as a product isn't necessarily healthy just because it's described as plant-based.
In grocery stores and fast-food outlets around the U.S., a revolution is taking place.
Colombia rainforest. Marcel Oosterwijk / CC BY-SA 2.0
Many of us think of the Amazon as an untouched wilderness, but people have been thriving in these diverse environments for millennia. Due to this long history, the knowledge that Indigenous and forest communities pass between generations about plants, animals and forest ecology is incredibly rich and detailed and easily dwarfs that of any expert.
picture-alliance / Newscom / R. Ben Ari
By Wesley Rahn
Plastic byproducts were found in 97 percent of blood and urine samples from 2,500 children tested between 2014 and 2017, according to a study by the German Environment Ministry and the Robert Koch Institute.

Pexels
Medically reviewed by Daniel Bubnis, MS, NASM-CPT, NASE Level II-CSS
Hot yoga has become a popular exercise in recent years. It offers many of the same benefits as traditional yoga, such as stress reduction, improved strength, and flexibility.
Lara Hata / iStock / Getty Images
By SaVanna Shoemaker, MS, RDN, LD
Rice is a staple in many people's diets. It's filling, inexpensive, and a great mild-tasting addition to flavorful dishes.