This website uses cookies to ensure you get the best experience while browsing it. By clicking 'Got It' you're accepting these terms.
Heat Wave Bakes West
Apr. 26, 2012 06:00AM EST
Climate
While the East has been dealing with a powerful Nor'easter that dumped several inches of windswept rain along the coast, and up to 2 feet of snow in the interior, the West has been baking in record heat. The heat is spreading eastward into the Plains states, but it will be short-lived there, eventually settling in the southern tier of the U.S. later this week.
West Texas, which was ground zero for scorching weather last summer, is likely to see temperatures approach or eclipse the century mark this week.
During the past seven days, 746 daily record-high temperatures were set or tied, along with 400 daily record-high minimum temperatures, according to the National Climatic Data Center. According to Jeff Masters of Weather Underground, the 113°F measured at Furnace Creek in Death Valley, Calif., on April 22 was tied for the hottest April temperature ever recorded in the U.S.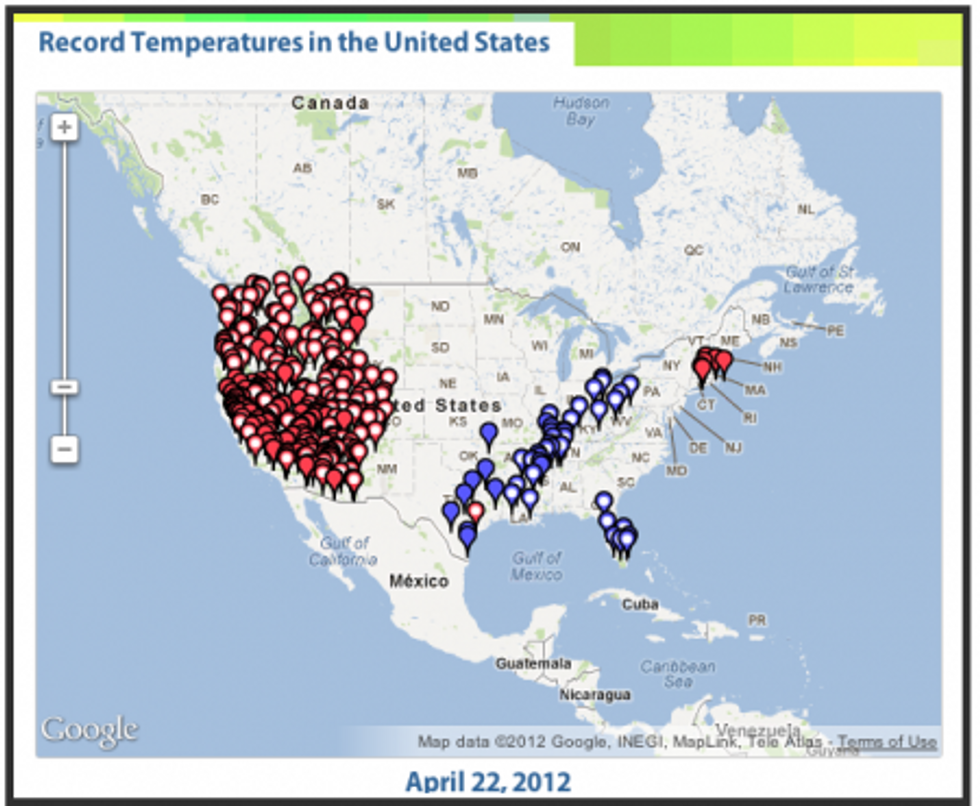 View of the records set on April 22, using Climate Central's Record Temperature Tracker. The red dots indicate warm temperature records, while the blue dots show cold temperature records.
Masters wrote: "Nearly every weather station in the Inter-mountain West has broken, tied, or come within 1- 2°F of their all-time record April heat record since Sunday. Most notably, the 113°F measured at Furnace Creek in Death Valley, Calif., on April 22 was tied for the hottest April temperature ever recorded in the U.S. According to wunderground weather historian Christopher C. Burt, the hottest reliable April temperature ever measured in the U.S. was 113°F in Parker, Ariz., in 1898. A 113°F reading was also taken at Catarina, Texas in April 1984."
Also impressive is the fact that 99 monthly record-high temperatures were set or tied during the past week, along with 22 monthly record-high minimum temperatures. (These records and more can be looked up using Climate Central's Record Temperature Tracker.)
This warm wave follows the warmest March on record in the Lower 48 states—when more than 15,000 warm-temperature records were broken during a lengthy heat wave that affected nearly every state east of the Rockies.
The heat has been especially noteworthy in two places known for their sizzling weather during the summer months: Phoenix and Las Vegas. On April 22, Phoenix tied its all-time record-high temperature for the month when the temperature reached 105°F. Yuma, Ariz., hit 106°F on the same day, a record daily high for that location. Phoenix also set warm minimum temperature records. The low temperature at Phoenix Sky Harbor International Airport only fell to 74 degrees on April 23, beating the old record for the date of 71, set in 1997.
As for Las Vegas, the high temperature of 99°F on April 22 tied that city's all-time high-temperature record for April. This was also the earliest 99 degree reading on record, occurring two days earlier than the previous record of April 24, 1946.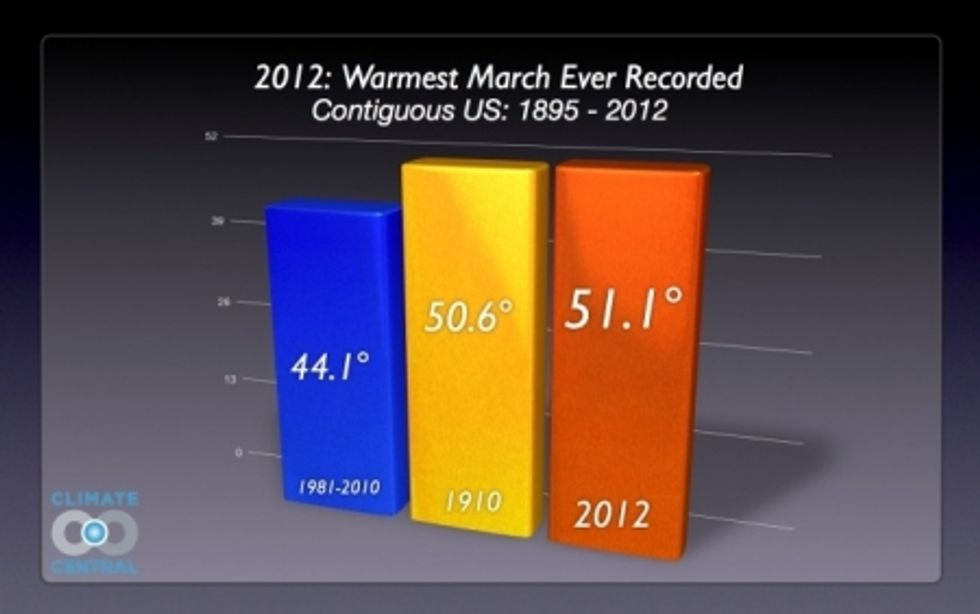 March was the warmest such month on record in the Lower 48 states. 
More record warmth was expected Tuesday from northeast Montana southward to the Plains states, with conditions heating up in Texas during the next few days. A storm system is expected to move into the West during the next few days, bringing cooler temperatures, along with rain and mountain snows.
So far this year, there have been more than 26,000 warm-temperature records set or tied in the U.S., compared to about 2,600 cold-temperature records set or tied. In recent years, record daily highs have been outpacing record daily lows in a pattern that has been shown to be inconsistent with natural climate variability alone.
So far, this year is consistent with that trend, since daily record highs have been far outpacing daily record lows, with an even more lopsided picture for monthly record highs compared to monthly record lows. If the climate were not warming, one would expect the longer-term ratios to be, on average, closer to 1-to-1.
For more information, click here.
EcoWatch Daily Newsletter
A new study shows that half of all Arctic warming and corresponding sea-loss during the late 20th century was caused by ozone-depleting substances. Here, icebergs discharged from Greenland's Jakobshavn Glacier. Kevin Krajick / Earth Institute /
EurekAlert!
The world awakened to the hole in the ozone layer in 1985, which scientists attributed it to ozone depleting substances. Two years later, in Montreal, the world agreed to ban the halogen compounds causing the massive hole over Antarctica. Research now shows that those chemicals didn't just cut a hole in the ozone layer, they also warmed up the Arctic.
Diane Wilson holds up a bag full of nurdles she collected from one of Formosa's outfall areas on Jan. 15. Julie Dermansky / DeSmogBlog
On the afternoon of Jan. 15, activist Diane Wilson kicked off a San Antonio Estuary Waterkeeper meeting on the side of the road across from a Formosa plastics manufacturing plant in Point Comfort, Texas.
After Wilson and the waterkeeper successfully sued Formosa in 2017, the company agreed to no longer release even one of the tiny plastic pellets known as nurdles into the region's waterways. The group of volunteers had assembled that day to check whether the plant was still discharging these raw materials of plastics manufacturing.
Malaysian Environment Minister Yeo Bee Yin (front 2nd L) and officials inspect a container containing plastic waste shipment on Jan. 20, 2020 before sending back to the countries of origin. AFP via Getty Images
The Southeast Asian country Malaysia has sent 150 shipping containers packed with plastic waste back to 13 wealthy countries, putting the world on notice that it will not be the world's garbage dump, as CNN reported. The countries receiving their trash back include the United States, the United Kingdom, France and Canada.
Trump leaves after delivering a speech at the Congress Centre during the World Economic Forum annual meeting in Davos on Jan. 21, 2020. JIM WATSON / AFP via Getty Images