Heat Absorbed by Oceans Has Doubled Since 1997
The ocean is taking up twice as much heat now as it was just two decades ago, relative to pre-industrial times. According to new research, a third of that heat—and rising—is finding its way into the deep ocean below 700m, temporarily slowing warming at Earth's surface.
That the oceans are warming isn't a surprise to scientists—it's what we would expect from rising greenhouse gases. The more surprising part is the speed at which it is taking place.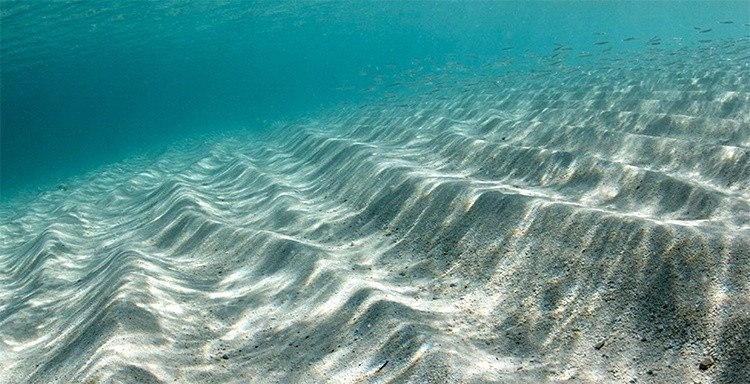 The new study, published yesterday in Nature Climate Change, says as much heat entered the oceans in the last 18 years as in the previous 130 years.
The new findings add to a growing body of research on the unseen impact of human activity on the oceans and the role they play in moderating the temperature we feel on Earth's surface, say scientists not involved in the study.
A Brief History
The oceans take up more than 90 percent of the heat trapped by greenhouse gases. It follows, then, that we would look to the oceans in seeking the fingerprint of human-caused climate change.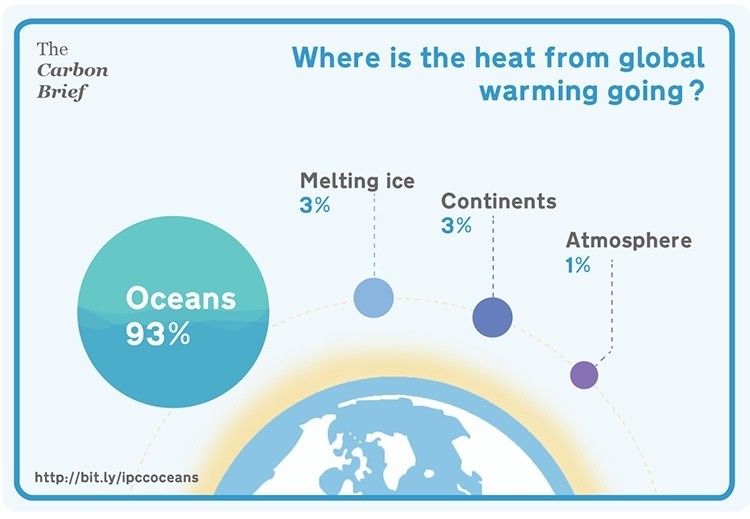 Scientists have been studying the oceans for hundreds of years. The Challenger expedition in the 1870s was considered the first real oceanographic voyage, bringing back with it reams of data from previously unexplored parts of the world, from the ocean surface to the sea floor.
Scientists' instruments have changed a lot over time, from lowering buckets over the sides of wooden ships to the global fleet of drifting floats we have today, known as the ARGO array. Separating real changes in ocean heating from artefacts of switching from old to new methods is one of the biggest challenges in understanding how the oceans have changed over time.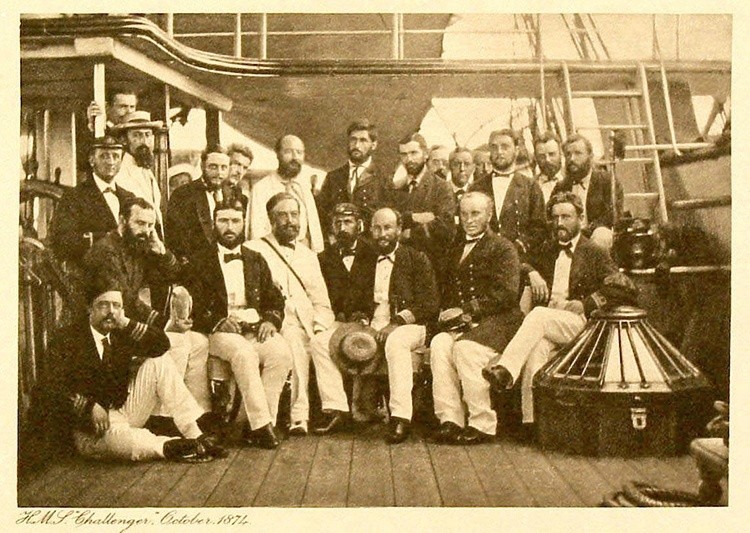 Model Match
The new study begins by compiling several different sets of observational measurements, from the Challenger expedition right up to the present day.
These include ship-based surveys of the upper ocean down to 700m repeated every year since the 1960s, temperature data down to 2,000m collected by ARGO floats since 2005 and transects carried out by ships extending down to below 2,000m in some parts of the world.
The observational data are far from perfect. There are many areas with sparse data, which means reliably estimating changes to ocean heat content is difficult using observations alone.
To address this, the study compares the different observational datasets with simulations from climate models (CMIP5) used in the latest Intergovernmental Panel on Climate Change, forced with historically realistic levels of greenhouse gases, emissions from land use, changes in solar activity and the temporary cooling effect of volcanic eruptions.
On the whole, the observations compared well with the average from the model simulations at all depths considered (0-700m, 700-2000m and below 2,000m). And it was passing this reliability test that allowed the scientists to cast the models backwards and examine how heat content in the oceans today compares to pre-industrial times.
Double Trouble
For the ocean as a whole, the authors find that 50 percent of the heat taken up since 1865 has occurred since 1997. In other words, the oceans have absorbed as much heat in the past 18 years as in the previous 130 years, the paper notes.
The study also find that while most of the heat stayed in the upper ocean, about 35 percent found its way to the deep ocean below 700m—and that fraction has increased steadily over time.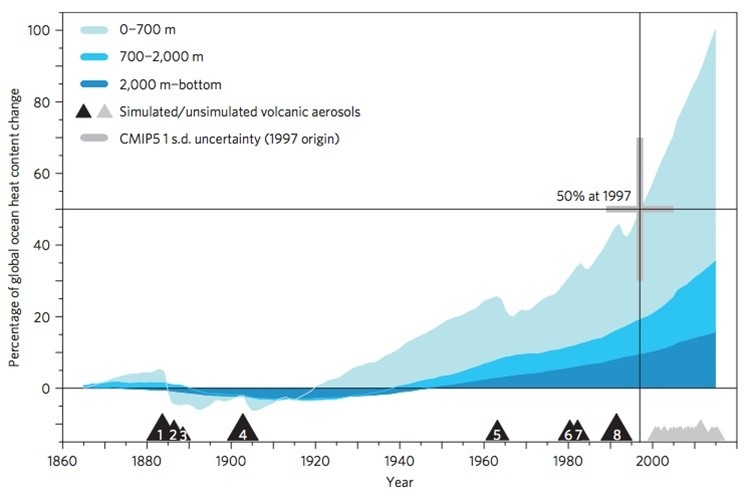 These new findings largely confirm what scientists already knew about human-induced climate change, says Dr. Matt Palmer from the Met Office Hadley Center:
"This research shows the strengthening of the climate change signal over time and that more of this signal is finding its way into the deep ocean."
The study also confirms that while temperatures at Earth's surface have risen more slowly over the past 10-15 years than in previous decades—a familiar feature if you look back at Earth's full temperature record—there has been no such change of pace in the oceans. Palmer adds:
"[The study] confirms that ocean heat uptake has been proceeding at the expected rate—the 'hiatus' is a surface phenomenon. The Earth is still warming and the oceans have been taking up the bulk of that heat."
The novel part of today's study comes in the comparison of observations with climate models—particularly below 700m—and the comparison of ocean heat content now with preindustrial times. Scientists' interest in studying the deep ocean has been driven partly by a wish to understand the behaviour of surface temperatures in recent times but mostly by advances in the ways available to monitor ocean temperature, says Palmer.
Bigger Picture
There is still some work to do in pinning down exactly how much heat the oceans have taken up in the past two decades and whether that can account for the whole so-called slowdown in surface warming, the paper notes. That's not as straightforward as it sounds, largely because of how to account for the transition to ARGO floats from traditional methods, the paper notes.
Another point to note is that the climate models used do not include volcanic eruptions after 2000, which the authors estimate could offset the rise in global temperature by around 7 percent.
While the oceans seem to have slowed warming at the Earth's surface in recent decades, this shouldn't be interpreted as a good thing, says Prof. John Shepherd from the National Oceanography Center in Southampton. He says:
"Once the ocean heat uptake settles down again, the rate of warming is likely to return to what it was before."
How the ocean acts to moderate surface temperatures is vital for understanding how our planet responds to greenhouse gases over the long term, a concept known as the "climate sensitivity." The mechanisms and timescales at play are critical pieces of that ongoing puzzle.
YOU MIGHT ALSO LIKE 
12 Experts Comment: What Oil Below $30 Means for Efforts to Tackle Climate Change
Real-Time Carbon Clock Shows Climate Change 'Danger Zone' Is Imminent
Scientists Link Extreme Weather to Climate Change
Stunning Images of One of Nature's Most Incredible Phenomena
Laurie Woolever
By James O'Hare
There are 20 million people in the world facing famine in South Sudan, Somalia, Nigeria and Yemen. In developed nations, too, people go hungry. Venezuela, for instance, is enduring food insecurity on a national level as a result of economic crisis and political corruption. In the U.S., the land of supposed excess, 12.7 percent of households were food insecure in 2015, meaning they didn't know where their next meal would come from.
Keep reading...
Show less
Melwater, Greenland ice sheet. Diane Tuft
Artists are taking the climate crisis into frame and the results are emotional, beautiful and stirring.
So you've seen the best climate change cartoons and shared them with your friends. You've showed your family the infographics on climate change and health, infographics on how the grid works and infographics about clean, renewable energy. You've even forwarded these official National Oceanic and Atmospheric Administration graphs that explain the 10 clear indicators of climate change to your colleagues at the office.
Keep reading...
Show less
May. 27, 2017 01:11PM EST
As the Trump administration moves full speed ahead on boosting the oil and fossil fuel industry, opposition to increased pipeline construction is cropping up in different communities around the country.
Keep reading...
Show less
May. 27, 2017 01:02PM EST
Minke whale stranding near Havergate Island in Suffolk. MCGA.
By Simon Evans
Last Saturday, two dead whales washed up on the coast of Suffolk, in eastern England, and a third was spotted floating at sea.
What happened next illustrates how news can spread and evolve into misinformation, when reported by journalists rushing to publish before confirming basic facts or sourcing their own quotes.
Keep reading...
Show less
May. 27, 2017 01:22PM EST
By Monica Amarelo and Paul Pestano
Sun safety is a crucial part of any outdoor activity for kids, and sunscreen can help protect children's skin from harmful ultraviolet rays. Kids often get sunburned when they're outside unprotected for longer than expected. Parents need to plan ahead and keep sun protection handy in their cars or bags.
Keep reading...
Show less
May. 27, 2017 01:02PM EST
By Joe McCarthy
A lot of people take part in community clean-up efforts—spending a Saturday morning picking up litter in a park, mowing an overgrown field or painting a fence.
Keep reading...
Show less
May. 26, 2017 03:22PM EST
Rink Glacier in western Greenland, with a meltwater lake visible center. NASA/OIB
Scientists have had their eyes on Greenland as its iconic glaciers have begun disappearing due to a warming climate. But, what they didn't expect to see was a whole new type of melting.
Keep reading...
Show less
May. 26, 2017 03:40PM EST
A coalition of conservation groups and others announced Thursday that a historic number of comments and petitions of support have been submitted to the U.S. Department of the Interior in support of Bears Ears National Monument. Despite the entirely inadequate 15-day comment period ending on May 26, more than 685,000 comments in support of Bears Ears National Monument have been collected.
Keep reading...
Show less


Get EcoWatch in your inbox