This website uses cookies to ensure you get the best experience while browsing it. By clicking 'Got It' you're accepting these terms.
Heartland Institute Tells Pope Francis: 'Humans Are Not Causing a Climate Crisis on God's Green Earth'
Apr. 27, 2015 08:16AM EST
Climate
The Heartland Institute announced that they will be sending a delegation to the Vatican today and tomorrow to explain to Pope Francis "why climate science does not justify the Holy See putting its faith in the work of the UN Intergovernmental Panel on Climate Change (IPCC)."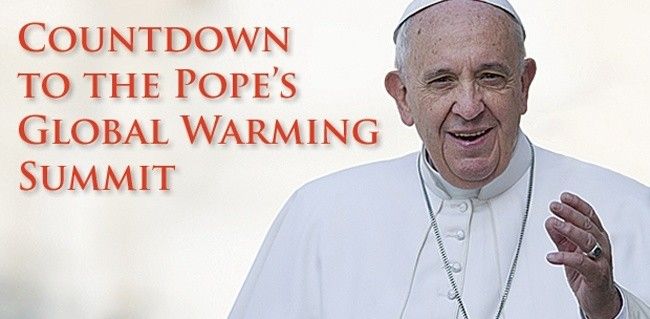 That's right. They would like the Pope to reject the findings of the international body which merely assesses all of the world's peer-reviewed scientific literature—which is in overwhelming agreement that climate change is happening and humans are causing it—and then makes recommendations based off of that literature.
The Heartland Institute is sending the delegation as a "prebuttal" to the Vatican's "Climate Summit," which will take place on Tuesday. The reason they are bringing "real scientists," as they claim, is to "dissuade Pope Francis from lending his moral authority to the politicized and unscientific climate agenda of the United Nations," said the Heartland Institute.
UN Secretary-General Ban Ki-Moon and Harvard economist Jeffrey Sachs, both of whom will speak at the Pope's climate summit, "refuse to acknowledge the abundant data showing human greenhouse gas emissions are not causing a climate crisis and there is no need for a radical reordering of global economies that will cause massive reductions in human freedom and prosperity," says the Heartland Institute.
"The Holy Father is being misled by 'experts' at the United Nations who have proven unworthy of his trust," said Heartland Institute President Joseph Bast. "Humans are not causing a climate crisis on God's Green Earth—in fact, they are fulfilling their Biblical duty to protect and use it for the benefit of humanity. Though Pope Francis's heart is surely in the right place, he would do his flock and the world a disservice by putting his moral authority behind the United Nations' unscientific agenda on the climate," said Bast.
One of those who will speak at the "prebuttal" is Dr. E. Calvin Beisner, founder and national spokesman for
the Cornwall Alliance for the Stewardship of Creation. He will expound on the declaration, Protect the Poor: Ten Reasons to Oppose Harmful Climate Change Policies, which the Cornwall Alliance issued last year.
Beisner admits that carbon dioxide emissions are warming the planet, but says the impact is "so tiny as to be insignificant. "Trying to reduce our emissions will neither protect the earth nor dignify humanity." Beisner believes simulations by computer climate models are simply wrong and "the grave danger to the world, and especially to the poor, isn't global warming, but the poverty that would be induced or prolonged by policies meant to fight it," says Beisner.
Beisner, a seminary professor of historical theology and social ethics when he founded the Cornwall Alliance in 2005, received the "Outstanding Spokesman on Faith, Science, and Stewardship Award" from the Heritage Foundation at the Ninth International Conference on Climate Change last year. Beisner believes "Christian ethics requires protecting the poor from harm, since they lack the means to protect themselves."
"Requiring the world to abandon the abundant, reliable, affordable energy provided by fossil fuels in the name of fighting global warming oppresses the poor," says Beisner. "They desperately need that energy, and for now and the foreseeable future no other energy source can give it to them."
It will be very interesting to see what the Pope has to say about all of this. Pope Francis has consistently taken a strong stance on the need for immediate action on climate change, and at the same time, has been an ardent defender of the poor and marginalized. He evenly personally witnessed those on the front lines of climate change when he met with survivors of Typhoon Haiyan in the Philippines.
YOU MIGHT ALSO LIKE
Pope Francis to Host Major Summit on Climate Change
250,000 People Call for Action on Climate Change and an End to Extreme Poverty
EcoWatch Daily Newsletter
United Nations Secretary-General Antonio Guterres speaks at a news conference at UN headquarters on Sept. 18. Drew Angerer / Getty Images
A vegan diet can improve your health, but experts say it's important to keep track of nutrients and protein. Getty Images
By Dan Gray
Research shows that 16 weeks of a vegan diet can boost the gut microbiome, helping with weight loss and overall health.
A healthy microbiome is a diverse microbiome. A plant-based diet is the best way to achieve this.
It isn't necessary to opt for a strictly vegan diet, but it's beneficial to limit meat intake.
New research shows that following a vegan diet for about 4 months can boost your gut microbiome. In turn, that can lead to improvements in body weight and blood sugar management.
Students gathered at the National Mall in Washington DC, Sept. 20. NRDC
By Jeff Turrentine
Nearly 20 years have passed since the journalist Malcolm Gladwell popularized the term tipping point, in his best-selling book of the same name. The phrase denotes the moment that a certain idea, behavior, or practice catches on exponentially and gains widespread currency throughout a culture. Having transcended its roots in sociological theory, the tipping point is now part of our everyday vernacular. We use it in scientific contexts to describe, for instance, the climatological point of no return that we'll hit if we allow average global temperatures to rise more than 2 degrees Celsius above preindustrial levels. But we also use it to describe everything from resistance movements to the disenchantment of hockey fans when their team is on a losing streak.
samael334 / iStock / Getty Images
Berries are small, soft, round fruit of various colors — mainly blue, red, or purple.
A glacier is seen in the Kenai Mountains on Sept. 6, near Primrose, Alaska. Scientists from the U.S. Geological Survey have been studying the glaciers in the area since 1966 and their studies show that the warming climate has resulted in sustained glacial mass loss as melting outpaced the accumulation of new snow and ice. Joe Raedle / Getty Images
By Mark Mancini
On Aug. 18, Iceland held a funeral for the first glacier lost to climate change. The deceased party was Okjökull, a historic body of ice that covered 14.6 square miles (38 square kilometers) in the Icelandic Highlands at the turn of the 20th century. But its glory days are long gone. In 2014, having dwindled to less than 1/15 its former size, Okjökull lost its status as an official glacier.
Members of Chicago Democratic Socialists of America table at the Logan Square Farmers Market on Aug. 18. Alex Schwartz
By Alex Schwartz
Among the many vendors at the Logan Square Farmers Market on Aug. 18 sat three young people peddling neither organic vegetables, gourmet cheese nor handmade crafts. Instead, they offered liberation from capitalism.
Hackney primary school students went to the Town Hall on May 24 in London after school to protest about the climate emergency. Jenny Matthews / In Pictures / Getty Images