This website uses cookies to ensure you get the best experience while browsing it. By clicking 'Got It' you're accepting these terms.
Heartland Institute Tells Pope Francis: 'Humans Are Not Causing a Climate Crisis on God's Green Earth'
Apr. 27, 2015 08:16AM EST
Climate
The Heartland Institute announced that they will be sending a delegation to the Vatican today and tomorrow to explain to Pope Francis "why climate science does not justify the Holy See putting its faith in the work of the UN Intergovernmental Panel on Climate Change (IPCC)."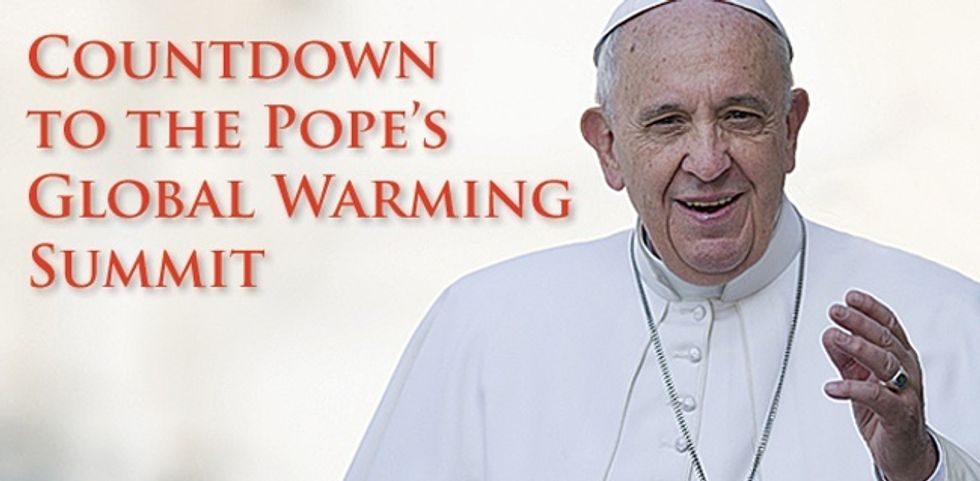 That's right. They would like the Pope to reject the findings of the international body which merely assesses all of the world's peer-reviewed scientific literature—which is in overwhelming agreement that climate change is happening and humans are causing it—and then makes recommendations based off of that literature.
The Heartland Institute is sending the delegation as a "prebuttal" to the Vatican's "Climate Summit," which will take place on Tuesday. The reason they are bringing "real scientists," as they claim, is to "dissuade Pope Francis from lending his moral authority to the politicized and unscientific climate agenda of the United Nations," said the Heartland Institute.
UN Secretary-General Ban Ki-Moon and Harvard economist Jeffrey Sachs, both of whom will speak at the Pope's climate summit, "refuse to acknowledge the abundant data showing human greenhouse gas emissions are not causing a climate crisis and there is no need for a radical reordering of global economies that will cause massive reductions in human freedom and prosperity," says the Heartland Institute.
"The Holy Father is being misled by 'experts' at the United Nations who have proven unworthy of his trust," said Heartland Institute President Joseph Bast. "Humans are not causing a climate crisis on God's Green Earth—in fact, they are fulfilling their Biblical duty to protect and use it for the benefit of humanity. Though Pope Francis's heart is surely in the right place, he would do his flock and the world a disservice by putting his moral authority behind the United Nations' unscientific agenda on the climate," said Bast.
One of those who will speak at the "prebuttal" is Dr. E. Calvin Beisner, founder and national spokesman for
the Cornwall Alliance for the Stewardship of Creation. He will expound on the declaration, Protect the Poor: Ten Reasons to Oppose Harmful Climate Change Policies, which the Cornwall Alliance issued last year.
Beisner admits that carbon dioxide emissions are warming the planet, but says the impact is "so tiny as to be insignificant. "Trying to reduce our emissions will neither protect the earth nor dignify humanity." Beisner believes simulations by computer climate models are simply wrong and "the grave danger to the world, and especially to the poor, isn't global warming, but the poverty that would be induced or prolonged by policies meant to fight it," says Beisner.
Beisner, a seminary professor of historical theology and social ethics when he founded the Cornwall Alliance in 2005, received the "Outstanding Spokesman on Faith, Science, and Stewardship Award" from the Heritage Foundation at the Ninth International Conference on Climate Change last year. Beisner believes "Christian ethics requires protecting the poor from harm, since they lack the means to protect themselves."
"Requiring the world to abandon the abundant, reliable, affordable energy provided by fossil fuels in the name of fighting global warming oppresses the poor," says Beisner. "They desperately need that energy, and for now and the foreseeable future no other energy source can give it to them."
It will be very interesting to see what the Pope has to say about all of this. Pope Francis has consistently taken a strong stance on the need for immediate action on climate change, and at the same time, has been an ardent defender of the poor and marginalized. He evenly personally witnessed those on the front lines of climate change when he met with survivors of Typhoon Haiyan in the Philippines.
YOU MIGHT ALSO LIKE
Pope Francis to Host Major Summit on Climate Change
250,000 People Call for Action on Climate Change and an End to Extreme Poverty
EcoWatch Daily Newsletter
A harbour seal on an ice floe in Glacier Bay, Alaska. A new study shows that the climate crisis has warmed waters, changing ecosystems and crippling sea ice growth. Janette Hill / robertharding / Getty Images Plus
Doctors report that only 1 in 4 children are getting the recommended 60 minutes of physical activity per day. Ronnie Kaufman / DigitalVision / Getty Images
By Dan Gray
Pediatricians are being urged to start writing "exercise prescriptions" for the children they see in their office.
A First Nations protester walks in front of a train blockade in Tyendinaga, near Belleville, Ontario, Canada on Feb. 21, 2020. LARS HAGBERG / AFP via Getty Images
An indigenous rail blockade that snarled train travel in Canada for more than two weeks came to an end Monday when police moved in to clear protesters acting in solidarity with another indigenous community in British Columbia (B.C.), which is fighting to keep a natural gas pipeline off its land.
A rainbow snake, a rare reptile spotted in a Florida county for the first time in more than 50 years, seen here on July 5, 2013.
Kevin Enge / FWC Fish and Wildlife Research Institute / Flickr
A Florida hiker recently stumbled across a slithering surprise — a rare snake that hadn't been spotted in the area for more than 50 years.
We need our government to do everything it can to stop PFAS contamination and exposure from wreaking havoc in communities across the country. LuAnn Hun /
Unsplash
By Genna Reed
The EPA announced last week that it is issuing a preliminary regulatory determination for public comment to set an enforceable drinking water standard to two of the most common and well-studied PFAS, PFOA and PFOS.
This decision is based on three criteria:
PFOA and PFOS have an adverse effect on public health
PFOA and PFOS occur in drinking water often enough and at levels of public health concern;
regulation of PFOA and PFOS is a meaningful opportunity for reducing the health risk to those served by public water systems.