Heartland Institute Attacks Senators for Questioning Funding of Climate Deniers, Calling It a 'Witch Hunt'
Mar. 11, 2015 02:28PM EST
Climate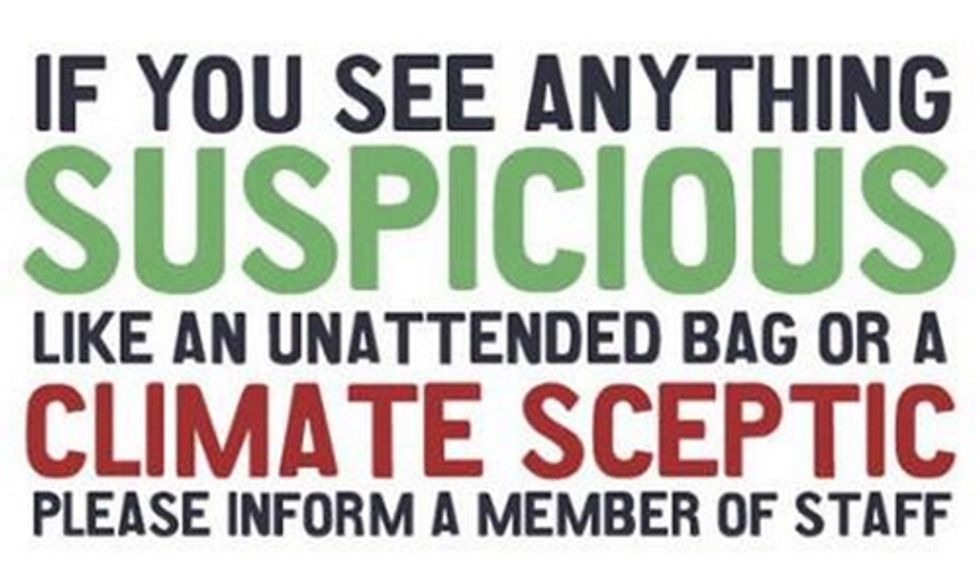 Chicago-based think tank the Heartland Institute has a long history of promoting what it calls "free-market environmentalism"—basically defending the right of well-funded corporate interests to trash the environment for profit. It advocates for fracking, opposes clean, renewable energy and, according to The New York Times, is "the primary American organization pushing climate change skepticism." In the last seven years, it has organized a series of International Conferences on Climate Change, which brought together climate deniers from all over the world to push back on people and policies addressing climate change.
So it's no surprise that the organization would launch an aggressive attack on those questioning the credentials and funding sources of climate-denying scientists and organizations—even when those doing the questioning are U.S. senators.
Reporting the actual #climate data without fear should not cost a scientist his job. http://t.co/uJuEXZDOVF pic.twitter.com/74GxBLHyUb

— Heartland Institute (@HeartlandInst) March 11, 2015
In the wake of the recent revelations that prominent climate-denying scientist Willie Soon was backed by big donations from ExxonMobile, American Petroleum Institute and the Koch Brothers—donations he "forgot" to reveal when his papers were published—Democratic Senators Barbara Boxer of California, Sheldon Whitehouse of Rhode Island and Ed Markey of Massachusetts sent a letter to fossil fuel companies, trade organization and other groups involved in climate advocacy asking them for information about what projects, individuals and institutions they've funded to do research on climate-related topics. At the same time, Arizona congressman Raul Grijalva, the ranking member of the House committee on natural resources, sent a letter to seven universities whose scientists had testified about climate change to Congress, requesting information about funding sources.
Corporate special interests shouldn't secretly peddle the best junk science $ can buy #climate http://t.co/vIaplUUuSa pic.twitter.com/PdLFG8I52c — Ed Markey (@SenMarkey) February 25, 2015
"For years, fossil fuel interests and front groups have attacked climate scientists and legislation to cut carbon pollution using junk science and debunked arguments," said Sen. Markey. "The American public deserve an honest debate that isn't polluted by the best junk science fossil fuel interests can buy. That's why I will be launching this investigation to see how widespread this denial-for-hire scheme stretches within the anti-climate action cabal."
Those were fighting words to the Heartland Institute and others who have the fossil fuel industry's back. University of Colorado's scientist Roger Pielke Jr., who says he is not a full-on denier but has gotten a reputation for attacking the work of climate scientists, denounced the information requests as "climate McCarthyism," and a "witch hunt," a term also used by the Heartland Institute, which has also referred to the requests as "persecution."
In response to the Senators' request, Heartland Institute president Joseph L. Bast wrote:
"According to a news release posted at Senator Markey's website, the same letter was sent to 99 other businesses and nonprofit organizations as part of a campaign to stigmatize and demonize those who question the alarmist claims of Greenpeace and other far-left groups in the environmental debate. So first, shame on you for abusing your public office in an attempt to silence public debate on such an important public policy topic. Second, you repeat the vicious libel that Dr. Wei-Hock 'Willie' Soon failed to disclose funding for his work. Are you not aware that neither his employer, the Harvard-Smithsonian Center for Astrophysics, nor the journal that published the scholarly article in question, Science Bulletin, has found Dr. Soon violated any of their rules or disclosure policies? Who asked you to repeat that lie?"
Third, I am very proud to report that the Heartland Institute has spent millions of dollars over the past ten years supporting scientific research that contradicts alarmist claims about climate change. The New York Times calls us "the primary American organization pushing climate change skepticism." The Times is not a credible source on this topic, but you three probably find it persuasive. Fourth and finally, all the information you need about our funding and programs can be found in our annual tax returns or at one of the following websites: heartland.org, heartland.org/issues/environment,climatechangereconsidered.org, and heartland.org/reply-to-critics."
Heartland Daily Podcast – David Legates: The #Climate Witch Hunt of @RepRaulGrijalva #AGW #P2 http://t.co/Tvy5vL9vSE pic.twitter.com/eEhqksn7TO — Heartland Institute (@HeartlandInst) March 11, 2015
Apparently "all the information you need" about their funding is "none," because you won't learn much about it at any of those links. The Heartland Institute keeps most of its funding information and donor identities secret. What information is out there has come from leaks and possible hacks that have generated their own share of controversy. But the Heartland Institute has not been forthcoming. It may be feeling a little defensive about funding inquiries because it has funding issues of its own that tend to undermine the objectivity of its opinions. The leaked information has revealed that it's received donations over the years from ExxonMobile, Texaco and conservative foundations like the Charles G. Koch Foundation, Walton Family Foundation, and Lynde and Harry Bradley Foundation, as well as multimillion-dollar donations from unknown individuals.
YOU MIGHT ALSO LIKE
Climate Denier's Funding from Fossil Fuel Industry Exposed at a Staggering $1.25 Million
Climate Change Denial at Its Worst?
Watch Colbert Shame GOP Climate Deniers: 'I am Not a Scientist'
EcoWatch Daily Newsletter
Related Articles from EcoWatch