This website uses cookies to ensure you get the best experience while browsing it. By clicking 'Got It' you're accepting these terms.
Healthy Chocolate Superfood Recipe
Feb. 13, 2014 10:19AM EST
By Magda Rod
Chocolate is one of the world's favorite foods, and considered a vice by many, but did you know that when done right it's one of the healthiest foods on the planet? There is a clear distinction between commercial chocolate, made with highly processed cocoa which has no health benefits, and organic dark chocolate, made with nutrient dense raw cacao and ideally with no added sugar. The element that makes chocolate nutritious is the cacao. Combine it with a good fat and healthy sweetener, and you've got one of the world's most nutrient dense and delicious treats.
Chocolate was considered the food of the gods during the time of the Aztecs (c. 1500) and was widely used in Europe and Asia. In the ORAC scale raw cocao rates a score of 95,500. This is almost four times the amount of antioxidants in goji berries, and 56 times that of kale's score of 1,700, making it the highest concentration of antioxidants of any food in the world. Cacao contains over 300 compounds, including protein, fat, carbohydrates, fiber, iron, zinc, manganese, copper, calcium, tryptophan, seratonin and magnesium. It appears to be the number one source of magnesium of any food, in which 80 percent of Americans are deficient. Magnesium helps to build strong bones and is a muscle relaxant associated with feelings of calmness, and opens up over 300 detoxification and elimination pathways. Cacao is also high in sulfur, which helps form strong nails and hair.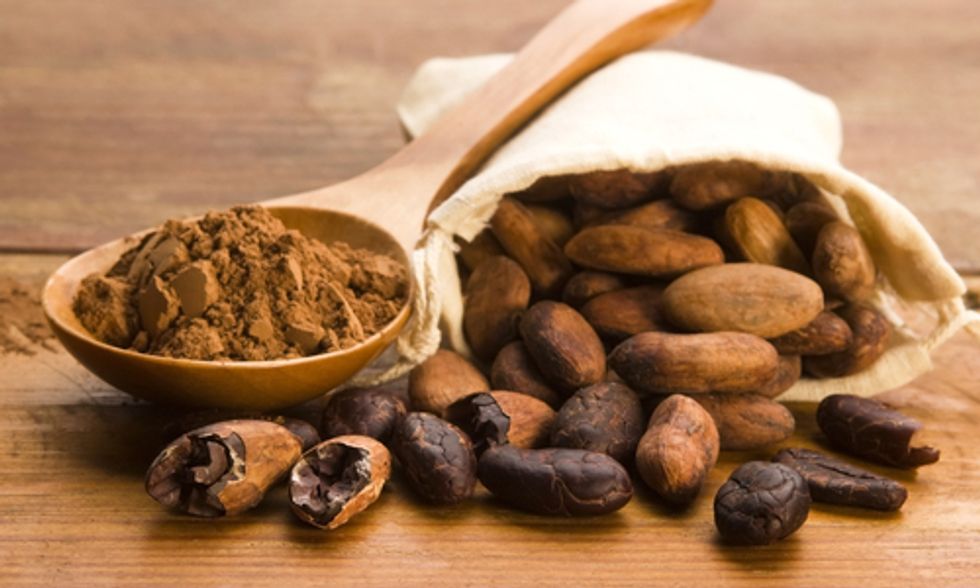 Photo courtesy of Shutterstock
Cacao products appear to be heart-healthy as well. One of the main health benefits of cacao is for the arteries in your heart and brain. Cacao contains about 1 percent theobromine, an effective anti-bacterial substance which works to kill Streptococci mutans (the primary organism responsible for cavities). Theobromine is a chemical relative of caffeine but it does not act as a nervous system stimulant. It dilates the cardiovascular system making the hearts job easier. Stated another way, it literally opens your heart! The combination of theobromine and magnesium make raw cacao an important part of a heart-healthy diet. If your blood cholesterol is somewhat elevated, cacao polyphenols may also lower your low-density lipoprotein, or "bad" cholesterol, and raise your high-density lipoprotein, or "good" cholesterol levels.
Cacao also contains the chemicals phenylethylamine (PEA) and anandamide. PEA is an adrenal-related chemical that we create naturally when we're excited. It also plays a role in feeling focused and alert because it causes your pulse rate to quicken, resulting in a similar feeling to when we are excited or falling in love. Anandamide is known as "The Bliss Chemical," earning it's name by being associated with improving motivation and increasing pleasure. Anandamide works like amphetamines to increase mood and decrease depression, but it is not addictive like caffeine or illegal with undesirable side-effects like amphetamines. Anandamide is quite unique in its resemblance to THC (tetrahydrocannabinol), a chemical found in marijuana.
So now that we know how healthy cacao is for us, how do we make this food of the gods for ourselves and our loved ones? It's easier than you think. You need just three basic ingredients:
Raw cacao powder or paste
A fat like coconut oil or cacao butter
A healthy sweetener like low glycemic and mineral rich coconut palm sugar. Even diabetics and others seeking a sugar free diet can enjoy this by using stevia as a sweetener.
Using coconut oil will produce a creamier chocolate that melts at 72 degrees so is best kept in the freezer or refrigerator. Using cacao butter will produce a room temperature stable chocolate. The butter is three to five times the price of coconut oil and less available in your standard grocery store, but can be found in some health food stores and from superfood companies.
Below is a gluten-free, sugar-free basic chocolate recipe utilizing coconut oil and stevia. Keep in mind that you can combine different proportions of oil and butter to suit your tastes. You can also combine sweeteners like using a small amount of coconut sugar with a couple drops of stevia if you're looking to keep the sugar content low. I love playing with other ingredients as well since there are a multitude of superfood ingredients you can work into the recipe. Just reduce the cacao powder by the amount you add something else. For example, replace two cacao powder tablespoons with two tablespoons of maca powder for a special Valentine Chocolate. Maca has adaptogenic-like qualities that enable it to nourish and balance the body's delicate endocrine system, and to help cope with stress. It also energizes naturally, without the jitters and crashes of caffeine, and it can aid in reproductive function, helping to balance hormones and increases libido and fertility.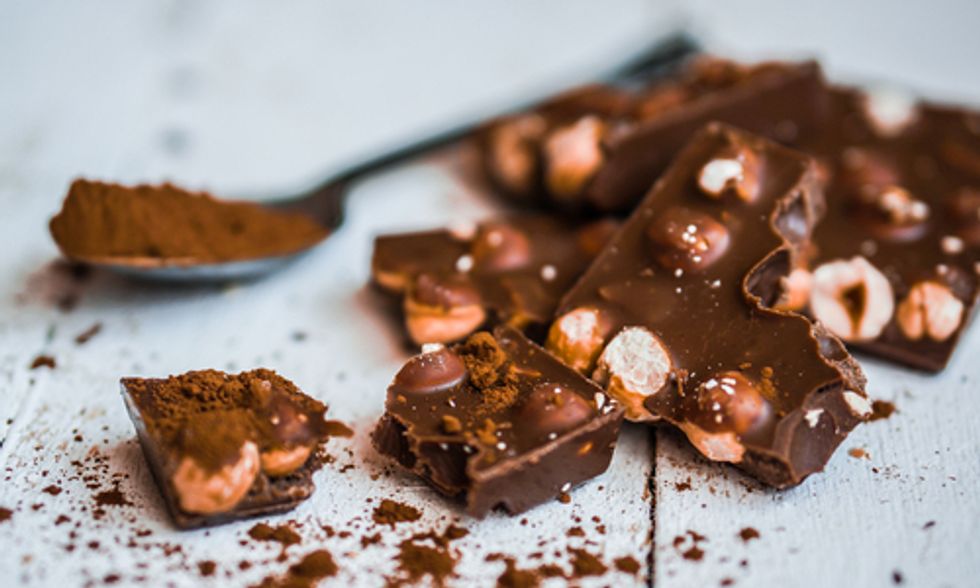 Photo courtesy of Shutterstock
Experiment with this and make it your own.
Ingredients:
8 tbsp organic raw cacao powder
8 tbsp organic virgin coconut oil (or cacao butter)
Stevia to taste (start with one serving, taste, and add more slowly until it's to your liking)
1/2 tsp organic vanilla bean powder (optional)
1/8 tsp Himalayan sea salt (optional)
LOVE (optional, yet highly recommended)
Directions:
Melt cacao butter or coconut oil over very low heat in a double boiler, or in a dehydrator. Keep it under 118 degrees to keep it raw and all the nutrients intact
Mix raw cacao powder, sweetener and other optional ingredients in a bowl (remember: you can replace up to half of the cacao with other superfood ingredients)
Add melted fat to the ingredients in the bowl and stir well with a whisk or spoon
Pour mixture into molds, or spread on a plate between two pieces of wax paper to create a bar. You can have fun with this by adding things like goji berries or chopped nuts to make a "bark."
Place into a freezer for 10 minutes to harden
Share and enjoy!
Visit EcoWatch's TIPS and page for more related news on this topic.

EcoWatch Daily Newsletter
New Jersey will be the first state in the U.S. to require builders to take the climate crisis into consideration before seeking permission for a project.
The Director of the Chinese Center for Disease Control and Prevention, Gao Fu speaks on Jan. 26 during a press briefing on studying the 2019-nCoV coronavirus and developing a vaccine to prevent it. Roman Balandin / TASS / Getty Images
Healthline ranks Samoas, seen above, as the 11th healthiest Girl Scout Cookie.
brian
/ Flickr /
CC BY-ND 2.0
By Nancy Schimelpfening
Nutrition experts say healthy eating is about making good choices most of the time.
Treats like cookies can be eaten in moderation.
Information like total calories, saturated fat, and added sugars can be used to compare which foods are relatively healthier.
However, it's also important to savor and enjoy what you're eating so you don't feel deprived.
Yes, we know. Cookies aren't considered a "healthy" food by any stretch of the imagination.
Actress Jane Fonda is arrested during the "Fire Drill Friday" Climate Change Protest on Oct. 25, 2019 in Washington, DC. John Lamparski / Getty Images
When you see an actor in handcuffs, they're usually filming a movie. But when Jane Fonda, Ted Danson, Sally Field, and other celebrities were arrested in Washington, D.C., last fall, the only cameras rolling were from the news media.
A solitary Dungeness crab sits in the foreground, at low tide on an overcast day. The crabs' shells are dissolving because of ocean acidification on the West Coast. Claudia_Kuenkel / iStock / Getty Images
As the Pacific Ocean becomes more acidic, Dungeness crabs, which live in coastal areas, are seeing their shells eaten away, according to a new study commissioned by the National Oceanic and Atmospheric Administration (NOAA).