This website uses cookies to ensure you get the best experience while browsing it. By clicking 'Got It' you're accepting these terms.
Healthy Chocolate Superfood Recipe
Feb. 13, 2014 10:19AM EST
By Magda Rod
Chocolate is one of the world's favorite foods, and considered a vice by many, but did you know that when done right it's one of the healthiest foods on the planet? There is a clear distinction between commercial chocolate, made with highly processed cocoa which has no health benefits, and organic dark chocolate, made with nutrient dense raw cacao and ideally with no added sugar. The element that makes chocolate nutritious is the cacao. Combine it with a good fat and healthy sweetener, and you've got one of the world's most nutrient dense and delicious treats.
Chocolate was considered the food of the gods during the time of the Aztecs (c. 1500) and was widely used in Europe and Asia. In the ORAC scale raw cocao rates a score of 95,500. This is almost four times the amount of antioxidants in goji berries, and 56 times that of kale's score of 1,700, making it the highest concentration of antioxidants of any food in the world. Cacao contains over 300 compounds, including protein, fat, carbohydrates, fiber, iron, zinc, manganese, copper, calcium, tryptophan, seratonin and magnesium. It appears to be the number one source of magnesium of any food, in which 80 percent of Americans are deficient. Magnesium helps to build strong bones and is a muscle relaxant associated with feelings of calmness, and opens up over 300 detoxification and elimination pathways. Cacao is also high in sulfur, which helps form strong nails and hair.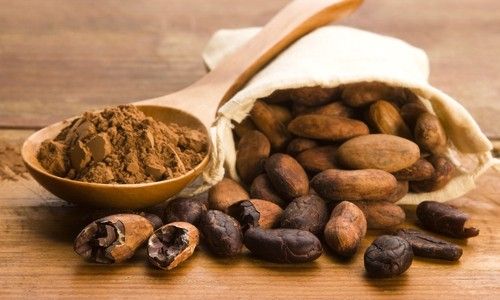 Photo courtesy of Shutterstock
Cacao products appear to be heart-healthy as well. One of the main health benefits of cacao is for the arteries in your heart and brain. Cacao contains about 1 percent theobromine, an effective anti-bacterial substance which works to kill Streptococci mutans (the primary organism responsible for cavities). Theobromine is a chemical relative of caffeine but it does not act as a nervous system stimulant. It dilates the cardiovascular system making the hearts job easier. Stated another way, it literally opens your heart! The combination of theobromine and magnesium make raw cacao an important part of a heart-healthy diet. If your blood cholesterol is somewhat elevated, cacao polyphenols may also lower your low-density lipoprotein, or "bad" cholesterol, and raise your high-density lipoprotein, or "good" cholesterol levels.
Cacao also contains the chemicals phenylethylamine (PEA) and anandamide. PEA is an adrenal-related chemical that we create naturally when we're excited. It also plays a role in feeling focused and alert because it causes your pulse rate to quicken, resulting in a similar feeling to when we are excited or falling in love. Anandamide is known as "The Bliss Chemical," earning it's name by being associated with improving motivation and increasing pleasure. Anandamide works like amphetamines to increase mood and decrease depression, but it is not addictive like caffeine or illegal with undesirable side-effects like amphetamines. Anandamide is quite unique in its resemblance to THC (tetrahydrocannabinol), a chemical found in marijuana.
So now that we know how healthy cacao is for us, how do we make this food of the gods for ourselves and our loved ones? It's easier than you think. You need just three basic ingredients:
Raw cacao powder or paste
A fat like coconut oil or cacao butter
A healthy sweetener like low glycemic and mineral rich coconut palm sugar. Even diabetics and others seeking a sugar free diet can enjoy this by using stevia as a sweetener.
Using coconut oil will produce a creamier chocolate that melts at 72 degrees so is best kept in the freezer or refrigerator. Using cacao butter will produce a room temperature stable chocolate. The butter is three to five times the price of coconut oil and less available in your standard grocery store, but can be found in some health food stores and from superfood companies.
Below is a gluten-free, sugar-free basic chocolate recipe utilizing coconut oil and stevia. Keep in mind that you can combine different proportions of oil and butter to suit your tastes. You can also combine sweeteners like using a small amount of coconut sugar with a couple drops of stevia if you're looking to keep the sugar content low. I love playing with other ingredients as well since there are a multitude of superfood ingredients you can work into the recipe. Just reduce the cacao powder by the amount you add something else. For example, replace two cacao powder tablespoons with two tablespoons of maca powder for a special Valentine Chocolate. Maca has adaptogenic-like qualities that enable it to nourish and balance the body's delicate endocrine system, and to help cope with stress. It also energizes naturally, without the jitters and crashes of caffeine, and it can aid in reproductive function, helping to balance hormones and increases libido and fertility.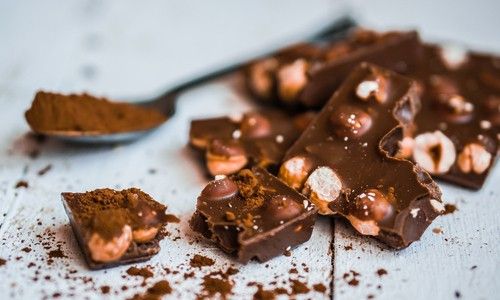 Photo courtesy of Shutterstock
Experiment with this and make it your own.
Ingredients:
8 tbsp organic raw cacao powder
8 tbsp organic virgin coconut oil (or cacao butter)
Stevia to taste (start with one serving, taste, and add more slowly until it's to your liking)
1/2 tsp organic vanilla bean powder (optional)
1/8 tsp Himalayan sea salt (optional)
LOVE (optional, yet highly recommended)
Directions:
Melt cacao butter or coconut oil over very low heat in a double boiler, or in a dehydrator. Keep it under 118 degrees to keep it raw and all the nutrients intact
Mix raw cacao powder, sweetener and other optional ingredients in a bowl (remember: you can replace up to half of the cacao with other superfood ingredients)
Add melted fat to the ingredients in the bowl and stir well with a whisk or spoon
Pour mixture into molds, or spread on a plate between two pieces of wax paper to create a bar. You can have fun with this by adding things like goji berries or chopped nuts to make a "bark."
Place into a freezer for 10 minutes to harden
Share and enjoy!
Visit EcoWatch's TIPS and page for more related news on this topic.

EcoWatch Daily Newsletter
Protesters hold a banner and a placard while blocking off the road during a protest against Air pollution in London. Ryan Ashcroft / SOPA Images / LightRocket / Getty Images
By Jessica Corbett
Dozens of students, parents, teachers and professionals joined a Friday protest organized by Extinction Rebellion that temporarily stalled morning rush-hour traffic in London's southeasten borough of Lewisham to push politicians to more boldly address dangerous air pollution across the city.

Jose A. Bernat Bacete / Moment / Getty Images
By Bridget Shirvell
On a farm in upstate New York, a cheese brand is turning millions of pounds of food scraps into electricity needed to power its on-site businesses. Founded by eight families, each with their own dairy farms, Craigs Creamery doesn't just produce various types of cheddar, mozzarella, Swiss and Muenster cheeses, sold in chunks, slices, shreds and snack bars; they're also committed to becoming a zero-waste operation.

By Jessica A. Knoblauch
Summers in the Midwest are great for outdoor activities like growing your garden or cooling off in one of the area's many lakes and streams. But some waters aren't as clean as they should be.
That's in part because coal companies have long buried toxic waste known as coal ash near many of the Midwest's iconic waterways, including Lake Michigan. Though coal ash dumps can leak harmful chemicals like arsenic and cadmium into nearby waters, regulators have done little to address these toxic sites. As a result, the Midwest is now littered with coal ash dumps, with Illinois containing the most leaking sites in the country.

picture-alliance / AP Photo / NOAA Pacific Islands Fisheries Science Center
The Group of 20 major economies agreed a deal to reduce marine pollution at a meeting of their environment ministers on Sunday in Karuizawa, Japan.
Pope Francis holds his General Weekly Audience in St. Peter's Square on Aug. 29, 2018 in Vatican City, Vatican. Giulio Origlia / Getty Images
Pope Francis declared a climate emergency Friday as he met with oil industry executives and some of their biggest investors to urge them to act on the climate crisis.
A vegetarian bowl with quinoa fritters. Westend61 / Getty Images
By Ketura Persellin
You've likely heard that eating meat and poultry isn't good for your health or the planet. Recent news from Washington may make meat even less palatable: Pork inspections may be taken over by the industry itself, if a Trump administration proposal goes into effect, putting tests for deadly pathogens into the hands of the industry.
Florida's Deerfield Beach International Fishing Pier, where the record-breaking beach cleanup took place Saturday. Jeffrey Greenberg / Universal Images Group via Getty Images
More than 600 people gathered on a Florida beach Saturday to break the world record for the largest underwater cleanup of ocean litter.