This website uses cookies to ensure you get the best experience while browsing it. By clicking 'Got It' you're accepting these terms.
Health Scare Led This Woman to Launch an Organic Tampon Company
Feb. 06, 2016 11:24AM EST
Business
For Ana Ames-Durey, an unfortunate health scare led to an eco-friendly business idea. The 28-year-old has launched BON, which is said to be New Zealand's first 100 percent organic tampon company.
According to Stuff.co.nz, it all began when Ames-Durey was rushed into surgery due to crippling abdominal cramps. Scans later revealed two 7 centimeter cysts growing in her ovaries, including one that had "twisted and split, leaking toxins into her body." Fortunately, there were no complications  during surgery and her ovaries were saved.
During her recovery, health professionals suggested to Ames-Durey that she switch to organic menstrual products to reduce any stress on her system, the report claimed. She soon realized, however, there weren't any viable options in New Zealand. That's when she and her business partner, Rhys Clareburt, decided to launch the company.
"Regular tampons are filled with chemicals, pesticides, fragrances, bleaches and dyes," she told Stuff.co.nz. "That's going into the most absorbent part of a woman's body."
BON says their tampons are 100 percent certified organic cotton with no dyes, fragrances, chemicals or toxins. The product, which also comes in a biodegradable tube, can be shipped worldwide.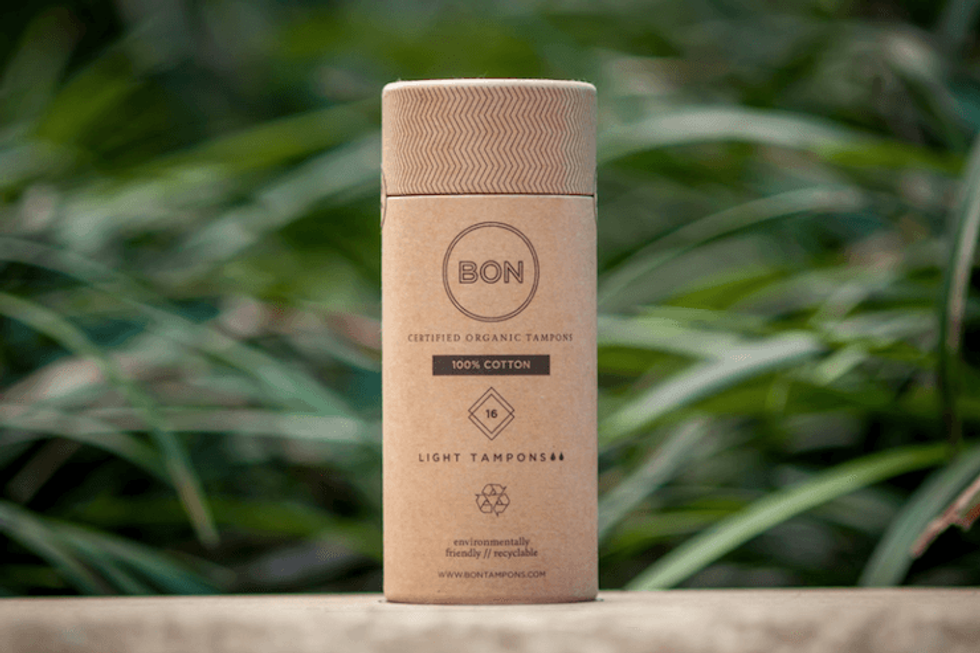 It's clear from stories like these that many people are starting to consider the health effects of traditional feminine care products. EcoWatch previously covered a study from researchers at the University of La Plata in Argentina which revealed that glyphosate—a widely popular herbicide that has been linked to cancer by the World Health Organization's cancer research arm—was detected in 85 percent of cotton hygiene products tested.
The Organic Consumers Association has said that conventional cotton is the most toxic crop in the world, using more than 25 percent of all the insecticides in the world and 12 percent of all the pesticides. Additionally, a landmark report published in the peer-reviewed journal Environmental Sciences Europe last week revealed that Monsanto's flagship product Roundup, is now the "most widely applied pesticide worldwide." Globally, glyphosate use has risen almost 15-fold since "Roundup Ready" crops, including cotton, were introduced in 1996.
Most tampons currently sold in the U.S. are made of non-organic cotton, rayon or blends of both, Mother Jones reported. Additionally, synthetic fibers like viscose rayon are added to increase absorbency.
Super-absorbent tampons have been linked to Toxic Shock Syndrome (TSS), a rare and potentially life-threatening complication resulting from toxins produced by Staphylococcus aureus (staph) bacteria or A streptococcus (strep) bacteria.
The U.S. Food and Drug Administration (FDA) denies allegations that tampons with rayon fibers promotes TSS. The agency also disagrees that rayon, which is made from cellulose fibers derived from wood pulp that has been bleached, causes TSS or other conditions such as dryness or ulcerations of vaginal tissues.
However the agency admitted that "at one time, bleaching the wood pulp was a potential source of trace amounts of dioxin in tampons, but that bleaching method is no longer used."
The FDA noted the raw rayon material used in U.S. tampons are now produced using elemental chlorine-free or totally chlorine free bleaching processes.
Although the number of reported TSS cases have decreased significantly in recent years compared to its hey-day in the 1980s, a few notable cases have made headlines. Recently, a 15-year-old Michigan teen was put on life support due to TSS. Lauren Wasser, a 24-year-old model and aspiring athlete, lost her leg a few years ago to TSS. She claims that "go-to" brand of tampons, Kotex Natural Balance, caused her complication and is now suing the company that manufactures the product, Vice News reported last June.
"Most major tampon manufacturers make tampons with either mixes of viscose rayon and cotton, or pure viscose rayon, and in either case those tampons provide optimal physical-chemical conditions necessary to cause the production of the TSST-1 toxin if a toxigenic strain of Staphylococcus aureus is part of the normal vaginal flora in a woman," Dr. Philip M. Tierno, a professor of microbiology and pathology at the NYU School of Medicine, told Vice.
Dr. Tierno added that 100 percent cotton tampons are safer to use. "Toxic shock syndrome may result if a woman has no antibody to the toxin or low antibody," he said. "Therefore the synthetic ingredients of a tampon are a problem, whereas 100 percent cotton tampons provide the lowest risk, if any risk at all."
Not only is this cocktail of synthetic ingredients being used by women around the world, these same products are also building up in our landfills and oceans.
The average woman throws away 250 to 300 pounds of "pads, plugs and applicators" in her lifetime, according to the 2009 book Flow: The Cultural History of Menstruation.
A growing concern for health and the health of the environment has led to the gradual rise in popularity of menstruation cups such as Softcup and the Diva Cup. The Diva Cup, for instance, has reported double-digit growth in sales in both the U.S. and Canada for the last 12 years, Racked reported. Not only that, these cups are also cheaper for women over a lifetime. According to TIME, a 2011 survey found that the cost of buying tampons for a year was  approximately $37, which is equal to the price of a single menstrual cup, which can last for a decade.
For those of you interested in trying organic feminine hygiene products, there are many options available in the U.S., including Jessica Alba's The Honest Company line of pads and tampons.
"It really is about giving people healthier and safer options, to live the best life they can," the actress and entrepreneur told Cosmopolitan last July. "This is one category that's very sensitive. The products are going in and around the most vulnerable part of a woman's body."
Doctors and experts have stressed that there isn't anything wrong with the products currently on the market. "There's no medical data that would support the use of organic tampons or pads," Dr. Taraneh Shirazian, an ob-gyn at NYU Langone Medical Center, told the New York Daily News.
"We don't think (regular) pads and tampons are putting women at an increased risk for vaginal infection, irritation or anything like that."
YOU MIGHT ALSO LIKE
14 Cases to 4 Million: 10 Things You Should Know About Zika Virus
11 Reasons Why You Should Eat More Bananas
What Role Does Nutrition Play in ADHD?
Cancer Prevention Needs Attention Too: What if We Weren't Exposed to 80,000 Toxic Chemicals Every Day?
EcoWatch Daily Newsletter
Plastic waste that started as packaging clogs tropical landfills. apomares / iStock / Getty Images
By Clyde Eiríkur Hull and Eric Williams
Countries around the world throw away millions of tons of plastic trash every year. Finding ways to manage plastic waste is daunting even for wealthy nations, but for smaller and less-developed countries it can be overwhelming.
Pexels
In recent years, functional foods have gained popularity within health and wellness circles.
Despite fierce opposition from local homeowners, a section of the SUNOCO Mariner II East Pipeline cuts through a residential neighborhood of Exton, PA. Erik McGregor / LightRocket / Getty Images
By Jeff Turrentine
To celebrate the 50th birthday of one of America's most important environmental laws, President Trump has decided to make a mockery out of it.
With well over a billion cars worldwide, electric vehicles are still only a small percentage. An economist from the University of Michigan Energy Institute says that is likely to change. Maskot / Getty Images
In 2018, there were about 5 million electric cars on the road globally. It sounds like a large number, but with well over a billion cars worldwide, electric vehicles are still only a small percentage.
Nestlé is accelerating its efforts to bring functional, safe and environmentally friendly packaging solutions to the market and to address the global challenge of plastic packaging waste.
Nestlé
/ Flickr /
CC BY-NC-ND 2.0
Nestlé, the world's largest food company, said it will invest up to $2 billion to address the plastic waste crisis that it is largely responsible for.