This website uses cookies to ensure you get the best experience while browsing it. By clicking 'Got It' you're accepting these terms.
Health Benefits of Wheatgrass
Dec. 10, 2014 12:00PM EST
Food
Wheatgrass is a tried-and-true ingredient in smoothies and juicing regimens. It's almost automatic to throw it in with those other healthy ingredients you use to boost your strength, energy and your immune system. You'll find plenty of it at your health food store, in tablet, liquid or powder form. But have to stopped to think about why you're putting it in your drink and what it's actually doing for you?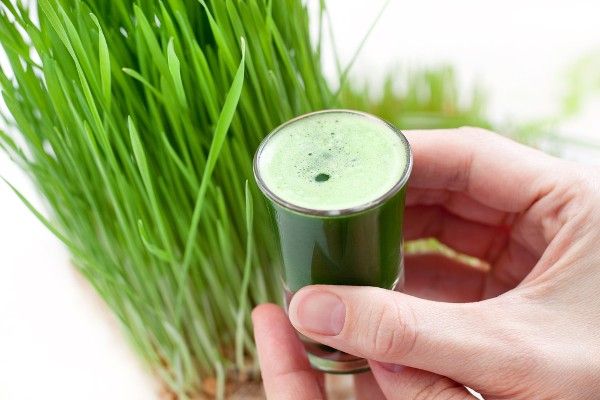 Photo credit: Shutterstock
According to Dr. Brent A. Bauer at the Mayo Clinic, some of the more extravagant health claims are unproven, as extravagant health claims usually are.
"Wheatgrass isn't a miracle cure and shouldn't replace regular medical care or a healthy diet that includes plenty of fresh fruits and vegetables," he says. "But used sensibly and in moderation, wheatgrass may add interest to your diet. Wheatgrass provides a concentrated amount of nutrients, including iron, calcium, magnesium, amino acids, chlorophyll and vitamins A, C and E. Wheatgrass fans say that its rich nutrient content boosts immunity, kills harmful bacteria in your digestive system and rids your body of waste. Some proponents tout wheatgrass as a treatment for cancer, anemia, diabetes, constipation, infections, skin conditions, ulcerative colitis and joint pain, among other health concerns. However, there are few research studies about wheatgrass, so it's difficult to assess such health claims."
So it's not a magic elixir. But those nutrients it contains are all essential for good health. They are known to be antioxidant, anti-inflammatory and anti-bacterial, helping to ward off infections, colds, sore throats and other minor infectious diseases. Vitamin A contains beta-carotene, known for its role in maintaining immunity and eye health. Vitamin C —ascorbic acid—is also a dietary essential, one of wheatgrass's key disease-fighting antioxidants. Vitamin E may play a role in slowing chronic conditions related to aging. And amino acids are essential for digestion.
Wheat grass can be as much as 70 percent chlorophyll, which some think helps to build up the blood, adding that the benefits of chlorophyll only come from using the fresh young grass. Luckily, that's easy to do. It grows quickly from seed in any shallow container. You may find ready-to-grow containers at the grocery—or at your pet supplies store. They're often marketed for cats to improve THEIR digestion. But you probably wouldn't want to do what they do: it causes them to throw up, a uniquely feline cleanse. And Mercola.com warns that it's easy to become contaminated with mold and provides some tips for growing to avoid that.
Mercola also says, "If you decide to use wheat grass you need to be very careful, as excessive amounts of wheat grass can cause you to become very nauseous and catalyze a healing crisis that could make you very sick. It is also not a food but a detoxifying herb and should not be consumed every day for long periods of time."
It's also not recommended if you're pregnant or breast-feeding or if you have celiac disease. Otherwise, Mercola suggests very much what Bauer does: make it part of your diet for both its proven and possible benefits but eat a wide range of fruits and vegetables to take full advantage of the complex networks of nutrients they contain.
YOU MAY ALSO LIKE
Top 10 Superfoods Ranked by Experts
Why Antioxidants in Superfoods Are Essential to Your Diet
EcoWatch Daily Newsletter

georgeclerk / E+ / Getty Images
By Jennifer Molidor
One million species are at risk of extinction from human activity, warns a recent study by scientists with the United Nations. We need to cut greenhouse gas pollution across all sectors to avoid catastrophic climate change — and we need to do it fast, said the Intergovernmental Panel on Climate Change.
This research should serve as a rallying cry for polluting industries to make major changes now. Yet the agriculture industry continues to lag behind.
Edwin Remsburg / VW Pics / Getty Images
Botswana, home to one third of Africa's elephants, announced Wednesday that it was lifting its ban on the hunting of the large mammals.
"The Ministry of Environment, Natural Resources Conservation and Tourism wishes to inform the public that following extensive consultations with all stakeholders, the Government of Botswana has taken a decision to lift the hunting suspension," the government announced in a press release shared on social media.
Pxhere
By Richard Denison
Readers of this blog know how concerned EDF is over the Trump EPA's approval of many dozens of new chemicals based on its mere "expectation" that workers across supply chains will always employ personal protective equipment (PPE) just because it is recommended in the manufacturer's non-binding safety data sheet (SDS).
By Grant Smith
From 2009 to 2012, Gregory Jaczko was chairman of the Nuclear Regulatory Commission, which approves nuclear power plant designs and sets safety standards for plants. But he now says that nuclear power is too dangerous and expensive — and not part of the answer to the climate crisis.
A lake in Rocky Mountain National Park. Brett Walton / Circle of Blue
By Brett Walton
When Greg Wetherbee sat in front of the microscope recently, he was looking for fragments of metals or coal, particles that might indicate the source of airborne nitrogen pollution in Rocky Mountain National Park. What caught his eye, though, were the plastics.
Gabriele Holtermann Gorden / Pacific Press / LightRocket / Getty Images
In a big victory for animals, Prada has announced that it's ending its use of fur! It joins Coach, Jean Paul Gaultier, Giorgio Armani, Versace, Ralph Lauren, Vivienne Westwood, Michael Kors, Donna Karan and many others PETA has pushed toward a ban.
This is a victory more than a decade in the making. PETA and our international affiliates have crashed Prada's catwalks with anti-fur signs, held eye-catching demonstrations all around the world, and sent the company loads of information about the fur industry. In 2018, actor and animal rights advocate Pamela Anderson sent a letter on PETA's behalf urging Miuccia Prada to commit to leaving fur out of all future collections, and the iconic designer has finally listened.
Amer Ghazzal / Barcroft Media / Getty Images
If people in three European countries want to fight the climate crisis, they need to chill out more.
That's the conclusion of a new study from think tank Autonomy, which found that Germany, the UK and Sweden all needed to drastically reduce their workweeks to fight climate change.
Amazon Employees for Climate Justice held a press conference after the annual shareholder meeting on May 22. Amazon Employees for Climate Justice