This website uses cookies to ensure you get the best experience while browsing it. By clicking 'Got It' you're accepting these terms.
Health Benefits of Wheatgrass
Dec. 10, 2014 12:00PM EST
Food
Wheatgrass is a tried-and-true ingredient in smoothies and juicing regimens. It's almost automatic to throw it in with those other healthy ingredients you use to boost your strength, energy and your immune system. You'll find plenty of it at your health food store, in tablet, liquid or powder form. But have to stopped to think about why you're putting it in your drink and what it's actually doing for you?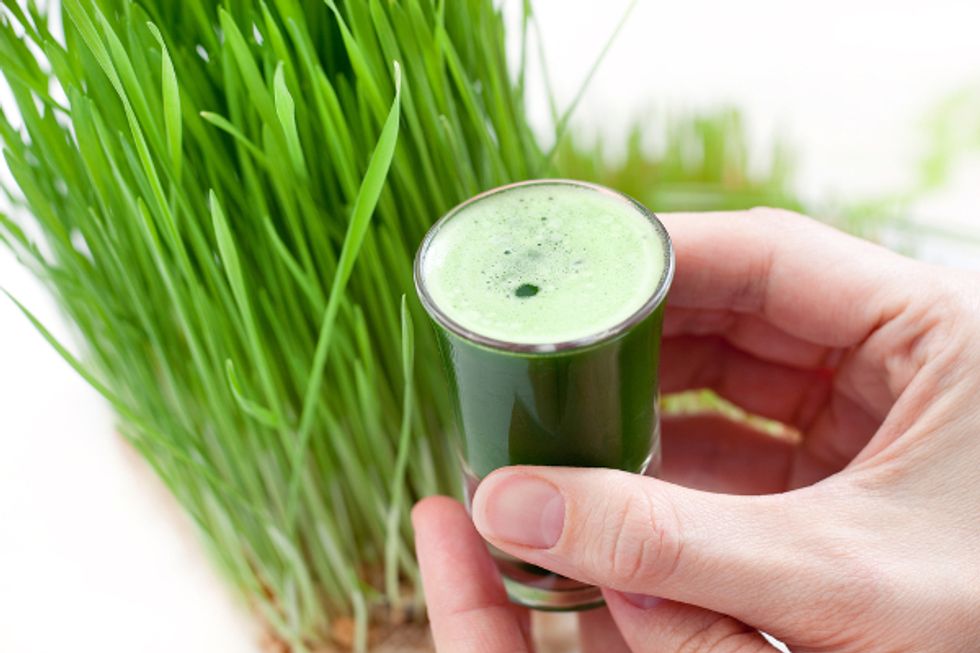 Photo credit: Shutterstock
According to Dr. Brent A. Bauer at the Mayo Clinic, some of the more extravagant health claims are unproven, as extravagant health claims usually are.
"Wheatgrass isn't a miracle cure and shouldn't replace regular medical care or a healthy diet that includes plenty of fresh fruits and vegetables," he says. "But used sensibly and in moderation, wheatgrass may add interest to your diet. Wheatgrass provides a concentrated amount of nutrients, including iron, calcium, magnesium, amino acids, chlorophyll and vitamins A, C and E. Wheatgrass fans say that its rich nutrient content boosts immunity, kills harmful bacteria in your digestive system and rids your body of waste. Some proponents tout wheatgrass as a treatment for cancer, anemia, diabetes, constipation, infections, skin conditions, ulcerative colitis and joint pain, among other health concerns. However, there are few research studies about wheatgrass, so it's difficult to assess such health claims."
So it's not a magic elixir. But those nutrients it contains are all essential for good health. They are known to be antioxidant, anti-inflammatory and anti-bacterial, helping to ward off infections, colds, sore throats and other minor infectious diseases. Vitamin A contains beta-carotene, known for its role in maintaining immunity and eye health. Vitamin C —ascorbic acid—is also a dietary essential, one of wheatgrass's key disease-fighting antioxidants. Vitamin E may play a role in slowing chronic conditions related to aging. And amino acids are essential for digestion.
Wheat grass can be as much as 70 percent chlorophyll, which some think helps to build up the blood, adding that the benefits of chlorophyll only come from using the fresh young grass. Luckily, that's easy to do. It grows quickly from seed in any shallow container. You may find ready-to-grow containers at the grocery—or at your pet supplies store. They're often marketed for cats to improve THEIR digestion. But you probably wouldn't want to do what they do: it causes them to throw up, a uniquely feline cleanse. And Mercola.com warns that it's easy to become contaminated with mold and provides some tips for growing to avoid that.
Mercola also says, "If you decide to use wheat grass you need to be very careful, as excessive amounts of wheat grass can cause you to become very nauseous and catalyze a healing crisis that could make you very sick. It is also not a food but a detoxifying herb and should not be consumed every day for long periods of time."
It's also not recommended if you're pregnant or breast-feeding or if you have celiac disease. Otherwise, Mercola suggests very much what Bauer does: make it part of your diet for both its proven and possible benefits but eat a wide range of fruits and vegetables to take full advantage of the complex networks of nutrients they contain.
YOU MAY ALSO LIKE
Top 10 Superfoods Ranked by Experts
Why Antioxidants in Superfoods Are Essential to Your Diet
EcoWatch Daily Newsletter
The CDC has emphasized that washing hands with soap and water is one of the most effective ways to prevent the spread of COVID-19. Guido Mieth / Moment / Getty Images
The Centers for Disease Control has emphasized that washing hands with soap and water is one of the most effective measures we can take in preventing the spread of COVID-19. However, millions of Americans in some of the most vulnerable communities face the prospect of having their water shut off during the lockdowns, according to The Guardian.
A California newt (Taricha torosa) from Napa County, California, USA. Connor Long /
CC BY-SA 3.0
Aerial photos of the Sierra Nevada — the long mountain range stretching down the spine of California — showed rust-colored swathes following the state's record-breaking five-year drought that ended in 2016. The 100 million dead trees were one of the most visible examples of the ecological toll the drought had wrought.
Now, a few years later, we're starting to learn about how smaller, less noticeable species were affected.
Disinfectants and cleaners claiming to sanitize against the novel coronavirus have started to flood the market.
Natthawat / Moment / Getty Images
Disinfectants and cleaners claiming to sanitize against the novel coronavirus have started to flood the market, raising concerns for the U.S. Environmental Protection Agency (EPA), which threatened legal recourse against retailers selling unregistered products, according to The New York Times.
A customer packs groceries in reusable bags at a NYC supermarket on March 1, 2020. Eduardo Munoz Alvarez/Getty Images
The global coronavirus pandemic has thrown our daily routine into disarray. Billions are housebound, social contact is off-limits and an invisible virus makes up look at the outside world with suspicion. No surprise, then, that sustainability and the climate movement aren't exactly a priority for many these days.
Ingredients are displayed for the Old School Pinto Beans from the Decolonize Your Diet cookbook by Luz Calvo and Catriona Rueda Esquibel. Melissa Renwick / Toronto Star via Getty Images
By Molly Matthews Multedo
Livestock farming contributes to global warming, so eating less meat can be better for the climate.