This website uses cookies to ensure you get the best experience while browsing it. By clicking 'Got It' you're accepting these terms.
Hawaii's Big Island Bans GMO Crops and Biotech Companies
Nov. 21, 2013 09:14AM EST
Food
The Big Island of Hawaii has a new law that bans biotech companies, as well as all open-air growing of genetically modified organisms (GMOs).
The bill exempts papayas and other GMO crops currently being cultivated and includes fines of $1,000 a day for violators.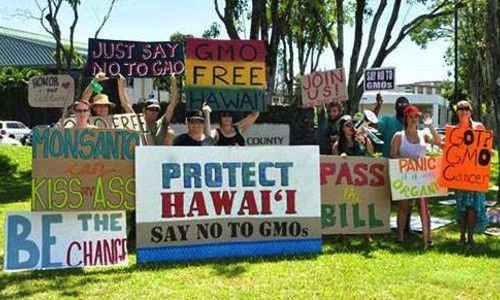 Mayor Billy Kenoi hasn't indicated his stance on the bill, but he has 10 days to veto it. The county council could override a veto with a vote from six members.
"WOOHOO! WE DID IT!" read the Facebook page of GMO Free Hawaii Island. "We ask for your continued support on the following two items: Write a letter to thank our council members for protecting the health of our community and Hawaii's agricultural lands, and encourage Mayor Billy Kenoi to sign Bill 113 into law."
Supporters of the measure filled the council chambers at the West Hawaii Civic Center with applause after the vote late Tuesday, according to the Hawaii Tribune-Herald.
"We're stoked. We're relieved," resident Blake Watson told the newspaper. "This is a great first step."
"We are at a juncture," Councilwoman Margaret Wille, who introduced the bill, told Honolulu Civil Beat. "Do we move forward in the direction of the agro-chemical monoculture model of agriculture, or do we move toward eco-friendly, diversified farming?
At least two farmers' groups supported the measure—the Hawaii Farmers Union United, whose focus is on family farms, and the Kona Coffee Farmers Association.
Farmers supporting the bill said they fear cross-pollination between modified and non-modified crops, which they say can hurt or even close their markets.
Papayas were exempted in the Big Island bill because most of the 200 papaya plantations in Hawaii are planted with genetically engineered trees. A team of scientists modified the DNA of the papaya in the 1990s to withstand a devastating ringspot virus.
Large biotech companies like Syngenta, Monsanto, Pioneer, Dow and BASF have long been experimenting with GMO crops and seeds in Hawaii. They have farms on the islands of Oahu, Kauai and Molokai, but they've never operated on Hawaii's Big Island.
The world's biotech giants have set up shop in Hawaii in recent years, attracted by year-round growing conditions and an ecosystem favorable for testing and growing produce such as seed corn. The biotechnology industry has all but completely supplanted the sugar cane and pineapple industries that used to dominate the Hawaiian landscape.
The Big Island bill comes just days after Kauai County Council overrode a mayoral veto on a bill that mandates disclosure of GMO crops.
Anne Lopez, spokeswoman for the Attorney General's Office, said earlier this fall that the office has no plans to weigh in on the Big Island's proposed ban or challenge it if it's adopted.
"We have not analyzed it to come up with a legal opinion," she said.
In 2008, the county adopted a ban on GMO coffee and taro that has not been legally challenged.
Watch this interview with Councilwoman Wile from Big Island Video News:
Visit EcoWatch's GMO page for more related news on this topic.

EcoWatch Daily Newsletter
Large food companies are following in the footsteps of fast-food restaurants such as Burger King and KFC by offering meat alternatives. Getty Images
By Elizabeth Pratt
Hormel, Kellogg's, and Kroger are among the large companies now planning to offer "fake meat" products at grocery stores.
Experts say the trend toward plant-based meats coincides with consumers' desires to eat less meat.
However, experts urge consumers to closely check package labels as a product isn't necessarily healthy just because it's described as plant-based.
In grocery stores and fast-food outlets around the U.S., a revolution is taking place.
Colombia rainforest. Marcel Oosterwijk / CC BY-SA 2.0
Many of us think of the Amazon as an untouched wilderness, but people have been thriving in these diverse environments for millennia. Due to this long history, the knowledge that Indigenous and forest communities pass between generations about plants, animals and forest ecology is incredibly rich and detailed and easily dwarfs that of any expert.
picture-alliance / Newscom / R. Ben Ari
By Wesley Rahn
Plastic byproducts were found in 97 percent of blood and urine samples from 2,500 children tested between 2014 and 2017, according to a study by the German Environment Ministry and the Robert Koch Institute.

Pexels
Medically reviewed by Daniel Bubnis, MS, NASM-CPT, NASE Level II-CSS
Hot yoga has become a popular exercise in recent years. It offers many of the same benefits as traditional yoga, such as stress reduction, improved strength, and flexibility.
Lara Hata / iStock / Getty Images
By SaVanna Shoemaker, MS, RDN, LD
Rice is a staple in many people's diets. It's filling, inexpensive, and a great mild-tasting addition to flavorful dishes.
An image of the trans-alaskan oil pipeline that carries oil from the northern part of Alaska all the way to valdez. This shot is right near the arctic national wildlife refuge. kyletperry / iStock / Getty Images Plus
The Trump administration has initialized the final steps to open up nearly 1.6 million acres of the protected Alaskan National Wildlife Refuge to allow oil and gas drilling.