Hawaii Enacts Nation's First 100% Renewable Energy Standard
Hawaii enacted a law this week that mandates that all of the state's electricity comes from renewable sources no later than 2045. The bill makes Hawaii the first U.S. state to adopt such a standard. This renewable energy standard is being hailed as "the most aggressive clean energy goal in the country."
Hawaii just set a goal of generating 100 percent of its electricity from renewable resources: http://t.co/CMcQu38tqg #SwitchToClean

— Barack Obama (@BarackObama) June 10, 2015
"Hawaii is making history, not only for the islands, but for the planet," said Jeff Mikulina, executive director of the Blue Planet Foundation. "We are making a promise to future generations that their lives will be powered not by climate-changing fossil fuel, but by clean, local and sustainable sources of energy."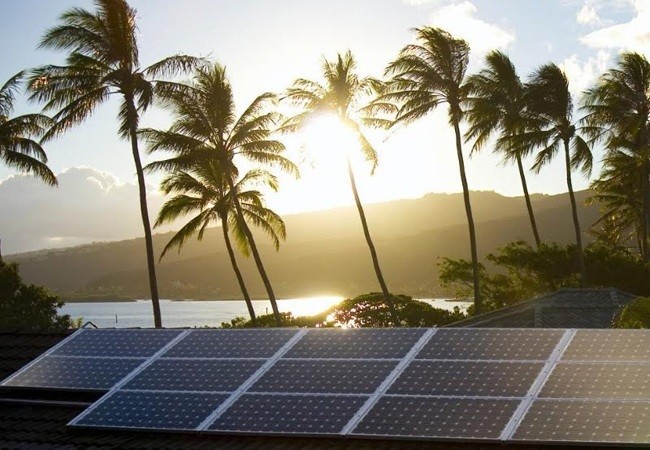 The legislation was drafted by Blue Planet Foundation, whose mission is "to clear the path for 100 percent clean energy." Many believe Hawaii can reach the goal well before 2045 because the islands are already a renewable energy leader. "Analyses from the utility and elsewhere show that 100 percent renewable energy can be achieved even earlier than 2045, by 2030," says Blue Planet Foundation. "Hawaii's renewable energy use has doubled in the past five years, with the islands currently generating about 22 percent of their electricity from wind, solar, geothermal and other renewable energy resources."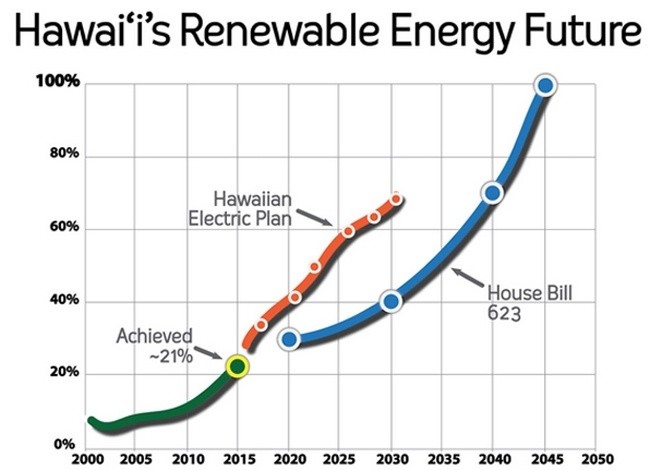 To make sure the Aloha state stays on track to meet its requirement, the bill has an interim requirement of at least 30 percent renewable electricity by 2020 and 70 percent by 2040. If Hawaii utilities fail to reach that target, it could cost them two cents for each kilowatt hour of excess fossil fuel electricity, according to Blue Planet Foundation.
"This week we put an expiration date on fossil fuel use," said Henk Rogers, president of Blue Planet Foundation. "Hawaii is sending a signal to the world that 100 percent renewable energy isn't just a vision, it's a commitment."
YOU MIGHT ALSO LIKE
7 Stunningly Beautiful Places to Visit This Summer
12 Reasons Why Solar Is Having an Explosive Year
25 of the Most Powerful Voices on Climate Change Brought to You by The Weather Channel
Ryan Zinke with Rick Perry at the Boy Scouts Jamboree. Twitter
In less than one week, Interior Sec. Ryan Zinke will submit his final recommendations to President Trump on whether 27 national monuments around the country should be downsized, eliminated, transferred to state control or left alone.
But as Aaron Weiss, the media director of the conservation group Center for Western Priorities, pointed out: "Rather than spending his final week hearing from local communities who have worked tirelessly to protect their natural and cultural heritage as national monuments, Secretary Zinke is on vacation in the Mediterranean. His wife, Lola Zinke, tweeted a picture early this morning of herself and Secretary Zinke enjoying a sunrise on the Bosphorus Strait."
Keep reading...
Show less
Richland County Wetland destroyed by spilled drilling fluids during construction of Rover Pipeline, April 14. Sierra Club

Energy Transfer Partners' controversial $4.3 billion Rover pipeline has more negative inspection reports than any other major interstate natural gas pipeline built in the last two years, according to a new Bloomberg analysis.
The 713-mile pipeline, which will carry fracked gas across Pennsylvania, West Virginia, Ohio and Michigan and Canada, has been stalled from numerous environmental violations, including a 2 million gallon drilling fluid spill into an Ohio wetland in April.
Keep reading...
Show less
Pipes for the Constitution Pipeline are stacked at a pipe yard in Altamont, New York.
The U.S. Court of Appeals for the Second Circuit upheld New York State's denial of a water quality certification for the Constitution Pipeline Friday, a critical win for the Attorney General's office and the state's authority to take necessary action to protect its waters and natural resources. The appeals court noted that the state is entitled to "conduct its own review of the Constitution Project's likely effects on New York waterbodies and whether those effects would comply with the state's water quality standards."
New York must be able to do what's necessary to protect our environment—and we're glad that the court agreed.

Keep reading...
Show less
iStock
By Anne Bolen
On Aug. 21, for the first time since 1918, a total solar eclipse will cross the U.S. from coast to coast. Along the path of totality, the moon will completely block out the sun, turning day to twilight for nearly three minutes. While a partial eclipse will be visible throughout the U.S., millions will be flocking to spots along the path of totality, which begins in Salem on Oregon's coast about 10:15 a.m. Pacific Daylight Time and exits the nation at Charleston, South Carolina, where maximum coverage will occur about 2:47 p.m. Eastern Daylight Time. Perhaps no other natural event will inspire so many people to go outdoors.
Keep reading...
Show less
The Trump administration released an environmental review Thursday of Hilcorp Alaska's Arctic offshore drilling development. Hilcorp plans to build a 9-acre artificial island and 5.6-mile pipeline in the Beaufort Sea for its offshore drilling project. The Trump administration's draft environmental impact statement proposes to greenlight the dangerous drilling plan, which would be a first for federal waters in the Arctic.
Keep reading...
Show less
Equinac
Not again! A baby dolphin died last Friday in southern Spain after beachgoers took the mammal out of the water and passed it around for photos, according to media reports.
The incident was detailed in several Facebook posts from Equinac, a Spanish marine wildlife conservation group.
Keep reading...
Show less
President Trump has made sweeping efforts to scrap Obama-era environmental protections, but the current administration's latest moves are oddly specific.
The National Park Service (NPS) announced Wednesday that it has rescinded the 2011 "Water Bottle Ban" that allowed parks to prohibit the sale of disposable plastic water bottles. That same day, news emerged that the Trump administration removed a nine-slot Capital Bikeshare station at the White House that was requested and installed during the Obama years and used by staffers.
Keep reading...
Show less
Energy
Aug. 17, 2017 11:46AM EST
In March 2013, ExxonMobil's Pegasus Pipeline sprung a leak,
spilling
210,000 gallons of tar sands crude into a neighborhood of Mayflower, Arkansas.
By Catherine Collentine
In March of 2013, ExxonMobil's Pegasus Pipeline sprung a leak, spilling an estimated 210,000 gallons of toxic tar sands crude into a residential neighborhood of Mayflower, Arkansas.
This week, a federal court ruled that the Obama administration over-penalized Exxon for dumping hundreds of thousands of gallons of a pollutant onto the streets of Mayflower and threw out a number of safety violations levied against Exxon on the basis that the company met its legal obligations to consider the risks associated with the pipeline.
Keep reading...
Show less