This website uses cookies to ensure you get the best experience while browsing it. By clicking 'Got It' you're accepting these terms.
Have You Filled Out Your Bracket Yet? Which Climate Deniers Will Make It to the Final Four?
Mar. 13, 2015 09:50AM EST
You can't do much to influence the NCAA college basketball championship tournament, one of the biggest events in college sports, going on right now. But you can help pick the winner of the Climate Change Fantasy Tournament, which kicked off this morning.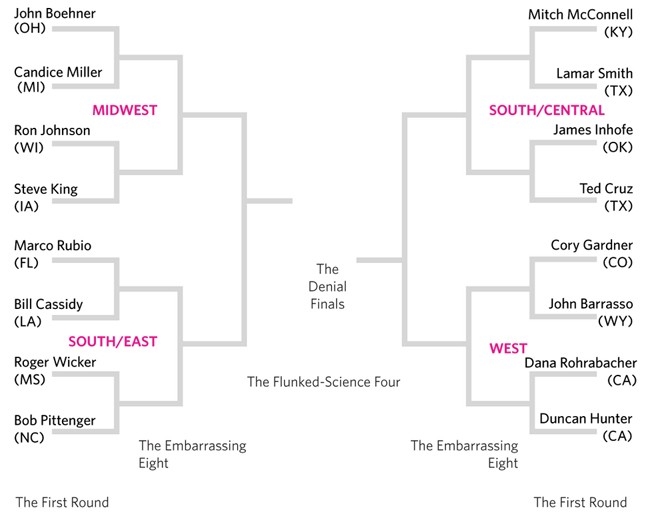 It's being hosted by Organizing for Action (OFA), the nonprofit community organizing group that grew out of President Obama's campaign, Obama for America/Organizing for America, to promote the president's priorities. Apparently, one of them is using the current newsiness of the tournament known as the "NCAA Final Four" and "March Madness" to call out climate-denying politicians in Congress.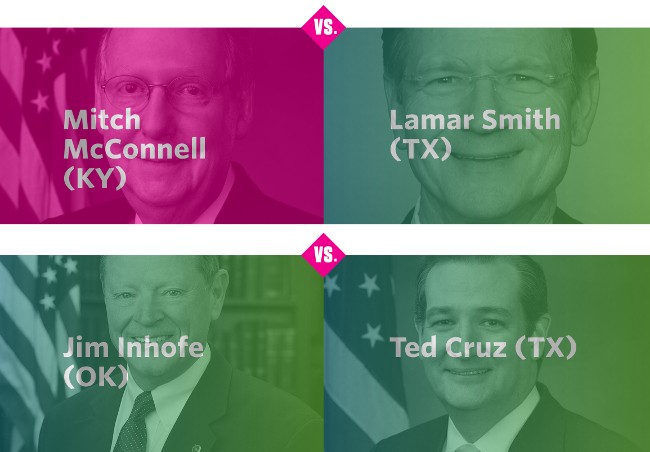 "Despite the overwhelming scientific agreement that climate change is real and man-made, these sixteen members of Congress prefer to live in a fantasy world, refusing to accept the basic facts," it says. "You can learn more about their denial here. Help us pick the worst of the worst. Vote now!"
The "tournament" features regional brackets for the midwest, south/central, south/east and west in which four contestants will vie to make it to the "Embarrassing Eight," with an opportunity to shoot for the "Flunked-Science Four" to reach the "Denial Finals" and possibly win the whole thing to be celebrated as the most vocally ignorant, science-averse member of Congress.
One hot first-round match-up squares off Sen. James Inhofe of Oklahoma, chairman of the Committee on Environment and Public Works, who has written a book claiming that global warming is "the greatest hoax" and a "conspiracy," against Texas Sen. Ted Cruz, who just yesterday told NASA to concentrate on space and forget about climate change, saying "Stop talking so much about the terrible things we're doing to our planet and just go away. Far, far away."
A potential second-round face-off in the midwest division could pit Iowa representative Steve King, who has said that believing in climate change is "more of a religion than a science," against House Speaker John Boehner, who has thrown up his hands and refused to lead, saying things like "I'm not qualified to debate the science over climate change" and calling the idea that carbon emissions are harmful "almost comical."
What's really scary is that the 16 tournament competitors were chosen from a field of 162 elected officials, all of whose head-in-the-sand statements and actions you can learn about on the "Find Deniers" page at the Organizing for Action website.
YOU MIGHT ALSO LIKE
Watch Colbert Shame GOP Climate Deniers: 'I am Not a Scientist'
Dark Money Fuels Election Wins for Climate Deniers
Climate Denier-in-Chief Inhofe to Head Senate Environment Committee
Plus, learn if there's one that's best for your health.
Catherine Falls Commercial / Moment / Getty Images
An invasive Amynthas worm, also known as a crazy snake worm, Asian jumping worm and Alabama jumper Tom Potterfield / Flickr
By Jason Bittel
My wife and I built a house two years ago on a few acres of woodland outside of Pittsburgh. The backyard is full of maples, poplars, briars and common spicebush. Two-lined salamanders and grumpy-looking crayfish wade among the rocks in the small stream that runs down the edge of the property. Deer, raccoon and opossum tracks appear regularly in the snow and mud. Sometimes, my trail-cam even catches a pair of gray foxes as they slink through the night.
AleksandarNakic / Getty Images
By Kate Murphy
No matter the time of year, there's always a point in each season when my skin decides to cause me issues. While these skin issues can vary, I find the most common issues to be dryness, acne and redness.

David Woodfall / The Image Bank / Getty Images
By Sam Nickerson
The U.S. Environmental Protection Agency (EPA) in April 2018 proposed relaxing standards related to how it assesses the effects of exposure to low levels of toxic chemicals on public health.
Now, correspondence obtained by the LA Times revealed just how deeply involved industry lobbyists and a controversial, industry-funded toxicologist were in drafting the federal agency's proposal to scrap its current, protective approach to regulating toxin exposure.
Steve Irwin poses with a three foot long alligator at the San Francisco Zoo on June 26, 2002. Justin Sullivan / Getty Images
February 22 is the birthday of conservationist and beloved TV personality "Crocodile Hunter" Steve Irwin, who would have been 57 years old today.
Irwin's life was tragically cut short when the barb from a stingray went through his chest while he was filming in 2006, but his legacy of loving and protecting wildlife lives on, most recently in a Google Doodle today honoring his birthday.