Have You Filled Out Your Bracket Yet? Which Climate Deniers Will Make It to the Final Four?
You can't do much to influence the NCAA college basketball championship tournament, one of the biggest events in college sports, going on right now. But you can help pick the winner of the Climate Change Fantasy Tournament, which kicked off this morning.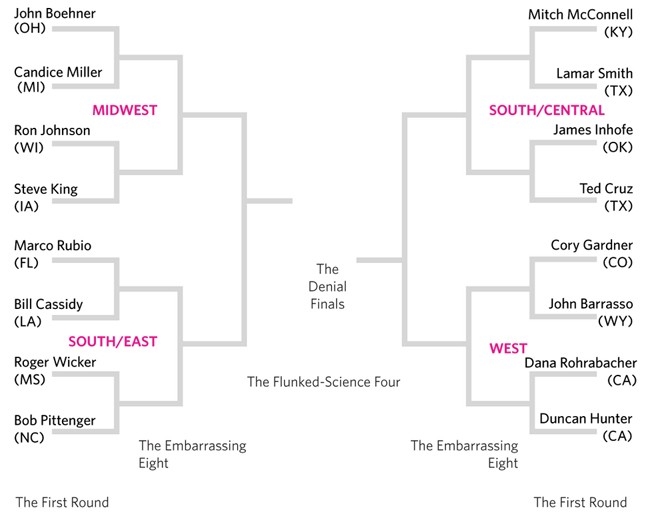 It's being hosted by Organizing for Action (OFA), the nonprofit community organizing group that grew out of President Obama's campaign, Obama for America/Organizing for America, to promote the president's priorities. Apparently, one of them is using the current newsiness of the tournament known as the "NCAA Final Four" and "March Madness" to call out climate-denying politicians in Congress.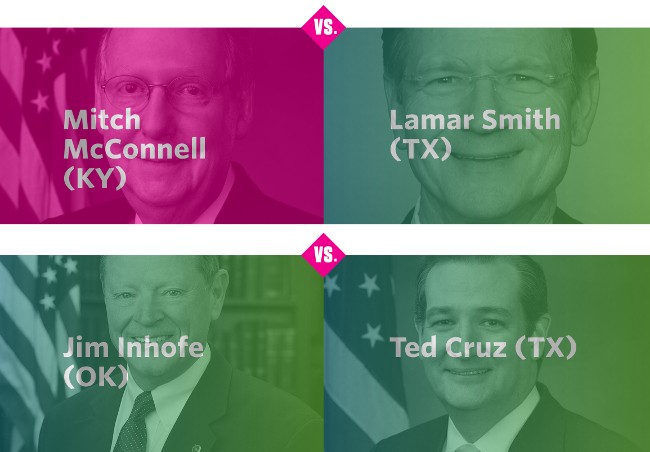 "Despite the overwhelming scientific agreement that climate change is real and man-made, these sixteen members of Congress prefer to live in a fantasy world, refusing to accept the basic facts," it says. "You can learn more about their denial here. Help us pick the worst of the worst. Vote now!"
The "tournament" features regional brackets for the midwest, south/central, south/east and west in which four contestants will vie to make it to the "Embarrassing Eight," with an opportunity to shoot for the "Flunked-Science Four" to reach the "Denial Finals" and possibly win the whole thing to be celebrated as the most vocally ignorant, science-averse member of Congress.
One hot first-round match-up squares off Sen. James Inhofe of Oklahoma, chairman of the Committee on Environment and Public Works, who has written a book claiming that global warming is "the greatest hoax" and a "conspiracy," against Texas Sen. Ted Cruz, who just yesterday told NASA to concentrate on space and forget about climate change, saying "Stop talking so much about the terrible things we're doing to our planet and just go away. Far, far away."
A potential second-round face-off in the midwest division could pit Iowa representative Steve King, who has said that believing in climate change is "more of a religion than a science," against House Speaker John Boehner, who has thrown up his hands and refused to lead, saying things like "I'm not qualified to debate the science over climate change" and calling the idea that carbon emissions are harmful "almost comical."
What's really scary is that the 16 tournament competitors were chosen from a field of 162 elected officials, all of whose head-in-the-sand statements and actions you can learn about on the "Find Deniers" page at the Organizing for Action website.
YOU MIGHT ALSO LIKE
Watch Colbert Shame GOP Climate Deniers: 'I am Not a Scientist'
Dark Money Fuels Election Wins for Climate Deniers
Climate Denier-in-Chief Inhofe to Head Senate Environment Committee
The Santa Barbara City Council approved a resolution Tuesday opposing new drilling off the California coast and fracking in existing offshore oil and gas wells. The resolution is the first in a new statewide campaign to rally local governments against proposals to expand offshore fossil fuel extraction in federal waters.
The vote—which makes Santa Barbara the first California city to oppose both fracking and new offshore drilling—follows President Trump's April 28 executive order urging federal agencies to expand oil and gas leasing in federal waters. The order could expose the Pacific Ocean to new oil leasing for the first time in more than 30 years.
Keep reading...
Show less
www.facebook.com
Starting Wednesday, the vast majority of Americans can learn about every potentially harmful chemical in their drinking water and what scientists say are the safe levels of those contaminants. The Environmental Working Group's (EWG) new national Tap Water Database is the most complete source available on the quality of U.S. drinking water, aggregating and analyzing data from almost 50,000 public water systems in all 50 states and the District of Columbia.
The organization has earned a reputation for ambitious data-mining research projects that shake up policy debates and consumer markets. EWG's online Farm Subsidy Database, listing millions of subsidy recipients, and its Skin Deep guide to more than 70,000 personal care products, draw tens of millions of visitors every year.
Keep reading...
Show less
By Stacy Malkan
Ever since they classified the world's most widely used herbicide as "probably carcinogenic to humans," a team of international scientists at the World Health Organization's (WHO) cancer research group have been under withering attack by the agrichemical industry and its surrogates.
In a front-page series, The Monsanto Papers, the French newspaper Le Monde described the attacks as "the pesticide giant's war on science," and reported, "to save glyphosate, the firm [Monsanto] undertook to harm the United Nations agency against cancer by all means."
Keep reading...
Show less
Shutterstock
The U.S. electric utility industry recognized decades ago that burning fossil fuels would lead to increased warming, yet later opposed efforts to shift away from coal, according to a new report.
The lengthy report from the Energy and Policy Institute uses reams of archival documents to demonstrate that utility industry representatives knew as far back as 1968 that burning fossil fuels could trigger "catastrophic effects" on the climate.
Keep reading...
Show less
www.youtube.com
By Sharon Kelly
The Pennsylvania's Environmental Hearing Board ordered Sunoco Pipeline LP Tuesday to temporarily halt some types of work on a $2.5 billion pipeline project designed to carry 275,000 barrels a day of butane, propane and other liquid fossil fuels from Ohio and West Virginia, across Pennsylvania, to the Atlantic coast.
On July 19, three environmental groups presented Judge Bernard Labuskes, Jr. with documentation showing that the project had caused dozens of drilling fluid spills and other accidents between April and mid-June.
Keep reading...
Show less
www.youtube.com
By Andy Rowell
The UK has followed France in banning the sale of new petrol and diesel cars by 2040, as part of its plan to tackle chronic air pollution in cities. The government has been coming under intense pressure to act, with an estimated 40,000 people dying prematurely a year from air pollution.
Keep reading...
Show less
By Colleen Curry
People traveling across America today can, if they're lucky, pitch a tent in the same exact spot that early American explorers and map-makers Lewis and Clark did, amid the jagged rocks and sweeping plains of the Upper Missouri River Breaks in central Montana.
Brent Rose, a journalist and filmmaker who has been traveling around the U.S. in a van for two years, was one of the lucky ones.
Keep reading...
Show less
www.youtube.com
Kyara, a killer whale born at SeaWorld San Antonio just three months ago, died Monday at the park, as reported in this video from Newsy. Kyara is the last orca to be born in captivity under the SeaWorld breeding program, which shut down in 2016.
In a statement, SeaWorld said the cause of death was "likely pneumonia" and that "Kyara had faced some very serious and progressive health issues over the last week."
Keep reading...
Show less