This website uses cookies to ensure you get the best experience while browsing it. By clicking 'Got It' you're accepting these terms.
Have Floods Changed with Increasing CO2 Levels?
Oct. 25, 2011 10:05AM EST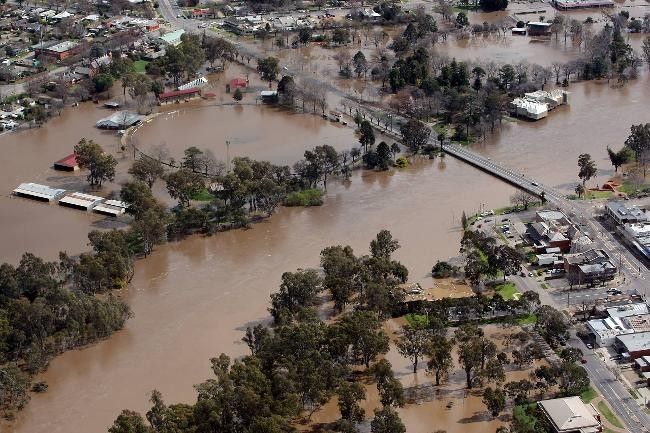 Only one of four large regions of the U.S. showed a significant relationship between carbon dioxide (CO2) in the atmosphere and the size of floods over the past 100 years. This was in the Southwestern region, where floods have become smaller as CO2 has increased.
This does not mean that no strong relationship between flooding and greenhouse gases will emerge in the future.
An increase in flood magnitudes remains one of the most anticipated impacts of climate change, and land and water resource managers are asking questions about how to estimate future flood risks and develop effective flood mitigation strategies for the future.
A new report published by U.S. Geological Survey (USGS) scientists in the Hydrologic Sciences Journal looks at this potential linkage using historical records of floods throughout the nation. Scientists studied flood conditions at 200 locations across the U.S. looking back 127 years through 2008.
"Currently we do not see a clear pattern that enables us to understand how climate change will alter flood conditions in the future, but the USGS will continue to collect new data over time and conduct new analyses as conditions change," said USGS scientist and lead author Robert Hirsch. "Changes in snow packs, frozen ground, soil moisture and storm tracks are all mechanisms that could be altered by greenhouse gas concentrations and possibly change flood behavior. As we continue research, we will consider these and other factors in our analyses."
The decrease of floods in the Southwest is consistent with other research findings that this region has been getting drier and experienced less precipitation as a likely result of climate change.
"The relationship between greenhouse gas concentrations and floods is complex, demonstrating the need for long-term streamflow data to help guide future flood hazard mitigation and water resources planning," said Matthew Larsen, USGS associate director for Climate and Land Use Change. "USGS streamgages provide real-world data to help scientists understand this relationship. Planning for water supplies and flood hazards should be informed by a combination of predictive modeling approaches as well as statistical approaches such as this study."
The USGS operates more than 7600 streamgages across the U.S., collecting data on the amount of water flowing in streams and rivers. This study used data from 200 of these USGS streamgages, each of which had between 85 and 127 years of data through 2008.
Climate changes that could influence flood magnitudes include shifts in the intensity and tracks of various types of storms and changes in the type of precipitation (rain versus snow). The conditions on the landscape when large storms arrive can also change (for example, smaller snowpacks, less soil moisture and less frozen soil). All of these can influence the size of floods. Of course, human activities within the watershed can also have a major influence in the size of floods. These include urbanization, building of dams and levees, and shifts in vegetation types and drainage of soils and wetlands. At the present time, we see much larger changes in flooding from these causes than we can see from greenhouse forcing.
In this study, the U.S. was divided into four large regions, and research showed some regional differences in the way that flood magnitudes have varied with CO2 concentrations over the past century. In the Northwest and Southeast, there is virtually no evidence of increases or decreases in flood magnitudes over the study period. The Northeastern region (which stretches from the middle of the Dakotas and Nebraska all the way east to the New York and New England area) shows a tendency towards increases in flooding over this period.
Has the Magnitude of Floods across the USA Changed with Global CO2 Levels is available online. The article contains a map of the results and extensive tables, which identify the streamgages used in the study and the site-specific findings for each of them.
To learn more about USGS streamgages, click here.
For more information, click here.
EcoWatch Daily Newsletter
Variety of fermented food korean traditional kimchi cabbage and radish salad. white and red sauerkraut in ceramic plates over grey spotted background. Natasha Breen / REDA&CO / Universal Images Group / Getty Image
Even if you've never taken probiotics, you've probably heard of them.
These supplements provide numerous benefits because they contain live microorganisms, such as bacteria or yeast, which support the healthy bacteria in your gut (1, 2, 3, 4).
Pexels
Singapore will become the first country in the world to place a ban on advertisements for carbonated drinks and juices with high sugar contents, its health ministry announced last week. The law is intended to curb sugar consumption since the country has some of the world's highest diabetes rates per capita, as Reuters reported.
A typical adult takes around 20,000 breaths per day. If you live in a megacity like Beijing, with many of those lungfuls you're likely to inhale a noxious mixture of chemicals and pollutants.
Fred Stone holds his brown swiss cow Lida Rose at his Arundel dairy farm on March 18 after a press conference where he spoke about PFAS chemical contamination in his fields. Gregory Rec / Portland Portland Press Herald via Getty Images
By Susan Cosier
First there was Fred Stone, the third-generation dairy farmer in Maine who discovered that the milk from his cows contained harmful chemicals. Then came Art Schaap, a second-generation dairy farmer in New Mexico, who had to dump 15,000 gallons of contaminated milk a day.
Protesters attend the 32nd annual Fur-Free Friday demonstration on Nov. 23, 2018 in Beverly Hills, California. Ella DeGea / Getty Images
California Governor Gavin Newsom signed into law a bill that that bans the sale and manufacture of fur products in the state. The fur ban, which he signed into law on Saturday, prohibits Californians from selling or making clothing, shoes or handbags with fur starting in 2023, according to the AP.
By Simon Evans
During the three months of July, August and September, renewables generated an estimated total of 29.5 terawatt hours (TWh), compared with just 29.1TWh from fossil fuels, the analysis shows.
A demonstrator waves an Ecuadorian flag during protests against the end of subsidies to gasoline and diesel on Oct. 9 in Quito, Ecuador. Jorge Ivan Castaneira Jaramillo / Getty Images
Protesters block the road outside Mansion House in London during an XR climate change protest. Gareth Fuller / PA Images via Getty Images