Hate Doing Yard Work? Rent a Goat
Aug. 20, 2015 08:37AM EST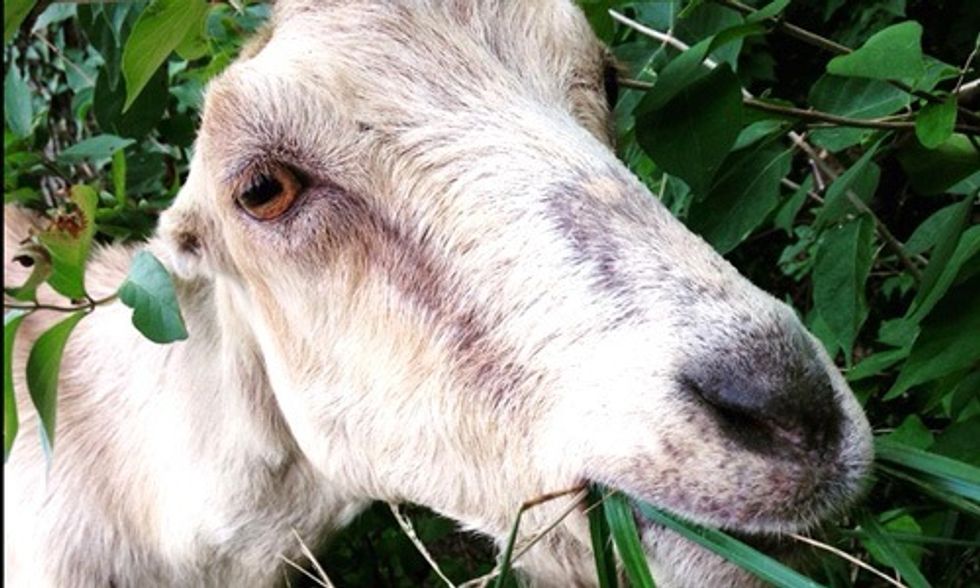 As people seek out alternatives to fossil fuels for every day tasks, one surprising solution is turning up: goats. From homeowners looking to clear unwanted vegetation, to the staff at the Congressional Cemetery in Washington, DC looking to do some serious weeding, more and more people are employing goats for the job.
Wish I could get a #goatmower for my yard, too http://t.co/qtRAITdlBw

— Samantha Waxman (@waxmansd) August 11, 2015
Earlier this month, the staff at the Congressional Cemetery brought in 30 goats to graze on poison ivy, overgrown vines and other unwanted plants. The goats, which were used at the cemetery two years ago, come from Prosperity Farms in southern Maryland. They "might be here for up to a couple of weeks," cemetery program director Lauren Maloy told The Washington Post.
The 207-year old cemetery abuts the Anacostia River, so the staff wanted to find a pesticide-free way to keep the vines at bay because they can strangle trees, causing them to topple onto historic tombstones. The goats, which are able to eat plants that would be toxic to other animals, are the perfect solution. The goats are inexpensive and hard-working to boot (they spend up to one-third of their day eating). "They're really affordable," Paul Williams, president of the Historic Congressional Cemetery told USA Today. "With a herd of 30 goats, if you break it down per hour, it's only $1 per goat. And that's great."  
#GoatMowers at Congressional Cemetery @medillonthehill @CongCemetery pic.twitter.com/HBH54DrIqj — Siyao Long (@longsiyao) August 6, 2015
As if one needed more reasons to employ these avid munchers, the goats also help out honey bees by removing invasive vines that choke out native plants, which honey bees rely on as a food source. "These bees are vital for not only the native plants, but for humans and other species," said Mary Bowen, president of Browsing Green Goats.
The cemetery is the first in Washington, DC to employ goats to clear brush, but they're certainly not the first in the U.S. to do so. There is a small but growing goat-renting industry. Google has been using goats to maintain its Mountain View campus for years—part of its "low-carbon approach" to maintaining its property. Earlier this spring, Amazon announced it would be renting out goats. Goats are even being used to reduce the risk of California wildfires.
Perfect replacement for a lawn mower #GOAT pic.twitter.com/srT1LjJXEx

— Cameron McClure (@macdaddymcclure) August 16, 2015
Airports are getting on board too. Portland International Airport employed goats earlier this spring to clear a large patch of overgrown land. "The goats, owned by Portland company Goat Power LLC, are accustomed to traveling all over Oregon to clear weeds from vineyards, schools and private yards," reports Reuters.
Check out this infographic from USA Today which compares goat mowing to conventional mowing:

YOU MIGHT ALSO LIKE
Astronaut Snaps Epic Photo of Wildfires from Space as Record 7 Million Acres Burn
David Suzuki: How You Can Help Bring Monarch Butterflies Back from the Brink
World's Second Largest Source of Electricity Is Now Renewables
EcoWatch Daily Newsletter
Recent Stories from EcoWatch