This website uses cookies to ensure you get the best experience while browsing it. By clicking 'Got It' you're accepting these terms.
Harvard and Brown Fail Moral Leadership Exam
Jan. 03, 2014 09:37AM EST
At a time when institutions of business and government continue to fail society, two of our leading academic institutions missed the opportunity to provide essential moral leadership on the most pressing challenge ever faced in the history of human civilization.
Harvard President Drew Faust issued her October statement first:
She and her colleagues on the Board do not believe "that university divestment from the fossil fuel industry is warranted or wise."
Brown President Christina Paxson followed three weeks later with her own statement:
"Our consideration of divestment [from coal] is over."
Both statements, read in their entirety, explain the careful and thorough deliberations that took place within their respective academic communities. That these institutions can both fail to see the stark moral implications of their decision after such extensive deliberation only reinforces the severity of the crisis facing civilization.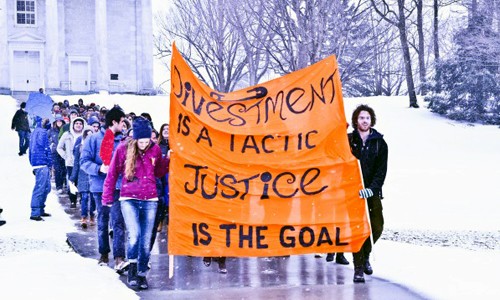 The Stakes
Before looking at the rationales of these decisions, let us remind ourselves of the unprecedented challenge before us. Thanks to a paper released in 2009 by the highly respected Potsdam Institute for Climate Impact Research, we have known for four years a staggering truth: if we are to avoid blowing through the 2 degree warming threshold and ushering in likely catastrophic climate change, we must leave the majority of the fossil fuels already discovered and on the books, beginning with coal, in the ground.
The Carbon Tracker Initiative brought this issue into common focus two years ago. At that time, we described a $20 trillion "Big Choice" facing society, anticipating OECD Secretary General Angel Gurria's recent statement: "The looming choice may be either stranding those assets or stranding the planet."
Beyond the shrinking lunatic fringe of climate change deniers, there is no apparent debate regarding this stark choice, only a judgment call around what is an acceptable degree of certainty we should shoot for in our quest not to destroy the planet for life as we know it. On this question, the scientific community is far too timid given all the non-linear risks they understand but shy away from talking forcefully about, on the pretext that such risks are by definition "uncertain." The financial crisis made us aware of the growing prevalence of Black Swan events and their consequences in complex systems. The global climate system is a complex system that makes finance appear simple in comparison. It's time to connect the dots.
Harvard's False Choice
With this as context, let us turn to the failures of moral leadership at Harvard and Brown. Harvard's decision rests on two arguments. First, Harvard is an academic institution and its endowment is held in trust to advance its academic mission. No argument. But then the rationale against divestment heads down its slippery slope by asserting a false choice between "the University as a political actor rather than an academic institution."
The toxic political climate in the U.S. has successfully defined climate change as a "political issue" pitting "business-friendly conservatives" against "wimpy green liberals" and both sides trapped in their worship at the alter of economic growth (no matter the costs). It is certainly conceivable that such lazy and reckless thinking has infected Harvard's own Corporation Board.
Let us be clear: climate change is a moral issue, not a political issue. Would the President of Harvard assert that the choice of the most prestigious University in the world is between being an academic institution or a moral actor (rather than a "political actor")?
After asserting its false choice between academics and politics, Harvard then reveals the crux of the matter. Divestment will come "at a substantial economic cost." It is reasonable to debate both the costs of divestment and the risks of not divesting (stranded asset risk), but that is not the point. Any hard moral choice by definition comes with very real costs. That is why it is so vital for us all as individuals, and certainly for our leading academic institutions, to be clear on issues of morality.
Brown's Deadly Rationalization
Brown University's decision was focused simply on divesting from coal, both mining and electricity generation from coal. The students who organized Brown Divest Coal apparently were trying to make it easier for the board, since divesting from coal and tar sands oil production are the relative "no brainers" from both a moral and an economic risk perspective.
One can feel Brown President Christina Paxson's struggle to explain her board's decision (which she tells us she "agrees with," although I have my doubts) as she delicately walks the reader through Brown's "guidelines for incorporating ethical and moral issues into investing." Those guidelines have supported previous divestiture decisions such as Brown's 2003 decision to divest from tobacco companies.
Unlike Harvard, Brown recognizes climate change as a moral issue, and Brown has "guidelines" for incorporating ethical and moral issues into investment decision-making. Brown is at least a decade ahead of Harvard it would appear in that regard; as part of their non-divestment decision the latter announced the hiring of their "first-ever vice president for sustainable investing."
Brown's failure lies not in recognizing climate change as a moral issue, but in how they consider whether the social harm caused by burning coal is "sufficiently grave" to warrant divestment. Tobacco passed that test because there were no offsetting benefits that tobacco enables. In considering coal divestment, Paxson writes, "Although the social harm is clear, this harm is moderated by the fact that coal is currently necessary for the functioning of the global economy."
Let's substitute "slavery" for "coal" in that statement and see how it reads.
As I have written in "Beyond Divestment" and elsewhere, divestment is no panacea and as a stand-alone strategy, not likely to be effective in changing the investment decisions and business models of the world's energy industry. But until we properly define climate change as the greatest moral challenge of all time, affecting not just our fellow man, but all of mankind now and forever, and all of life as we know it on planet Earth, which is our gift, we will not take the bold steps we need to take, now.
Consider the ongoing costs of what was our failed moral leadership for far too long on the "energy system" of slavery. Now, on the 150th anniversary of the Gettysburg Address, let us be inspired by the courage of Abraham Lincoln's leadership. He endured great costs personally and on behalf of the nation he led for a moral clarity devoid of convenient or self-serving rationalizations in the face of entrenched and wrong ideology.
Now consider November's climate injustice of Typhoon Haiyan with a 20-foot storm surge, nearly twice as high as what Hurricane Sandy delivered to the New York metropolitan area. Naderev Sano, the Philippines delegate to the U.N. Climate talks in Warsaw in November, in a desperate search for moral leadership, announced he would fast "until we stop this madness."
"Those who have the privilege to know, have the duty to act." – Albert Einstein
Harvard and Brown have let us down.
This article originally ran on Capital Institute's Future of Finance blog.
Visit EcoWatch's CLIMATE CHANGE page for more related news on this topic.

Prince William and British naturalist David Attenborough attend converse during the World Economic Forum annual meeting, on January 22 in Davos, Switzerland. Fabrice Cofferini /AFP / Getty Images
Britain's Prince William interviewed famed broadcaster David Attenborough on Tuesday at the World Economic Forum's annual meeting in Switzerland.
During the sit-down, the 92-year-old naturalist advised the world leaders and business elite gathered in Davos this week that we must respect and protect the natural world, adding that the future of its survival—as well as humanity's survival—is in our hands.
Electric vehicle sales took off in 2018, with a record two million units sold around the world, according to a new Deloitte analysis.
What's more, the accounting firm predicts that another 21 million electric cars will be on the road globally over the next decade due to growing market demand for clean transportation, government subsidies, as well as bans on fossil fuel cars.
Teenager Alex Weber and friends collected nearly 40,000 golf balls hit into the ocean from a handful of California golf courses.
Alex Weber /
CC BY-ND
Southwest Greenland had the most consistent ice loss from 2003 to 2012. Eqalugaarsuit, Ostgronland, Greenland on Aug. 1, 2018.
Rob Oo / CC BY 2.0
Greenland is melting about four times faster than it was in 2003, a new study published Monday in the Proceedings of the National Academy of Sciences found, a discovery with frightening implications for the pace and extent of future sea level rise.
"We're going to see faster and faster sea level rise for the foreseeable future," study lead author and Ohio State University geodynamics professor Dr. Michael Bevis said in a press release. "Once you hit that tipping point, the only question is: How severe does it get?"
Finally, some good news about the otherwise terrible partial government shutdown. A federal judge ruled that the Trump administration cannot issue permits to conduct seismic testing during the government impasse.
The Justice Department sought to delay—or stay—a motion filed by a range of coastal cities, businesses and conservation organizations that are suing the Trump administration over offshore oil drilling, Reuters reported. The department argued that it did not have the resources it needed to work on the case due to the shutdown.
Most people have heard of the Amazon, South America's famed rainforest and hub of biological diversity. Less well known, though no less critical, is the Pantanal, the world's largest tropical wetland.
Like the Amazon, the Pantanal is ecologically important and imperiled. Located primarily in Brazil, it also stretches into neighboring Bolivia and Paraguay. Covering an area larger than England at more than 70,000 square miles, the massive wetland provides irreplaceable ecosystem services that include the regulation of floodwaters, nutrient renewal, river flow for navigability, groundwater recharge and carbon sequestration. The wetland also supports the economies of the four South American states it covers.
Demonstrators participate in a protest march over agricultural policy on Jan. 19 in Berlin, Germany. Carsten Koall / Getty Images Europe
By Andrea Germanos
Organizers said 35,000 people marched through the streets of the German capital on Saturday to say they're "fed up" with industrial agriculture and call for a transformation to a system that instead supports the welfare of the environment, animals and rural farmers.

The fire that erupted after a pipeline explosion in Mexico Friday. FRANCISCO VILLEDA / AFP / Getty Images
By Patrick Rogers
If you have ever considered making the switch to an environmentally friendly electric vehicle, don't drag your feet. Though EV prices are falling, and states are unveiling more and more public charging stations and plug-in-ready parking spots, the federal government is doing everything it can to slam the brakes on our progress away from gas-burning internal combustion engines. President Trump, likely pressured by his allies in the fossil fuel industry, has threatened to end the federal tax credits that have already helped put hundreds of thousands of EVs on the road—a move bound to harm not only our environment but our economy, too. After all, the manufacturing and sale of EVs, hybrids, and plug-in hybrids supported 197,000 jobs in 2017, according to the most recent U.S. Energy and Employment Report.