Gulf Watch—Dead Zone, Oil in the Food Chain and More Drilling Rigs
Mar. 16, 2012 01:00PM EST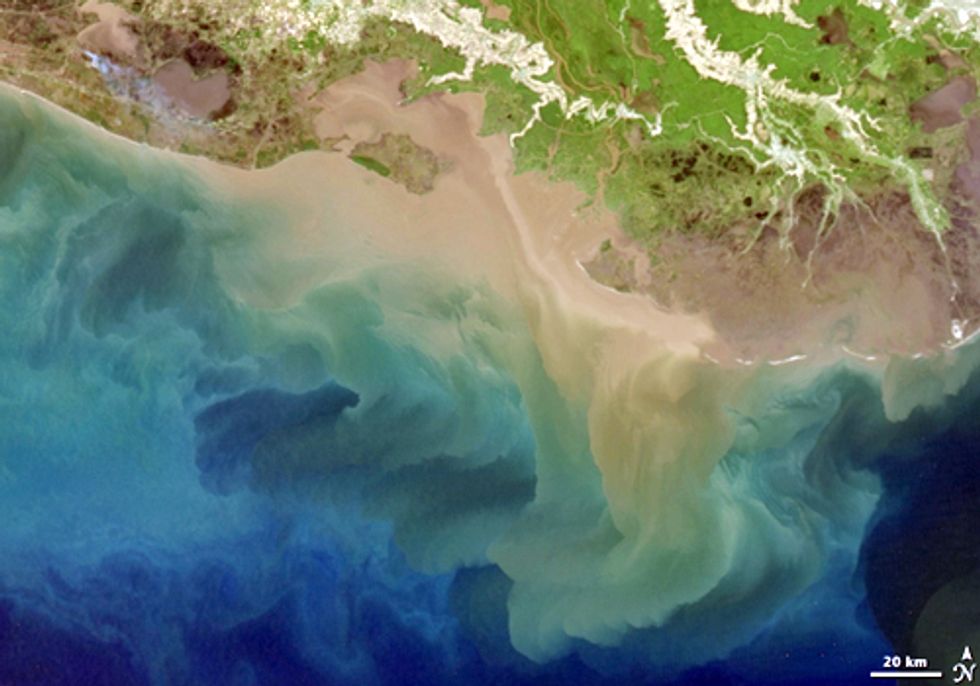 By Brentin Mock
The dead zone is a problem rarely mentioned in national Gulf Coast discussions, and whether BP oil entered the sea food chain after its disaster is a discussion neither the federal government nor BP would like to have. For those who live and work off of Gulf Coast seafood, it's not the most desirable discussion either. But as with talk about ubiquitous drilling in the Gulf, it's a necessary discussion.
This past week, all of these topics—hypoxia (dead zone), BP oil in the Gulf food chain and offcoast drilling—all made the national radar, and not all in inspirational ways. Going through each of them below, what we find is that the Gulf of Mexico was already experiencing a number of disasters and dangers before BP's Deepwater Horizon exploded. And now that BP's cases are being settled, and the oil is cleaned up, those legacy dangers finally have the stage to themselves again. Here's what was covered:
1. Reuters covered the lawsuit filed by Gulf Restoration Network, Natural Resources Defense Council, and a number of other environmental groups against U.S. Environmental Protection Agency (EPA) to force them to set stronger guidelines to prevent the expansion of hypoxia, aka the "dead zone" in the Gulf of Mexico. Pollution, pesticides, fertilizers and other nitrogen-rich sources are carried regularly down the Mississippi River and dumped into the Gulf of Mexico, and there's been little by way of regulations to blunt this effect.
Gulf Restoration Network's (GRN) Matt Rota said in the article, "The Mississippi River and the entire Gulf of Mexico has long been treated as the nation's sewer."
This is true. I'd like to add in the "dead zones" created in Gulf Coast communities, which also need monitoring and protection from EPA. The air pollution from incinerators, petrochemical plants and clusters of industrial facilities may not kill the oxygen similarly to hypoxic impacts in Gulf waters, but the air toxins certainly do make it harder for some to breathe, and easier for others to get sick from cancer and other disorders. It's an air-based hypoxia, of sorts, that deserves as much attention and stems from the same source of Gulf of Mexico hypoxia—unfettered and unregulated pollution.
Part of the toxic air problem was addressed last month when the Louisiana Environmental Action Network and the Mossville Environmental Action Network won a lawsuit against EPA, which compelled the agency to set stricter emission limits on polyvinyl chloride (PVC) from polluting facilities. EPA should respond accordingly for the decades-long build-up of the dead zone in the Gulf of Mexico.
2. Sue Sturgis over at Facing South reported on the first scientific study to find BP crude oil from the Deepwater Horizon disaster in the Gulf marine's food web. East Carolina University students found BP crude, as identified by its unique blueprint, in Gulf zooplankton, which play a critical role in the marine food chain.
Sturgis wrote:
Fisheries in the Gulf of Mexico have been severely impacted by the 2010 oil spill, with fishermen reporting that catches are down dramatically since the disaster. At the same time, consumers are reluctant to consume Gulf seafood over concerns about contamination.
On March 15, Bay St. Louis native Charles Taylor penned a letter, published by Bridge the Gulf, to the BP Plaintiffs Steering Committee asking BP not to settle their case, but to pay fully for all the damage they did, include spoiling the food chain. Taylor wrote:
How much for that fried softshell crab po-boy, angels on horseback oysters, or fried or boiled shrimp, that you know could cause you to have a reaction to the crude/dispersant mixtures that they are living in? Would you feed your family Gulf seafood tonight? Honestly? You had to think about it didn't you?
3. In the discussion around President Obama's approval ratings and its correlation with rising gas prices, it was pointed out in The Washington Post that the number of oil drilling rigs in the U.S. has increased significantly and is at its highest quantity since 1980. This is the response to Republicans who say Obama hasn't done enough domestic drilling to impact gas prices, despite the fact that there really is nothing Obama can do to drop gas prices. Writes The Post:
This year, Republicans are saying Obama has not done enough to promote domestic drilling, but the U.S. drilling-rig count is twice as high now as it was in 2009. With the exception of a spike in 2008, the current rig count is higher than any year since the early 1980s, according to figures compiled by WTRG Economics.
The WTRG report the story points it does indeed show booming growth in drilling rigs.
The number of rotary rigs drilling for oil was up 3 at 1,296. There are 469 more rigs targeting oil than last year. Rigs drilling for oil represent 65.7 percent of all drilling activity which is the highest percentage since 1998.
According to the WTRG chart below, a 64 percent increase in oil rigs between this week this year and same time last year, 41 up from 25, are all in the Gulf of Mexico:

It's a shame that the defense of Obama against rising gas prices has to come at the expense of pointing out the growing industry of oil drilling in the Gulf of Mexico. It's just one of many reasons why the Gulf is considered a sacrifice zone. Meanwhile, as the oil industry claims it suffered from the deepwater drilling moratorium put in place after the BP oil disaster, all the data says otherwise.
For more information, click here.
EcoWatch Daily Newsletter