Guardian of the Potomac Ed Merrifield Ends Decade-Long Job as Riverkeeper
Jan. 02, 2013 10:54AM EST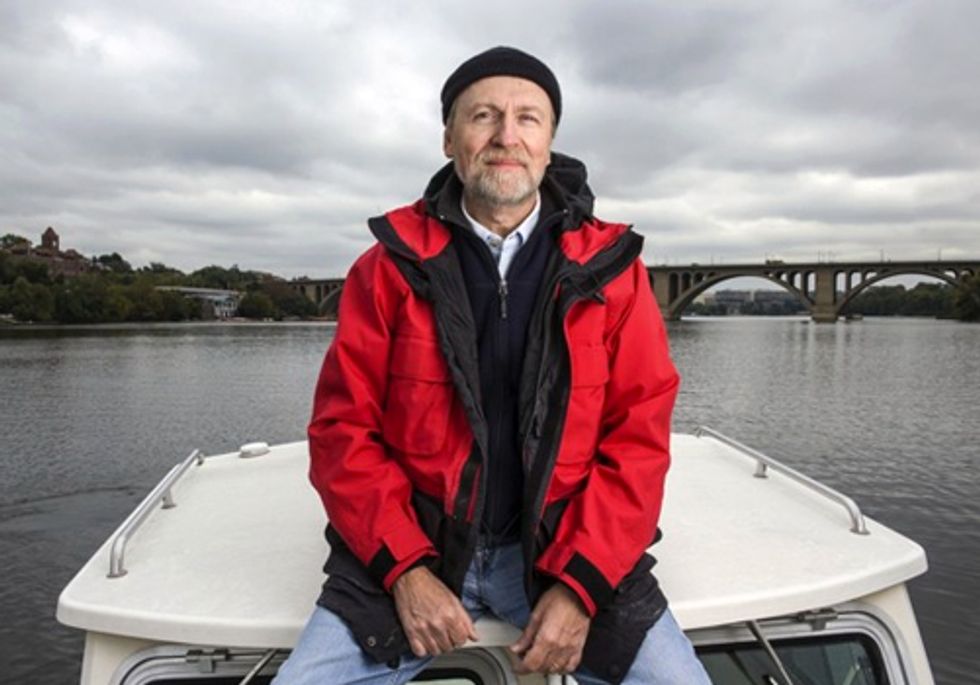 This article was originally published in The Washington Post.
By Darryl Fears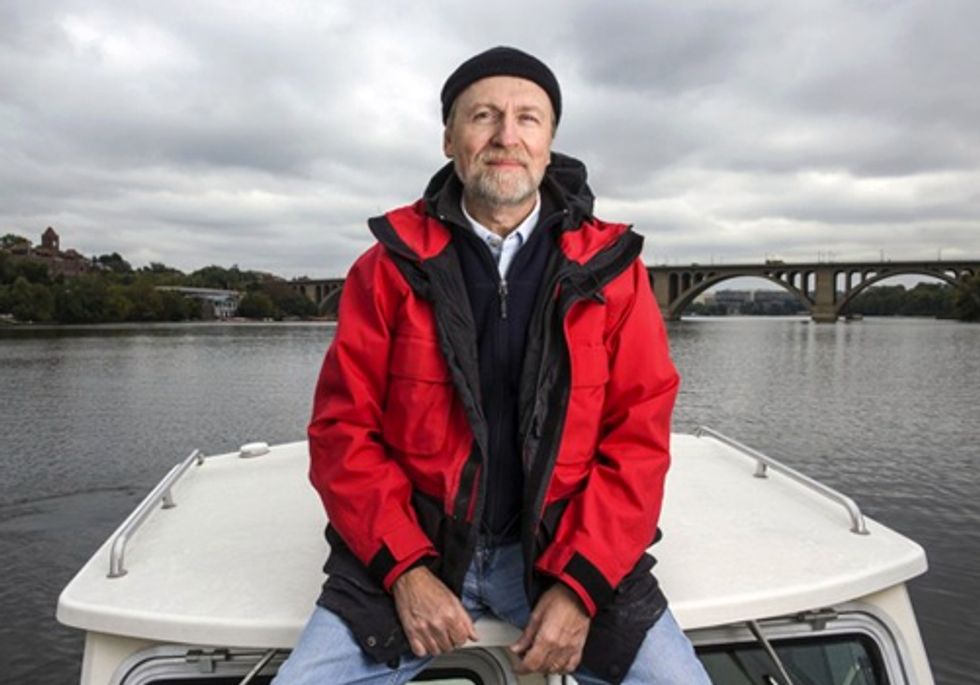 Ed Merrifield retires as Potomac Riverkeeper after protecting the Potomac River for nearly a decade.
Friends say he has the vigor of a younger man, but Ed Merrifield knows the truth. He is tiring at age 65, and ready to give up his demanding third career as the Potomac Riverkeeper.
As his boat sped past the Francis Scott Key Bridge recently on one of his final runs on the Potomac, wind blowing his snow-white beard, Merrifield said, "It's time. It feels right." He cut the engine and, in the middle of the river, boat gently rocking, reflected on why he and other riverkeepers are such fierce protectors of waters.
"They tell us in school that we're mostly water," said Merrifield, whose retirement is effective on New Year's Eve. "Well, if you live in the Washington area, and you drink from it, you are mostly Potomac River."
Nearly 500 million gallons are taken from the river basin every day to supply water to nearly 6 million residents. The water quality has improved since Congress called the Potomac a "national disgrace" in the 1960s, but the river is still dirty.
On his patrol, Merrifield, of Rockville, went under the Arlington Memorial Bridge, not far from where biologists discovered male bass with female sex organs, raising concern that toxic pollution rearranged their hormones. He pointed to a huge sewer drain near Georgetown, where millions of gallons of stormwater runoff and raw human waste overflow into the river each year.
This was what pushed him into riverkeeping a decade ago.
"We stop water pollution," he said. "If it's illegal pollution, we go after it as fast as we can to tell them you have to stop. We use all legal means necessary. We won't back down."
A few months ago, when Merrifield announced his plan to retire, his organization quickly posted a tweet: "Do you have what it takes to be a riverkeeper?" It was no small question. The answer? You probably do not.
Riverkeepers are part of the worldwide Waterkeeper Alliance that started in 1966 when commercial and recreational fishermen united to fight industrial pollution in New York's Hudson River and to protect their way of life.
After several court victories, the nonprofit Hudson River Fishermen's Association hired its first full-time Hudson riverkeeper to patrol the river. Copycat river, bay, beach and ocean keepers sprang up worldwide, until the alliance was founded in 1999 to unite and support them, establishing waterkeeper bylaws and codes of conduct.
Merrifield is one of about 200 Waterkeepers worldwide; the Chesapeake Bay watershed has about 20.
"I make a lot of enemies," said Fred Tutman, the Patuxent Riverkeeper. "The work by its very nature is adversarial. Usually your enemies are polluters, sometimes politicians." If you don't get people mad at you, he said, "you shouldn't be a riverkeeper."
"You've got to be ready to mix it up," said Paul Gallay, head of the national Riverkeeper organization, based in New York. "You have to have a vessel, develop a grass-roots constituency, respond to complaints, advocate for and enforce environmental laws, including legal enforcement, if necessary."
Across the world, nonprofit Waterkeeper organizations are supported by 40,000 activists, members and volunteers, said Gallay, who is also the Hudson Riverkeeper. In the U.S., Waterkeepers use the federal Clean Water Act, which gives citizens the right to sue municipalities, as a weapon against pollution.
Some Waterkeepers are scientists who contract with government agencies to study water, often under a baking sun. For nearly all of them, an investigation starts with something like this: A suspicious resident calls in a tip about some operation causing pollution, and out they go. If it's true, they fire off a letter. If negotiations fail, they eventually turn to lawyers.
Waterkeepers have sued many high-profile organizations: General Electric, Pepco, Washington Gas and Light, D.C. Water and the Washington Suburban Sanitary Commission, some of their natural enemies. But they have also sued friends, such as the Environmental Protection Agency, if they think they've failed to enforce their own rules.
In the District, the Potomac, along with the Anacostia River and Rock Creek, are off-limits to most swimming, even though the 1972 Clean Water Act called for the nation's waters to be swimmable by 1985.
That's why Merrifield, a former chiropractor and federal government computer programmer, charged into the Waterkeeper movement in 2003. He had read a book called The Riverkeepers by John Cronin and Robert F. Kennedy Jr., and was deeply influenced.
The book tells the story of the movement's start. It took a spark—one recreational angler who became angry enough to sue after security officers for a railroad company hauled him out of the Hudson River, claiming the company owned the section where he fished.
Merrifield was struck by the argument used against the railroad and other companies to reclaim the Hudson. The right to fish and enjoy the river is guaranteed "in the oldest body of law upon which our democracy rests, the Public Trust Doctrine" that appears in English Common Law and Roman law before that, the authors wrote.
In other words, the water, dunes, beaches, tides, fisheries, shellfish beds, floor, "the gifts of nature's bounty," belong to the people and should not be dirtied or privately owned.
"It's the kind of thing you know deep down that's right—the air and the water belong to everybody, and you have to take care of it," Merrifield said. "That just did it for me."
Claudia Donegan, a natural resources planner for the Maryland Department of Natural Resources (DNR), first saw Merrifield at meetings of the Maryland Tributary Strategy Teams.
He was itching to "get into the policy part of cleaning up the water, rather than going out to pick up garbage from time to time," she said. "One day he said, 'I'm retiring from being a chiropractor,' and I said, 'Oh, you should apply for this riverkeeper job.' "
Merrifield, a private practitioner, had not applied for a job in 25 years. But weeks later, he called her. "Oh my God, I got the job," he said.
The Potomac Riverkeeper was a brand new organization. Merrifield was a staff of one. He had no idea what to do.
"You get to be the Lorax," Donegan said, referring to a Dr. Seuss character. "You speak for the trees. Or . . . for the fish."
Merrifield had to first learn how to raise money, then form a team, said Mac Thornton, a former prosecutor and original board member of the Potomac Riverkeeper organization. Within a few years, he raised hundreds of thousands of dollars to protect "The Nation's River" and built a staff of 10.
More important, he formed an alliance with law schools at the universities of Maryland and Virginia, as well as Georgetown, George Washington and Widener universities. Private law firms offered pro bono support to file claims against alleged polluters.
Merrifield recalled his first big fight over lead contamination in Seneca Creek, a Potomac tributary. A resident complained that a skeet shooting club sent targets soaring over the creek, where shooters blasted lead rounds. Merrifield said he complained to the DNR, but nothing happened.
"It took four years of fighting DNR before the state gave in and cleaned the site," Merrifield said. In those four years, starting in 2004, Merrifield persuaded a television news crew to investigate. A positive test for lead contamination led to the club's downfall.
"I'm glad Ed is on my team," said Mike Bolinder, the Anacostia Riverkeeper, "because I never want to find myself on the opposite side of a courtroom with Ed.
"The thing I learned from Ed that will make me a better riverkeeper is never accept weasel words," Bolinder said. Those are terms companies use to kick the can, like "moving toward" or "showing improvement" or "making progress" on stopping pollution. They give polluters cover.
"If you see weasel words, something ain't right," he said.
Visit EcoWatch's WATER and CLEAN WATER ACT pages for more related news on this topic.
EcoWatch Daily Newsletter