Growing Green Awards: Fifth-Generation Farmer Shares His Success Raising Pigs Sustainably and Antibiotic-Free
Apr. 11, 2013 09:22AM EST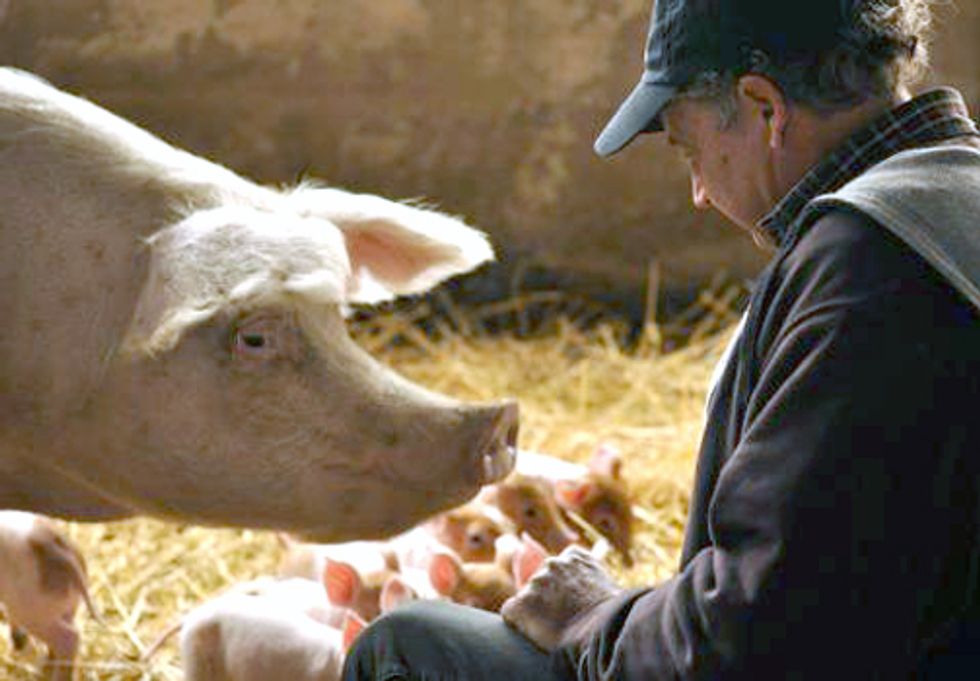 By Russ Kremer
The food we eat every day is intimately connected to our health and the health of the environment. Natural Resources Defense Council's (NRDC) fifth annual Growing Green Awards celebrates the food producers, businesses, activists and bold thinkers who are making America's food system healthier and more sustainable.
This year's winners were selected from more than 200 nominees in the categories of food producer, business leader, food justice leader and young food leader by a panel of sustainable food and agriculture thought-leaders, including Michael Anthony, executive chef and partner at New York's long-established and celebrated Gramercy Tavern; Gabe Brown, internationally-recognized soil health champion and 2012 Growing Green Award Food Producer winner; Marion Nestle, award-winning food policy author, professor and one of the nation's most influential food thought-leaders; and Nell Newman, co-founder and president of Newman's Own Organics.
This guest post originally appeared on OnEarth. It is one of four by the winners of NRDC's fifth annual Growing Green Awards, which celebrate the farmers, business owners and bold thinkers who are making America's food system healthier and more sustainable. See posts from all winners here.
I have a passion for pigs. It started back when I was five years-old, as I cared for the runt and orphaned pigs on our 220-acre family farm in Osage County, Missouri. From being the son of five generations of farmers to a student of animal husbandry, to the owner of my own farm, I've always had pigs on the brain. But I never expected the pigs I raised—and most importantly, how I raised them—to send me to the hospital, in a fight for my life.
Growing up in the 60s and 70s in the small rural town of Frankenstein, Missouri, I saw firsthand how essential independent family farms are to rural communities. Loyal residents put money back into the community, supporting farms and our main street businesses. Farmers thrived and cherished their work, and it was this love for farming that drove me back home to the family farm after studying at the University of Missouri.
Fresh from college, I set out with grand plans for our farm. The pork industry was changing, as farmers consolidated and concentrated their operations using modern technologies. These were the technologies and systems standard in the industry today: sub-therapeutic antibiotics and other additives in feed to speed growth performance, tightly confined gestation and farrowing crates, slatted floors, waste lagoons and deep indoor pits, and early weaning of pigs. It didn't take long for me to convince my dad that we needed to expand the swine enterprise, following these conventional industry standards. So we built confinement hog buildings, increased our herd, and started the concentrated hog farming process.
Within a few years, I knew something was dangerously wrong. Crammed together in unhealthy conditions, our pigs got sick and died at every stage of production. I spent a large portion of my day treating sick pigs and carrying off dead ones that succumbed to a myriad of enteritis, respiratory, reproductive, and arthritic diseases. Tests revealed that these illnesses were caused by deadly superbugs—pathogens resistant to almost all antibiotics available to me, including numerous human antibiotics. It was clear that I was running out of options, but I didn't fully see the consequences of my farming practices until 1989.
That spring, I was gored in the knee cap by a Yorkshire boar as I drove him toward a pen of breeding gilts. Farming injuries aren't uncommon, so I put off going to the doctor for three weeks. By that time, my infected leg had swollen to nearly twice its normal size. I was diagnosed with an infection caused by streptococcus bacteria, and assured that penicillin would soon cure me. It didn't. The penicillin had absolutely no effect on my infection, nor did subsequent treatments of streptomycin, erythromycin, amoxicillin, or tetracycline. If we didn't find a cure soon, I was going to die.
Then it hit me—this antibiotic-resistant superbug had come from my pigs, which had gotten sick because of my own farming decisions. In part, I was responsible for this. I created this superbug. And now I was fighting to control the same superbug now taking over my body. I immediately consulted with my doctor and a serology test on my infection proved that the bacteria had indeed spread from my pigs. Finally, after being treated with the human form of cephalosporin, the lone antibiotic that could kill the bacteria on my farm, I was on the mend.
As I recovered from my near-death illness (that lasted two months), I was overwhelmed and haunted with remorse for participating in a system of farming that threatened the health of my consumers, the welfare of my animals, and the environment. Vowing to take a better path, I immediately began to create a new, sustainable farming operation.
I started over and returned to the start, raising pigs the natural, old-fashioned way—free-roaming and without drugs on a 150-acre farm that I had purchased from my great aunt. It was a secluded, clean location with natural barriers of wooded hillsides and ridge tops. I built pig housing out of my own sustainably produced lumber, incorporating deep bedding, natural ventilation, and lots of area for the hogs to move around unrestricted. Rather than confining my hogs in crates, I built paddocks to rotationally graze pigs on meadows and woodlands. I purchased healthy, C-section derived breeding hogs and preserved my heirloom genetics through embryo transfer. Taking lessons from my grandfather's generation, I designed a wholesome, natural feeding program: free of any antibiotics, meat byproducts, steroids, or any unnecessary chemicals or additives. The feed changed too. My pigs started eating farm-grown whole grains, natural fibers, and herbs, including, oat, flax, cinnamon, oregano, and probiotics and enzymes.
In short, my new system was sustainable, holistic, and diversified. I replaced sub-therapeutic antibiotics and other production crutches with humane production and handling, less animal concentration, proper nutrition, and a selected cross-breeding system using healthy, diversified heritage varieties.
The sustainable strategy worked. My pigs have been drug-free since 1989. After weaning, my pigs survive at a rate of nearly 99 percent. Our feed efficiency is at industry standards. I have virtually eliminated the $16,000 that I was previously wasting each year in veterinarian and animal treatment-related costs. But the greatest fulfillment for me is the sense that I did this simply because it is the right thing to do.
My objective remains to eliminate any fear or stress on my animals. My pigs are healthy and happy, and it's a joy to be around them. I no longer fill my days with the tedious chores of treating pigs, cutting tails, and clipping needle teeth. And realizing the benefits myself, I was determined to prove that this type of sustainable farming was profitable for other pork producers, even as the industry sped in the other direction.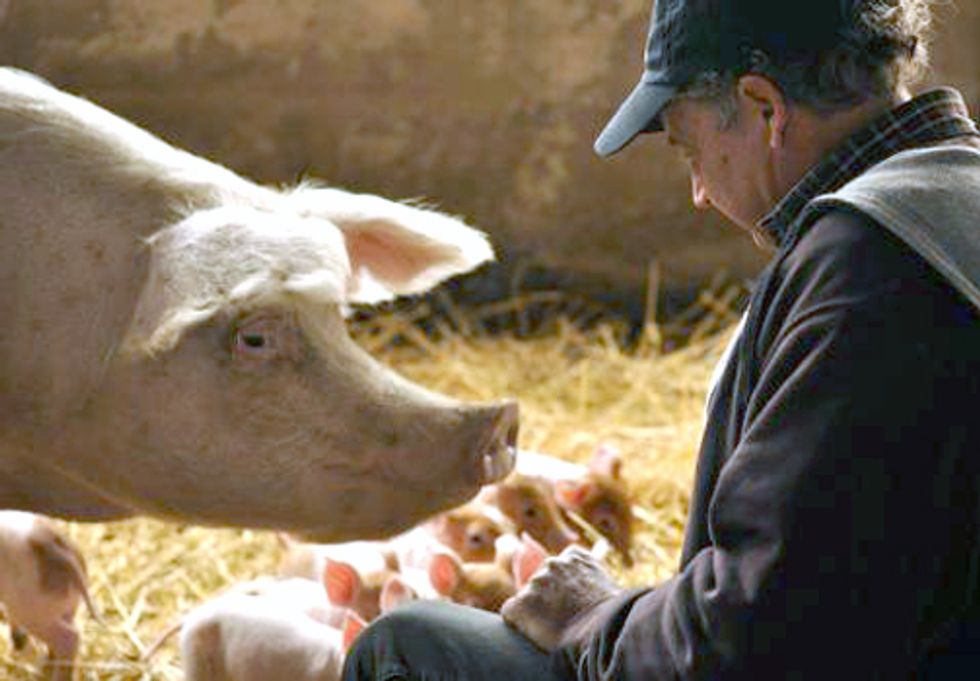 Throughout the 1990s, the pork industry continued on its fast track toward consolidation and vertical integration. Independent pork producers like me were increasingly considered residual suppliers to the large pork packers. They had production contracts with most of their suppliers, leaving independent producers vulnerable to market forces. This reality crashed down in 1998, when the bid for market hogs dipped to as low as 8 cents per pound of dress carcass weight—in other words, Depression-era prices. Lots of producers left the business. Some of us stuck around, determined to explore alternative marketing systems and ensure opportunities for the next generation.
I first discovered the sustainable food movement while traveling to Europe in 1999. In the United Kingdom, I watched as consumers asked who produced their food, where it was produced, and exactly how. Farmers that raised animals the right way were heralded by consumers as rock stars. In Italy, I witnessed the Slow Food Movement, and in Germany, I learned of new holistic and homeopathic remedies from a cooperative of 100 farmers who produced hogs without antibiotics. It became clear that, in order to remain competitive, small and mid-sized farmers in the U.S. needed these kinds of thoughtful and authentic relationships with their consumers.
Once my feet were back on American soil, I organized a farmer-owned pork cooperative called the Ozark Mountain Pork Cooperative. We recruited 52 farm families that shared the vision of raising and processing hogs in a humane, sustainable way, and created a small, community based processing plant in the Ozarks. Artisan processors joined us to produce our pork with integrity, treating all participants in the value chain with dignity.
To build our customer base, I drew inspiration from the farmer-consumer relationships I witnessed in Europe, and we started knocking on doors. I told our story and showed our high quality products to potential customers. Because of these efforts, we've been able to cultivate relationships with loyal, strategic customers including Whole Foods Market, Chipotle Mexican Grill, D'artagnan, La Quercia, Costco and Chef's Warehouse.
Today, through our cooperative effort with brands Heritage Foods and Fork in the Road, we have built a profitable vertically coordinated production, marketing and distribution system. It truly is an equitable food system because everyone in our value chain can make a fair profit, from our customer partners to our farm families. Our consumers know that fair compensation is necessary to sustain a safe, consistent supply of sustainably and humanely raised meats, processed by community-based artisans. And the best part is that our system is trans-generational—there is profitability to encourage the next generation to carry on and strive for these superior sustainable production models. I honestly feel that we produce the healthiest, safest and best tasting pork that comes from humane, sustainable and environmentally friendly farm families.
Receiving NRDC's Growing Green Food Producer Award is a tremendous honor. I share this with the many farmers who have had the courage to buck the trend of conventional production by transforming their operations and build a better path forward. I also share this honor with the many consumers who support sustainable farming with their wallets and flex their citizen muscles to push for government protections that prevent reckless use of antibiotics on the farm. With this award, I continue to share my life's purpose to educate, demonstrate and evangelize the need for sustainable food systems that public health first. There's no greater joy than to give life to these new models of hope.
Visit EcoWatch's SUSTAINABLE AGRICULTURE page for more related news on this topic.
——–
Tell the FDA to Deny Approval of GE Salmon:
Google Earth's latest feature allows you to watch the climate change in four dimensions.
EcoWatch Daily Newsletter
Researchers say there's a growing epidemic of tap water distrust and disuse in the U.S. Teresa Short / Moment Open / Getty Images
By Asher Rosinger
Imagine seeing a news report about lead contamination in drinking water in a community that looks like yours. It might make you think twice about whether to drink your tap water or serve it to your kids – especially if you also have experienced tap water problems in the past.
Why tap wins every time.
Asher Rosinger is an assistant professor of biobehavioral health, anthropology, and demography and director of the Water, Health, and Nutrition Laboratory at Penn State University.

Disclosure statement: Asher Rosinger receives funding from the National Science Foundation on an unrelated project. This work was supported by the Ann Atherton Hertzler Early Career Professorship funds, and the Penn State Population Research Institute (NICHD P2CHD041025). The funders had no role in the research or interpretation of results.
Reposted with permission from The Conversation.
A new report urges immediate climate action to control global warming. John W Banagan / Getty Images
A new report promoting urgent climate action in Australia has stirred debate for claiming that global temperatures will rise past 1.5 degrees Celsius in the next decade.
Winegrowers check vines during the burning of anti-frost candles in the Luneau-Papin wine vineyard in Le Landreau, near Nantes, western France, on April 12, 2021. SEBASTIEN SALOM-GOMIS / AFP via Getty Images
French winemakers are facing devastating grape loss from the worst frost in decades, preceded by unusually warm temperatures, highlighting the dangers to the sector posed by climate change.
"An important share of the harvest has been lost. It's too early to give a percentage estimate, but in any case it's a tragedy for the winegrowers who have been hit," said Christophe Chateau, director of communications at the Bordeaux Wine Council, told CNN.
Climate change, caused by the extraction and combustion of fossil fuels, has pushed winegrowing seasons earlier, putting crops at higher risk of cold — and wildfires supercharged by climate change also threaten American vignerons and farmworkers as well.
"I think it's good for people to understand that this is nature, climate change is real, and to be conscious of the effort that goes into making wine and the heartbreak that is the loss of a crop," Jeremy Seysses of Domaine Dujac in Burgundy's Côte de Nuits told Wine Enthusiast.
As reported by Wine Enthusiast:
Last week, images of candlelit French vineyards flooded social media. Across the country, winemakers installed bougies, or large wax-filled metal pots, among the vines to prevent cold air from settling in during an especially late frost.

With temperatures in early April as low as 22°F, and following an unseasonably warm March, this year's frost damage may be the worst in history for French winegrowers. Every corner of France reports considerable losses, from Champagne to Provence, and Côtes de Gascogne to Alsace. As a result, there will likely be very little French wine from the 2021 vintage reaching U.S. shores.
For a deeper dive:

CNN, Wine Enthusiast, France24, Eater
For more climate change and clean energy news, you can follow Climate Nexus on Twitter and Facebook, sign up for daily Hot News, and visit their news site, Nexus Media News.
From Your Site Articles
Related Articles Around the Web
A recent study focused on regions in Ethiopia, Africa's largest coffee-producing nation. Edwin Remsberg / Getty Images
Climate change could make it harder to find a good cup of coffee, new research finds. A changing climate might shrink suitable areas for specialty coffee production without adaptation, making coffee taste blander and impacting the livelihoods of small farms in the Global South.