Grow Food Year Round With Radically Sustainable Passive Solar Greenhouse
Interested in building your own greenhouse, but don't know where to begin? Now, there's the Greenhouse of the Future. Filmmaker Curt Close teamed up with Anaconda Productions and the non-profit SolutionEra to release a DVD, eBook and step-by-step guide on how to build a passive solar greenhouse that utilizes renewable energy and is built from natural and recycled materials.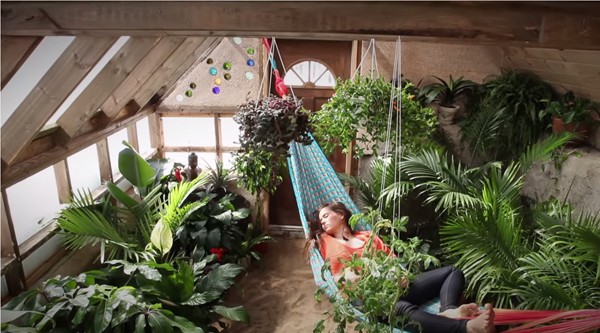 This is a great way to practice radical self-reliance and save money by growing your own food year-round without relying on unsustainable energy sources. It is also a great way to reconnect with nature and bask in the warm rays of the sun in your cozy greenhouse in the dead of winter.
Close believes that these greenhouses can create a more sustainable food system. "We do believe that if we combine this greenhouse with other technologies like compost heating, aquaponics and other intensive growing techniques, we could grow a major part of our food in a sustainable way even in the coldest countries," he said.
Close emphasizes that these technologies are sustainable and create self-sufficient communities. Their vision is to create SAFE technologies: "Sustainable Autonomy For Everyone so that each region, city, village or even family can be responsible for [its] own food, water and shelter" without being dependent on multinational corporations or fossil fuels.
This is not some new gimmick either. "The technologies and concepts that have inspired the design of this greenhouse have been proven by over 40 years of research and development by Michael Reynolds' "Earthship homes" as well as the many studies on passive solar greenhouses." These technologies and concepts include passive solar heating, thermal mass, passive geothermal, rainwater catchment and Earth tubes.
They even recommend installing a reading area, a hammock or a sunbathing area in your greenhouse to make your source of food also a source of peace and tranquility.
Watch this to learn more:
YOU MIGHT ALSO LIKE
Watch Colbert Make Fun of Frankenstein Milk
Eva Longoria and Eric Schlosser Expose the Real Cost of Our Food
www.elysee.fr
By Andy Rowell
There is a growing feeling within European capitals that a quiet, but deeply positive, revolution is happening under Emmanuel Macron in France.
Macron's opinion poll rating is high, especially boosted in how the young French president has reacted to Donald Trump on the international stage.
Keep reading...
Show less
www.facebook.com
Keep reading...
Show less
Keep reading...
Show less
www.youtube.com
According to Bloomberg, "SeaWorld Entertainment Inc. received a subpoena earlier this month from regulators investigating disclosures and public statements by executives, including comments about the Blackfish documentary that caused a public backlash against the confinement of orcas.
Keep reading...
Show less
By Mary Mazzoni
In 2013, shoppers were reacquainted with the tragic story of their clothing when a massive factory collapse claimed the lives of more than 1,100 Bangladeshi garment workers.
The nonprofit Fashion Revolution, formed in response to that disaster, continues to track the apparel industry's progress on environmental stewardship and human rights. But four years later, big brands are still not doing enough to disclose their efforts to customers, the organization concluded in a recent report.
Keep reading...
Show less
Hawaii Renewable Energy Alliance
The latest issue of the U.S. Energy Information's "Electric Power Monthly" (with data through April 30) reveals that—for the first time since the beginning of the nuclear era—renewable energy sources (i.e., biomass, geothermal, hydropower, solar—inc. small-scale PV, wind) are now providing a greater share of the nation's electrical generation than nuclear power.
Keep reading...
Show less
www.youtube.com
Check out this great 360° virtual reality video by NowThis on the world's largest indoor vertical farm, AeroFarms. Located in Newark, New Jersey, AeroFarms grows more than 2 million pounds of greens a year without sunlight, soil or pesticides.
As reported by EcoWatch in July 2105, the $30 million, 70,000-square-foot AeroFarms headquarters dwarfs Japan's (already impressive) 25,000-square-foot vertical indoor farm, which had been the world's largest until now.
www.facebook.com
"There's no such thing as clean coal," according to this ATTN: video.
Watch above as ATTN: explains the many hazards of coal beyond carbon emissions, that no matter what there's no reviving the coal industry and how investment in renewable energy is the best way forward.
Share this video if you think America needs real energy solutions.
Wikipedia
By Franziska Spritzler, RD, CDE
Boosting your metabolic rate can help you lose body fat. However, most "fat-burning" supplements on the market are either unsafe, ineffective or both.
Fortunately, several natural foods and beverages have been shown to increase your metabolism and promote fat loss.
Keep reading...
Show less


Get EcoWatch in your inbox