This website uses cookies to ensure you get the best experience while browsing it. By clicking 'Got It' you're accepting these terms.
Grow Food All Winter With a Hoop House
Oct. 14, 2013 02:49PM EST
Looking to grow more of your own food year-round? A hoop house could be the answer. 
A hoop house is a series of large hoops or bows—made of metal, plastic pipe or wood—covered with a layer of heavy greenhouse plastic. The plastic is stretched tight and fastened to baseboards with strips of wood, metal or wire. A hoop house is heated by the sun and cooled by the wind. Hoop houses can be erected over a patch of ground or rows of raised beds. They can cost as little as a hundred dollars or as much as a couple thousand dollars.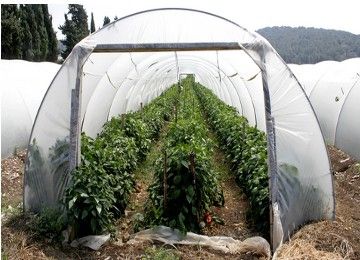 Photo courtesy of Shutterstock
With a hoop house, you can count on four to six weeks of extra production in spring and fall, says Mother Earth News. You can grow right through winter, even in the coldest climates, by adding an inner cover inside a hoop and choosing cold-hardy plant varieties.
Plants that do well in a hoop house during the winter include cool season crops, such as lettuce, spinach and other greens. Be sure to select plants that don't need much heat at night. Plant growth in late fall and winter is limited by low temperatures and reduced light. This makes it harder to grow root crops like carrots, beets and radishes, but they may be worth a try, says the National Gardening Association.
Hoop houses are not just for cool-weather vegetable production. You can grow heat-tolerant varieties of crisp, sweet lettuce during the summer by converting the hoop house into a shade house. Remove the plastic skin and then cover the south half of the frame with 50 percent shade cloth. Cool and irrigate the lettuce with mini-sprinklers on the ground or a line of overhead sprinklers.
Washington State University provides a list of websites with complete instructions and materials lists for building a hoop house. Serious hoop houses that go beyond the ambitions of backyard gardeners can check out commercial hoop house construction companies like Tunnel Vision Hoops. Or check out the video below about how to build a small inexpensive hoop house.

EcoWatch Daily Newsletter
Lara Hata / iStock / Getty Images
By SaVanna Shoemaker, MS, RDN, LD
Rice is a staple in many people's diets. It's filling, inexpensive, and a great mild-tasting addition to flavorful dishes.
An image of the trans-alaskan oil pipeline that carries oil from the northern part of Alaska all the way to valdez. This shot is right near the arctic national wildlife refuge. kyletperry / iStock / Getty Images Plus
The Trump administration has initialized the final steps to open up nearly 1.6 million acres of the protected Alaskan National Wildlife Refuge to allow oil and gas drilling.
Kaboompics / Pexels
Tensions between lawmakers and several large manufacturing companies came to a head on Capitol Hill this week during a hearing on toxic fluorochemicals in U.S. drinking water.
A male african lion plays with his 4 month old cub at Big Marsh in Serengeti National Park, Tanzania. Nick Garbutt / Barcroft Media / Getty Images
A Florida man has been allowed to import a Tanzanian lion's skin, skull, claws and teeth, a first since the animal was listed as threatened under the Endangered Species Act, according to US Fish and Wildlife Service records uncovered by the Center for Biological Diversity through the Freedom of Information Act.
A fracked natural gas well in northwest Louisiana has been burning for two weeks after suffering a blowout. A state official said the fire will likely burn for the next month before the flames can be brought under control by drilling a relief well.
The universe is expanding much quicker than previously thought, according to researchers in Germany, leading scientists to suggest it may be more than 2 billion years younger than past estimates.