This website uses cookies to ensure you get the best experience while browsing it. By clicking 'Got It' you're accepting these terms.
Groups Unite to Stop BLM from Selling Out Federal Lands for Fracking
Apr. 17, 2012 08:11AM EST
Energy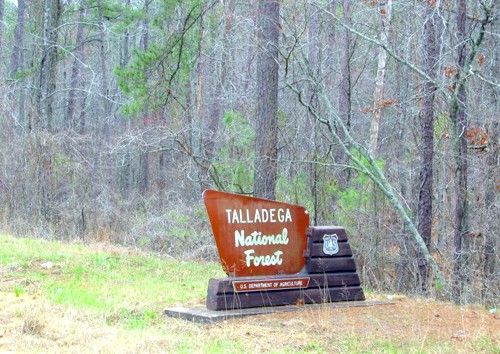 The Bureau of Land Management (BLM) is putting thousands of acres of publicly owned national forest land in Alabama at risk by allowing potential oil and gas drilling in the Talladega and Conecuh National Forests, conservation groups said in a formal letter of protest to the agency on April 16.
The BLM announced its intention last month to sell oil and gas leases for federal lands in several southeastern states, including parcels totaling over 43,000 acres in Alabama's national forests. Almost all parcels are located on the Talladega National Forest in central and east Alabama, and one parcel is on the Conecuh National Forest in southern Alabama.
In the letter of protest (pdf), the Southern Environmental Law Center, representing Wild South and Natural Resources Defense Council, said the BLM is relying on outdated environmental analyses done by the U.S. Forest Service in 2004 as part of the revised management plan for Alabama's national forests. Among other deficiencies, these stale analyses fail to assess the environmental impacts of drilling using high-volume hydraulic fracturing, known as "fracking."
This form of gas drilling, in which millions of gallons of water and chemicals are injected underground to fracture shale and release natural gas, has caused significant and widespread environmental problems in Pennsylvania, West Virginia and elsewhere. Exempt from regulation under the Safe Drinking Water Act, fracking has been linked to environmental and public health risks, such as contamination of streams and drinking water wells. This type of gas drilling has a large footprint, so drilling operations could significantly fragment wildlife habitat in the national forest and contribute to the industrialization of nearby rural land. The groups are asking the BLM to remove the Alabama national forests from its proposed lease sale, which also includes other states.
"The Bureau of Land Management is proposing a massive intrusion into Alabama's national forests without properly analyzing the potential impacts and without providing sufficient information to the public. Some of the areas they propose leasing for oil and gas development are near some of the most popular destinations in the forests," said Keith Johnston, managing attorney for the Birmingham office of the Southern Environmental Law Center.
"We have a strong sense of place in the South, and our public forests should not be sold to the highest bidder to be destroyed for short-term profit," said Tracy Davids, director of Wild South. "These are the places that families hunt, fish, hike and recreate. Oil and gas drilling will ruin these lands and force us off of our national forests. This is an assault on our heritage and we won't stand for it."
"This is an illegal giveaway to the oil and gas industry, and it must be stopped. The BLM is turning a blind eye to the very real risks of damaging our forests and harming the health of everyone who lives nearby," said Matthew McFeeley, an attorney at the Natural Resources Defense Council. "More than ten percent of the Talladega National Forest is being put on the auction block without giving the public any chance to weigh in."
The Talladega National Forest is a source of clean drinking water for numerous communities, including Anniston and Jacksonville, Ala. In 2009, the Forest Service estimated about 600,000 visits a year to the forest by hikers, hunters, anglers, horseback riders and others who seek out the forest's exceptional recreational opportunities. Some areas proposed for leasing contain or are near important environmental resources such as the popular Pinhoti National Recreation Trail, the Chinnabee Silent Trail, Talladega Scenic Drive, Cheaha Mountain and Rebecca Mountain, and waterways including Choccolocco, Cheaha and Shoal creeks, as well as other tributaries to the Coosa, Tallapoosa, and Cahaba rivers. And, based on the little environmental information available on the proposed lease areas, many are habitat for endangered, threatened or at-risk fish and wildlife, such as the Red-cockaded woodpecker and several fish and mussel species, which the BLM and Forest Service are responsible for protecting.
For more information, click here.
EcoWatch Daily Newsletter
People carry children on a flooded street in Almoradi, Spain on Sept. 13. JOSE JORDAN / AFP / Getty Images
Large food companies are following in the footsteps of fast-food restaurants such as Burger King and KFC by offering meat alternatives. Getty Images
By Elizabeth Pratt
Hormel, Kellogg's, and Kroger are among the large companies now planning to offer "fake meat" products at grocery stores.
Experts say the trend toward plant-based meats coincides with consumers' desires to eat less meat.
However, experts urge consumers to closely check package labels as a product isn't necessarily healthy just because it's described as plant-based.
In grocery stores and fast-food outlets around the U.S., a revolution is taking place.
Colombia rainforest. Marcel Oosterwijk / CC BY-SA 2.0
Many of us think of the Amazon as an untouched wilderness, but people have been thriving in these diverse environments for millennia. Due to this long history, the knowledge that Indigenous and forest communities pass between generations about plants, animals and forest ecology is incredibly rich and detailed and easily dwarfs that of any expert.
picture-alliance / Newscom / R. Ben Ari
By Wesley Rahn
Plastic byproducts were found in 97 percent of blood and urine samples from 2,500 children tested between 2014 and 2017, according to a study by the German Environment Ministry and the Robert Koch Institute.

Pexels
Medically reviewed by Daniel Bubnis, MS, NASM-CPT, NASE Level II-CSS
Hot yoga has become a popular exercise in recent years. It offers many of the same benefits as traditional yoga, such as stress reduction, improved strength, and flexibility.
Lara Hata / iStock / Getty Images
By SaVanna Shoemaker, MS, RDN, LD
Rice is a staple in many people's diets. It's filling, inexpensive, and a great mild-tasting addition to flavorful dishes.
An image of the trans-alaskan oil pipeline that carries oil from the northern part of Alaska all the way to valdez. This shot is right near the arctic national wildlife refuge. kyletperry / iStock / Getty Images Plus
The Trump administration has initialized the final steps to open up nearly 1.6 million acres of the protected Alaskan National Wildlife Refuge to allow oil and gas drilling.