This website uses cookies to ensure you get the best experience while browsing it. By clicking 'Got It' you're accepting these terms.
Groups Sue FDA Over Approval of Genetically Engineered Salmon
Mar. 31, 2016 08:48AM EST
Food
A broad coalition of organizations sued the U.S. Food and Drug Administration (FDA) today for approving the first-ever genetically engineered (GE) food animal, an Atlantic salmon engineered to grow quickly. The man-made salmon was created by AquaBounty Technologies, Inc. with DNA from three fish: Atlantic salmon, Pacific king salmon and Arctic ocean eelpout. This marks the first time any government in the world has approved a GE animal for commercial sale and consumption.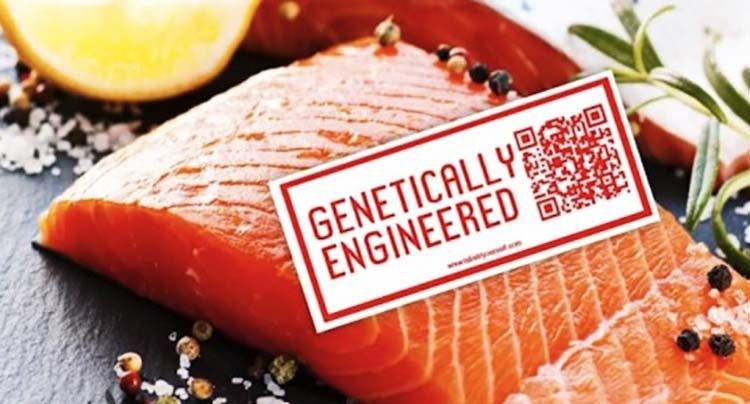 "FDA's decision is as unlawful as it is irresponsible," George Kimbrell, senior attorney for Center for Food Safety and co-counsel for the plaintiffs, said. "This case is about protecting our fisheries and ocean ecosystems from the foreseeable harms of the first-ever GE fish, harms FDA refused to even consider, let alone prevent. But it's also about the future of our food: FDA should not, and cannot, responsibly regulate this GE animal, nor any future GE animals, by treating them as drugs under a 1938 law."
In approving the GE salmon, FDA determined it would not require labeling of the GE fish to let consumers know what they are buying, which led Congress to call for labeling in the 2016 omnibus spending bill. FDA's approval also ignored comments from nearly 2 million people opposed to the approval because the agency failed to analyze and prevent the risks to wild salmon and the environment, as well as fishing communities, including the risk that GE salmon could escape and threaten endangered wild salmon stocks.
"It's clear that the market has rejected GE salmon despite FDA's reckless approval," Dana Perls, food and technology campaigner for Friends of the Earth, said. "Major retailers including Costco, Safeway and Kroger won't sell it and polls show the vast majority of people don't want to eat it. Yet under this approval it won't be labeled, violating our fundamental right to know what we are feeding our families."
AquaBounty's GE salmon will undertake a 5,000-mile journey to reach U.S. supermarkets. The company plans to produce the GE salmon eggs on Prince Edward Island, Canada. The GE salmon will then be grown to market-size in a facility in Panama, processed into fillets and shipped to the U.S. for sale. That complicated scheme is only for the initial approval, however. AquaBounty has publicly announced plans to ultimately grow its GE fish in the U.S. rather than Panama and sell it around the world. Despite this, FDA's approval only considered the current plans for the far-flung facilities in Canada and Panama, leaving the risk of escape and contamination of U.S. salmon runs unstudied.
The lawsuit challenges FDA's claim that it has authority to approve and regulate GE animals as "animal drugs" under the 1938 Federal Food, Drug and Cosmetic Act. Those provisions were meant to ensure the safety of veterinary drugs administered to treat disease in livestock and were not intended to address entirely new GE animals that can pass along their altered genes to the next generation. The approval of the GE salmon opens the door to other genetically engineered fish and shellfish, as well as chickens, cows, sheep, goats, rabbits and pigs that are reportedly in development.
The lawsuit also highlights FDA's failure to protect the environment and consult wildlife agencies in its review process, as required by federal law. U.S. Atlantic salmon and many populations of Pacific salmon, are protected by the Endangered Species Act and in danger of extinction. Salmon is a keystone species and unique runs have been treasured by residents for thousands of years. Diverse salmon runs today sustain thousands of American fishing families and are highly valued in domestic markets as a healthy, domestic, "green" food.
"Atlantic salmon populations including our endangered Gulf of Maine fish are hanging on by a thread—they can't afford additional threats posed by GE salmon," said Ed Friedman from Friends of Merrymeeting Bay, one of the parties who successfully petitioned to classify most Maine Atlantic salmon as endangered. "The law requires agencies like FDA, who aren't fisheries biologists, to get review and approval from scientists with that expertise. FDA's refusal to do this before allowing commercialization of GE salmon is not only irresponsible, it violates the law."
When GE salmon escape or are accidentally released into the environment, the new species could threaten wild populations by mating with endangered salmon species, outcompeting them for scarce resources and habitat and/or introducing new diseases. Studies have shown that there is a high risk for GE organisms to escape into the natural environment and that GE salmon can crossbreed with native fish. Transgenic contamination has become common in the GE plant context, where contamination episodes have cost U.S. farmers billions of dollars over the past decade. In wild organisms like fish, it could be even more damaging.
"Once they escape, you can't put these transgenic fish back in the bag. They're manufactured to outgrow wild salmon, and if they cross-breed, it could have irreversible impacts on the natural world," Dune Lankard, a salmon fisherman and the Center for Biological Diversity's Alaska representative, said. "This kind of dangerous tinkering could easily morph into a disaster for wild salmon that will be impossible to undo."
The world's preeminent experts on GE fish and risk assessment, as well as biologists at U.S. wildlife agencies charged with protecting fish and wildlife heavily criticized the FDA decision for failing to evaluate these impacts. FDA ignored their concerns in the final approval.
"The FDA has failed to adequately examine the risks associated with transgenic salmon," Wenonah Hauter, executive director of Food & Water Watch, said. "The long term effects of people eating genetically modified foods have never been adequately addressed—and this GE salmon is no exception. This fish is unnecessary, so why take the risk?"
The plaintiff coalition, jointly represented by legal counsel from Center for Food Safety and Earthjustice, includes Pacific Coast Federation of Fishermen's Associations, Institute for Fisheries Resources, Golden Gate Salmon Association, Kennebec Reborn, Friends of Merrymeeting Bay, Ecology Action Centre, Food & Water Watch, Center for Biological Diversity, Friends of the Earth, Cascadia Wildlands and Center for Food Safety.
YOU MIGHT ALSO LIKE
Buyer Beware: You Might Be Eating Food From Cans Lined With Toxic BPA
USDA Deregulates Two Lines of Genetically Engineered Corn From Monsanto, Syngenta
5 Million Nigerians Oppose Monsanto's Plans to Introduce GMO Cotton and Corn
Cereal Giant General Mills to Start Labeling GMOs Nationwide as Vermont Law Looms
EcoWatch Daily Newsletter
An African elephant is pictured on November 19, 2012, in Hwange National Park in Zimbabwe. MARTIN BUREAU / AFP / Getty Images
The unprecedented drought that has caused a water crisis in Zimbabwe has now claimed the life of at least 55 elephants since September, according to a wildlife spokesman, as CNN reported.
Maria Dornelas.
By John C. Cannon
Life is reshuffling itself at an unsettling clip across Earth's surface and in its oceans, a new study has found.
An Exxon station in Florida remains open despite losing its roof during Hurricane Katrina on Aug. 29, 2005. Florida Air National Guard photo by Master Sgt. Shaun Withers
The country's largest fossil fuel company goes on trial today to face charges that it lied to investors about the safety of its assets in the face of the climate crisis and potential legislation to fight it, as the AP reported.
El Niño's effect on Antarctica is seen in a tabular iceberg off of Thwaites ice shelf. Jeremy Harbeck / NASA
El Niños are getting stronger due to climate change, according to a new study in Monday's Proceedings of the National Academy of Sciences.
By Julia Ries
Antibiotic resistance has doubled in the last 20 years.
Additionally a new study found one patient developed resistance to a last resort antibiotic in a matter of weeks.
Health experts say antibiotic prescriptions should only be given when absolutely necessary in order to avoid growing resistance.
Over the past decade, antibiotic resistance has emerged as one of the greatest public health threats.
Pexels
There are hundreds of millions of acres of public land in the U.S., but not everyone has had the chance to hike in a national forest or picnic in a state park.
Workers attend to a rooftop solar panel project on May 14, 2017 in Wuhan, China. Kevin Frayer / Getty Images
By Simon Evans
Renewable sources of electricity are set for rapid growth over the next five years, which could see them match the output of the world's coal-fired power stations for the first time ever.