Groups Sue EPA for Failing to Protect Endangered Species From Dangerous New Pesticide
Conservation and food-safety groups filed a formal notice of intent to sue the U.S. Environmental Protection Agency (EPA) today for failing to protect hundreds of endangered fish, butterflies and other species from a new, toxic pesticide called cyantraniliprole. The EPA violated the Endangered Species Act by approving the widespread agricultural and residential use of the new pesticide in January without input from the U.S. Fish and Wildlife Service and National Marine Fisheries Service, the two federal agencies in charge of protecting endangered species.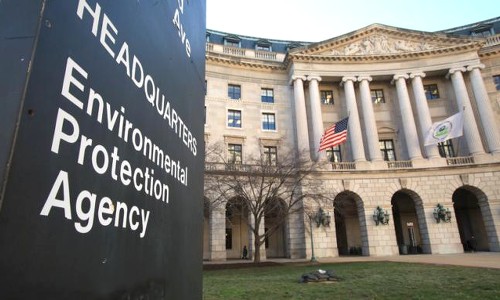 "Once again the EPA has approved a harmful pesticide without adequate conservation measures to protect endangered species," said Brett Hartl, endangered species policy director at the Center for Biological Diversity. "This reckless approval of cyantraniliprole really undermines recent efforts to reform the EPA's dangerous policy of ignoring the disastrous effects pesticides are having on wildlife across the country."
The EPA failed to consider or mitigate impacts to endangered species despite concluding in its assessment that cyantraniliprole is "very highly toxic" to hundreds of endangered aquatic species such as freshwater fish, mussels and clams, as well as endangered terrestrial invertebrate species, including 20 endangered butterflies. The EPA's failure occurred despite recent collaborative efforts on the part of the EPA and the two federal wildlife agencies—responding to a report from the National Academy of Sciences—to improve their procedures for evaluating the impacts of pesticides on endangered species before they approve those chemicals for general use. Right now hundreds of pesticides that negatively affect endangered species are in widespread use without ever having undergone an Endangered Species Act review. 
"In unlawfully approving cyantraniliprole EPA blew a golden opportunity to fix its faulty pesticide procedures and protect the environment," said Andrew Kimbrell, executive director for Center for Food Safety. "If you are in a hole, first stop digging. EPA must stop putting pesticides they know are harmful on the market, without addressing their potential harms to wildlife and agriculture."
The EPA routinely disregards the Endangered Species Act's requirement to consult with federal wildlife agencies on how to implement conservation measures to protect threatened and endangered species from pesticides. After years of gridlock, federal wildlife agencies, the EPA, and the U.S. Department of Agriculture asked the National Academy of Sciences to study the issue and report on ways of better protecting listed species from the effects of toxic pesticides. The National Academy report identified deficiencies for all the agencies involved in pesticide consultations, but singled out the EPA's approach for its numerous analytical shortcomings.
In response to the Academy's recommendations, the agency announced several reforms designed to better protect endangered species in the fall of 2013. Yet the EPA did not incorporate any of these reforms or the Academy's recommendations in its process for approving cyantraniliprole.
"EPA is responsible for ensuring that people, communities and wildlife will be safe from pesticides that adversely affect the environment like a highly toxic brew," said Defenders of Wildlife Senior Attorney Jason Rylander. "Instead, EPA just rubber-stamps more and more dangerous chemicals for use without regard for their effects on our nation's imperiled wildlife."
Today's notice was filed by Center for Biological Diversity, Center for Food Safety and Defenders of Wildlife.
Visit EcoWatch's BIODIVERSITY page for more related news on this topic.
Bill Maher is sick of billionaires' obsession with Mars, more like "Mars-a-Lago," he said.
In a new animation produced by ATTN:, the popular talk show host of Real Time, discusses the perils of our planet, including how "climate change is killing us."
Keep reading...
Show less
Dr. Benjamin D. Santer, research scientist
A group of prominent climate scientists have written a study explicitly refuting statements made by the U.S. Environmental Protection Agency Administrator Scott Pruitt on climate data. During his Senate confirmation hearing, Pruitt claimed in a written response that satellite data shows a "leveling off" of warming over the past two decades.
Keep reading...
Show less
By David Pomerantz
The Nevada Assembly passed a bill Wednesday that would dramatically increase the growth of renewable energy in the state, but Sheldon Adelson, the casino magnate and major donor to Donald Trump, is attempting to prevent the bill from becoming law.
Keep reading...
Show less
Matt Crossick
By Yosola Olorunshola
Whether it's through fashion or protest, Vivienne Westwood is not a woman afraid of making a statement.
On May 23, she rocked up to the residence of the Archbishop of Canterbury in London with a special guest—the Grim Reaper—to issue a strong statement on the Church of England's position on fracking.
Keep reading...
Show less
By Paul Brown
The food industry and big agricultural concerns are driving climate change and at the same time threatening to undermine efforts to feed the world's growing population, according to GRAIN, an organization that supports small farmers.
Particularly singled out for criticism are the large chemical fertilizer producers that have gained access to the United Nations talks on climate change. GRAIN accuses them of behaving like the fossil fuel companies did in the 1990s, pushing false information in the hope of delaying real action on climate change.
Keep reading...
Show less
May. 24, 2017 06:55PM EST
By Sydney Robinson
President Trump has no doubt been given a long list of extravagant, elaborate gifts in his lifetime, but the gift given to him today by Pope Francis may not make it on his most favorite list.
Keep reading...
Show less
May. 24, 2017 07:17PM EST
By John Rogers
Maybe it's because I first started working on clean energy while serving in the Peace Corps he founded, or maybe it's my years of working on these issues from his home state. But I can't help thinking about the 100th anniversary of John F. Kennedy's birth, and connecting his stirring rhetoric to the energy challenges of our times.
Here's what our 35th president might have said about the challenges of energy transition and the opportunities in clean energy:
"Change is the law of life. And those who look only to the past or present are certain to miss the future."
Keep reading...
Show less
May. 24, 2017 01:47PM EST
Keep reading...
Show less


Get EcoWatch in your inbox