This website uses cookies to ensure you get the best experience while browsing it. By clicking 'Got It' you're accepting these terms.
Groups Sue California Department of Public Health for Failing to Protect Millions from Toxic Drinking Water
Aug. 15, 2012 08:21AM EST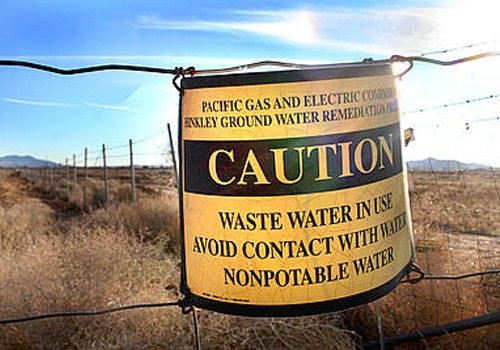 The Natural Resources Defense Council (NRDC) and the Environmental Working Group (EWG) sued the California Department of Public Health on Aug. 14 for failing to protect millions of Californians from hexavalent chromium, the cancer-causing chemical made infamous in the movie Erin Brockovich for contaminating drinking water and sickening residents in the town of Hinkley, California.
The agency was supposed to establish a safe drinking water standard for hexavalent chromium eight years ago, but has failed in its duty to safeguard citizens from the toxin.
"Millions of Californians are drinking toxic water today due to government neglect," said Nicholas Morales, attorney at the NRDC. "The state has not protected our drinking water supply from this carcinogen, so we're going to the courts to put a stop to it. Clean drinking water is a precious resource, and it's about time it's treated as such."
An EWG analysis of official records from the California Department of Public Health's water quality testing conducted between 2000 and 2011 revealed that about one-third of the more than 7,000 drinking water sources sampled were contaminated with hexavalent chromium at levels that exceed safe limits. These water sources are spread throughout 52 of 58 counties, impacting an estimated 31 million Californians.
In 2001, the California State Legislature mandated the agency adopt a standard by Jan. 1, 2004, giving it two years to do so. Eight years past its legal deadline, the agency still hasn't made any visible progress and says it could take several more years before a final standard is completed. Filed in the California Superior Court of Alameda, NRDC and EWG's suit contends the department's delay is unjustified and it must rapidly proceed to finalize the standard.
"Communities all over California and the U.S. are being poisoned by this dangerous chemical," said Erin Brockovich, an environmental and consumer advocate. "We have waited long enough and the people of California should not continue to be exposed to unsafe levels of this toxin in their tap water. The California Department of Public Health needs to do its job and adopt a strong standard for hexavalent chromium in drinking water."
Drinking water sources in Sacramento, San Jose, Los Angeles and Riverside were found to exceed the safe limits of hexavalent chromium, according to a 2010 EWG report that tested 25 U.S. cities' tap water for hexavalent chromium contamination.
The report also found this threat isn't limited to California. At least 74 million Americans in thousands of communities across 42 states drink tap water polluted with "total chromium," which includes hexavalent and other forms of the metal.
Even though hexavalent chromium is known to cause cancer, reproductive harm and other severe health effects, there is no national or state drinking water standard for hexavalent chromium. Therefore, water agencies don't have to comprehensively monitor for or remove hexavalent chromium before it comes out of the tap.
"You'd think the state of California would have moved quickly to protect its citizens from this carcinogen, which, sadly, still flows from the taps of millions of residents," Renee Sharp, a senior scientist and director of EWG's California office said. "It's absolutely unacceptable that at this minute countless children in California are likely drinking a glass of water laced with unsafe levels hexavalent chromium."
The California Environmental Protection Agency's Office of Environmental Health Hazard Assessment announced a final "Public Health Goal" for hexavalent chromium in drinking water in July 2011, a preliminary step in creating a drinking water standard. The goal was set at 0.02 parts per billion, a level that does not pose a significant health risk to people.
While this goal has been set for more than a year, the department has not taken the necessary steps for setting a "Maximum Contaminant Level"—the maximum concentration of a chemical that is allowed in public drinking water systems—for hexavalent chromium.
The department's plan to take several more years to finalize a rulemaking that is already eight years behind schedule is too long, especially since the agency could fall behind its own intended schedule, and industry pressure could delay the standard even more.
Communities adjacent to industrial facilities using hexavalent chromium or Superfund sites, such as low income communities like Hinkley and communities of color are among those most highly exposed to hexavalent chromium pollution. People can be exposed to hexavalent chromium by drinking contaminated water, eating contaminated food, by inhaling it or by exposure to contaminated soils.
Hexavalent chromium usually enters the drinking water supply by running off from industrial operations into surface waters or leaching from soil into groundwater.
Hexavalent chromium is used for the production of stainless steel, textile dyes, wood preservation, leather tanning and as an anti-corrosive as well as a variety of niche uses. Due to its wide use by industry, hexavalent chromium is a common pollutant found at contaminated sites and has been documented at approximately two-thirds of Superfund sites.
Visit EcoWatch's WATER page for more related news on this topic.
EcoWatch Daily Newsletter
A vegan diet can improve your health, but experts say it's important to keep track of nutrients and protein. Getty Images
By Dan Gray
Research shows that 16 weeks of a vegan diet can boost the gut microbiome, helping with weight loss and overall health.
A healthy microbiome is a diverse microbiome. A plant-based diet is the best way to achieve this.
It isn't necessary to opt for a strictly vegan diet, but it's beneficial to limit meat intake.
New research shows that following a vegan diet for about 4 months can boost your gut microbiome. In turn, that can lead to improvements in body weight and blood sugar management.
Students gathered at the National Mall in Washington DC, Sept. 20. NRDC
By Jeff Turrentine
Nearly 20 years have passed since the journalist Malcolm Gladwell popularized the term tipping point, in his best-selling book of the same name. The phrase denotes the moment that a certain idea, behavior, or practice catches on exponentially and gains widespread currency throughout a culture. Having transcended its roots in sociological theory, the tipping point is now part of our everyday vernacular. We use it in scientific contexts to describe, for instance, the climatological point of no return that we'll hit if we allow average global temperatures to rise more than 2 degrees Celsius above preindustrial levels. But we also use it to describe everything from resistance movements to the disenchantment of hockey fans when their team is on a losing streak.
samael334 / iStock / Getty Images
Berries are small, soft, round fruit of various colors — mainly blue, red, or purple.
A glacier is seen in the Kenai Mountains on Sept. 6, near Primrose, Alaska. Scientists from the U.S. Geological Survey have been studying the glaciers in the area since 1966 and their studies show that the warming climate has resulted in sustained glacial mass loss as melting outpaced the accumulation of new snow and ice. Joe Raedle / Getty Images
By Mark Mancini
On Aug. 18, Iceland held a funeral for the first glacier lost to climate change. The deceased party was Okjökull, a historic body of ice that covered 14.6 square miles (38 square kilometers) in the Icelandic Highlands at the turn of the 20th century. But its glory days are long gone. In 2014, having dwindled to less than 1/15 its former size, Okjökull lost its status as an official glacier.
Members of Chicago Democratic Socialists of America table at the Logan Square Farmers Market on Aug. 18. Alex Schwartz
By Alex Schwartz
Among the many vendors at the Logan Square Farmers Market on Aug. 18 sat three young people peddling neither organic vegetables, gourmet cheese nor handmade crafts. Instead, they offered liberation from capitalism.
Hackney primary school students went to the Town Hall on May 24 in London after school to protest about the climate emergency. Jenny Matthews / In Pictures / Getty Images
Bird watching in the U.S. may be a lot harder than it once was, since bird populations are dropping off in droves, according to a new study.