This website uses cookies to ensure you get the best experience while browsing it. By clicking 'Got It' you're accepting these terms.
Groups Press Obama Administration for Bold Action at Climate Summit
Nov. 22, 2011 09:50AM EST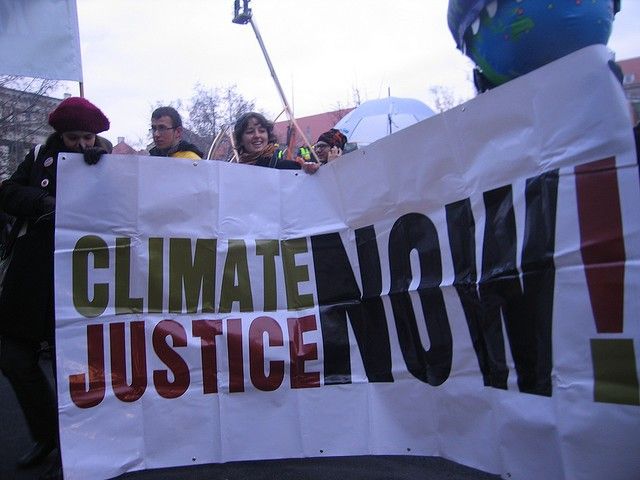 In lead up to the United Nations Framework Convention on Climate Change summit in Durban, South Africa, members of the Stand with Africa campaign urged U.S. policymakers Nov. 21 to focus their attention on the people already suffering from the impacts of climate change rather than playing politics and making other excuses for delaying action. The full name of the campaign is Stand with Africa; Act Now for Climate Justice.
The Durban summit takes place on a continent severely impacted by climate change. Africa is particularly prone to increased food and water stress due to climate change. According to the World Food Program, approximately 65 percent of the global total increase in climate-related hunger is projected to occur on the continent of Africa. And according to the Intergovernmental Panel on Climate Change, 75-250 million people across Africa could face more severe water shortages by 2020 as a result of climate change.
The U.S. has a particular responsibility to act, both as the single largest historic climate polluter and because we are facing great climate risks and impacts here at home. The Stand with Africa campaign calls on the U.S. to:
offer a clear plan for how the U.S. will meet and exceed its current emission reduction target
commit to at least one new innovative approach to generate public finance to help countries confront climate change
support the operation of a transparent, accountable and environmentally sound Green Climate Fund (GCF).
Members of the Stand with Africa campaign can speak about the range of innovative tools available to generate public finance. For example, in order to reduce emissions and generate finance, it is possible to set up mechanisms in the shipping and aviation sectors—two polluting industries—that both reduce emissions and generate climate finance in a way that ensures no new costs or burdens on developing countries.
Another widely supported option includes a tiny fee on financial transactions. According to the Austrian Institute for Economic Research, a global financial transaction tax of 0.1 percent could generate between U.S. $410 billion and U.S. $1.06 trillion per year, a portion of which could go to help developing countries confront climate change.
Members of the campaign will be available for comment on the progress of the negotiations and the role of the U.S. in the lead up to, during and after the Durban climate summit. For more information, click here.
The current list of Stand With Africa partners includes—ActionAid USA, Africa Faith and Justice Network, Americans for Informed Democracy, Center for Biological Diversity, Columban Center for Advocacy and Outreach, Environmental Justice and Climate Change Initiative, Foreign Policy in Focus, Friends of the Earth USA, Greenpeace USA, Maryknoll Office for Global Concern, National Association for the Advancement of Colored People (NAACP), Oxfam America, the Sustainable Energy and Economy Network at the Institute for Policy Studies, and World Wildlife Federation (WWF).
Commentary and Quotes
Ilana Solomon, senior policy at Analyst ActionAid USA, says:
"The Durban climate summit is taking place against a backdrop of climate-driven disasters. Recent floods across Asia have killed hundreds, displaced millions and have led to severe food shortages across the region. Droughts across East Africa have threatened the lives and livelihoods of more than 13 million people.
"The U.S. and other developed countries must go to the climate summit and uphold the interests of the poor—not of corporations and polluting industries. The U.S. must stop delaying progress and work with others to agree to new sources of public finance to help poor countries confront the climate crisis."
Lou Leonard, managing director of Climate Change at WWF, says:
"The impacts of climate change are no longer just a threat to our future—they are with us today. As the Horn of Africa experiences its worst drought in more than 60 years, threatening millions with starvation, the United States is being battered by severe floods, droughts and wildfires. The climate crisis disproportionately affects the people least capable of adapting, and threatens the survival of the wildlife, biodiversity and ecosystems upon which we all rely.
"Meanwhile, Washington is absent at home and abroad on addressing risks posed by climate change, leaving cities and towns across America dangerously unprepared for these severe and growing impacts. The Obama administration needs to rise above the Washington gridlock and show leadership by developing and executing a U.S. strategy to meet our international climate commitments."
Karen Showalter, executive director at Americans for Informed Democracy, says:
"Young people in the U.S. are keenly aware of the impacts of climate change both here at home and around the world. It is time for the United States to lead the way in addressing what is truly a global challenge."
Rose Braz, climate campaign director at the Center for Biological Diversity, says:
"2011 should make clear that climate change is not an abstract problem for the future. Climate change is happening now, it's caused by human activity and Africa is particularly vulnerable and hard hit. The longer we wait to act, the harder the problem will be to solve. It's long past time for the United States and other developed countries to act urgently and ambitiously to curb global warming pollution."
Michelle Knight, advocacy associate at the Columban Center for Advocacy and Outreach, says:
"Columban missionaries in countries such as Peru and the Philippines are already seeing the effects of climate change harming the communities with whom we live and serve. The U.S. must work with all countries at the summit towards reducing emissions and generating finance for affected countries."
Kari Fulton, interim director, Environmental Justice and Climate Change Initiative, says:
"The Environmental Justice Climate Change Initiative is heading to Durban with a delegation of youth and community leaders to ensure that our government, and the world knows that within the United States there are people who are feeling the impacts of climate change and environmental injustice.
"We stand in solidarity with those impacted across the global south and are pushing our government to join the rest of the world in addressing the worst impacts of climate change with humanity, humility and as a true comrade of the world. We stand with Africa because Africa's story is not too far from our own. We are all facing the battle to adapt, but if we push together we all have a chance to thrive."
Karen Orenstein, international policy campaigner at Friends of the Earth, says:
"The Green Climate Fund is critically needed to support developing countries in confronting the climate crisis, and it must be operationalized in Durban. However, the GCF must not serve to subsidize developed country corporations. GCF resources must not be used to directly finance the private sector, particularly through the establishment of a private sector facility, and the U.S. must stop pushing this. The role of the private sector in the Green Climate Fund must be decided and regulated at the national and sub-national level in line with countries' preferences and people's needs, not corporate bottom lines."
Jaqueline Patterson, NAACP director of Economic and Climate Justice Programs, says:
"U.S. communities of color and low income communities share a common cause with our African brothers and sisters as all of us are on the frontlines of climate change impact driven by the excesses of a wealthy few nations and corporations.
"Policymakers in the United States must uphold their ethical obligations to significantly reduce emissions and ensure financial support to communities and countries most affected by climate change."
Janet Redman, co-director of the Sustainable Energy & Economy Network at the Institute for Policy Studies, says:
"People living in poverty in the U.S. and throughout the African continent are already feeling the impacts of climate change. How many more lives must be imperiled before the U.S. acts? The U.S. and other developed country governments should learn from the Occupy movements that people are not willing to sacrifice the security of vulnerable communities for corporate profits."
For more information, click here.
EcoWatch Daily Newsletter
Tuna auctions are a tourist spectacle in Tokyo. Outside the city's most famous fish market, long queues of visitors hoping for a glimpse of the action begin to form at 5 a.m. The attraction is so popular that last October the Tsukiji fish market, in operation since 1935, moved out from the city center to the district of Toyosu to cope with the crowds.

gmnicholas / E+ / Getty Images
Kristan Porter grew up in a fishing family in the fishing community of Cutler, Maine, where he says all roads lead to one career path: fishing. (Porter's father was the family's lone exception. He suffered from terrible seasickness, and so became a carpenter.) The 49-year-old, who has been working on boats since he was a kid and fishing on his own since 1991, says that the recent warming of Maine's cool coastal waters has yielded unprecedented lobster landings.
Aerial view of lava flows from the eruption of volcano Kilauea on Hawaii, May 2018. Frizi / iStock / Getty Images
Hawaii's Kilauea volcano could be gearing up for an eruption after a pond of water was discovered inside its summit crater for the first time in recorded history, according to the AP.
The Eqip Sermia Glacier is seen behind a moraine left exposed by the glacier's retreat during unseasonably warm weather on Aug. 1 at Eqip Sermia, Greenland. Sean Gallup / Getty Images
hadynyah / E+ / Getty Images
By Johnny Wood
The Ganges is a lifeline for the people of India, spiritually and economically. On its journey from the Himalayas to the Bay of Bengal, it supports fishermen, farmers and an abundance of wildlife.
The river and its tributaries touch the lives of roughly 500 million people. But having flowed for millennia, today it is reaching its capacity for human and industrial waste, while simultaneously being drained for agriculture and municipal use.
Here are some of the challenges the river faces.
By Jake Johnson
As a growing number of states move to pass laws that would criminalize pipeline protests and hit demonstrators with years in prison, an audio recording obtained by The Intercept showed a representative of a powerful oil and gas lobbying group bragging about the industry's success in crafting anti-protest legislation behind closed doors.
Reposted with permission from our media associate Common Dreams.

DESIREE MARTIN / AFP / Getty Images
Wildfires raging on Gran Canaria, the second most populous of Spain's Canary Islands, have forced around 9,000 people to evacuate.