This website uses cookies to ensure you get the best experience while browsing it. By clicking 'Got It' you're accepting these terms.
Groups Initiate Federal Court Battle to Stop Illegal Coal Pollution
Jan. 24, 2013 02:42PM EST
Last March 22 on world water day, Waterkeepers all over the world took action to fight for swimmable, fishable and drinkable waters. Each Waterkeeper chose the issues they felt were the greatest concern to the health of their local community and waterway. The French Broad Riverkeeper and the Western North Carolina Alliance decided to spend world water day gathering hundreds of community members together to call for an end to air and water pollution from the Progress Energy coal fired power plant in Asheville, NC. In the video below you can see how local residents took action that day. They signed petitions, wrote letters to the editor and made powerful calls asking government regulators to take action to protect their health by finally passing long overdue coal ash regulations that have been stalled for more than two years.
But sadly their pleas for justice and action fell on deaf ears. No one in state or federal government took meaningful action to end the pollution that plagued families living next door to the power plant and that contaminated the French Broad River. So the the Western North Carolina Alliance increased the pressure. With Waterkeeper Alliance, Sierra Club, Southern Environmental Law Center and other groups, they escalated efforts to make Asheville's coal ash pollution stop. The groups met first with state government officials in Raleigh then later with federal Environmental Protection Agency (EPA) officials in Atlanta. They took legal action in state court and published new data showing how toxic water pollution of the French Broad River had doubled since Progress Energy added scrubbers.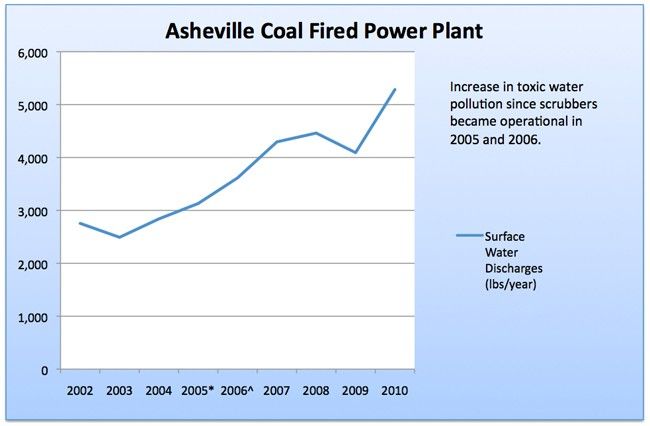 They highlighted the results of a Duke University study which showed that "Samples collected during the summer of 2011 from coal ash waste flowing to the French Broad River in Asheville contained arsenic levels more than four times higher than the EPA drinking water standard, and selenium levels 17 times higher the agency's standard for aquatic life. Excessive levels of cadmium, antimony and thallium were also detected in the wastewaters."
Despite all this additional compelling evidence of ongoing contamination from the coal fired power plant in Asheville, government regulators still did very little to stop the pollution. Having pursued all other options the groups finally decided they had to take their case to a federal judge. Today the groups filed a 60 day notice of intent to sue Progress Energy under the federal Clean Water Act.
The notice letter shows that water testing at five locations draining to the French Broad River detected a host of pollutants from coal combustion waste, including boron and metals like cobalt, barium, manganese and nickel.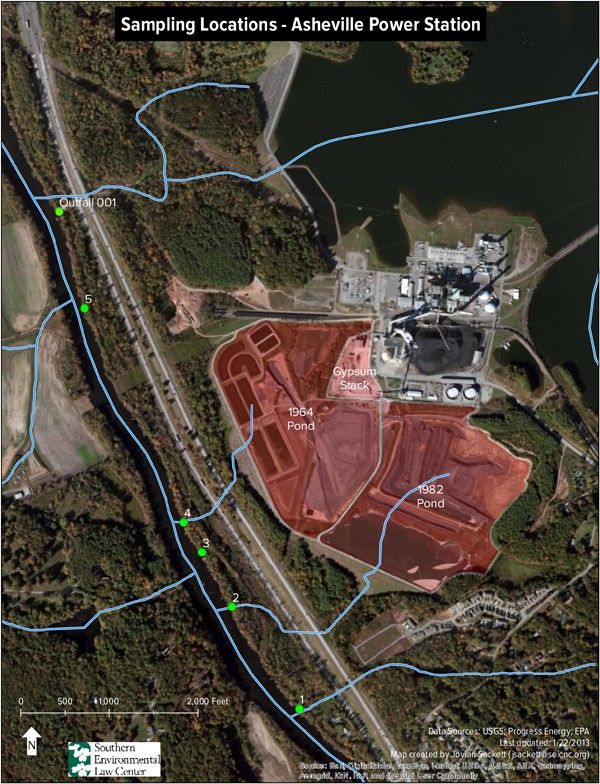 All pollutants are listed as toxic substances by the Agency for Toxic Substances and Disease Registry. Several of these pollutants are entering the French Broad River in concentrations substantially over expected background levels. The notice letter seeks to stop the industrial waste from escaping coal ash storage ponds from unpermitted locations and contaminating tributaries of the French Broad River. Pollutants including boron, manganese, thallium, selenium and others are also contaminating groundwater in violation of Progress Energy's Clean Water Act permit, according to the letter.
"Wet storage of coal ash waste in unlined ponds causes a slew of problems," said Amelia Burnette, staff attorney with the Southern Environmental Law Center, who represents the groups. "Polluted water seeps through the earthen dams into streams, rivers and groundwater; and these impoundments suffer from structural problems."
The plant has two old coal ash ponds, built in 1964 and 1982, that sprawl more than 90 acres adjacent to the French Broad River. The City of Asheville is about seven miles downstream from the plant. "This section of the river is often frequented by fisherman, boaters and tubers," river guide and Fishwater Maps owner Chris Gibbs explained. "The cleanliness of the river is the single most important aspect in bringing people to enjoy the river. It is critical that the largest utility in the country not be exempt from abiding by the Clean Water Act," he concluded.
Ash pond seepage has been documented for at least three decades at Asheville, according to public records obtained by the groups. The utility recently estimated leakage from the older impoundment may be as high as one million gallons per day. 
French Broad Riverkeeper Hartwell Carson said, "My job is to use every tool I can to stop illegal water pollution in order to protect people, the environment and our local economy. Thousands of people and businesses in the recreation-tourism industry depend on a healthy French Broad River. With illegal pollution from Progress Energy and a long history of government inaction to address coal ash waste problems, these two unfortunate combinations pose a profound threat to the broader public interest in clean water. We simply had to pursue legal action to make the pollution stop," he continued.
Donna Lisenby, the coal campaign coordinator for Waterkeeper Alliance said, "Since 2008, when I conducted water tests after the 1.1 billion gallon TVA coal ash spill in Kingston, TN  I have been working with Waterkeepers across the United States to document water pollution from coal-fired power plants. Waterkeepers in North Carolina, South Carolina, Maryland, Delaware, Alabama and Wisconsin have discovered and documented a whole host of problems with coal ash ponds. They include dam failures, widespread groundwater contamination and numerous leaks of unpermitted discharges. The thing that makes Asheville unique and distinguishes it from many other coal ash ponds is the high volume of leaks. Engineering firms working for Progress Energy have estimated flows as high a one million gallons a day. The unlined Asheville dams function more like colanders than bowls. They don't keep polluted waste water contained inside the ponds. They leak in numerous places both vertically and horizontally resulting in groundwater and surface water contamination. With that level of leakage and no corrective action plan required by the state of NC or the EPA, we simply had to utilize the citizen lawsuit provision of the Clean Water Act to seek clean up of the contamination."
Kelly Martin, a mother of three and the Sierra Club's Beyond Coal Campaign Representative for Asheville said, "Coal ash is the second largest industrial waste stream in the U.S. The Asheville plant has NC's tallest high hazard ash dams with the capacity to hold up to 900,000,000 gallons of coal ash. Families live next door to the ash ponds. Numerous studies have shown that coal ash contains a whole host of heavy metals and other pollutants known to harm human health. Living near a wet coal ash storage pond is significantly more dangerous than smoking a pack of cigarettes a day, according to a risk assessment done by the EPA. The toxins found in coal ash have been linked to organ disease, cancer, respiratory illness, neurological damage and developmental problems. People living within one mile of unlined coal ash ponds can have a 1 in 50 risk of cancer—more than 2,000 times higher than what the EPA considers acceptable. As a Mom, it is important to me to protect children and families from the enormous amount of water, air and carbon pollution generated daily from the Asheville coal-fired power plant. In order for the next generation to inherit a livable planet we need to move Asheville beyond coal and transition to cleaner sources of renewable energy."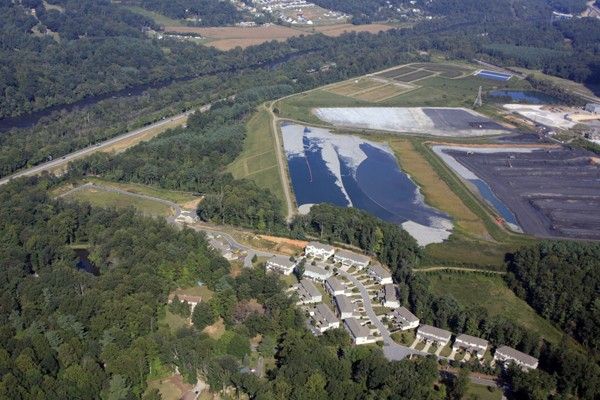 Visit EcoWatch's WATER and COAL ASH pages for more related news on this topic.
EcoWatch Daily Newsletter

georgeclerk / E+ / Getty Images
By Jennifer Molidor
One million species are at risk of extinction from human activity, warns a recent study by scientists with the United Nations. We need to cut greenhouse gas pollution across all sectors to avoid catastrophic climate change — and we need to do it fast, said the Intergovernmental Panel on Climate Change.
This research should serve as a rallying cry for polluting industries to make major changes now. Yet the agriculture industry continues to lag behind.
Edwin Remsburg / VW Pics / Getty Images
Botswana, home to one third of Africa's elephants, announced Wednesday that it was lifting its ban on the hunting of the large mammals.
"The Ministry of Environment, Natural Resources Conservation and Tourism wishes to inform the public that following extensive consultations with all stakeholders, the Government of Botswana has taken a decision to lift the hunting suspension," the government announced in a press release shared on social media.
Pxhere
By Richard Denison
Readers of this blog know how concerned EDF is over the Trump EPA's approval of many dozens of new chemicals based on its mere "expectation" that workers across supply chains will always employ personal protective equipment (PPE) just because it is recommended in the manufacturer's non-binding safety data sheet (SDS).
By Grant Smith
From 2009 to 2012, Gregory Jaczko was chairman of the Nuclear Regulatory Commission, which approves nuclear power plant designs and sets safety standards for plants. But he now says that nuclear power is too dangerous and expensive — and not part of the answer to the climate crisis.
A lake in Rocky Mountain National Park. Brett Walton / Circle of Blue
By Brett Walton
When Greg Wetherbee sat in front of the microscope recently, he was looking for fragments of metals or coal, particles that might indicate the source of airborne nitrogen pollution in Rocky Mountain National Park. What caught his eye, though, were the plastics.
Gabriele Holtermann Gorden / Pacific Press / LightRocket / Getty Images
In a big victory for animals, Prada has announced that it's ending its use of fur! It joins Coach, Jean Paul Gaultier, Giorgio Armani, Versace, Ralph Lauren, Vivienne Westwood, Michael Kors, Donna Karan and many others PETA has pushed toward a ban.
This is a victory more than a decade in the making. PETA and our international affiliates have crashed Prada's catwalks with anti-fur signs, held eye-catching demonstrations all around the world, and sent the company loads of information about the fur industry. In 2018, actor and animal rights advocate Pamela Anderson sent a letter on PETA's behalf urging Miuccia Prada to commit to leaving fur out of all future collections, and the iconic designer has finally listened.
Amer Ghazzal / Barcroft Media / Getty Images
If people in three European countries want to fight the climate crisis, they need to chill out more.
That's the conclusion of a new study from think tank Autonomy, which found that Germany, the UK and Sweden all needed to drastically reduce their workweeks to fight climate change.
Amazon Employees for Climate Justice held a press conference after the annual shareholder meeting on May 22. Amazon Employees for Climate Justice