Groups File Lawsuit to Protect Mammals from Navy Warfare Training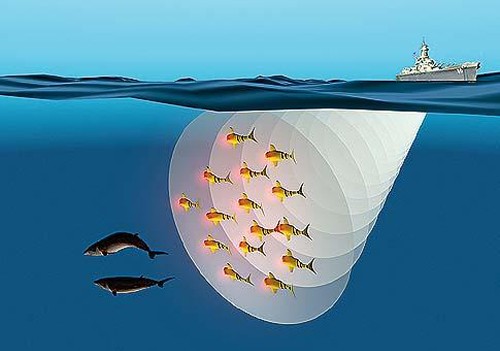 A coalition of conservation and American Indian groups sued the National Marine Fisheries Service (NMFS) Jan. 26 for failing to protect thousands of whales, dolphins, porpoises, seals and sea lions from U.S. Navy warfare training exercises along the coasts of California, Oregon and Washington.
Earthjustice, representing InterTribal Sinkyone Wilderness Council, Center for Biological Diversity, Friends of the Earth, Friends of the San Juans, Natural Resources Defense Council (NRDC) and People For Puget Sound, filed a lawsuit Jan. 26 in U.S. District Court for the District of Northern California challenging NMFS's approval of the Navy's training activities in its Northwest Training Range Complex. The lawsuit calls on NMFS to mitigate anticipated harm to marine mammals and biologically critical areas within the training range that stretches from Northern California to the Canadian border.
"These training exercises will harm dozens of protected species of marine mammals—Southern Resident killer whales, blue whales, humpback whales, dolphins, and porpoises—through the use of high-intensity mid-frequency sonar," said Steve Mashuda, an Earthjustice attorney representing the groups. "The Fisheries Service fell down on the job and failed to require the Navy to take reasonable and effective actions to protect them."
The Navy uses a vast area of the West Coast for training activities including anti-submarine warfare exercises involving tracking aircraft and sonar; surface-to-air gunnery and missile exercises; air-to-surface bombing exercises; sink exercises; and extensive testing for several new weapons systems.
"Since the beginning of time, the Sinkyone Council's member Tribes have gathered, harvested and fished for traditional cultural marine resources in this area, and they continue to carry out these subsistence ways of life, and their ceremonial activities along this Tribal ancestral coastline. Our traditional cultural lifeways, and our relatives such as the whales and many other species, will be negatively and permanently impacted by the Navy's activities," said Priscilla Hunter, chairwoman and co-founder of the InterTribal Sinkyone Wilderness Council. "Both NMFS and the Navy have failed in their obligations to conduct government-to-government consultation with the Sinkyone Council and its member Tribes regarding project impacts."
In late 2010, NMFS gave the Navy a permit for five years of expanded naval activity that will harm or "take" marine mammals and other sealife. The permit allows the Navy to conduct increased training exercises that can harm marine mammals and disrupt their migration, nursing, breeding or feeding, primarily as a result of harassment through exposure to the use of sonar.
"The Navy's Northwest Training Range is the size of the State of California, yet not one square inch is off-limits to the most harmful aspects of naval testing and training activities," said Zak Smith, staff attorney for NRDC. "We are asking for common-sense measures to protect the critical wildlife that lives within the training range from exposure to life-threatening effects of sonar. Biologically rich areas like the Olympic Coast National Marine Sanctuary should be protected."
The Navy's mid-frequency sonar has been implicated in mass strandings of marine mammals in, among other places, the Bahamas, Greece, the Canary Islands and Spain. In 2004, during war games near Hawai'i, the Navy's sonar was implicated in a mass beaching of up to 200 melon-headed whales in Hanalei Bay. In 2003, the USS Shoup, operating in Washington's Haro Strait, exposed a group of endangered Southern Resident killer whales to mid-frequency sonar, causing the animals to stop feeding and attempt to flee the sound.
"In 2003, NMFS learned firsthand the harmful impacts of Navy sonar in Washington waters when active sonar blasts distressed members of J pod, one of our resident pods of endangered orcas," said Kyle Loring, staff attorney for Friends of the San Juans. "Given this history, it is particularly distressing that NMFS approved the Navy's use of deafening noises in areas where whales and dolphins use their acute hearing to feed, navigate, and raise their young, even in designated sanctuaries and marine reserves."
"Whales and other marine mammals don't stand a chance against the Navy," said Miyoko Sakashita, oceans director at the Center for Biological Diversity.
The Navy's mitigation plan for sonar use relies primarily on visual detection of whales or other marine mammals by so-called "watch-standers" with binoculars on the decks of ships. If mammals are seen in the vicinity of an exercise, the Navy is to cease sonar use.
"Visual detection can miss anywhere from 25-95 percent of the marine mammals in an area," said Heather Trim, director of Policy for People For Puget Sound. "It's particularly unreliable in rough seas or in bad weather. We learn more every day about where whales and other mammals are most likely to be found—we want NMFS to put that knowledge to use to ensure that the Navy's training avoids those areas when marine mammals are most likely there."
The litigation is not intended to halt the Navy's exercises, but asks the Court to require NMFS to reassess the permits using the latest science and to order the Navy to stay out of biologically critical areas at least at certain times of the year.
Marcie Keever, legal director at Friends of the Earth, noted, "It has become increasingly clear from recent research that the endangered Southern Resident killer whale community uses coastal waters within the Navy's training range to find salmon during the fall and winter months. NMFS has failed in its duty to assure that the Navy is not pushing the whales closer to extinction."
Read the complaint filed Jan. 26 against the National Marine Fisheries Service by clicking here.
For more information, click here.
www.facebook.com
Keep reading...
Show less
Keep reading...
Show less
www.elysee.fr
By Andy Rowell
There is a growing feeling within European capitals that a quiet, but deeply positive, revolution is happening under Emmanuel Macron in France.
Macron's opinion poll rating is high, especially boosted in how the young French president has reacted to Donald Trump on the international stage.
Keep reading...
Show less
Hawaii Renewable Energy Alliance
The latest issue of the U.S. Energy Information's "Electric Power Monthly" (with data through April 30) reveals that—for the first time since the beginning of the nuclear era—renewable energy sources (i.e., biomass, geothermal, hydropower, solar—inc. small-scale PV, wind) are now providing a greater share of the nation's electrical generation than nuclear power.
Keep reading...
Show less
www.youtube.com
Check out this great 360° virtual reality video by NowThis on the world's largest indoor vertical farm, AeroFarms. Located in Newark, New Jersey, AeroFarms grows more than 2 million pounds of greens a year without sunlight, soil or pesticides.
As reported by EcoWatch in July 2105, the $30 million, 70,000-square-foot AeroFarms headquarters dwarfs Japan's (already impressive) 25,000-square-foot vertical indoor farm, which had been the world's largest until now.
www.youtube.com
According to Bloomberg, "SeaWorld Entertainment Inc. received a subpoena earlier this month from regulators investigating disclosures and public statements by executives, including comments about the Blackfish documentary that caused a public backlash against the confinement of orcas.
Keep reading...
Show less
Wikipedia
By Franziska Spritzler, RD, CDE
Boosting your metabolic rate can help you lose body fat. However, most "fat-burning" supplements on the market are either unsafe, ineffective or both.
Fortunately, several natural foods and beverages have been shown to increase your metabolism and promote fat loss.
Keep reading...
Show less
Jun. 25, 2017 04:50PM EST
Monsanto, the maker of the glyphosate-based herbicide Roundup, filed a motion June 16 in U.S. District Court, Northern District of California to reconsider the chemical's addition to California's Proposition 65 list of agents known to cause cancer.
The agrochemical giant made this move based on a June 14 Reuters investigation of Dr. Aaron Blair, a lead researcher on the World Health Organization's International Agency for Research on Cancer (IARC) committee, that classified glyphosate as a "2A probable human carcinogen" in March 2015.
Keep reading...
Show less
Jun. 25, 2017 04:40PM EST
By Avery Friedman
Algae is often considered a nuisance, but for Sweden, the rapidly growing sea plant is now an asset.
As the Scandinavian country works to cut all of its greenhouse gas emissions by 2045, it's using algae to sop up the carbon emissions from cement.
Keep reading...
Show less