This website uses cookies to ensure you get the best experience while browsing it. By clicking 'Got It' you're accepting these terms.
Groups Denounce Attack on U.S. EPA Investigation of Hydraulic Fracturing Contamination
Jan. 17, 2012 11:27AM EST
Energy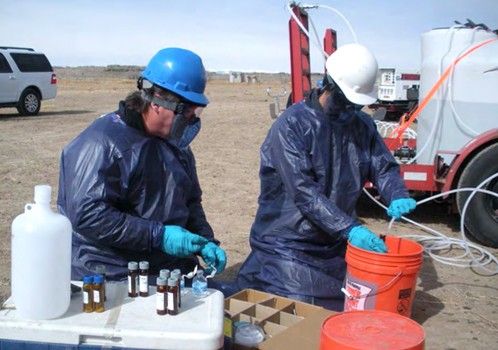 On Jan. 17, Pavillion Area Concerned Citizens (PACC) denounced attacks from the oil and gas industry and the state of Wyoming in a letter to the U.S. Environmental Protection Agency (EPA) regarding its investigation of contaminated drinking water wells in Pavillion, Wy. EPA test results show that hazardous chemicals, commonly used in oil and gas development, contaminated the wells. 
Powder River Basin Resource Council (PRBRC) and Earthworks' Oil and Gas Accountability Project applauded PACC for its letter and launched a national sign on letter campaign urging the EPA to continue with its rigorous investigation and to identify the cause of the contamination.
In December 2011, the U.S. EPA released the draft report of its scientific investigation into the connection between oil and gas development and contamination of drinking water wells. After initial testing in August 2010, the Agency for Toxic Substances and Disease Registry (ATSDR) urged residents not to drink their water or use it for cooking. If the U.S. EPA's draft is finalized with its current conclusions, it will definitively refute the oil and gas industry's claim that hydraulic fracturing has never contaminated drinking water wells.
"Pavillion residents made continual requests for help from the state of Wyoming and industry before seeking assistance from EPA to address the contamination issues. For over 10 years the state refused to help us. That's when we went to the EPA. Now it appears the state is joining the industry in fighting this study tooth and nail," said John Fenton, Powder River Basin Resource Council board member and chair of Pavillion Area Concerned Citizens.
EnCana Oil & Gas USA, which owns and operates more than 200 gas wells in the Pavillion area, denies that drilling is to blame for the contamination, stating that many of the toxins "occur naturally." On Jan. 6, EnCana sent a letter demanding that the U.S. EPA suspend the public comment period on the report claiming that the agency didn't give the company copies of all the data it used to compile the report. Also last week, the Petroleum Association of Wyoming and Wyoming Water Development Commission accused the EPA of not following its own water-testing protocols by holding several water well samples two days too long before conducting tests.
 
PACC, PRBRC and Earthworks' Oil & Gas Accountability Project have long fought to require the regulation of fracking and full and public disclosure of the chemicals used in drilling operations.
"These accusations are a political ploy to cover-up the results and bring a halt to the study," said Gwen Lachelt, director of Earthworks' OGAP. "We've seen this time and again with industry shirking responsibility and the government turning its back on the people who bear the impact of energy development in our country," Lachelt stated.
"The EPA is conducting a scientifically sound investigation of the contamination in the Pavillion area," said Wilma Subra, chemist, president of Subra Company, and board member of the State Review of Oil & Natural Gas Environmental Regulations (STRONGER). "Holding the samples for a longer time did not compromise the results. If anything, longer hold times make the results less likely to indicate contamination," Subra stated.
 
"The American public needs to see this for what it is, a planned assault to undermine the Pavillion study and smear the EPA," said Deb Thomas with Powder River Basin Resource Council. "EnCana did get one thing right. The state of Wyoming should hold their own testing events to the same standards they're demanding from EPA. The state's test results should publicly release all critical information, including all the report-related raw data. That would allow all parties and citizens to understand what regulated and non-regulated chemicals are being found in our drinking water and aquifers."
The area under investigation just east of Pavillion is home to about 160 residents in the middle of the Wind River Indian Reservation, 150 miles east of Grand Teton National Park. Residents share their farming operations with more than 200 oil and gas wells that surround their homes. Toxic chemicals were found in nearly 9 out of every 10 wells sampled. In monitor wells drilled by the U.S. EPA, benzene, a cancer-causing chemical, was found at 50 times the limit safe for human health along with numerous other toxic chemicals including 2-BE, a chemical used in fracking operations. Through the years contamination has been suspected, EnCana supplied and halted drinking water service to residents. In 2011, EnCana tried to sell its entire Pavillion/Muddy Ridge gas field to Legacy Oil & Gas out of Midland, Texas. Legacy backed out of the sale in late November.
For more information, click here.
EcoWatch Daily Newsletter
It was early in the morning last Thursday, and Jonathan Butler was standing on the Fred Hartman Bridge, helping 11 fellow Greenpeace activists rappel down and suspend themselves over the Houston Ship Channel. The protesters dangled in the air most of the day, shutting down a part of one of the country's largest ports for oil.
By C.J. Polychroniou
Climate change is by far the most serious crisis facing the world today. At stake is the future of civilization as we know it. Yet, both public awareness and government action lag way behind what's needed to avert a climate change catastrophe. In the interview below, Noam Chomsky and Robert Pollin discuss the challenges ahead and what needs to be done.
Food manufacturer General Mills issued a voluntary recall of more than 600,000 pounds, or about 120,000 bags, of Gold Medal Unbleached All Purpose Flour this week after a sample tested positive for a bacteria strain known to cause illness.
Imelda flooded highway 69 North in Houston Thursday. Thomas B. Shea / Getty Images
Extreme weather events supercharged by climate change in 2012 led to nearly 1,000 more deaths, more than 20,000 additional hospitalizations, and cost the U.S. healthcare system $10 billion, a new report finds.
Giant sequoia trees at Sequoia National Park, California. lucky-photographer / iStock / Getty Images Plus
A Bay Area conservation group struck a deal to buy and to protect the world's largest remaining privately owned sequoia forest for $15.6 million. Now it needs to raise the money, according to CNN.
This aerial view shows the Ogasayama Sports Park Ecopa Stadium, one of the venues for 2019 Rugby World Cup. MARTIN BUREAU / AFP / Getty Images
The Rugby World Cup starts Friday in Japan where Pacific Island teams from Samoa, Fiji and Tonga will face off against teams from industrialized nations. However, a new report from a UK-based NGO says that when the teams gather for the opening ceremony on Friday night and listen to the theme song "World In Union," the hypocrisy of climate injustice will take center stage.
Vera_Petrunina / iStock / Getty Images Plus
By Wudan Yan
In June, New York Times journalist Andy Newman wrote an article titled, "If seeing the world helps ruin it, should we stay home?" In it, he raised the question of whether or not travel by plane, boat, or car—all of which contribute to climate change, rising sea levels, and melting glaciers—might pose a moral challenge to the responsibility that each of us has to not exacerbate the already catastrophic consequences of climate change. The premise of Newman's piece rests on his assertion that traveling "somewhere far away… is the biggest single action a private citizen can take to worsen climate change."