This website uses cookies to ensure you get the best experience while browsing it. By clicking 'Got It' you're accepting these terms.
Groups Challenge World Bank Funding of Destructive Mega-Dams
Dec. 12, 2013 12:00PM EST
Energy
By Peter Bosshard
As the World Bank makes an effort to raise billions of dollars from donor governments for its International Development Association (IDA) fund, civil society groups are calling on governments to shift support for energy projects from the Bank to institutions that prioritize clean, local energy sources for the poor.
The World Bank is asking donor governments to replenish the IDA—its fund for the poorest countries—at a meeting in Moscow, Russia, on Dec. 16-17. The Bank plans to finance a new generation of controversial mega-dams, including the Inga 3 Dam on the Congo River, from the IDA fund.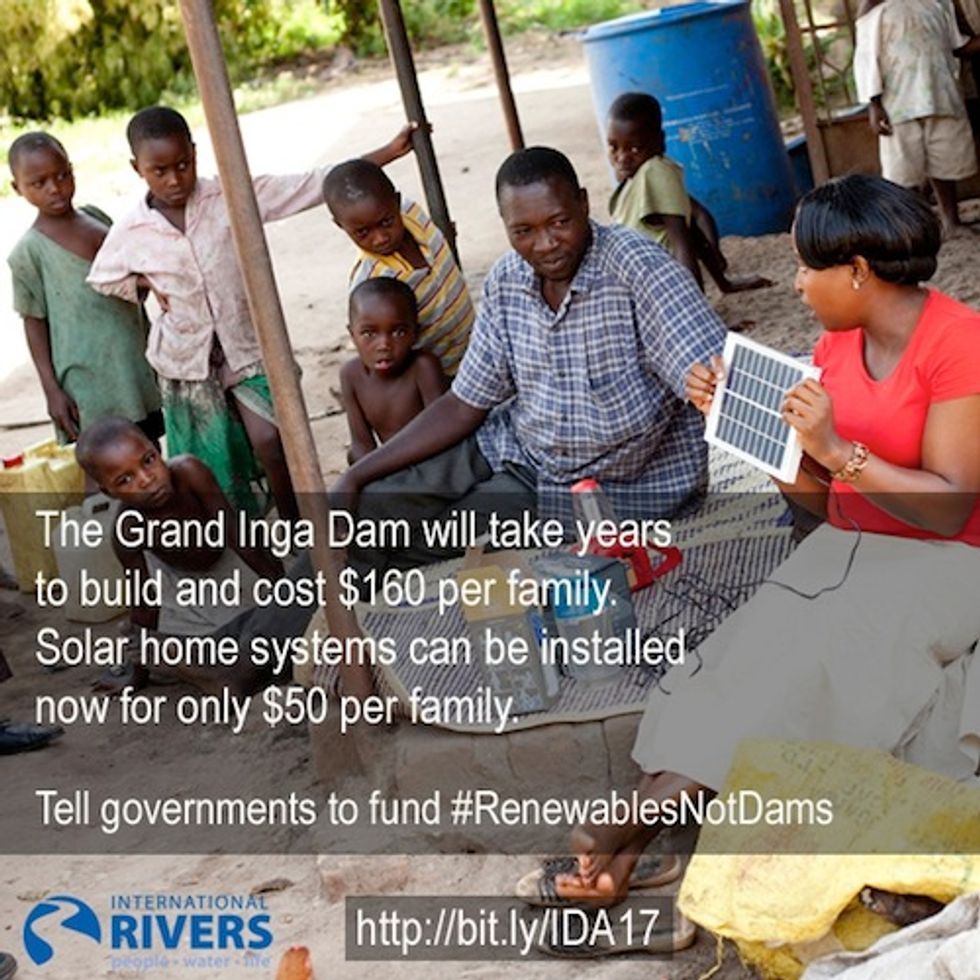 From 2008-2013, the World Bank spent less than 10 percent of its loans for energy projects on the expansion of access to electricity for rural communities. The proposed increase in support for mega-dams would worsen this imbalance. The Inga 3 Dam for example will serve export markets and the mining industry, not the 99 percent of Congo's rural population who have no access to electricity.
The International Energy Agency found that 70 percent of rural areas in developing countries are best electrified by mini- and off-grid solutions based on solar, wind and micro-hydropower. Ahead of the fundraising party in Moscow, civil society groups are calling on donor governments to shift $1.6 billion—the amount IDA has traditionally spent for destructive energy projects—from the World Bank's IDA fund to institutions that support clean local energy solutions.
"Poor rural communities will pay the price for a new generation of destructive mega-dams, but will be the last to benefit from the electricity they generate," commented Peter Bosshard, policy director of International Rivers. "We forced the World Bank to pull out of destructive dams through pressure on its donor governments in the 1990s, and if necessary, we will do it again."
International Rivers, 350.org and other civil society groups are supporting the call with petitions and advocacy work. There will also be a protest at the World Bank meeting in Moscow on Dec. 16.
"Shifting resources from the World Bank to institutions that support solar, wind and micro-hydropower will send a message that the Bank's big-is-beautiful philosophy is no longer acceptable," said Sena Alouka, the executive director of Jeunes Volontaires pour l'Environnement in Togo. "It will also provide additional funding for projects that reduce energy poverty while protecting the climate and local ecosystems."
"It is highly symbolic that the World Bank fundraiser takes place in Russia, which follows the Bank's model of building large export-oriented energy projects," said Eugene Simonov of Rivers without Boundaries. 
"The Russian government just completed the disastrous Bogushansky Dam on the Angara River and plans to build up to 10 dams in the transboundary Amur Basin for exporting electricity to China," Simonov continued. "Investing in decentralized green energy sources would benefit the people of the Amur Basin much more."
The NGO call is supported by advocacy efforts in Germany, the Netherlands, Norway, Switzerland and the U.S. You can sign the global civil society call here.
Visit EcoWatch's ENERGY and WATER pages for more related news on this topic.

EcoWatch Daily Newsletter
Pro-environment demonstrators on the streets of Washington, DC during the Jan. 20, 2017 Trump inauguration.
Mobilus In Mobili
/ Flickr /
CC BY-SA 2.0
By Dr. Brian R. Shmaefsky
One year after the Flint Water Crisis I was invited to participate in a water rights session at a conference hosted by the US Human Rights Network in Austin, Texas in 2015. The reason I was at the conference was to promote efforts by the American Association for the Advancement of Science (AAAS) to encourage scientists to shine a light on how science intersects with human rights, in the U.S. as well as in the context of international development. My plan was to sit at an information booth and share my stories about water quality projects I spearheaded in communities in Bangladesh, Colombia, and the Philippines. I did not expect to be thrown into conversations that made me reexamine how scientists use their knowledge as a public good.
Mt. Rainier and Reflection Lake on Sept. 10, 2015. Crystal Geyser planned to open a bottling plant near Mt. Rainier, emails show.
louelke - on and off / Flickr
Bottled water manufacturers looking to capture cool, mountain water from Washington's Cascade Mountains may have to look elsewhere after the state senate passed a bill banning new water permits, as The Guardian reported.
Large storage tank of Ammonia at a fertilizer plant in Cubatão, Sao Paulo State, Brazil. Luis Veiga / The Image Bank / Getty Images
The shipping industry is coming to grips with its egregious carbon footprint, as it has an outsized contribution to greenhouse gas emissions and to the dumping of chemicals into open seas. Already, the global shipping industry contributes about 2 percent of global carbon emissions, about the same as Germany, as the BBC reported.
At high tide, people are forced off parts of the pathway surrounding DC's Tidal Basin. Andrew Bossi /
Wikimedia
The Jefferson Memorial in Washington, DC overlooks the Tidal Basin, a man-made body of water surrounded by cherry trees. Visitors can stroll along the water's edge, gazing up at the stately monument.
But at high tide, people are forced off parts of the path. Twice a day, the Tidal Basin floods and water spills onto the walkway.
Lioness displays teeth during light rainstorm in Kruger National Park, South Africa. johan63 / iStock / Getty Images
Ahead of government negotiations scheduled for next week on a global plan to address the biodiversity crisis, 23 former foreign ministers from various countries released a statement on Tuesday urging world leaders to act "boldly" to protect nature.