Groups Challenge USDA's Proposed Deregulation of GE Corn and Soybeans
The U.S. Department of Agriculture (USDA) released for public input its Draft Environmental Impact Statement (DEIS) on Friday, which calls for the deregulation of genetically engineered (GE) corn and soybeans engineered to be tolerant to the toxic herbicide 2,4-D.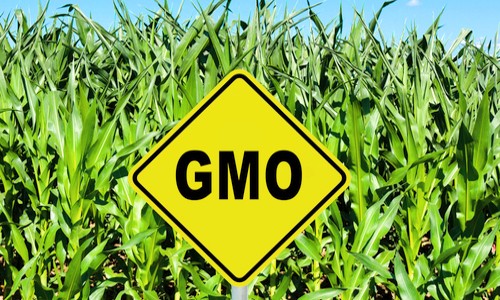 Photo courtesy of Shutterstock
These new varieties of GE corn and soybean, created partly due to proliferate weed resistance resulting from the widespread use of glyphosate (Roundup) on other GE crops, is set to usher in dramatic increases in 2,4-D use with associated health and environmental hazards, according to environmental scientists. The GE crops are being produced by Dow AgroSciences under the brand name "Enlist."
According to Nichelle Harriott, senior scientist at the national environmental group Beyond Pesticides, "The engineered varieties will not only spawn new weed resistant strains, but contaminate the environment and increase the public health risks to cancer and Parkinson's disease, especially in farmworkers and farming communities exposed to 2,4-D."
The failure of GE-glyphosate (Roundup) tolerant crops to live up to their promises is a main contributing factor behind the development of stacked varieties such as "Enlist," which combines resistance to 2,4-D and glyphosate. So widespread is glyphosate resistance that the U.S. Environmental Protection Agency (EPA) has granted emergency use exemptions for pesticides without registered uses in agriculture, like fluridone. One 2012 report shows that GE crops have been responsible for an increase of 404 million pounds of pesticide, or about 7 percent, in the U.S. over the first 16 years of commercial use of GE crops (1996-2011), which means that 2,4-D use is expected to increase dramatically in GE fields.
While the USDA attempts to assure the public that 2,4-D is safe, the science has raised serious concerns about the safety of this herbicide, which was used as a key ingredient in "Agent Orange," used to defoliate forests and croplands in the Vietnam War. Scientists around the world have reported increased cancer risks in association with its use, especially for non-Hodgkins Lymphoma (NHL). It is also neurotoxic, genotoxic, and an endocrine disruptor. Studies have also reported that occupational exposure to 2,4-D is associated with an increased risk of Parkinson's disease.
The proposed deregulation of these GE crops is being met with criticism from farmers, environmentalists and other concerned groups. Similar to previous decisions to deregulate other varieties of GE soybeans, alfalfa and sugar beets, safety advocates charge that the USDA fails to take into account several scientifically-validated environmental concerns, such as the indiscriminate nature of GE gene flow among crops, a heavy reliance on faulty data and a high degree of uncertainty in making safety determinations. Deregulation of 2, 4-D GE corn and soybeans also underplays the issue of 2,4-D drift that has been a documented problem to off-site locations, endangered species and non-target crops, as well as the threat of dioxin contamination.
The agency once again overlooks the problem of herbicide-resistant weeds (and insect resistance to engineered "plant incorporated protectants"), and the widespread corruption of conventional seed varieties by GE strains, along with documented severe health and economic injury to non-GE and organic farmers and markets. In Southern states, glyphosate-resistant horseweed, ryegrass and pigweed are a concern for soybean farmers, while resistant horseweed and volunteer Roundup Ready soybeans have become problem weeds for Mississippi rice. In Australia, weed scientists have now documented cases of glyphosate resistance in rigid ryegrass across large areas and are encountering it in other weed species in different parts of the world.
Instead of chemical-intensive and genetically engineered strategies that exacerbate weed and insect problems, the USDA should only allow sustainable, integrated pest management strategies, including organic practices, to minimize and even avoid the production challenges that most GE organisms have been falsely-marketed as solving. These strategies can also help farmers get off the pesticide treadmill which constantly demands greater amounts of synthetic inputs.
"In the age of organic agriculture it is irresponsible to be introducing a failed technology reliant on 2,4-D with all its known hazards to human health and the environment," said Jay Feldman, executive director of Beyond Pesticides.
Visit EcoWatch's GMO page for more related news on this topic.

Disturbing footage of a snake in Goa, India vomiting an empty soft drink bottle highlights the world's mounting plastic pollution crisis.
Keep reading...
Show less
By Melissa Hellmann
When her eldest son was in elementary school in the Oakland Unified School District, Ruth Woodruff became alarmed by the meals he was being served at school. A lot of it was frozen, processed foods, packed with preservatives. At home, she was feeding her children locally sourced, organic foods.
Keep reading...
Show less
May. 28, 2017 01:33PM EST
Laurie Woolever
By James O'Hare
There are 20 million people in the world facing famine in South Sudan, Somalia, Nigeria and Yemen. In developed nations, too, people go hungry. Venezuela, for instance, is enduring food insecurity on a national level as a result of economic crisis and political corruption. In the U.S., the land of supposed excess, 12.7 percent of households were food insecure in 2015, meaning they didn't know where their next meal would come from.
Keep reading...
Show less
May. 28, 2017 01:22PM EST
Melwater, Greenland ice sheet. Diane Tuft
Artists are taking the climate crisis into frame and the results are emotional, beautiful and stirring.
So you've seen the best climate change cartoons and shared them with your friends. You've showed your family the infographics on climate change and health, infographics on how the grid works and infographics about clean, renewable energy. You've even forwarded these official National Oceanic and Atmospheric Administration graphs that explain the 10 clear indicators of climate change to your colleagues at the office.
Keep reading...
Show less
May. 27, 2017 01:11PM EST
As the Trump administration moves full speed ahead on boosting the oil and fossil fuel industry, opposition to increased pipeline construction is cropping up in different communities around the country.
Keep reading...
Show less
May. 27, 2017 01:02PM EST
Minke whale stranding near Havergate Island in Suffolk. MCGA.
By Simon Evans
Last Saturday, two dead whales washed up on the coast of Suffolk, in eastern England, and a third was spotted floating at sea.
What happened next illustrates how news can spread and evolve into misinformation, when reported by journalists rushing to publish before confirming basic facts or sourcing their own quotes.
Keep reading...
Show less
May. 27, 2017 01:22PM EST
By Monica Amarelo and Paul Pestano
Sun safety is a crucial part of any outdoor activity for kids, and sunscreen can help protect children's skin from harmful ultraviolet rays. Kids often get sunburned when they're outside unprotected for longer than expected. Parents need to plan ahead and keep sun protection handy in their cars or bags.
Keep reading...
Show less
May. 27, 2017 01:02PM EST
By Joe McCarthy
A lot of people take part in community clean-up efforts—spending a Saturday morning picking up litter in a park, mowing an overgrown field or painting a fence.
Keep reading...
Show less