This website uses cookies to ensure you get the best experience while browsing it. By clicking 'Got It' you're accepting these terms.
Groups Challenge Ammonia Emissions from Industrial Egg Farm
Nov. 23, 2011 09:21AM EST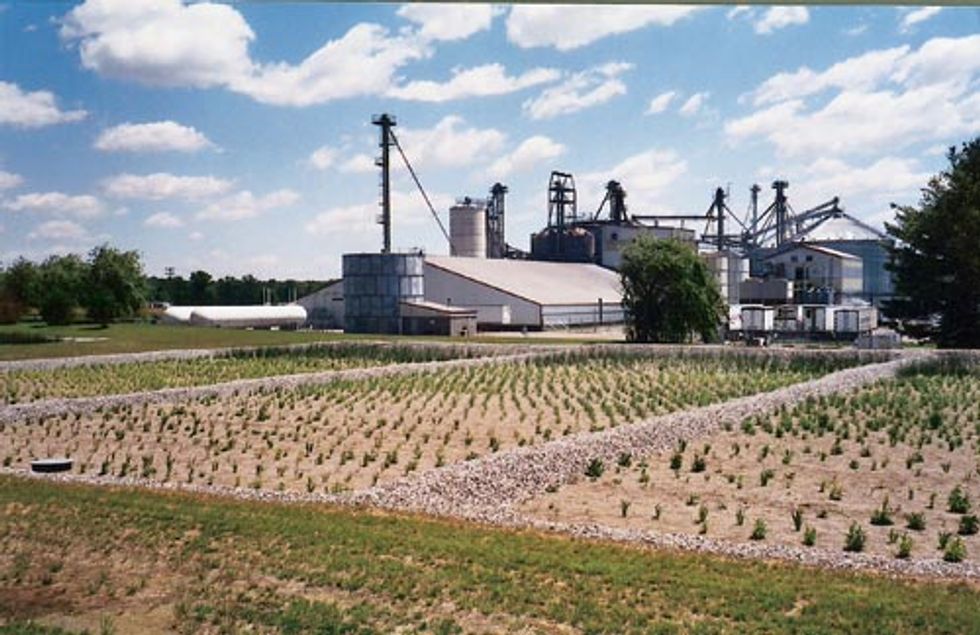 Several North Carolina conservation groups filed legal papers aimed at cleaning up ammonia pollution from a massive industrial chicken operation. The groups filed a motion to intervene with the North Carolina Environmental Management Commission Nov. 23, defending the State of North Carolina's issuance of a Clean Water Act permit for concentrated animal feeding operator Rose Acre Farms. The permit would allow Rose Acre to continue operating, but would help protect the surrounding waterways and nearby Pocosin Lakes National Wildlife Refuge from the ammonia emissions of more than 3 million hens housed at the Rose Acre facility.
The Pocosin Lakes National Wildlife Refuge is a 115,000-acre wetlands area, previously described by one court as "home to some of the most unspoiled habitat along the East Coast." The refuge is located on the Atlantic Flyway, a major route for migratory waterfowl, including tundra swans and snow geese migrating from arctic regions to the wildlife refuge. The refuge is also home to the federally protected red wolf and red cockaded woodpecker.
North Carolina's Division of Water Quality had earlier found that Rose Acre's ammonia emissions were polluting the waters bordering the wildlife refuge. Rose Acre's experts also found that up to 73 tons of ammonia were being deposited each year into the surrounding areas and wildlife refuge. Rose Acre Farms has operated for years under similar permits designed to safeguard the nearby waterways. But rather than continue operating with these protections in place, Rose Acre and the North Carolina Poultry Federation are now challenging North Carolina's issuance of the permit. Rose Acre is one of the largest concentrated poultry-egg operators in the country. Its North Carolina facility, which houses more than three million hens, is the largest such facility in the state.
"Each year the Pocosin Lakes National Wildlife Refuge receives thousands of visitors who enjoy the more than 300 wildlife species living in this magnificent and protected habitat," said Jennifer Alligood, president of Friends of Pocosin Lakes National Wildlife Refuge. "The pollution from Rose Acre Farms degrades the water quality for wildlife, diminishing this very special habitat that is enjoyed by local residents and thousands of visitors each year."
"The water pollution caused by more than 3 million chickens at Rose Acre Farms is unhealthy and damaging to the Pocosin Lakes National Wildlife Refuge," said Christopher Leung, lead attorney for Earthjustice, the public interest law firm representing the groups. "As the state has already found, this egg factory needs to control its ammonia emissions."
North Carolina issued a Clean Water Act permit to Rose Acre that would have required it to take steps to monitor its ammonia emissions from the hen houses' ventilation system. This system uses large fans to blow ammonia and other pollutants out of the chicken houses, thereby polluting the surrounding areas and wildlife refuge with excessive amounts of ammonia.
"Large amounts of ammonia in lakes and rivers leads to an unbalanced ecosystem," said Heather Deck, Riverkeeper for the Tar-Pamlico River. "The excessive nutrients create algae blooms that eventually drain the oxygen from the water, suffocating fish and other aquatic life."
"This has serious public health implications for both the local area and the State of North Carolina," said local counsel Jerry Eatman, an attorney at Raleigh-based Lynch & Eatman. "Not only has the state's Division of Water Quality found a large increase of ammonia deposits in nearby waters, but studies commissioned by Rose Acre have calculated that huge amounts of ammonia are being emitted and deposited into the wildlife refuge."
In 2004, Rose Acre applied for a federal Clean Water Act permit from North Carolina's Division of Water Quality. The agency granted Rose Acre's request, but due to concerns about its close proximity to the wildlife refuge, also began collecting water samples from the surrounding canals. In 2006, Rose Acre finished construction and began moving birds into the facility. The agency continued its water sampling through December 2008.
In 2009, North Carolina's Division of Water Quality prepared a report finding that ammonia concentrations in the surrounding waterways had increased significantly, as well as nitrogen, total inorganic nitrogen, total phosphorus and fecal coliform. The U.S. Fish and Wildlife Service also produced a report showing that Rose Acre was releasing large amounts of ammonia into the wildlife refuge and surrounding areas. As a result, when the state renewed Rose Acre's permit, it included specific provisions to improve monitoring of the facility's ammonia emissions.
Rather than submit to monitoring of its emissions, Rose Acre then petitioned for review of the agency's action and the North Carolina Poultry Federation intervened, attacking the state's authority to permit the facility. In October 2011, an administrative law judge granted Rose Acre's motion for summary judgment and held that the state lacked authority under the Clean Water Act to limit Rose Acres' ammonia emissions. The same judge declined to rule on the conservation groups' earlier motion to intervene. The case now moves to the Environmental Management Commission, which will review the administrative law judge's decision.
"This case is clearly pivotal," said Mr. Leung of Earthjustice, "because it will establish whether a state may use a Clean Water Act permit to regulate the airborne emissions of ammonia being released from a concentrated animal feeding operation." Mr. Leung added, "This case also raises important issues of environmental justice. The poultry industry is challenging the state's authority to protect the health and environment of the community in Hyde County, where the population is more than 40 percent African American."
The motion, which was prepared by Earthjustice and Lynch & Eatman, is filed on behalf of the Pamlico-Tar River Foundation, Waterkeeper Alliance, Inc., and Friends of Pocosin Lakes National Wildlife Refuge.
For more information, click here.
EcoWatch Daily Newsletter
Malaysian Environment Minister Yeo Bee Yin (front 2nd L) and officials inspect a container containing plastic waste shipment on Jan. 20, 2020 before sending back to the countries of origin. AFP via Getty Images
The Southeast Asian country Malaysia has sent 150 shipping containers packed with plastic waste back to 13 wealthy countries, putting the world on notice that it will not be the world's garbage dump, as CNN reported. The countries receiving their trash back include the United States, the United Kingdom, France and Canada.
Trump leaves after delivering a speech at the Congress Centre during the World Economic Forum annual meeting in Davos on Jan. 21, 2020. JIM WATSON / AFP via Getty Images
Warning: The video above may be upsetting to viewers.
An amusement park in China came under fire on social media this weekend for forcing a pig off a 230 foot-high bungee tower.
Participants at the tree-planting event in Ankazobe district, Madagascar, on Jan. 19. Valisoa Rasolofomboahangy / Mongabay
By Malavika Vyawahare, Valisoa Rasolofomboahangy
Madagascar has embarked on its most ambitious tree-planting drive yet, aiming to plant 60 million trees in the coming months. The island nation celebrates 60 years of independence this year, and the start of the planting campaign on Jan. 19 marked one year since the inauguration of President Andry Rajoelina, who has promised to restore Madagascar's lost forests.