This website uses cookies to ensure you get the best experience while browsing it. By clicking 'Got It' you're accepting these terms.
Groups Call for Additional Records Related to Kasich Administration's Plan to Promote Fracking
Mar. 05, 2014 03:28PM EST
Energy
Troubled by recent revelations about an internal memo drafted in 2012 in which the Ohio Department of Natural Resources (ODNR) outlined a plan to promote fracking in state parks, Food & Water Watch along with other groups sent a request today to Gov. John Kasich and the ODNR to release of additional records related to promoting the controversial method of oil and gas drilling.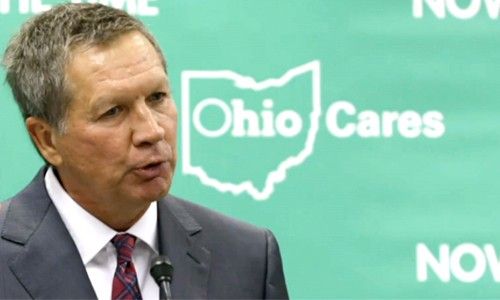 "Given the Governor and the General Assembly's track record of ignoring our concerns with specific pieces of legislation, and ODNR's repeated public comments that mirror messaging points and strategy laid out in the recently released memo, we do not trust that there will be a thorough investigation by the state into collusion with the industry," said Alison Auciello, Ohio organizer for Food & Water Watch.
"The specific naming of organizations and legislators as opposition groups raises questions about how seriously the ODNR and the administration are taking their duties to protect Ohio residents over the interests of the oil and gas industry."
The communications plan identified state legislators and environmental organizations as "eco-left," giving the impression that the ODNR is a PR firm for the oil and gas industry instead of a regulatory agency. While the administration initially denied knowledge of this document, an email later released by the Sierra Club confirmed Gov. Kasich's involvement.
"Unfortunately, it seems that it's fallen upon the people of Ohio to ensure transparency and accountability of our state government and agencies," said Brian Kunkemoeller, conservation coordinator for the Sierra Club Ohio Chapter said.
"Ohioans must get to the bottom of the plans regarding the wholesale of our public lands, and coercive propaganda plans by state officials to do so."
Teresa Mills of the Buckeye Forest Council has been reviewing inspection reports on fracking and fracking waste disposal wells for the last several years. She said, "Clearly, serious problems at wells are falling through the cracks. After the release of the memo, my question is now whether or not it's intentional." 
The identification of oil and gas companies including Halliburton, and lobby groups such as the Ohio Oil and Gas Association as allies in the document, suggests a level of collaboration and coordination that is inconsistent with the role of ODNR to "ensure a balance between the wise use and protection of our natural resources for the benefit for all."
"When the line between the regulators and the regulated becomes blurred, unnecessarily risking the health of Ohioans, we have a duty to correct the problem. Unfortunately, we don't feel we can rely on the state to take this possible collusion seriously, so we're working together to get the information out to the public," said Vanessa Pesec, president of Network to Educate and Organize for Gas Accountability and Protection.
According to Food & Water Watch, questions remain as to how those groups were identified, whether the ODNR public relations team tracks the activities of these groups and what other public relations tactics are being used to sell Ohio residents on the benefits of fracking.
"Athens County Fracking Action Network has known ever since examining ODNR's unsound permitting guidelines that ODNR and the Kasich government have no interest in meeting their ethical and legal obligations to protect our drinking water," said Athens resident and Athens County Fracking Action Network member Zella Nisley. "We believe that this public records request will further expose the incestuous relationship between the Kasich government and its master, the oil and gas industry."
Visit EcoWatch's FRACKING page for more related news on this topic.

EcoWatch Daily Newsletter
Large food companies are following in the footsteps of fast-food restaurants such as Burger King and KFC by offering meat alternatives. Getty Images
By Elizabeth Pratt
Hormel, Kellogg's, and Kroger are among the large companies now planning to offer "fake meat" products at grocery stores.
Experts say the trend toward plant-based meats coincides with consumers' desires to eat less meat.
However, experts urge consumers to closely check package labels as a product isn't necessarily healthy just because it's described as plant-based.
In grocery stores and fast-food outlets around the U.S., a revolution is taking place.
Colombia rainforest. Marcel Oosterwijk / CC BY-SA 2.0
Many of us think of the Amazon as an untouched wilderness, but people have been thriving in these diverse environments for millennia. Due to this long history, the knowledge that Indigenous and forest communities pass between generations about plants, animals and forest ecology is incredibly rich and detailed and easily dwarfs that of any expert.
picture-alliance / Newscom / R. Ben Ari
By Wesley Rahn
Plastic byproducts were found in 97 percent of blood and urine samples from 2,500 children tested between 2014 and 2017, according to a study by the German Environment Ministry and the Robert Koch Institute.

Pexels
Medically reviewed by Daniel Bubnis, MS, NASM-CPT, NASE Level II-CSS
Hot yoga has become a popular exercise in recent years. It offers many of the same benefits as traditional yoga, such as stress reduction, improved strength, and flexibility.
Lara Hata / iStock / Getty Images
By SaVanna Shoemaker, MS, RDN, LD
Rice is a staple in many people's diets. It's filling, inexpensive, and a great mild-tasting addition to flavorful dishes.
An image of the trans-alaskan oil pipeline that carries oil from the northern part of Alaska all the way to valdez. This shot is right near the arctic national wildlife refuge. kyletperry / iStock / Getty Images Plus
The Trump administration has initialized the final steps to open up nearly 1.6 million acres of the protected Alaskan National Wildlife Refuge to allow oil and gas drilling.