Group Touts Green Solutions for Municipal Waste at Climate Talks
Dec. 06, 2011 11:12AM EST
Energy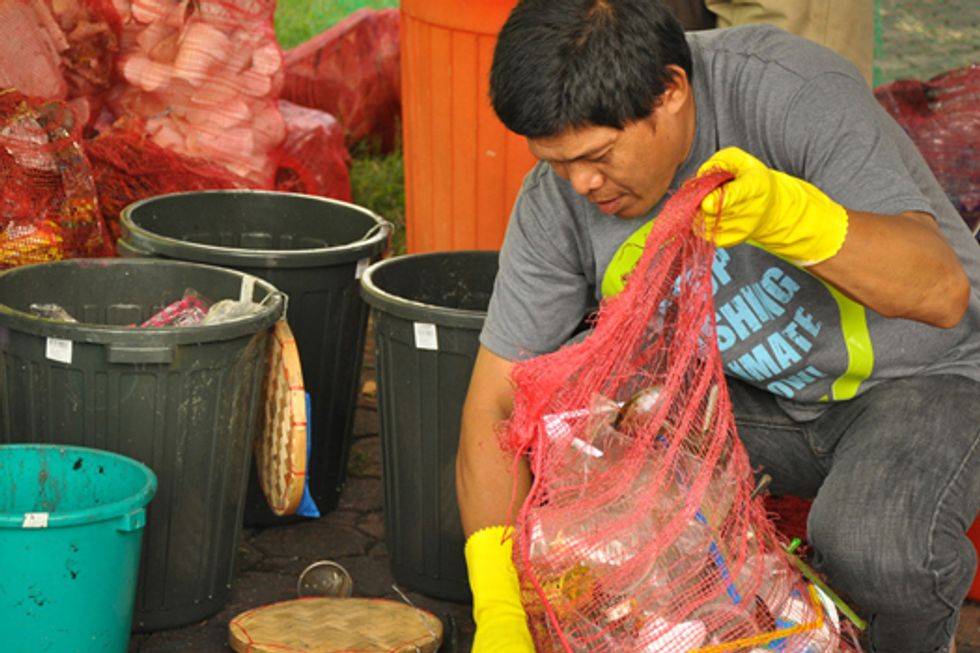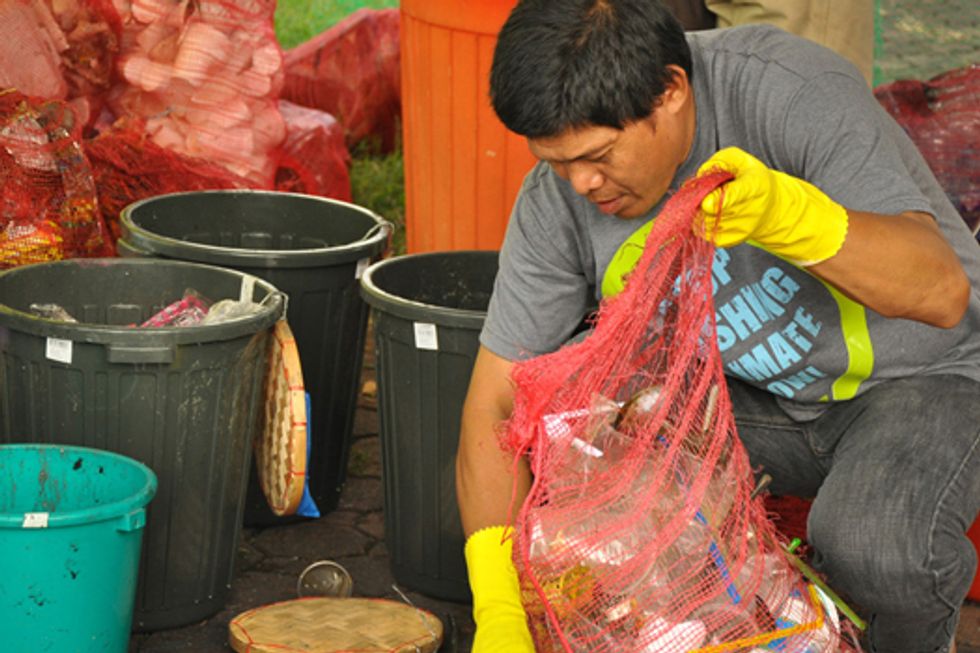 Waste pickers attending COP17 Dec. 5 called for a Green Climate Fund with direct community access and an end to clean development mechanism (CDM) waste-to-energy projects. Representatives from three continents highlighted the fact that waste pickers are the most effective way to reduce greenhouse gas emissions in the waste sector.
Millions of people worldwide make a living from waste picking. They collect, sort and process recyclables, reducing the amount of waste that is sent to landfills and saving valuable natural resources. Today, an increasing number of waste pickers are processing organic waste, diverting it from landfills and therefore reducing methane gas pollution. Waste pickers could further reduce greenhouse gas emissions given proper support.
To secure this support, a waste picker delegation has come to COP17 to raise their concerns surrounding current climate financing mechanisms and to advocate for more just alternatives that are directly accessible by waste pickers. Waste pickers from three different continents spoke against disposal technologies that undermine their livelihoods, such as incinerators and waste-to-energy projects.
Harouna Niass, a waste picker from Dakar, Senegal, spoke about the formation of Book Diomm Waste Pickers Association with 800 members, and the threat they face from CDM-backed landfill gas companies competing to extract methane and force the waste pickers off the landfill.
"Waste pickers should be included and given more respect because we take care of our environment," Niass said.
Simon Mbata, with the South African Waste Pickers' Association, discussed the importance of supporting waste pickers.
"We demand a Green Climate Fund that is directly accessible to waste pickers and an end of support for CDM projects which compete directly with us," Mbata said.
Neil Tangri, with the Global Alliance for Incinerator Alternatives (GAIA), provided background on CDM-backed projects and the Green Climate Fund. Suman More, a waste picker with SWaCH cooperative in Pune, India, discussed incinerator alternatives.
The GAIA promotes these solutions worldwide:
We only achieve true solutions when our work supports systems of social and economic justice and ecological sustainability. Addressing issues of access, ownership, autonomy and democratic participation, among others, lays the foundation for lasting success.
Zero waste means reducing what we trash in landfills and incinerators to zero. Most things can and should be safely and economically recycled or reused. We also need to simply use less and redesign our products so that they are toxic-free and built to last.
Clean Production is a way of designing products and manufacturing processes in harmony with natural ecological cycles. It takes a life cycle view of all materials' flows, from extraction of the raw material to product manufacture and the ultimate fate of the product at the end of its life.
Extended Producer Responsibility
To get to the root cause of waste, communities need to stop picking up after the producers of products that become waste and begin demanding that they do so themselves. The embodiment of this idea is extended producer responsibility, which requires companies that manufacture or sell products to be responsible for such products after their useful life.
In many parts of the developing world, collecting and sorting waste informally provides a livelihood for large numbers of the urban poor, who often work in deplorable conditions. GAIA believes that advocating for waste picker rights is an important part of working for environmental justice.
In order to fulfill the medical ethic to "first do no harm," healthcare providers have a responsibility to manage waste in ways that protect the public and the environment. The first step is waste minimization and separation, and the next is treating infectious waste to prevent the spread of disease.
Read GAIA's case studies on CDM projects on municipal waste management:
To read about the CDM incinerator in Chengdu Luo Dai, China, click here.
To read about the Bisasar landfill in Durban, South Africa, click here.
To read about the Usina Incinerator in Rio de Janeiro, Brasil, click here.
For more information, click here.
—————
The Global Alliance of Waste Pickers brings together waste pickers organizations from Africa, Asia and Latin America. To learn more about waste pickers' experiences and to support fair and just solutions to climate change, visit our blog www.globalrec.org.
A new report urges immediate climate action to control global warming. John W Banagan / Getty Images
A new report promoting urgent climate action in Australia has stirred debate for claiming that global temperatures will rise past 1.5 degrees Celsius in the next decade.
EcoWatch Daily Newsletter
Winegrowers check vines during the burning of anti-frost candles in the Luneau-Papin wine vineyard in Le Landreau, near Nantes, western France, on April 12, 2021. SEBASTIEN SALOM-GOMIS / AFP via Getty Images
French winemakers are facing devastating grape loss from the worst frost in decades, preceded by unusually warm temperatures, highlighting the dangers to the sector posed by climate change.
"An important share of the harvest has been lost. It's too early to give a percentage estimate, but in any case it's a tragedy for the winegrowers who have been hit," said Christophe Chateau, director of communications at the Bordeaux Wine Council, told CNN.
Climate change, caused by the extraction and combustion of fossil fuels, has pushed winegrowing seasons earlier, putting crops at higher risk of cold — and wildfires supercharged by climate change also threaten American vignerons and farmworkers as well.
"I think it's good for people to understand that this is nature, climate change is real, and to be conscious of the effort that goes into making wine and the heartbreak that is the loss of a crop," Jeremy Seysses of Domaine Dujac in Burgundy's Côte de Nuits told Wine Enthusiast.
As reported by Wine Enthusiast:
Last week, images of candlelit French vineyards flooded social media. Across the country, winemakers installed bougies, or large wax-filled metal pots, among the vines to prevent cold air from settling in during an especially late frost.

With temperatures in early April as low as 22°F, and following an unseasonably warm March, this year's frost damage may be the worst in history for French winegrowers. Every corner of France reports considerable losses, from Champagne to Provence, and Côtes de Gascogne to Alsace. As a result, there will likely be very little French wine from the 2021 vintage reaching U.S. shores.
For a deeper dive:

CNN, Wine Enthusiast, France24, Eater
For more climate change and clean energy news, you can follow Climate Nexus on Twitter and Facebook, sign up for daily Hot News, and visit their news site, Nexus Media News.
From Your Site Articles
Related Articles Around the Web
A recent study focused on regions in Ethiopia, Africa's largest coffee-producing nation. Edwin Remsberg / Getty Images
Climate change could make it harder to find a good cup of coffee, new research finds. A changing climate might shrink suitable areas for specialty coffee production without adaptation, making coffee taste blander and impacting the livelihoods of small farms in the Global South.
In "Weather," Jenny Offill tells the story of a librarian named Lizzie who prepares for a climate apocalypse. Andrew Merry / Getty Images
By Suzanne Cords
One day Lizzie, the first-person narrator of the novel, receives an old book as a gift, with a dedication wishing the reader to be among the survivors. Like the preppers who build bunkers and stockpile supplies in remote areas to be ready for the end of the world, Lizzie is convinced that the end of the world is definitely near in times of a threatening climate disaster.
Lizzie, who lives in New York with her husband and son, is a university campus librarian. She worries about almost everything: her brother, an ex-junkie, or her dental insurance and the future in the face of the apocalypse. She is obsessed with reading reference books and articles about climate change.
She also devours words of wisdom, including about Buddhist spirituality: "A visitor once asked the old monks on Mount Athos what they did all day, and was told: We have died and we are in love with everything." But nothing can lift her spirits.
'Lizzie Is Just Like Us'
Lizzie observes rich New Yorkers plan their move to regions that are less threatened by climate change, something she simply cannot afford. Sometimes she watches disaster movies, which lead her to worry even more.
Above all, she is a gifted observer of her fellow human beings. "Young person worry: What if nothing I do matters? Old person worry: What if everything I do, does?"
Lizzie, the U.S. author told DW, is a bit like the rest of us — well aware of the climate crisis, but because she cares and worries about so many other things, that awareness falls by the wayside. That's how she felt herself, Jenny Offill said, but the more she looked into the issue, the more she saw a need for action on her part, too.

"I also was trying to see if there was a way to make it funny, because, you know, so much of the world of prepping and imagining disaster is actually sort of strangely funny."
The novel was shortlisted for the 2020 UK's Women's Prize for Fiction and has now been released in German translation.
Climate Activist With a Vision
But then, there is also this serious, scientifically based concern about what climate change means. In the past, says Offill, artists were the ones who would predict disasters; today it's the experts, as well as the students she teaches. In the end, their fears and their justified anger motivated her to take a closer look at the issue. Today, she is a climate activist herself, and is involved in initiatives along with many other artists.
Lizzie, the heroine of Weather, hasn't gotten that far. But she voices her fears, and that's a start. "Of course, the world continues to end," says Sylvia, a mentor of Lizzie's, at one point — and commences to water her garden. There is hope after all.
Reposted with permission from Deutsche Welle.
A Shell oil drilling rig off the coast of Alaska in the Chukchi Sea on May 21, 2015. Orjan F. Ellingvag / Corbis via Getty Images
By Jake Johnson
A federal appeals court on Tuesday dealt the final blow to former President Donald Trump's attempt to open nearly 130 million acres of territory in the Arctic and Atlantic Oceans to oil and gas drilling.