This website uses cookies to ensure you get the best experience while browsing it. By clicking 'Got It' you're accepting these terms.
Group Touts Green Solutions for Municipal Waste at Climate Talks
Dec. 06, 2011 10:12AM EST
Energy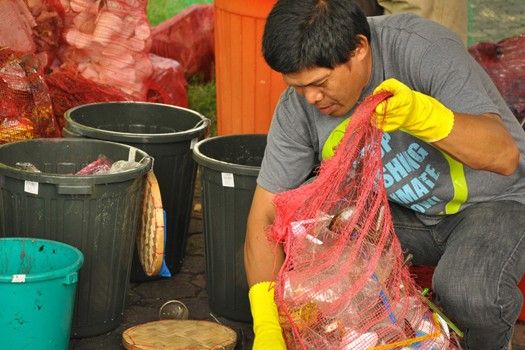 Waste pickers attending COP17 Dec. 5 called for a Green Climate Fund with direct community access and an end to clean development mechanism (CDM) waste-to-energy projects. Representatives from three continents highlighted the fact that waste pickers are the most effective way to reduce greenhouse gas emissions in the waste sector.
Millions of people worldwide make a living from waste picking. They collect, sort and process recyclables, reducing the amount of waste that is sent to landfills and saving valuable natural resources. Today, an increasing number of waste pickers are processing organic waste, diverting it from landfills and therefore reducing methane gas pollution. Waste pickers could further reduce greenhouse gas emissions given proper support.
To secure this support, a waste picker delegation has come to COP17 to raise their concerns surrounding current climate financing mechanisms and to advocate for more just alternatives that are directly accessible by waste pickers. Waste pickers from three different continents spoke against disposal technologies that undermine their livelihoods, such as incinerators and waste-to-energy projects.
Harouna Niass, a waste picker from Dakar, Senegal, spoke about the formation of Book Diomm Waste Pickers Association with 800 members, and the threat they face from CDM-backed landfill gas companies competing to extract methane and force the waste pickers off the landfill.
"Waste pickers should be included and given more respect because we take care of our environment," Niass said.
Simon Mbata, with the South African Waste Pickers' Association, discussed the importance of supporting waste pickers.
"We demand a Green Climate Fund that is directly accessible to waste pickers and an end of support for CDM projects which compete directly with us," Mbata said.
Neil Tangri, with the Global Alliance for Incinerator Alternatives (GAIA), provided background on CDM-backed projects and the Green Climate Fund. Suman More, a waste picker with SWaCH cooperative in Pune, India, discussed incinerator alternatives.
The GAIA promotes these solutions worldwide:
We only achieve true solutions when our work supports systems of social and economic justice and ecological sustainability. Addressing issues of access, ownership, autonomy and democratic participation, among others, lays the foundation for lasting success.
Zero waste means reducing what we trash in landfills and incinerators to zero. Most things can and should be safely and economically recycled or reused. We also need to simply use less and redesign our products so that they are toxic-free and built to last.
Clean Production is a way of designing products and manufacturing processes in harmony with natural ecological cycles. It takes a life cycle view of all materials' flows, from extraction of the raw material to product manufacture and the ultimate fate of the product at the end of its life.
Extended Producer Responsibility
To get to the root cause of waste, communities need to stop picking up after the producers of products that become waste and begin demanding that they do so themselves. The embodiment of this idea is extended producer responsibility, which requires companies that manufacture or sell products to be responsible for such products after their useful life.
In many parts of the developing world, collecting and sorting waste informally provides a livelihood for large numbers of the urban poor, who often work in deplorable conditions. GAIA believes that advocating for waste picker rights is an important part of working for environmental justice.
In order to fulfill the medical ethic to "first do no harm," healthcare providers have a responsibility to manage waste in ways that protect the public and the environment. The first step is waste minimization and separation, and the next is treating infectious waste to prevent the spread of disease.
Read GAIA's case studies on CDM projects on municipal waste management:
To read about the CDM incinerator in Chengdu Luo Dai, China, click here.
To read about the Bisasar landfill in Durban, South Africa, click here.
To read about the Usina Incinerator in Rio de Janeiro, Brasil, click here.
For more information, click here.
—————
The Global Alliance of Waste Pickers brings together waste pickers organizations from Africa, Asia and Latin America. To learn more about waste pickers' experiences and to support fair and just solutions to climate change, visit our blog www.globalrec.org.
EcoWatch Daily Newsletter
Environmental Investigation Agency
Last week, the Peruvian Palm Oil Producers' Association (JUNPALMA) promised to enter into an agreement for sustainable and deforestation-free palm oil production. The promise was secured by the U.S. based National Wildlife Federation (NWF) in collaboration with the local government, growers and the independent conservation organization Sociedad Peruana de Ecodesarrollo.
Pixabay
Leaked documents show that Jair Bolsonaro's government intends to use the Brazilian president's hate speech to isolate minorities living in the Amazon region. The PowerPoint slides, which democraciaAbierta has seen, also reveal plans to implement predatory projects that could have a devastating environmental impact.
XL CATLIN SEAVIEW SURVEY / THE OCEAN AGENCY
Hope may be on the horizon for the world's depleted coral reefs thanks to scientists who successfully reproduced endangered corals in a laboratory setting for the first time, according to Reuters.
Last week we received positive news on the border wall's imminent construction in an Arizona wildlife refuge. The Trump administration delayed construction of the wall through about 60 miles of federal wildlife preserves.
PhotoAlto / Frederic Cirou / Getty Images
Drinking water treated with fluoride during pregnancy may lead to lower IQs in children, a controversial new study has found.
National Institude of Allergy and Infectious Disease
A Greenpeace rally calls for a presidential campaign climate debate on June 12 in Washington, DC. Sarah Silbiger / Getty Images