This website uses cookies to ensure you get the best experience while browsing it. By clicking 'Got It' you're accepting these terms.
Group Challenges Approval of Shell's Oil Spill Response Plan in Arctic
Jul. 10, 2012 07:37AM EST
Energy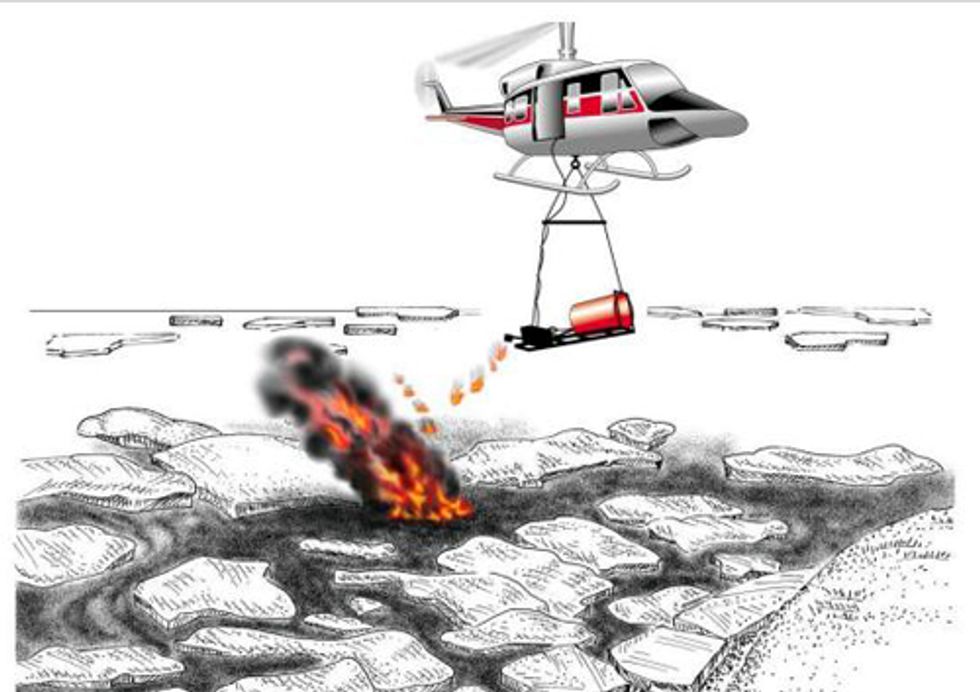 A coalition of conservation organizations will file a lawsuit in Alaska federal court today challenging the federal government's approval of Shell Oil Company's Chukchi and Beaufort Sea oil spill response plans.
The plans, approved by the Bureau of Safety and Environmental Enforcement (BSEE), describe how the company says it will prepare for and respond to a major oil spill caused by exploration drilling in America's Arctic Ocean. Shell's drill rigs are headed for the Arctic right now and could be in place in a matter of weeks. A decision in this lawsuit would be the first in a challenge to offshore oil spill response plans in the U.S.
The following is a statement from the coalition of organizations, including Alaska Wilderness League, Center for Biological Diversity, Greenpeace, National Audubon Society, Natural Resources Defense Council, Ocean Conservancy, Oceana, Pacific Environment and Sierra Club. They are represented by Earthjustice:

"We have been forced to court to make sure the Arctic Ocean is protected and Shell is prepared, as mandated by law. BSEE rubber-stamped plans that rely on unbelievable assumptions, include equipment that has never been tested in Arctic conditions, and ignore the very real possibility that a spill could continue through the winter. The agency has not met minimum legal standards to be sure that Shell's plans could be effective and that Shell has sufficient boats, resources and spill responders to remove a 'worst-case' oil spill in the Arctic Ocean to the 'maximum extent practicable.' Even after Deepwater Horizon, Interior Secretary Salazar brushed aside concerns about Shell's spill response capabilities, stating recently that 'there is not going to be an oil spill.'
"The American people deserve more. There have been no tests of spill response equipment in U.S. Arctic waters since 2000 and those equipment tests were 'a failure.' Today, Shell relies on much of that same equipment, and bases its plans on the assumption that it will clean up more than 90 percent of any spilled oil. Even in relatively favorable conditions, less than 10 percent of spilled oil was recovered after the Deepwater Horizon and Exxon Valdez spills. In the Arctic, sea ice, harsh weather, high seas, darkness and wind may render even that level of cleanup impossible.
"When pushed to explain this assumption, Shell quickly back-pedaled and said that it will not 'recover,' but only 'encounter' spilled oil—despite the legal requirement to 'remove' spilled oil and the fact that the company has used the unrealistic 90 percent projection to justify its choice of vessels and other equipment to protect the shoreline. The company similarly appears to be back-tracking on commitments it made to the Coast Guard for vessel safety and preparedness.
"Similarly, BSEE violated the law when it approved spill response plans that do not describe all available spill response resources. For example, Shell has publicly touted its Arctic containment system, but the spill plans approved by BSEE not only do not include that system, but they also fail to explain why Shell expects the system to work in the Arctic Ocean. Nor has the agency ensured that the company is prepared for a late season spill that could continue unabated through the winter. There is a very real possibility that winter sea ice could close in and shut down spill response leaving a blowout uncontrolled for eight or more months.
"BSEE also signed off on the response plans without a basic understanding of the consequences of the spill response choices Shell made. For example, the agency never considered the effects of Shell's proposal to apply chemical dispersants in the Arctic Ocean, including threats to fish, birds and marine mammals, among them the endangered bowhead whale.
"As this lawsuit moves forward, we will continue to seek opportunities to work with local Arctic communities, governmental entities, industry and others toward a shared vision for the Arctic, and we will not be distracted or intimidated by aggressive or litigious actions taken by companies like Shell. Nor will we allow them to take shortcuts around established review processes and standards. We cannot allow the future of the Arctic Ocean to be risked on the hope that nothing will go wrong."
Once filed, a copy of the complaint will be available by clicking here.
Visit EcoWatch's WATER and BIODIVERSITY pages for more related news on these topics.
EcoWatch Daily Newsletter
A new report spotlights a U.N. estimate that at least 275 million people rely on healthy coral reefs. A sea turtle near the Heron Island in the Great Barrier Reef is seen above. THE OCEAN AGENCY / XL CATLIN SEAVIEW SURVEY
In a new report about how the world's coral reefs face "the combined threats of climate change, pollution, and overfishing" — endangering the future of marine biodiversity — a London-based nonprofit calls for greater global efforts to end the climate crisis and ensure the survival of these vital underwater ecosystems.
Half of the extracted resources used were sand, clay, gravel and cement, seen above, for building, along with the other minerals that produce fertilizer. Cavan Images / Cavan / Getty Images
The world is using up more and more resources and global recycling is falling. That's the grim takeaway from a new report by the Circle Economy think tank, which found that the world used up more than 110 billion tons, or 100.6 billion metric tons, of natural resources, as Agence France-Presse (AFP) reported.
By Gero Rueter
Heating with coal, oil and natural gas accounts for around a quarter of global greenhouse gas emissions. But that's something we can change, says Wolfgang Feist, founder of the Passive House Institute in the western German city of Darmstadt.

By George Citroner
Recent research finds that official government figures may be underestimating drug deaths by half.
Researchers estimate that 142,000 people died due to drug use in 2016.
Drug use decreases life expectancy after age 15 by 1.4 years for men and by just under 1 year for women, on average.
Government records may be severely underreporting how many Americans die from drug use, according to a new study by researchers from the University of Pennsylvania and Georgetown University.
Water coolers in front of shut-off water fountains at Center School in Stow, MA on Sept. 4, 2019 after elevated levels of PFAS were found in the water. David L. Ryan / The Boston Globe via Getty Images
In a new nationwide assessment of drinking water systems, the Environmental Working Group found that toxic fluorinated chemicals known as PFAS are far more prevalent than previously thought.