This website uses cookies to ensure you get the best experience while browsing it. By clicking 'Got It' you're accepting these terms.
Group Calls on EPA for Clean-up of North Dakota Haze
Nov. 22, 2011 03:11PM EST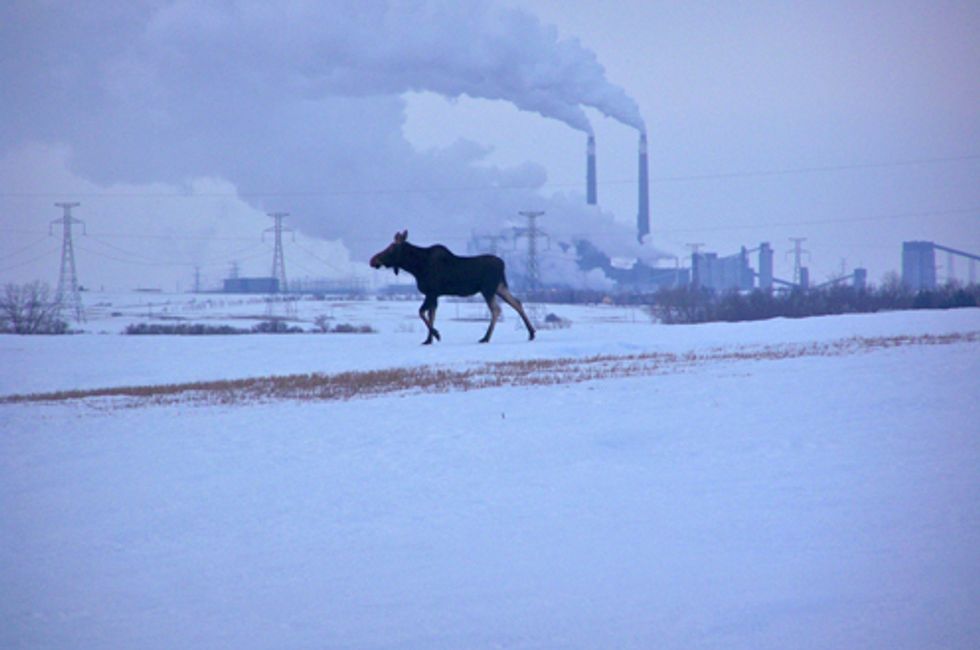 In comments submitted late Nov. 21, WildEarth Guardians charged that a clean air plan for North Dakota takes a solid step forward, but must be strengthened to fully protect public health and the environment from dirty energy.
"Clean air is slated to take a big step forward in North Dakota, but we need to complete the stride and ensure EPA upholds the Clean Air Act," said Jeremy Nichols, WildEarth Guardians' Climate and Energy Program director. "With air pollution from the state's coal-fired power plants taking a tremendous toll on public health and the environment, we need to ensure these facilities are cleaned up in accordance with our health laws."
The comments applauded the U.S. Environmental Protection Agency's (EPA) long-overdue proposal to confront haze pollution in North Dakota, but pointed out that the agency's clean air plan failed to comply with key Clean Air Act requirements, ultimately allowing more air pollution from the state's oldest and dirtiest coal-fired power plants than is legally allowed.
In particular, the EPA's plan would allow more than 1,600 tons of additional haze forming nitrogen oxide emissions than would otherwise be allowed under the Clean Air Act, as much as is released by 84,000 passenger vehicles (according to the EPA, a passenger vehicle emits 38.2 pounds of nitrogen oxides annually).
WildEarth Guardians also pointed out that the plan fails to ensure compliance with particulate matter emission limits and fails to ensure that pollution controls are installed as expeditiously as practicable.
"All we're asking is that the EPA ensure this plan ensures North Dakota's oldest and dirtiest coal-fired power plants take full responsibility for keeping their air pollution in check," said Nichols. "With cleaner energy at our fingertips, this is not too much to ask."
Last September, the EPA proposed to partially approve and partially disapprove a plan originally submitted by North Dakota to address haze pollution. A keystone of the proposed plan is that it would require the state's oldest and dirtiest coal-fired power plant to retrofit with up-to-date air pollution controls. The plan would adopt state proposed emission controls for the Stanton, Heskett and Coyote power plants, and would adopt federal emission standards for Coal Creek, Leland Olds, Milton Young and Antelope Valley.
A report by the Clean Air Task Force found that air pollution from these coal-fired plants puts 207 people at risk of premature death, 321 at risk of heart attacks, and 3,500 at risk of asthma attacks, all at a cost of more than $1 billion.
| | | | | |
| --- | --- | --- | --- | --- |
| Coal-fired Power Plant | Number of Deaths | Heart Attacks | Asthma Attacks | Total Health Costs |
| Antelope Valley | 52 | 80 | 870 | $394 million |
| Coal Creek | 51 | 79 | 860 | $384 million |
| Coyote | 16 | 25 | 280 | $124 million |
| Heskett | 8 | 13 | 140 | $61 million |
| Leland Olds | 26 | 40 | 440 | $197 million |
| Milton Young | 37 | 58 | 630 | $280 million |
| Stanton | 17 | 26 | 280 | $124 million |
| TOTALS | 207 | 321 | 3,500 | $1.564 billion |
A map of these coal-fired power plants with information regarding their health and environmental impacts can be viewed here.
The EPA's plan targets three main pollutants—sulfur dioxide, nitrogen dioxides and particulate matter. Under the proposal, which would largely approve a plan submitted by North Dakota, sulfur dioxide emissions could decrease by more than 98,000 tons/year and nitrogen oxide emissions by more than 40,000 tons/year.
The plan would markedly improve visibility in treasured landscapes, such as Theodore Roosevelt National Park.
In disapproving portions of North Dakota's plan, the EPA found that the state failed to accurately assess the costs of air pollution controls and failed to comply with other provisions of the Clean Air Act. Under the Clean Air Act, states normally develop clean air plans. However, where such plans are inconsistent with the law, the EPA is legally obligated to develop a federal plan.
Although the State of North Dakota has opposed the EPA's clean air plan, arguing that it infringes upon the state's rights, a federal judge recently held that North Dakota's arguments were without merit and upheld EPA's authority to promulgate a federal plan under the Clean Air Act.
The EPA's clean air proposal came in response to a lawsuit filed by WildEarth Guardians over the agency's failure to meet deadlines related to regional haze plans and interstate transport of air pollution. Under the terms of a 2009 settlement agreement, which was later modified, the EPA agreed to issue a final clean air plan by mid-February of 2012.
For more information, click here.
EcoWatch Daily Newsletter
A sign marks the ground covering TransCanada's Keystone I pipeline outside of Steele City, Nebraska on April 21, 2012. Lucas Oleniuk / Toronto Star via Getty Images

The company behind the controversial and long-delayed Keystone XL pipeline announced it would proceed with the project Tuesday, despite concerns about the climate impacts of the pipeline and the dangers of transporting construction crews during a pandemic.
Penguins are seen near the Great Wall station in Antarctica, Feb. 9, days after the continent measured its hottest temperature on record at nearly 65 degrees Fahrenheit. Xinhua / Liu Shiping / Getty Images
By Richard Connor
Scientists have recorded Antarctica's first documented heat wave, warning that animal and plant life on the isolated continent could be drastically affected by climate change.
The Athos I tanker was carrying crude oil from Venezuela when a collision caused oil to begin gushing into the Delaware River.
U.S. Department of the Interior
A case that has bounced around the lower courts for 13 years was finally settled yesterday when the U.S. Supreme Court upheld a lower court decision, finding oil giant Citgo liable for a clean up of a 2004 oil spill in the Delaware River, according to Reuters.
The buildings of downtown Los Angeles are partially obscured in the late afternoon on Nov. 5, 2019, as seen from Pasadena, California, a day when air quality for Los Angeles was predicted to be "unhealthy for sensitive groups." Mario Tama / Getty Images
The evidence continues to build that breathing dirty air is bad for your brain.
Wave power in Portugal. The oceans' energy potential is immense. Luis Ascenso, via Wikimedia Commons
By Paul Brown
The amount of energy generated by tides and waves in the last decade has increased tenfold. Now governments around the world are planning to scale up these ventures to tap into the oceans' vast store of blue energy.