This website uses cookies to ensure you get the best experience while browsing it. By clicking 'Got It' you're accepting these terms.
Group Calls on EPA for Clean-up of North Dakota Haze
Nov. 22, 2011 03:11PM EST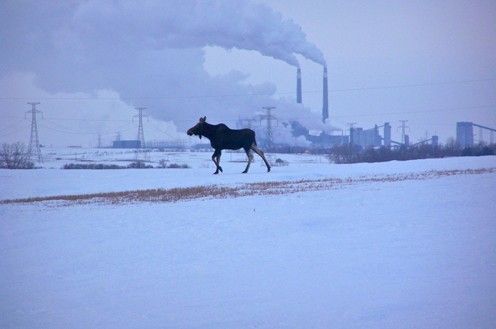 In comments submitted late Nov. 21, WildEarth Guardians charged that a clean air plan for North Dakota takes a solid step forward, but must be strengthened to fully protect public health and the environment from dirty energy.
"Clean air is slated to take a big step forward in North Dakota, but we need to complete the stride and ensure EPA upholds the Clean Air Act," said Jeremy Nichols, WildEarth Guardians' Climate and Energy Program director. "With air pollution from the state's coal-fired power plants taking a tremendous toll on public health and the environment, we need to ensure these facilities are cleaned up in accordance with our health laws."
The comments applauded the U.S. Environmental Protection Agency's (EPA) long-overdue proposal to confront haze pollution in North Dakota, but pointed out that the agency's clean air plan failed to comply with key Clean Air Act requirements, ultimately allowing more air pollution from the state's oldest and dirtiest coal-fired power plants than is legally allowed.
In particular, the EPA's plan would allow more than 1,600 tons of additional haze forming nitrogen oxide emissions than would otherwise be allowed under the Clean Air Act, as much as is released by 84,000 passenger vehicles (according to the EPA, a passenger vehicle emits 38.2 pounds of nitrogen oxides annually).
WildEarth Guardians also pointed out that the plan fails to ensure compliance with particulate matter emission limits and fails to ensure that pollution controls are installed as expeditiously as practicable.
"All we're asking is that the EPA ensure this plan ensures North Dakota's oldest and dirtiest coal-fired power plants take full responsibility for keeping their air pollution in check," said Nichols. "With cleaner energy at our fingertips, this is not too much to ask."
Last September, the EPA proposed to partially approve and partially disapprove a plan originally submitted by North Dakota to address haze pollution. A keystone of the proposed plan is that it would require the state's oldest and dirtiest coal-fired power plant to retrofit with up-to-date air pollution controls. The plan would adopt state proposed emission controls for the Stanton, Heskett and Coyote power plants, and would adopt federal emission standards for Coal Creek, Leland Olds, Milton Young and Antelope Valley.
A report by the Clean Air Task Force found that air pollution from these coal-fired plants puts 207 people at risk of premature death, 321 at risk of heart attacks, and 3,500 at risk of asthma attacks, all at a cost of more than $1 billion.
| | | | | |
| --- | --- | --- | --- | --- |
| Coal-fired Power Plant | Number of Deaths | Heart Attacks | Asthma Attacks | Total Health Costs |
| Antelope Valley | 52 | 80 | 870 | $394 million |
| Coal Creek | 51 | 79 | 860 | $384 million |
| Coyote | 16 | 25 | 280 | $124 million |
| Heskett | 8 | 13 | 140 | $61 million |
| Leland Olds | 26 | 40 | 440 | $197 million |
| Milton Young | 37 | 58 | 630 | $280 million |
| Stanton | 17 | 26 | 280 | $124 million |
| TOTALS | 207 | 321 | 3,500 | $1.564 billion |
A map of these coal-fired power plants with information regarding their health and environmental impacts can be viewed here.
The EPA's plan targets three main pollutants—sulfur dioxide, nitrogen dioxides and particulate matter. Under the proposal, which would largely approve a plan submitted by North Dakota, sulfur dioxide emissions could decrease by more than 98,000 tons/year and nitrogen oxide emissions by more than 40,000 tons/year.
The plan would markedly improve visibility in treasured landscapes, such as Theodore Roosevelt National Park.
In disapproving portions of North Dakota's plan, the EPA found that the state failed to accurately assess the costs of air pollution controls and failed to comply with other provisions of the Clean Air Act. Under the Clean Air Act, states normally develop clean air plans. However, where such plans are inconsistent with the law, the EPA is legally obligated to develop a federal plan.
Although the State of North Dakota has opposed the EPA's clean air plan, arguing that it infringes upon the state's rights, a federal judge recently held that North Dakota's arguments were without merit and upheld EPA's authority to promulgate a federal plan under the Clean Air Act.
The EPA's clean air proposal came in response to a lawsuit filed by WildEarth Guardians over the agency's failure to meet deadlines related to regional haze plans and interstate transport of air pollution. Under the terms of a 2009 settlement agreement, which was later modified, the EPA agreed to issue a final clean air plan by mid-February of 2012.
For more information, click here.
EcoWatch Daily Newsletter
Artist's conception of solar islands in the open ocean. PNAS
Millions of solar panels clustered together to form an island could convert carbon dioxide in seawater into methanol, which can fuel airplanes and trucks, according to new research from Norway and Switzerland and published in the Proceedings of the National Academy of Sciences journal, PNAS, as NBC News reported. The floating islands could drastically reduce greenhouse gas emissions and dependence on fossil fuels.
Marcos Alves / Moment Open / Getty Images
More than 40 percent of insects could go extinct globally in the next few decades. So why did the U.S. Environmental Protection Agency (EPA) last week OK the 'emergency' use of the bee-killing pesticide sulfoxaflor on 13.9 million acres?
EcoWatch teamed up with Center for Biological Diversity via EcoWatch Live on Facebook to find out why. Environmental Health Director and Senior Attorney Lori Ann Burd explained how there is a loophole in the The Federal Insecticide, Fungicide, and Rodenticide Act under section 18, "that allows for entities and states to request emergency exemptions to spraying pesticides where they otherwise wouldn't be allowed to spray."
Simple swaps that cut down on kitchen trash.
Sponsored
By Kayla Robbins
Along with the bathroom, the kitchen is one of the most daunting areas to try and make zero waste.
View of downtown Miami, Florida from Hobie Island on Feb. 2, 2019.
Michael Muraz / Flickr
The Democratic candidates for president descended upon Miami for a two-night debate on Wednesday and Thursday. Any candidate hoping to carry the state will have to make the climate crisis central to their campaign, as The New York Times reported.
By Sharon Kelly
On Monday, the Wall Street Journal featured a profile of Scott Sheffield, CEO of Pioneer Natural Resources, whose company is known among investors for its emphasis on drawing oil and gas from the Permian basin in Texas using horizontal drilling and hydraulic fracturing, or fracking.
Pexels
By Craig K. Chandler
The federal government has available to it, should it choose to use them, a wide range of potential climate change management tools, going well beyond the traditional pollution control regulatory options. And, in some cases (not all), without new legislative authorization.
Denis Poroy / Getty Images
By Dan Gray
Processed foods, in their many delicious forms, are an American favorite.
But new research shows that despite increasing evidence on just how unhealthy processed foods are, Americans have continued to eat the products at the same rate.
By Sarah Steffen
With a profound understanding of their environmental surroundings, indigenous communities around the world are often cited as being pivotal to tackling climate change.