This website uses cookies to ensure you get the best experience while browsing it. By clicking 'Got It' you're accepting these terms.
Group Calls for Fracking Ban in Europe
Sep. 10, 2012 09:51AM EST
Energy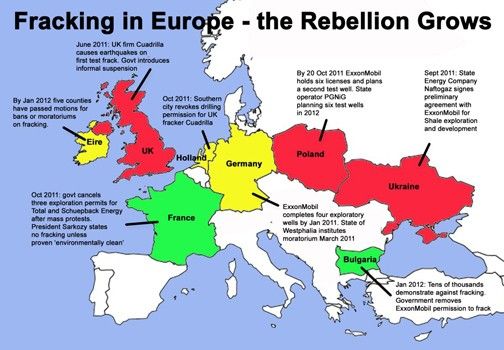 Commission studies, released last Friday, find the risks associated with large-scale shale gas development and fracking to be high and in some cases very high. The studies draw special attention to the cumulative environmental impacts of multiple shale gas wells. Eight key pieces of the European Union (EU) environmental acquis are identified as being ill-equipped to deal with the water, waste, liability, air quality and other issues of large-scale use of hydraulic fracturing.
The findings in these studies roundly debunk European Energy Commissioner Günther Oettinger's view that current EU law adequately deals with the risks of fracking. Given the manifold risks identified in this report, Food & Water Europe calls on the Environment Commissioner Potočnik to ban fracking or—at the very least—address these shortcomings by adapting the EU's environmental regulatory framework to the ugly reality of large-scale shale gas extraction.
"These studies reviewed a lot of the evidence about the negative environmental impacts of large-scale shale gas extraction and acknowledge the water, air and land-related risks associated with shale gas to be high," said Wenonah Hauter. "We particularly welcome the studies' focus on the cumulative environmental impacts of hundreds of wells in Europe's shale plays."
This focus is particularly valued, as the draft report about the environmental impacts of shale gas, drafted by MEP Boguslaw Sonik, does not even mention this key fact: Shale gas development requires a lot of wells to be drilled. For example, a mature shale play like the Barnett shale in Texas has 15,000 wells. In other words, unconventional gas is profoundly different from previous European experiences with onshore, conventional gas exploitation.
 
In sharp contrast to Commissioner Oettinger's earlier claim that existing European environmental regulation for shale gas activities would be adequate, the report clearly identifies gaps in eight cornerstones of the EU's environmental acquis, such as the Environmental Impact Assessment Directive, Water Framework Directive, Environmental Liability Directive, Industrial Emissions Directive, Mining Waste Directive, etc. For example, the DG Environment study (pp. 108-109) finds that the Groundwater Directive, particularly Article 6 requiring Member States to develop measures to prevent or limit inputs of pollutants into groundwater, "could in principle involve the prevention of hydraulic fracturing operations, should the latter involve the injection underground of pollutants". Given this obligation, Member States open themselves to major liabilities in case of environmental damage linked to less than adequate regulation of this risky industry.
 
Major gaps were also identified in the Environmental Impact Assessment Directive. "The upcoming review of the Environmental Impact Assessment Directive during the fall of 2012 must include fracking in its list of activities, which require a mandatory impact assessment," said Hauter. Impact assessments are crucial, as they help to establish sound baseline data about e.g. groundwater and air quality, identify seismic risks and help secure a meaningful involvement of local communities before drilling commences.
 
To avoid a situation, as occurred in the U.S., where policy-makers are engaged in a regulatory catch-up exercise with the shale gas industry, European Environment Commissioner Janez Potočnik must now start leading the EU's effort to—in the absence of unanimous support among EU Member States for a ban on fracking—demand the highest environmental standards of fracking operations to avoid that EU Member States treat environmental and human health impacts differently.
Visit EcoWatch's FRACKING page for more related news on this topic.
--------
Food & Water Europe works to ensure the food, water and fish we consume is safe, accessible and sustainable. So we can all enjoy and trust in what we eat and drink, we help people take charge of where their food comes from, keep clean, affordable, public tap water flowing freely to our homes, protect the environmental quality of oceans, force government to do its job protecting citizens, and educate about the importance of keeping shared resources under public control.
EcoWatch Daily Newsletter
Large food companies are following in the footsteps of fast-food restaurants such as Burger King and KFC by offering meat alternatives. Getty Images
By Elizabeth Pratt
Hormel, Kellogg's, and Kroger are among the large companies now planning to offer "fake meat" products at grocery stores.
Experts say the trend toward plant-based meats coincides with consumers' desires to eat less meat.
However, experts urge consumers to closely check package labels as a product isn't necessarily healthy just because it's described as plant-based.
In grocery stores and fast-food outlets around the U.S., a revolution is taking place.
Colombia rainforest. Marcel Oosterwijk / CC BY-SA 2.0
Many of us think of the Amazon as an untouched wilderness, but people have been thriving in these diverse environments for millennia. Due to this long history, the knowledge that Indigenous and forest communities pass between generations about plants, animals and forest ecology is incredibly rich and detailed and easily dwarfs that of any expert.
picture-alliance / Newscom / R. Ben Ari
By Wesley Rahn
Plastic byproducts were found in 97 percent of blood and urine samples from 2,500 children tested between 2014 and 2017, according to a study by the German Environment Ministry and the Robert Koch Institute.

Pexels
Medically reviewed by Daniel Bubnis, MS, NASM-CPT, NASE Level II-CSS
Hot yoga has become a popular exercise in recent years. It offers many of the same benefits as traditional yoga, such as stress reduction, improved strength, and flexibility.
Lara Hata / iStock / Getty Images
By SaVanna Shoemaker, MS, RDN, LD
Rice is a staple in many people's diets. It's filling, inexpensive, and a great mild-tasting addition to flavorful dishes.
An image of the trans-alaskan oil pipeline that carries oil from the northern part of Alaska all the way to valdez. This shot is right near the arctic national wildlife refuge. kyletperry / iStock / Getty Images Plus
The Trump administration has initialized the final steps to open up nearly 1.6 million acres of the protected Alaskan National Wildlife Refuge to allow oil and gas drilling.