This website uses cookies to ensure you get the best experience while browsing it. By clicking 'Got It' you're accepting these terms.
Group Calls for Fracking Ban in Europe
Sep. 10, 2012 09:51AM EST
Energy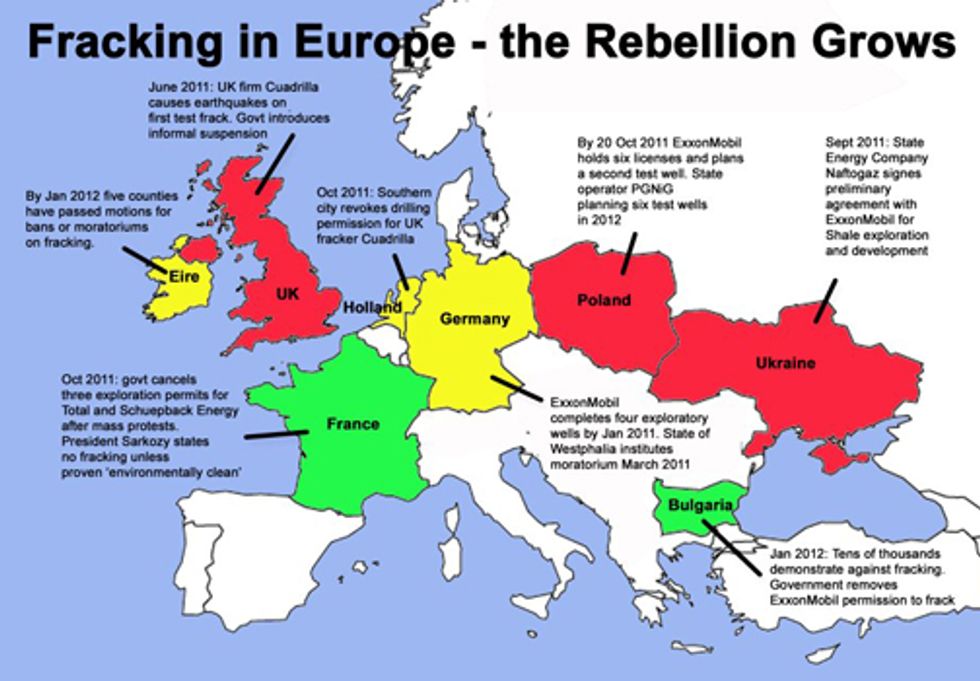 Commission studies, released last Friday, find the risks associated with large-scale shale gas development and fracking to be high and in some cases very high. The studies draw special attention to the cumulative environmental impacts of multiple shale gas wells. Eight key pieces of the European Union (EU) environmental acquis are identified as being ill-equipped to deal with the water, waste, liability, air quality and other issues of large-scale use of hydraulic fracturing.
The findings in these studies roundly debunk European Energy Commissioner Günther Oettinger's view that current EU law adequately deals with the risks of fracking. Given the manifold risks identified in this report, Food & Water Europe calls on the Environment Commissioner Potočnik to ban fracking or—at the very least—address these shortcomings by adapting the EU's environmental regulatory framework to the ugly reality of large-scale shale gas extraction.
"These studies reviewed a lot of the evidence about the negative environmental impacts of large-scale shale gas extraction and acknowledge the water, air and land-related risks associated with shale gas to be high," said Wenonah Hauter. "We particularly welcome the studies' focus on the cumulative environmental impacts of hundreds of wells in Europe's shale plays."
This focus is particularly valued, as the draft report about the environmental impacts of shale gas, drafted by MEP Boguslaw Sonik, does not even mention this key fact: Shale gas development requires a lot of wells to be drilled. For example, a mature shale play like the Barnett shale in Texas has 15,000 wells. In other words, unconventional gas is profoundly different from previous European experiences with onshore, conventional gas exploitation.
 
In sharp contrast to Commissioner Oettinger's earlier claim that existing European environmental regulation for shale gas activities would be adequate, the report clearly identifies gaps in eight cornerstones of the EU's environmental acquis, such as the Environmental Impact Assessment Directive, Water Framework Directive, Environmental Liability Directive, Industrial Emissions Directive, Mining Waste Directive, etc. For example, the DG Environment study (pp. 108-109) finds that the Groundwater Directive, particularly Article 6 requiring Member States to develop measures to prevent or limit inputs of pollutants into groundwater, "could in principle involve the prevention of hydraulic fracturing operations, should the latter involve the injection underground of pollutants". Given this obligation, Member States open themselves to major liabilities in case of environmental damage linked to less than adequate regulation of this risky industry.
 
Major gaps were also identified in the Environmental Impact Assessment Directive. "The upcoming review of the Environmental Impact Assessment Directive during the fall of 2012 must include fracking in its list of activities, which require a mandatory impact assessment," said Hauter. Impact assessments are crucial, as they help to establish sound baseline data about e.g. groundwater and air quality, identify seismic risks and help secure a meaningful involvement of local communities before drilling commences.
 
To avoid a situation, as occurred in the U.S., where policy-makers are engaged in a regulatory catch-up exercise with the shale gas industry, European Environment Commissioner Janez Potočnik must now start leading the EU's effort to—in the absence of unanimous support among EU Member States for a ban on fracking—demand the highest environmental standards of fracking operations to avoid that EU Member States treat environmental and human health impacts differently.
Visit EcoWatch's FRACKING page for more related news on this topic.
--------
Food & Water Europe works to ensure the food, water and fish we consume is safe, accessible and sustainable. So we can all enjoy and trust in what we eat and drink, we help people take charge of where their food comes from, keep clean, affordable, public tap water flowing freely to our homes, protect the environmental quality of oceans, force government to do its job protecting citizens, and educate about the importance of keeping shared resources under public control.
EcoWatch Daily Newsletter
A new study shows that half of all Arctic warming and corresponding sea-loss during the late 20th century was caused by ozone-depleting substances. Here, icebergs discharged from Greenland's Jakobshavn Glacier. Kevin Krajick / Earth Institute /
EurekAlert!
The world awakened to the hole in the ozone layer in 1985, which scientists attributed it to ozone depleting substances. Two years later, in Montreal, the world agreed to ban the halogen compounds causing the massive hole over Antarctica. Research now shows that those chemicals didn't just cut a hole in the ozone layer, they also warmed up the Arctic.
Diane Wilson holds up a bag full of nurdles she collected from one of Formosa's outfall areas on Jan. 15. Julie Dermansky / DeSmogBlog
On the afternoon of Jan. 15, activist Diane Wilson kicked off a San Antonio Estuary Waterkeeper meeting on the side of the road across from a Formosa plastics manufacturing plant in Point Comfort, Texas.
After Wilson and the waterkeeper successfully sued Formosa in 2017, the company agreed to no longer release even one of the tiny plastic pellets known as nurdles into the region's waterways. The group of volunteers had assembled that day to check whether the plant was still discharging these raw materials of plastics manufacturing.
Malaysian Environment Minister Yeo Bee Yin (front 2nd L) and officials inspect a container containing plastic waste shipment on Jan. 20, 2020 before sending back to the countries of origin. AFP via Getty Images
The Southeast Asian country Malaysia has sent 150 shipping containers packed with plastic waste back to 13 wealthy countries, putting the world on notice that it will not be the world's garbage dump, as CNN reported. The countries receiving their trash back include the United States, the United Kingdom, France and Canada.
Trump leaves after delivering a speech at the Congress Centre during the World Economic Forum annual meeting in Davos on Jan. 21, 2020. JIM WATSON / AFP via Getty Images