This website uses cookies to ensure you get the best experience while browsing it. By clicking 'Got It' you're accepting these terms.
Group Calls for Fracking Ban in Europe
Sep. 10, 2012 09:51AM EST
Energy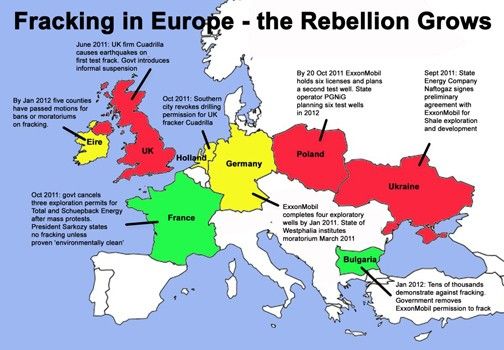 Commission studies, released last Friday, find the risks associated with large-scale shale gas development and fracking to be high and in some cases very high. The studies draw special attention to the cumulative environmental impacts of multiple shale gas wells. Eight key pieces of the European Union (EU) environmental acquis are identified as being ill-equipped to deal with the water, waste, liability, air quality and other issues of large-scale use of hydraulic fracturing.
The findings in these studies roundly debunk European Energy Commissioner Günther Oettinger's view that current EU law adequately deals with the risks of fracking. Given the manifold risks identified in this report, Food & Water Europe calls on the Environment Commissioner Potočnik to ban fracking or—at the very least—address these shortcomings by adapting the EU's environmental regulatory framework to the ugly reality of large-scale shale gas extraction.
"These studies reviewed a lot of the evidence about the negative environmental impacts of large-scale shale gas extraction and acknowledge the water, air and land-related risks associated with shale gas to be high," said Wenonah Hauter. "We particularly welcome the studies' focus on the cumulative environmental impacts of hundreds of wells in Europe's shale plays."
This focus is particularly valued, as the draft report about the environmental impacts of shale gas, drafted by MEP Boguslaw Sonik, does not even mention this key fact: Shale gas development requires a lot of wells to be drilled. For example, a mature shale play like the Barnett shale in Texas has 15,000 wells. In other words, unconventional gas is profoundly different from previous European experiences with onshore, conventional gas exploitation.
 
In sharp contrast to Commissioner Oettinger's earlier claim that existing European environmental regulation for shale gas activities would be adequate, the report clearly identifies gaps in eight cornerstones of the EU's environmental acquis, such as the Environmental Impact Assessment Directive, Water Framework Directive, Environmental Liability Directive, Industrial Emissions Directive, Mining Waste Directive, etc. For example, the DG Environment study (pp. 108-109) finds that the Groundwater Directive, particularly Article 6 requiring Member States to develop measures to prevent or limit inputs of pollutants into groundwater, "could in principle involve the prevention of hydraulic fracturing operations, should the latter involve the injection underground of pollutants". Given this obligation, Member States open themselves to major liabilities in case of environmental damage linked to less than adequate regulation of this risky industry.
 
Major gaps were also identified in the Environmental Impact Assessment Directive. "The upcoming review of the Environmental Impact Assessment Directive during the fall of 2012 must include fracking in its list of activities, which require a mandatory impact assessment," said Hauter. Impact assessments are crucial, as they help to establish sound baseline data about e.g. groundwater and air quality, identify seismic risks and help secure a meaningful involvement of local communities before drilling commences.
 
To avoid a situation, as occurred in the U.S., where policy-makers are engaged in a regulatory catch-up exercise with the shale gas industry, European Environment Commissioner Janez Potočnik must now start leading the EU's effort to—in the absence of unanimous support among EU Member States for a ban on fracking—demand the highest environmental standards of fracking operations to avoid that EU Member States treat environmental and human health impacts differently.
Visit EcoWatch's FRACKING page for more related news on this topic.
--------
Food & Water Europe works to ensure the food, water and fish we consume is safe, accessible and sustainable. So we can all enjoy and trust in what we eat and drink, we help people take charge of where their food comes from, keep clean, affordable, public tap water flowing freely to our homes, protect the environmental quality of oceans, force government to do its job protecting citizens, and educate about the importance of keeping shared resources under public control.
EcoWatch Daily Newsletter
Artist's conception of solar islands in the open ocean. PNAS
Millions of solar panels clustered together to form an island could convert carbon dioxide in seawater into methanol, which can fuel airplanes and trucks, according to new research from Norway and Switzerland and published in the Proceedings of the National Academy of Sciences journal, PNAS, as NBC News reported. The floating islands could drastically reduce greenhouse gas emissions and dependence on fossil fuels.
Marcos Alves / Moment Open / Getty Images
More than 40 percent of insects could go extinct globally in the next few decades. So why did the U.S. Environmental Protection Agency (EPA) last week ok the 'emergency' use of the bee-killing pesticide sulfoxaflor on 13.9 million acres?
EcoWatch teamed up with Center for Biological Diversity via EcoWatch Live on Facebook to find out why. Environmental Health Director and Senior Attorney Lori Ann Burd explained how there is a loophole in the The Federal Insecticide, Fungicide, and Rodenticide Act under section 18, "that allows for entities and states to request emergency exemptions to spraying pesticides where they otherwise wouldn't be allowed to spray."
Simple swaps that cut down on kitchen trash.
Sponsored
By Kayla Robbins
Along with the bathroom, the kitchen is one of the most daunting areas to try and make zero waste.
View of downtown Miami, Florida from Hobie Island on Feb. 2, 2019.
Michael Muraz / Flickr
The Democratic candidates for president descended upon Miami for a two-night debate on Wednesday and Thursday. Any candidate hoping to carry the state will have to make the climate crisis central to their campaign, as The New York Times reported.
By Sharon Kelly
On Monday, the Wall Street Journal featured a profile of Scott Sheffield, CEO of Pioneer Natural Resources, whose company is known among investors for its emphasis on drawing oil and gas from the Permian basin in Texas using horizontal drilling and hydraulic fracturing, or fracking.
Pexels
By Craig K. Chandler
The federal government has available to it, should it choose to use them, a wide range of potential climate change management tools, going well beyond the traditional pollution control regulatory options. And, in some cases (not all), without new legislative authorization.
Denis Poroy / Getty Images
By Dan Gray
Processed foods, in their many delicious forms, are an American favorite.
But new research shows that despite increasing evidence on just how unhealthy processed foods are, Americans have continued to eat the products at the same rate.
By Sarah Steffen
With a profound understanding of their environmental surroundings, indigenous communities around the world are often cited as being pivotal to tackling climate change.