Groundbreaking UN Report Warns Climate Change a Threat to Global Security and Mankind
While climate change reports are far from a new phenomenon, an international study released Monday morning should be enough to give any human being reason to act and/or demand action from legislators and the energy industry around them.
For the first time, a United Nations panel has concluded that the list of widely known climate change impacts—including extreme weather and warming—could soon grow to include increased strains on water and food supplies, leading to civil resource wars, migration and international conflict.
That's on top of assertions that the effects of climate change are already seen on every continent and oceans on the planet, and that we're "ill-prepared" for them.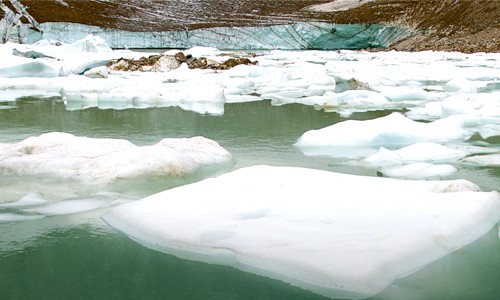 "We live in an era of man-made climate change," said Vicente Barros, co-chair of the Intergovernmental Panel on Climate Change's (IPCC) Working Group II, which compiled the report. "In many cases, we are not prepared for the climate-related risks that we already face. Investments in better preparation can pay dividends both for the present and for the future."
By all accounts, the report, Climate Change 2014: Impacts, Adaptation and Vulnerability is the most comprehensive report on climate change released on a global scale. A total of 309 authors and editors from 70 countries were selected to produce the report. Additionally, 436 contributors and nearly 1,800 experts and government reviewers provided input. The report's impending release led to a flurry of responses and interpretations over the weekend that all agree that fossil fuel divestment needs to end now.
"Oil rigs and coal power plants are weapons of mass destruction, loading the atmosphere with destructive carbon emissions that don't respect national borders," Jen Maman, peace adviser at Greenpeace International, said. "To protect our peace and security, we must disarm them and accelerate the transition to clean and safe renewable energy that's already started."
Chris Field, another IPCC co-chair, told The Guardian that the group that compiled the report realized it was high time to move beyond weather and energy related impacts when discussing the risks of a changing climate.
"If we want to take a smart approach to the future, we need to consider a full range of possible outcomes and that means not only the more likely outcomes, but also outcomes for truly catastrophic impacts, even if those are lower probability," Field said.
Michael Mann, a climate scientist, author, professor and director of Penn State University's Earth System Science Center, said the report shows that "increased competition for diminishing resources among a growing global population is unfortunately a perfect prescription for increased conflict." In the IPCC's view, it's most striking that these effects on our agriculture, health, livelihood and ecosystems are taking place "from the tropics to the poles, from small islands to large continents, and from the wealthiest countries to the poorest."
That means the potential for mass migrations and competition is just as widespread. Mann adds that it will have an extreme impact on biodiversity.
"The Great Barrier Reef, the largest coral reef in the world and a home to much ocean biodiversity, is being hit with a double whammy—increased coral bleaching because of hotter waters and the increased acidity of the ocean water as growing atmospheric carbon dioxide continues to penetrate into the upper ocean," Mann said. "In fact, scientists conclude that this combination of factors will kill off the Great Barrier Reef and nearly all the world's coral reefs in a matter of decades if we continue with the course that we're on."
Hoda Baraka of 350.org says keeping coal, oil and gas reserves in the ground is the best way to minimize that course.
To those who are concerned about the potential financial cost of adapting to the demands of climate change, Amalie Obsuan, a Greenpeace campaigner for Southeast Asia, suggests examining the true cost of warming.
"Let's not get distracted by limited economic models or be blinded by global [gross domestic product]," she said. "What value can you put on the lives of 8,000 people left dead or missing by typhoon Haiyan? Or what is the cost of the trauma of children being torn from their mother's arms due to storm surges?
"That is the true cost of climate change that should define the urgency of the action we take."
——–
YOU ALSO MIGHT LIKE
IPCC Report Another Wake Up Call for Immediate Climate Action
NASA: Earth Could Warm 20 Percent More Than Earlier Estimates
Scientists Say Climate Change Could Produce 'Irreversible' Effects on Earth
——–
www.facebook.com
Keep reading...
Show less
Scott Pruitt testifies during his Senate confirmation hearing for EPA administrator, January 2017.
The U.S. Environmental Protection Agency's (EPA) chief of staff pressured the leader of its Board of Scientific Counselors to change her congressional testimony to downplay the impact of the agency's mass dismissal of scientists from the board, the New York Times reports.
Keep reading...
Show less
By Jason Mark
Sequoiadendron giganteum. That's the scientific name for the giant sequoia: the mammoth trees found in California's Sierra Nevada that are the largest organisms on Earth, and among the longest-lived. Biologists estimate that about half of all sequoias live in Giant Sequoia National Monument, a 328,000-acre preserve in the Southern Sierra Nevada established by President Clinton in 2000.
Now that national monument is in jeopardy.
Keep reading...
Show less
By Andy Rowell
Donald Trump this week is launching an "energy week," pushing the argument that the U.S. will become a net exporter of oil and gas.
The president and his cronies are talking about a new era of "U.S. energy dominance," which could stretch for decades to come. However, no one believes the president anymore.
Keep reading...
Show less
UN
By Colleen Curry
The United Nations has designated 23 new sites around the world to its World Network of Biosphere reserves—stunning natural landscapes that balance environmental and human concerns and strive for sustainability.
The forests, beaches and waterways were added to the list this year at the International Coordinating Council of the Man and the Biosphere Programme meeting in Paris earlier this month.
Keep reading...
Show less
Jun. 26, 2017 01:48PM EST
www.elysee.fr
By Andy Rowell
There is a growing feeling within European capitals that a quiet, but deeply positive, revolution is happening under Emmanuel Macron in France.
Macron's opinion poll rating is high, especially boosted in how the young French president has reacted to Donald Trump on the international stage.
Keep reading...
Show less
Jun. 26, 2017 12:32PM EST
www.facebook.com
Keep reading...
Show less
Jun. 26, 2017 02:46PM EST
Keep reading...
Show less
Jun. 26, 2017 03:34PM EST
www.youtube.com
According to Bloomberg, "SeaWorld Entertainment Inc. received a subpoena earlier this month from regulators investigating disclosures and public statements by executives, including comments about the Blackfish documentary that caused a public backlash against the confinement of orcas.
Keep reading...
Show less


Get EcoWatch in your inbox