Fracking
02 September 2014
Groundbreaking Study Shows How Demand for Water Could Impact Fracking Worldwide
On World Water Day, the World Resources Institute (WRI) has released a study that maps for the first time the water resources available to support fracking in the world's largest shale exploration areas. The study, "Global Shale Gas Development: Water Availability and Business Risk," found that 40 percent of countries with the largest shale energy resources could suffer from water stress: competing demands on their renewable water supply that could make it problematic to use that water for fracking.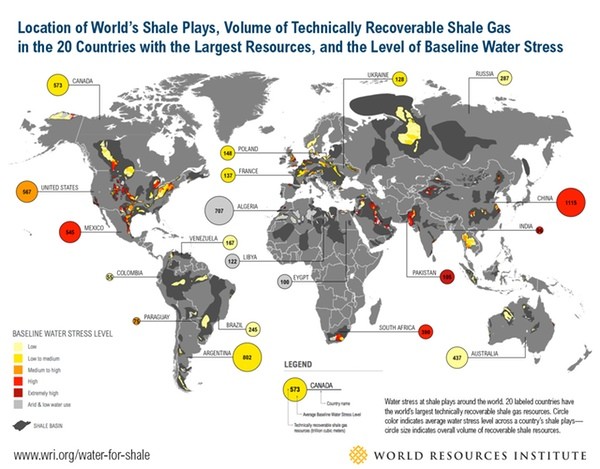 "Hydraulic fracturing requires up to 25 million liters of fresh water per well, meaning shale resources can be hard to develop where fresh water is hard to find—including in some of the world's fastest-growing economies and populations," said the report. "In general, shale energy production is vulnerable wherever surface or groundwater is limited."
It cites competing demands for water as an issue in densely populated countries like the United Kingdom, where more than a third of its shale resources face high water stress.
"As water demands increase, other water users like farms and homes around these plays face higher competition for water," reported WRI. "This could potentially spur water conflicts for the 386 million people who live on land above shale plays, particularly in regions where changes in precipitation and temperature could alter water supplies."
WRI found high water stress or arid conditions in China, Algeria, Mexico, South Africa, Libya, Pakistan, Egypt and India, while other countries such as Australia, Russia, Colombia, Brazil and Venezuela had low water stress.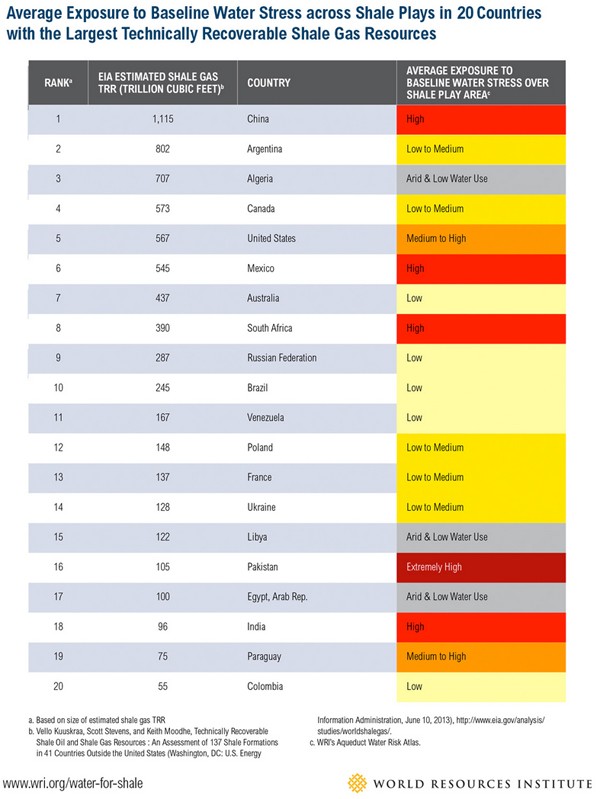 It also issued a series of recommendations for evaluating fresh water availability prior to developing potential shale energy resources and maintaining an adequate water supply for other uses. They include conducting water risk assessments; increasing transparency and engagement among citizens, businesses and regulations; ensuring adequate oversight of water supplies; and minimizing fresh water use in shale energy development.
"Water risk is one of the most important, but underappreciated challenges when it comes to shale gas development," said WRI CEO Andrew Steer. "With 386 million people living on land above shale plays, governments and business face critical choices about how to manage their energy and water needs. This analysis should serve as a wake-up call for countries seeking to develop shale gas. Energy development and responsible water management must go hand in hand."
YOU ALSO MIGHT LIKE
New Report Exposes Impacts of Fracking on Water
Congress to EPA: Investigate and Address Water Contamination From Fracking
Fracking Creates Water Scarcity Issues in Michigan
A coalition of conservation groups and others announced Thursday that a historic number of comments and petitions of support have been submitted to the U.S. Department of the Interior in support of Bears Ears National Monument. Despite the entirely inadequate 15-day comment period ending on May 26, more than 685,000 comments in support of Bears Ears National Monument have been collected.
Keep reading...
Show less
Rink Glacier in western Greenland, with a meltwater lake visible center. NASA/OIB
Scientists have had their eyes on Greenland as its iconic glaciers have begun disappearing due to a warming climate. But, what they didn't expect to see was a whole new type of melting.
Keep reading...
Show less
Mountain View Fire
By Lena Moffitt
An oil tanker in Mead, Colorado exploded, killing one and injuring three on Thursday. Authorities are continuing to investigate the cause of the explosion.
Keep reading...
Show less
Banner created by Alliance for Climate Education
Keep reading...
Show less
Twenty-two GOP senators sent a letter Thursday urging Donald Trump to pull out of the Paris agreement. They argued remaining in the deal could "upend" the administration's ability "to fulfill its goal of rescinding the Clean Power Plan."
Keep reading...
Show less
By Cheryl Johncox
The Federal Energy Regulatory Commission (FERC) rejected on Thursday Energy Transfer Partners' request to resume horizontal directional drilling at two sites for its Rover fracked gas pipeline. This rejection comes after numerous leaks into Ohio's wetlands, and Clean Air and Clean Water act violations. FERC has halted the process at only eight locations of the 32 where drilling is taking place under Ohio's wetlands and streams.
Keep reading...
Show less
By Nadia Prupis
A majority of people in eight countries say they are ready to change their lifestyles if it would prevent climate catastrophe, a survey on global threats released Wednesday found.
Keep reading...
Show less
May. 25, 2017 01:55PM EST
Bill Maher is sick of billionaires' obsession with Mars, more like "Mars-a-Lago," he said.
In a new animation produced by ATTN:, the popular talk show host of Real Time, discusses the perils of our planet, including how "climate change is killing us."
Keep reading...
Show less