This website uses cookies to ensure you get the best experience while browsing it. By clicking 'Got It' you're accepting these terms.
Groundbreaking Study Shows How Demand for Water Could Impact Fracking Worldwide
Sep. 02, 2014 01:44PM EST
On World Water Day, the World Resources Institute (WRI) has released a study that maps for the first time the water resources available to support fracking in the world's largest shale exploration areas. The study, "Global Shale Gas Development: Water Availability and Business Risk," found that 40 percent of countries with the largest shale energy resources could suffer from water stress: competing demands on their renewable water supply that could make it problematic to use that water for fracking.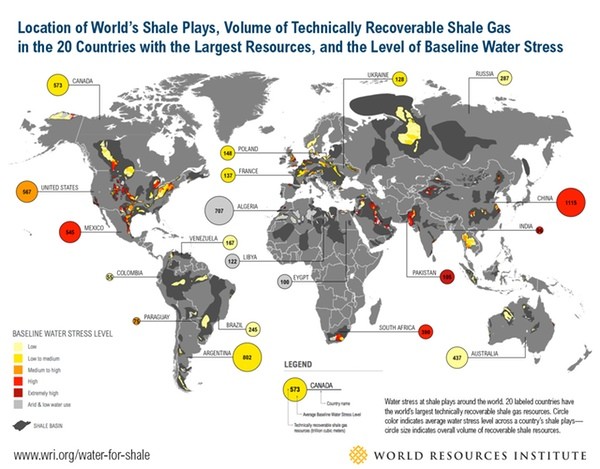 "Hydraulic fracturing requires up to 25 million liters of fresh water per well, meaning shale resources can be hard to develop where fresh water is hard to find—including in some of the world's fastest-growing economies and populations," said the report. "In general, shale energy production is vulnerable wherever surface or groundwater is limited."
It cites competing demands for water as an issue in densely populated countries like the United Kingdom, where more than a third of its shale resources face high water stress.
"As water demands increase, other water users like farms and homes around these plays face higher competition for water," reported WRI. "This could potentially spur water conflicts for the 386 million people who live on land above shale plays, particularly in regions where changes in precipitation and temperature could alter water supplies."
WRI found high water stress or arid conditions in China, Algeria, Mexico, South Africa, Libya, Pakistan, Egypt and India, while other countries such as Australia, Russia, Colombia, Brazil and Venezuela had low water stress.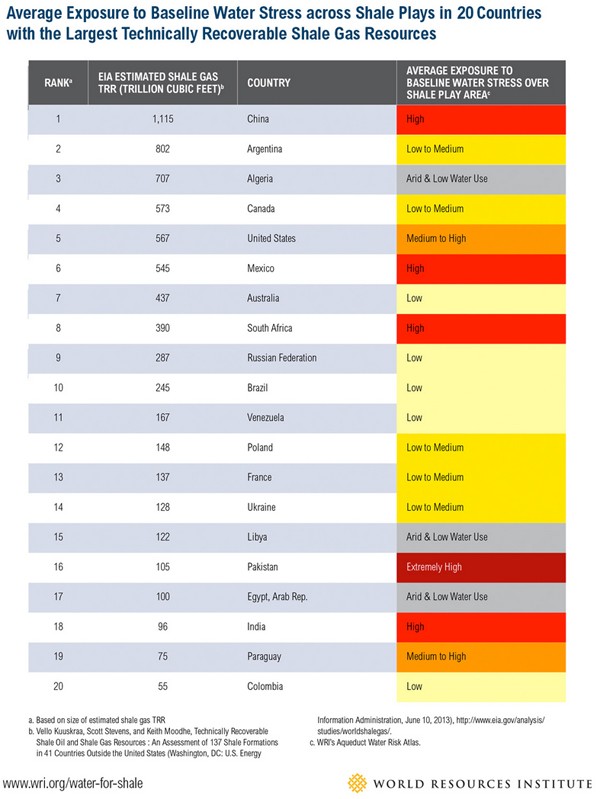 It also issued a series of recommendations for evaluating fresh water availability prior to developing potential shale energy resources and maintaining an adequate water supply for other uses. They include conducting water risk assessments; increasing transparency and engagement among citizens, businesses and regulations; ensuring adequate oversight of water supplies; and minimizing fresh water use in shale energy development.
"Water risk is one of the most important, but underappreciated challenges when it comes to shale gas development," said WRI CEO Andrew Steer. "With 386 million people living on land above shale plays, governments and business face critical choices about how to manage their energy and water needs. This analysis should serve as a wake-up call for countries seeking to develop shale gas. Energy development and responsible water management must go hand in hand."
YOU ALSO MIGHT LIKE
New Report Exposes Impacts of Fracking on Water
Congress to EPA: Investigate and Address Water Contamination From Fracking
Fracking Creates Water Scarcity Issues in Michigan
Three scissor-tailed flycatcher fledglings in a mesquite tree in Texas. Texas Eagle / CC BY-NC 2.0
By Gary Paul Nabhan
President Trump has declared a national emergency to fund a wall along our nation's southern border. The border wall issue has bitterly divided people across the U.S., becoming a vivid symbol of political deadlock.
PeopleImages / E+ / Getty Images
By Daniel Ross
Hurricane Florence, which battered the U.S. East Coast last September, left a trail of ruin and destruction estimated to cost between $17 billion and $22 billion. Some of the damage was all too visible—smashed homes and livelihoods. But other damage was less so, like the long-term environmental impacts in North Carolina from hog waste that spilled out over large open-air lagoons saturated in the rains.
Hog waste can contain potentially dangerous pathogens, pharmaceuticals and chemicals. According to the state's Department of Environmental Quality, as of early October nearly 100 such lagoons were damaged, breached or were very close to being so, the effluent from which can seep into waterways and drinking water supplies.
This picture taken on May 21, 2018 shows discarded climbing equipment and rubbish scattered around Camp 4 of Mount Everest. Decades of commercial mountaineering have turned Mount Everest into the world's highest rubbish dump as an increasing number of big-spending climbers pay little attention to the ugly footprint they leave behind. DOMA SHERPA / AFP / Getty Images
China has closed its Everest base camp to tourists because of a buildup of trash on the world's tallest mountain.
Researchers tested the eggs of Arctic northern fulmers like these in Nunavut, Canada.
Fiona Paton / Flickr
By Madison Dapcevich
Plastics have been recorded in every corner of the world, from the remote icy waters of Antarctica to the bellies of deep-sea fishes. Now, preliminary findings presented at this year's American Association for the Advancement of Science (AAAS) annual meeting in Washington, DC suggest that bird eggs from the high Arctic—one of the most remote wildernesses on the planet—show evidence of contamination from chemicals used in plastics.