This website uses cookies to ensure you get the best experience while browsing it. By clicking 'Got It' you're accepting these terms.
Groundbreaking Study: 5 Trillion Pieces of Plastic Floating in World's Oceans
Dec. 11, 2014 12:42PM EST
You've probably heard of the 5 Gyres, those huge deposits of plastic found in rotating masses in the world's oceans. Now a new study released yesterday by the 5 Gyres Institute provides the first comprehensive estimate of how much plastic there actually is in the world's oceans. It found that plastic was not just confined to the gyres, but was widely dispersed throughout the oceans. The report was compiled from information gathered during 24 expeditions from 2007-2013.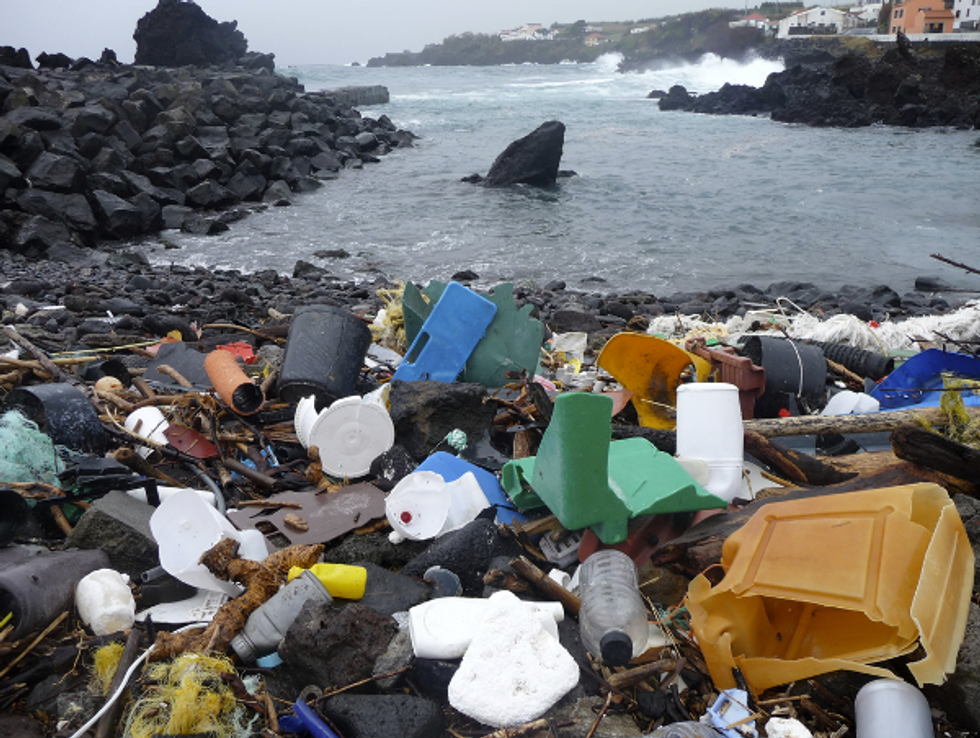 The estimate concludes that approximately 5.25 trillion plastic particles—about 269,000 tons—have ended up in the oceans. It looked at both microplastics and macroplastics. Previously, studies only look at particular size classes of plastic so their density estimates were much lower. The study showed that, despite a loss of microplastics from the surface of the five gyres, there was a large volume and widespread distribution of the smallest of the microplastics in remote ocean areas.
"When The 5 Gyres Institute formed, we set out to answer a basic question: how much plastic is out there?" says Marcus Eriksen, director of research for the 5 Gyres Institute. "After six long years and a wide-reaching collaboration, we have completed the most comprehensive plastic pollution study to date. We've found microplastic ocean pollution, in varying concentrations, everywhere in the world. Our findings show that that the garbage patches in the middle of the five subtropical gyres are not final resting places for floating plastic trash. Unfortunately, the endgame for microplastic is dangerous interaction with entire ocean ecosystems. We should begin to see the garbage patches as shredders, not stagnant repositories."
Plastic, swept into the ocean from rivers, coastal activity and shipping lanes, degrades into microplastics as it travels from land to distant parts of the oceans. These plastics have been found in ice cores, coastal sediments, the circulatory system of mussels, zooplankton, lugworms living in sediment, on the sea floor and in the water column. The widespread dispersal of microplastic is an issue since smaller particles absorb more pollutants which are then ingested by marine organisms.
"The garbage patches could be a frightfully efficient mechanism for corrupting our food chain with toxic microplastics," said Eriksen.
The 5 Gyres Institute hopes the new information will spur more people, businesses and government agencies into action.
"Knowing that plastic pollution becomes hazardous waste in the ocean, it is essential that innovative products and packaging designed for recovery replace the single-use, throw away culture of the past," said Eriksen. "The good news is, we don't have to go out and clean the oceans, and if we stop adding to the problem, the oceans will clean themselves. It's time to focus our mitigation strategies upstream from production to disposal. The status quo is not acceptable. Our goal is to vanquish the idea that oceans can bear our waste and to usher in an age of restoration and responsibility."
YOU MIGHT ALSO LIKE
5 Gyres of Plastic Trash Pollutes the World's Oceans
How Acidification, Overfishing and Plastics Threaten the World's Oceans
22 Facts About Plastic Pollution (And 10 Things We Can Do About It)
EcoWatch Daily Newsletter
Half of the extracted resources used were sand, clay, gravel and cement, seen above, for building, along with the other minerals that produce fertilizer. Cavan Images / Cavan / Getty Images
The world is using up more and more resources and global recycling is falling. That's the grim takeaway from a new report by the Circle Economy think tank, which found that the world used up more than 110 billion tons, or 100.6 billion metric tons, of natural resources, as Agence France-Presse (AFP) reported.
By Gero Rueter
Heating with coal, oil and natural gas accounts for around a quarter of global greenhouse gas emissions. But that's something we can change, says Wolfgang Feist, founder of the Passive House Institute in the western German city of Darmstadt.

By George Citroner
Recent research finds that official government figures may be underestimating drug deaths by half.
Researchers estimate that 142,000 people died due to drug use in 2016.
Drug use decreases life expectancy after age 15 by 1.4 years for men and by just under 1 year for women, on average.
Government records may be severely underreporting how many Americans die from drug use, according to a new study by researchers from the University of Pennsylvania and Georgetown University.
Water coolers in front of shut-off water fountains at Center School in Stow, MA on Sept. 4, 2019 after elevated levels of PFAS were found in the water. David L. Ryan / The Boston Globe via Getty Images
In a new nationwide assessment of drinking water systems, the Environmental Working Group found that toxic fluorinated chemicals known as PFAS are far more prevalent than previously thought.
An iguana is seen on a tree branch on November 22, 2019 in Marathon Island, Florida. LUDOVIC MARIN / AFP / Getty Images
An unusual weather report made waves this week as meteorologists warned residents of Florida to be aware of "raining iguanas."