This website uses cookies to ensure you get the best experience while browsing it. By clicking 'Got It' you're accepting these terms.


The best of EcoWatch, right in your inbox. Sign up for our email newsletter!
Groundbreaking Ruling: State Has Constitutional Obligation to 'Stem the Tide of Global Warming'
Nov. 20, 2015 09:33AM EST
Climate
Late last night, King County Superior Court Judge Hollis R. Hill issued a groundbreaking ruling in the unprecedented case of eight youth petitioners who requested that the Washington Department of Ecology write a carbon emissions rule that protects the atmosphere for their generation and those to come.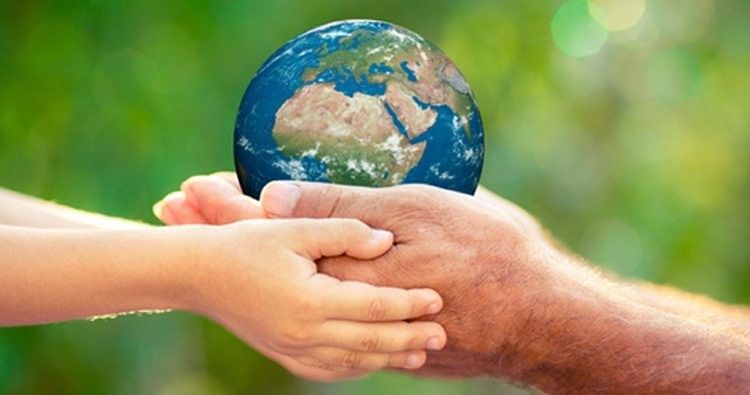 Photo credit: Shutterstock
In a landmark decision, Judge Hill declared "[the youths'] very survival depends upon the will of their elders to act now, decisively and unequivocally, to stem the tide of
global warming
… before doing so becomes first too costly and then too late."
Highlighting inextricable relationships between navigable waters and the atmosphere, and finding that separating the two is "nonsensical," the judge found the public trust doctrine mandates that the state act through its designated agency "to protect what it holds in trust." The court confirmed what the Washington youth and youth across the nation have been arguing in courts of law, that "[t]he state has a constitutional obligation to protect the public's interest in natural resources held in trust for the common benefit of the people."
"It's incredible to have the court finally say that we do have a right to a healthy atmosphere and that our government can't allow it to be harmed," said 13-year-old petitioner Gabriel Mandell. "This ruling means that what the Department of Ecology does going forward in its rulemaking has to protect us, the kids of Washington, and not just us, but future generations too, like my children and those to come. Now they can't decide to protect short-term economic fears and ignore us because we have constitutional and public trust rights to a stable climate!"
The court validated the youths' claims that the "scientific evidence is clear that the current rates of reduction mandated by Washington law ... cannot ensure the survival of an environment in which [youth] can grow to adulthood safely." The judge determined that the state has a "mandatory duty" to "preserve, protect and enhance the air quality for the current and future generations," and found the state's current standards to fail that standard dramatically for several reasons.
The judge continued, writing that "current scientific evidence establishes that rapidly increasing global warming causes an unprecedented risk to the Earth, including land, sea, the atmosphere and all living plants and creatures."
The youth petitioners first requested the state initiate greenhouse gas rulemaking procedures in June 2014. The state refused to do so in August of the same year. The youth appealed that refusal last September, and in a June 2015 decision highlighting the urgency of the climate crisis, the judge ordered the state to reconsider the youth's petition taking into account current climate science.
Then, in July 2015, the youth plaintiffs met with Gov. Inslee to plead their case personally. Just 11 days later, Gov. Inslee ordered the Department of Ecology to institute greenhouse gas rulemaking, as the youth had requested for more than a year. In August 2015, the Department of Ecology again refused the youths' request for a science-based rulemaking because they had initiated similar rulemaking at Gov. Inslee's request. Because the Department of Ecology also rejected the youths' constitutional and public trust rights, the case, resulting in this decision, was argued in front of Judge Hollis Hill on Nov. 3, 2015.
"In this important ruling, Judge Hill has made it very clear what [the Department of] Ecology must do when promulgating the Clean Air Rule: preserve, protect and enhance air quality for present and future generations and uphold the constitutional rights of these young people," said Western Environmental Law Center attorney Andrea Rodgers. "We will hold Ecology accountable every step of the way to make sure that Judge Hill's powerful words are put into action. This is a huge victory for our children and for the climate movement. To Gov. Inslee, we hope you take this message with you to Paris and heed Judge Hill's finding that 'if ever there were a time to recognize through action this right to preservation of a healthful and pleasant environment, the time is now.'"
This case is one of several similar state and international cases, all supported by Our Children's Trust, seeking the legal right to a healthy atmosphere and stable climate. Cases brought by youth to protect the atmosphere are pending before trial judges in North Carolina, Pennsylvania and Colorado, and before appellate courts in Massachusetts and Oregon.
Significantly, similar legal issues are being considered in a federal lawsuit brought in August 2015 against the federal government by 21 young people from across the U.S. and Dr. James Hansen as guardian for all future generations, in the U.S. District Court for the District of Oregon. Just last week in that case, the world's largest fossil fuel industry representatives filed a request to intervene to protect their commercial economic interests in fossil fuel exploitation and to thwart the youth's request for protection of their fundamental constitutional rights. The proposed intervenors, the American Fuel and Petrochemical Manufacturers (representing members ExxonMobil, BP, Shell, Koch Industries and virtually all other major refiners and petrochemical manufacturers), the American Petroleum Institute (representing 625 oil and natural gas companies) and the National Association of Manufacturers, called the youth's case "a direct threat to [their] businesses."
Julia Olson, executive director of Our Children's Trust said, "This Washington decision establishing constitutional public trust protections for the atmosphere, together with the decision earlier this year doing the same in New Mexico, evidences a wake-up by the judiciary that our collective right to a habitable future is at stake and must be protected by the courts before it is too late. Judge Hill did not mince words on the need for science-based climate action now."
YOU MIGHT ALSO LIKE
Michael Pollan's Letter to the Future
Annie Leonard's Letter to the Future
Bill McKibben's Letter to the Future
EcoWatch Daily Newsletter
A child playing with a ball from planet earth during Extinction Rebellion rally on April 18 in London, England. Brais G. Rouco / Barcroft Media / Getty Images
Earth Day 2019 just passed, but planning has already begun for Earth Day 2020, and it's going to be a big deal.
Geneva Vanderzeil, A Pair & A Spare / Flickr / CC BY 2.0
Is your closet filled with clothes you don't wear (and probably don't like anymore)? Are you buying cheap and trendy clothing you only wear once or twice? What's up with all the excess? Shifting to a more Earth-conscious wardrobe can help simplify your life, as well as curb fast fashion's toll on people and the planet.
Christine Zenino / Wikimedia Commons / CC BY 2.0

The 18th century St. Catherine of Alexandria church is seen after its bell tower was destroyed following a 6.3 magnitude earthquake that struck the town of Porac, pampanga province on April 23. TED ALJIBE / AFP / Getty Images
At least 16 people have died, 81 are injured and 14 are still missing after an earthquake struck Luzon island in the Philippines Monday, according to the latest figures from the National Disaster Risk Reduction and Management Council, as the Philippine Star tweeted Tuesday.
Climate change activists gather in front of the stage at the Extinction Rebellion group's environmental protest camp at Marble Arch in London on April 22, on the eighth day of the group's protest calling for political change to combat climate change. TOLGA AKMEN / AFP / Getty Images
Pexels
By Alina Petre, MS, RD (CA)
Veganism refers to a way of living that attempts to minimize animal exploitation and cruelty. For this reason, vegans aim to exclude all foods containing meat, poultry, fish, eggs, dairy and honey from their diet (1).
American farmers use chlorpyrifos, a pesticide tied to brain and nervous system issues, on crops such as apples, broccoli, corn and strawberries. Stephanie Chapman / Flickr / CC BY 2.0
By Jessica Corbett
In a ruling welcomed by public health advocates, a federal court on Friday ordered the Trump administration to stop stalling a potential ban on a pesticide linked to brain damage in children, giving regulators until mid-July to make a final decision.
fstop123 / iStock / Getty Images Plus
At EcoWatch, our team knows that changing personal habits and taking actions that contribute to a better planet is an ongoing journey. Earth Day, happening on April 22, is a great reminder for all of us to learn more about the environmental costs of our behaviors like food waste or fast fashion.
To offer readers some inspiration this Earth Day, our team rounded up their top picks for films to watch. So, sit back and take in one of these documentary films this Earth Day. Maybe it will spark a small change you can make in your own life.